Urban Spacemen & Wayfaring Strangers: The CD
The best way to listen to the music of the overlooked innovators portrayed in Urban Spacemen & Wayfaring Strangers: Overlooked Innovators & Eccentric Visionaries of '60s Rockis to check out their full albums, as noted in the recommended recordings section of each chapter. It's unlikely that all of you have all of these recordings, and it's not likely you'll be able to find and buy all of them soon, or to buy all of them at once. And it's even less likely you'll hear many of them on the radio. The CD accompanying this volume contains a taste of these sounds, drawn from the catalogs of six of the artists covered in these pages, touching upon the British Invasion, folk rock, protest rock, psychedelia, garage, and good old rock 'n' roll.
1. Richard & Mimi Fariña, "Reno Nevada." The highlight of their 1965 debut album Celebrations for a Grey Day,"Reno Nevada" set a magnificently moody melody against Charles Small's doom-laden piano, Mimi Fariña's wind-blown scatting backup vocals, and Richard Fariña's foreboding lyrics. Wrote Richard of the tune in his characteristically enigmatic liner notes, "Existential Futility in the Guise of a One-Arm Bandit? Modern Man in Search of His Neon Destiny? La-la, pooh-pooh. More like here we are in the land of magenta ski-pants and congo ruby eyeshade; so pull the cord and hope for the best. Either up goes the ballroom, or you fall through a trap door into the alligator pit. Call it a song about chance." The Fariñas were hoping that jazz-bluesman Mose Allison would record a version; he didn't, but Fairport Convention did an excellent cover on the BBC in 1968, eventually released on that band's Heyday compilation of late-1960s BBC sessions. The Fariñas' original version is available on CD through Vanguard Records, 2700 Pennsylvania Avenue, Santa Monica, CA 90404, www.vanguardrecords.com.
2. The Fugs, "Kill for Peace." One of the wittiest and most vicious anti-war rock songs of the 1960s, Tuli Kupferberg's "Kill for Peace" was a highwater mark on 1966's The Fugs Second Album.As Kupferberg explains, "It was during the Vietnam War. The postal service, I don't know if they do it any more, but they had a little slogan they would put on with their cancellation. One of them was 'pray for peace.' This was at the time when they were killing people by the thousands, or tens of thousands, or a million, or maybe more. So I thought 'kill for peace' could be applied to their slogan. I thought that would have been more appropriate then." Available on CD through Fantasy Records, Tenth and Parker, Berkeley, CA 94710, www.fantasyjazz.com.
3. The Electric Prunes, "I Had Too Much to Dream (Last Night)." As a studio single, "I Had Too Much to Dream (Last Night)" reached #11 in early 1967. It has been assumed that a track so laden with effects and sonic trickery must have been hard to replicate in concert. Recorded at a gig on December 14, 1967 in Stockholm, Sweden for broadcast on Swedish radio, this live version demonstrates that the band could do so more than capably, right down to the memorable jet-takeoff-intensity hum of the opening guitar riff. Prefacing the song was singer James Lowe's spoken apology, on behalf of the entire United States, for the Vietnam War. The entire show was released in 1997 on the CD Stockholm 67, available through Heartbeat Productions, 407 Fishponds Road, Bristol BS5 6RJ, England, www.heartbeat-productions.co.uk.
4. Thee Midniters, "Jump, Jive and Harmonize." The toughest and hardest-rocking side of this astonishingly versatile band erupted on this 1967 single, recorded on two-track at a theater in which the group rehearsed. Although Thee Midniters often used jazzy soul-rock horn arrangements, on this number they went for all-out punky blues-rock, reflecting their deep admiration for British bands such as the Rolling Stones. Built around a killer unison guitar-bass riff and Willie Garcia's coolly raunchy lead vocal, it climaxed with a frenzied harmonica-organ duel as the track wound itself up to maximum rave-up heat.
5. The Bobby Fuller Four, "Never to Be Forgotten." Co-written by Bobby and Randy Fuller, this 1965 single was a commercial bust, but nevertheless one of their group's finest moments. Kicking off with a twanging riff reminiscent of Western movie themes, it was quickly reinforced by Randy Fuller's fuzz bass and one of the group's most anthemic melodies. The reverb-heavy production, as well as the dense mass of backing harmonies and the manner in which Bobby Fuller's lead vocals drifted into space at the end of the verses, bore out producer Bob Keane's claim that "we had a little Wall of Sound going with Bobby." About a year later, Bobby Fuller was dead, the title of this song serving as an eerie epitaph of sorts. Available on CD through Del-Fi Records, PO Box 69188, Los Angeles, CA 90069, www.del-fi.com.
6. The Poets, "Some Things I Can't Forget." From 1965, the B-side of the Poets' fourth single, written by lead singer George Gallacher and guitarist Hume Paton, was one of the most glorious efforts from Scotland's finest 1960s band. Reminiscent of the Zombies in its mastery of captivating minor-keyed melody, it was suffused in a layer of extra gloom by singer George Gallacher's habitual hurt, anguished vocals, the group's echoing, urgent guitar strums, and high, ghostly harmonies. Capping the performance was Andrew Loog Oldham's typically eerie production, setting the cavernous clang of the guitars against tambourine rattles mixed so high that they virtually became lead instruments. The song is on the six-CD box set compilation Immediate: The Singles Collection, available through Sequel Records, A29 Barwell Business Park, Leatherhead Road, Chessington, Surrey KT9 2NY, England, www.castlemusic.com.
To buy Urban Spacemen & Wayfaring Strangers:
Urban Spacemen & Wayfaring Strangers: Overlooked Innovators & Eccentric Visionaries of '60s Rockis widely available at both independent booksellers and chain bookstores throughout North America, as well as many such outlets overseas. To order on-line via amazon.com, click on the book cover below.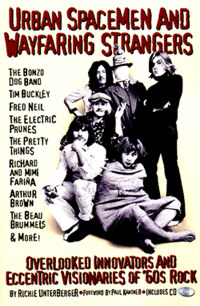 unless otherwise specified.
HOME WHAT'S NEW MUSIC BOOKS MUSIC REVIEWS TRAVEL BOOKS