FROM WHITE LIGHT/WHITE HEAT: THE VELVET UNDERGROUND DAY BY DAY

Mid-to-late November 1969

RECORDING

The Matrix, 3138 Fillmore, San Francisco, CA.

Plenty of tapes are made of rock bands at the Matrix in the 60s, including some immensely valuable recordings that will later be released officially (

Live At The Matrix

by The Great Society, Grace Slick's pre-Jefferson Airplane band) and unofficially (a boxed set-length bootleg of March 1967 shows by The Doors, about half of which are given an authorized release in November 2008). According to Peter Abram, the venue's coowner, the Velvets "were booked for as long as they were 'cause I always liked them. So I wanted to get as many recordings of them as I could."

During the first half of their run at the club, numerous tapes are made of the group on the venue's own four-track recording equipment. Selections from these tapes form the bulk of the classic double-LP that will be assembled in 1974 for official release by Mercury Records,

1969 Velvet Underground Live

. (The rest of the material is taken from a show recorded on October 19 in Dallas; the Matrix tracks should not be confused with the tapes recorded at the same venue on different equipment by Robert Quine and later issued on

The Velvet Underground Bootleg Series Vol. 1: The Quine

Tapes

.)

The exact dates on which the Matrix tapes used on the Mercury LP are made are unclear (which is why these recordings are discussed here rather than within entries for the specific concerts at which they were recorded, as is the practice throughout the rest of this book). Documentation about when, why, and how they were recorded is distressingly skimpy, particularly given that these songs form the heart of

1969 Velvet Underground

Live

. In his brief blurb on the back jacket, Paul Nelson, who compiled the LP, says only that the material was recorded live in Texas and San Francisco in late 1969 and compiled from "over eight hours of performance tapes." The pool of material certainly draws heavily on the November Matrix shows, but the only known specific detail is that 'Rock & Roll' is from November 25. (In 2006, Nelson will pass away without ever having shed further light on the sources.)

The music itself matters much more than any dates or locations, however. In that regard, the San Francisco recordings on

1969 Velvet Underground Live

have a glorious significance that transcends their cloudy origins. Paul Nelson gets at least one thing right in his brief liner note: this is "the band at the peak of their power." Everything about these performances shows the group to be at the top of their game, jelling together and reaching new levels as individual players. Lou Reed sings with the conviction of a demon possessed by rock'n'roll's holy spirit; the lead and rhythm guitars are interwoven with both virtuoso skill and deft taste; Doug Yule's organ swirls to dizzying heights on 'What Goes On'; and Maureen Tucker hits the drums with more propulsive, primitive weight than she has ever managed in the studio. Even the Velvets' habitually ragged backing-vocals have a forceful confidence and charm. All the while, Reed has somehow continued to pump out new songs, some of which have been roadtested and reshaped in front of live audiences this autumn.

"I recorded them every night and I marked down the numbers that I thought were the best performances," Abram recalls. "After we had about a month's worth of tapes, I went through them and edited the stuff down to about the four hours that I've got. The

69 Live

[material] was only [drawn from] the tapes from the first two weeks," he adds, suggesting that the Matrix tracks on the LP come from mid-to-late November, during the first half of the group's semi-residency.

The Matrix recordings on

1969 Velvet Underground Live

are not the original four-track tapes, but two-track mix-downs. "Those recordings were really quick mix-downs of a four-track tape that my assistant did in the middle of the night because Lou Reed wanted to hear some copies," Abram continues. "They're not the best representation, really, of the tapes. The guy who did the mix-downs always had a tendency to over-equalize things. They're okay, but [not] really terribly good."

Side one of the original double-LP features three songs from the Matrix (following a Dallas recording of 'I'm Waiting For The Man'). The first, 'Lisa Says,' is clearly the best version ever taped of the song, either by the Velvets or Lou Reed solo. The band grinds along with just the right amount of sensual grit; Reed's singing is about as well-pitched between crooning and shouting as it ever is; and the song itself is one of the group's most beguilingly romantic – not to mention one of their catchiest, particularly when bolstered by backing harmonies in the chorus. This version includes an unrelated yet nifty, good-time bridge not heard elsewhere; one suspects that it's actually an entirely different Reed song, edited in from another performance.

'What Goes On' is played with magnificent verve, particularly when it locks into the hypnotic interplay between Yule's incandescent organ and the most furiously pumping rhythm-guitar ever caught on tape. Unlike the shorter studio version, the song ends so suddenly and unexpectedly that one wonders if the power has been cut. (This effective conclusion is one the group had already worked out for live performance, as shown on other surviving tapes.)

According to Lou Reed, the tentative 'Sweet Jane' that closes side one of the LP was captured on the very day he wrote the song. (Sterling Morrison will later suggest that it was written in Reed's loft.) While later versions – by The Velvet Underground, Reed solo, or Mott The Hoople – are faster and sassier, the song is presented here as a sweet, low-key ballad, but with enough grunge in the guitars to remind us that this is the VU. For that alone, it would be of considerable historic value, but in its own way, it's also as good as any of the more celebrated versions. There's a sap-free sincerity to Reed's delivery, and an almost divine humility to the band's graceful touch, marking this out as one of Reed's (and the group's) greatest and most melodic songs. The lyrics are pretty different here, too: there's no mention of Jane or Jim, and the thing as a whole sounds like more of a love song – albeit a pretty enigmatic love song – here than it will on

Loaded

. There's also a gorgeous, mellow bridge of sorts, in which Reed croons about heavenly wine and roses, that won't make the

Loaded

version at all.

All but one of the five songs on side two ('Femme Fatale') are from the San Francisco shows, and all are superb. 'We're Gonna Have A Real Good Time Together' has by now become a real barn-burner, with the Velvets doing more with its ultra-catchy three-chord riff and amphetamine beat than almost any other band could. Reed, always a master of the vocal aside, tosses off a line for the ages when he nonchalantly boasts "Oh now watch me!" before launching into one of his patented speaker-shredding solos. 'Beginning To See The Light' and 'Rock & Roll' both surpass the previous studio versions – a track on the group's third LP and a June '69 out-take respectively – without radically reinventing the songs. Both are played with much greater force and edge than on the studio recordings, and are longer, but purposefully and concisely so, never lapsing into meaningless or unnecessary improvisation or repetition. 'Rock & Roll' in particular sounds like it's been more carefully honed to razor sharpness. (The group will do the song proud on

Loaded

, too.)

'New Age' is a major Lou Reed composition, and one probably penned shortly before it is taped in late 1969 – it would surely otherwise have been worked on in the studio by now. "When he originally presented me with 'New Age,'" Yule recalls in a September 2001

Record Collector

interview, "he told me what it was about – which was the only woman he ever loved. I knew he had had an affair, but she [Shelley Albin] was married … That song was essentially about that relationship. I think it was only in retrospect that he expanded the meaning of the song and made it into something more intellectual."

It's not elitist revisionism to hail the

1969 Velvet Underground Live

version of 'New Age' as indescribably superior to its studio counterpart on

Loaded

, which is nothing less than a letdown by comparison. Firstly, you get to hear Reed sing the lyrics, not Doug Yule, who will take the lead vocal on

Loaded

; secondly, the lyrics themselves are almost completely different, and take the song into uncharted psychological (and perhaps sexual) territory. The

Loaded

version takes the narrative over a hill; here the characters cross a bridge, which provides a more memorable image and fits better with the rest of the song. There's no fat blonde actress in this version, either, but there is a mysterious yearning for both Frank and Nancy that will be cut out of the

Loaded

version. (For all the subsequent attention given to Reed's bisexuality, there are very few direct allusions to it in his VU songs, suggesting perhaps that somebody – maybe someone at Atlantic Records – got cold feet about including them on

Loaded

.) Throw in the fact that the band is tougher and better on this performance than on the more clinical

Loaded

version – which doesn't feature Maureen Tucker – and you have a recording that outstrips the more familiar studio cut from every angle. (According to Steve Nelson, the song often went on far longer on stage than it does on record, particularly during the "soaring and anthemic" closing section.)

Side three of the original

1969 Velvet Underground

Live

appears to have been designated for slow epics. Its three tracks run to more than 26 minutes; the two recorded in San Francisco, 'Ocean' and 'Heroin,' are both stretched out to around the ten-minute mark. 'Ocean' is the more interesting of the pair. It's better and more dramatic than any other Velvet Underground or Lou Reed solo version, particularly the keening organ and splash-like percussion, but is perhaps one instance where the group might have kept playing for just a little bit too long. Tucker hits her cymbals harder here than on any other VU recording – so hard, in fact, that road manager Hans Onsager had to sit under her drums and hold the stands to keep them from falling over. And if the long version of 'Heroin' included on the original double-LP isn't enough, there's a second, slightly shorter version of the song (probably also from the November San Francisco shows) on

1969 Velvet Underground Live Vol. 1

, the first of two single-disc reissues released on CD in 1988. It's actually a worthwhile counterpart to the first version, with its pounding, dissonant guitars more pronounced during the final accelerated rave-up.

All but one of the five tracks on side four of the original LP are taken from the San Francisco tapes. The first is 'Some Kinda Love,' and is yet another performance that's similar to but better than the one on the Velvets' third album. There's simply less inhibition to the groove and swing of both the playing and Reed's exuberant vocal delivery, which is lascivious yet joyful at the same time. The second track, 'Over You,' might be a throwaway ballad with echoes of Tin Pan Alley sentimentality, but it's a darned good one, with an attractive sequence of descending chords, an appealing crooned lead-vocal by Reed, and a jazzy guitar-solo. (In all, it's certainly better than many of the similarly lightweight tunes the group recorded earlier in the year for a possible fourth studio LP.)

Strangely, the recording of 'Sweet Bonnie Brown' included on the LP is the only released version of the song, a fabulously sly, kinky rocker that's an ideal vehicle for Reed's ad-libbed nonsense vocals. (Why there's no studio counterpart is unclear, but perhaps the line about coming all over the narrator is thought too hot to handle when the songs are being selected for

Loaded

.) 'Sweet Bonnie Brown' would be satisfying enough on its own, but the pleasure is doubled when it segues almost seamlessly into 'It's Just Too Much,' which has left its rather sluggish blues-rock origins behind and become a prototypically jittery rocker. The resulting eight-minute medley is not just a rousing, jubilant performance – it's also a testament to the group's talent for taking a humdrum filler ('It's Just Too Much') and ingeniously combining it without another semi-throwaway into something much greater than the sum of its parts.

The San Francisco recording of 'White Light/White Heat' included on

1969 Velvet Underground Live

might well be the tour de force not just of the album, but of the Velvets' entire live career. It's no exaggeration to state that it utterly dwarfs the studio prototype in quality, and not just because it goes on for a good eight-and-a-half minutes. There's not a wasted second in this masterfully taut yet explosive performance, from the cockiness of Reed's vocal and the slightly sardonic high harmonies in the choruses to the way Doug Yule's bass surges to the forefront as a sort of announcement for the instrumental break. And what an instrumental break it is.

There's no other Velvet Underground recording – even from the Cale era – that finds so ideal and brilliant a middle ground between white-hot rock and white noise. The guitar work is stunning, the ripping leads and dive-bombing howls simulating the searing highs of the 'white light' drugs the songs allude to just as effectively as 'Heroin' does the rush of a heroin injection. The Velvets don't overdo it, but instead come back with a vocal reprise just at the moment when the guitar duel can't get any more intense. A brief instrumental tag ratchets the tension higher and higher until it almost literally runs out of frets, bringing an end to a track as rivetingly magnificent as anything in the group's formidable catalogue.

That's it as far as the original double-LP is concerned, but there's yet more Matrix material than that, including the previously unheard eight-minute recording of 'I Can't Stand It' included on the 1988 CD release

1969 Velvet Underground Live Vol. 2

. It's not quite the best ever live performance of the song to have been captured on tape – some of the guitar soloing is a little dotty – but it is the best from an audio-fidelity standpoint. And it's still a good, exciting romp, and thus a good addition to the VU canon.

As good as

1969 Velvet Underground Live

is, it's worth reiterating that none of the Matrix cuts are from the original four-track tapes, for which all the instruments and vocalists had a mic. As far as Peter Abrams can remember, "the vocals are on one track, and bass and drums are on a track, and each of the guitars is on a track. [The tapes] were recorded at 15 inches per second, so that makes them very clean."

And as also noted earlier, there's definitely yet more material recorded on the Matrix's four-track equipment. Abrams retains four hours worth of recordings, and notes, "'

69 Live

was only the tapes from the first two weeks. When they came for another two weeks, I got some more material, and cut out some of the [recordings] that are on '

69 Live

. Some of [them], I improved on; I found better performances, so I deleted ones that I had saved from the first two weeks. At the time, our budget was very small; I couldn't afford to save all the tape. It was just too much tape; it was half-inch tape, and rather expensive. So I edited it down to the four hours that I ended up keeping."

Those four hours of half-inch, four-track tape amount to 42 songs, including versions of a few tunes that don't appear on

1969 Velvet

Underground Live

, among them three takes of 'There She Goes Again,' two each of 'Venus In Furs' and 'After Hours,' and one apiece of 'The Black Angel's Death Song,' 'I'm Set Free,' and 'Sister Ray.' There are also additional, as-yet unreleased versions of most of the songs that do make it onto the LP, including no less than four takes of 'Heroin.' According to the notes of one listener who has heard the tapes, most of these 42 unissued tracks fall into the good-to-excellent category; some are great and inspired, and there are only a few weak or flawed performances.

Two-to-three minute excerpts of nine of these songs and a seven-minute segment of 'Sister Ray' (all of which start at the beginning, and fade out mid-performance) have since leaked into circulation and verify that the sound quality on these recordings is outstanding, and in fact notably – if not hugely – superior to the tapes used for

1969 Velvet Underground Live

. Of even more interest is the fact that the performances themselves are good-to-superb. They include a version of the rarely heard 'There She Goes Again' with more jagged rhythm-guitar than is heard on the studio cut; 'I'm Set Free' with a magnificent Lou Reed lead vocal; a really slow 'I'm Waiting For The Man' with curling, bluesy guitar-riffs and a cool interjection of ominous chords right after the white boy is asked what he's doing uptown; and a version of 'Sister Ray' that starts off slow and bluesy but just keeps accelerating in rhythm and intensity until the tape cruelly cuts off. The other excerpts – 'Ocean,' 'Some Kinda Love' (introduced as "an alcoholic's dream"), 'The Black Angel's Death Song,' 'After Hours,' and two versions of 'Venus In Furs' – aren't quite as novel, but will likewise make the Velvet Underground fan yearn for the day when the tapes can be released.

Also of great interest to VU fans are the spoken intros to a few of these excerpts, including the lengthy show-opener during which Reed says he is particularly glad, "on a serious day like today, that people could find a little time to come out and just have some fun to some rock'n'roll. 'Cause these are serious times, or I've been told they are. And, y'know, since they're serious, we felt impelled to do a very serious set. So this is gonna be a very serious rock'n'roll set. And I don't want any of you to enjoy yourselves frivolously. Because it'll run against national policy!" Furthermore, he reveals 'I'm Waiting For The Man" to be a song "written under the influence of dreams"; 'The Black Angel's Death Song' to be one they haven't done for "a really long time, 'cause it used to empty clubs … as a matter of fact, when a club wanted to close for a while, they used to get in touch with us and ask us to play this song"; and calls 'Venus In Furs' "a song that gave us a very bad reputation, so we stopped doing it for two years … It happens to be one of my very favorite songs of all time, but I got sick of doing it in public, 'cause people got the wrong idea. Not about me, but about them."

The question remains: will either the unissued material or the original four-track recordings of the

1969 Velvet Underground Live

songs ever be made commercially available? "The guy that put out those audience tapes on records spoke to me, and I told them about the tapes," comments Abram. "But for whatever reason, probably his own financial interest, he put out the audience tapes that he had. He had some kind of a notion that he was gonna put his tapes out first and then come around to my tapes later, when I kind of nixed the idea, feeling that there's only so much of a market for any 60s band. If my tapes are gonna come out third in line, there's not gonna be much of a market left for them."

But, he says, "They're beautiful tapes. We listened to some playback of a little bit of the tapes about a year ago over at some studio in Berkeley, and they sounded just great. One of their fans who was [there] said, 'Oh, these are the holy grail of Velvet Underground tapes.' If there's a market for them, they should come to me."

Even if nothing else is ever issued or found, however, what survives on

1969 Velvet Underground

Live

is not just The Velvet Underground at the peak of their powers: it's as good as any rock group has ever sounded live, and the bedrock of what might be the finest live rock album of all time.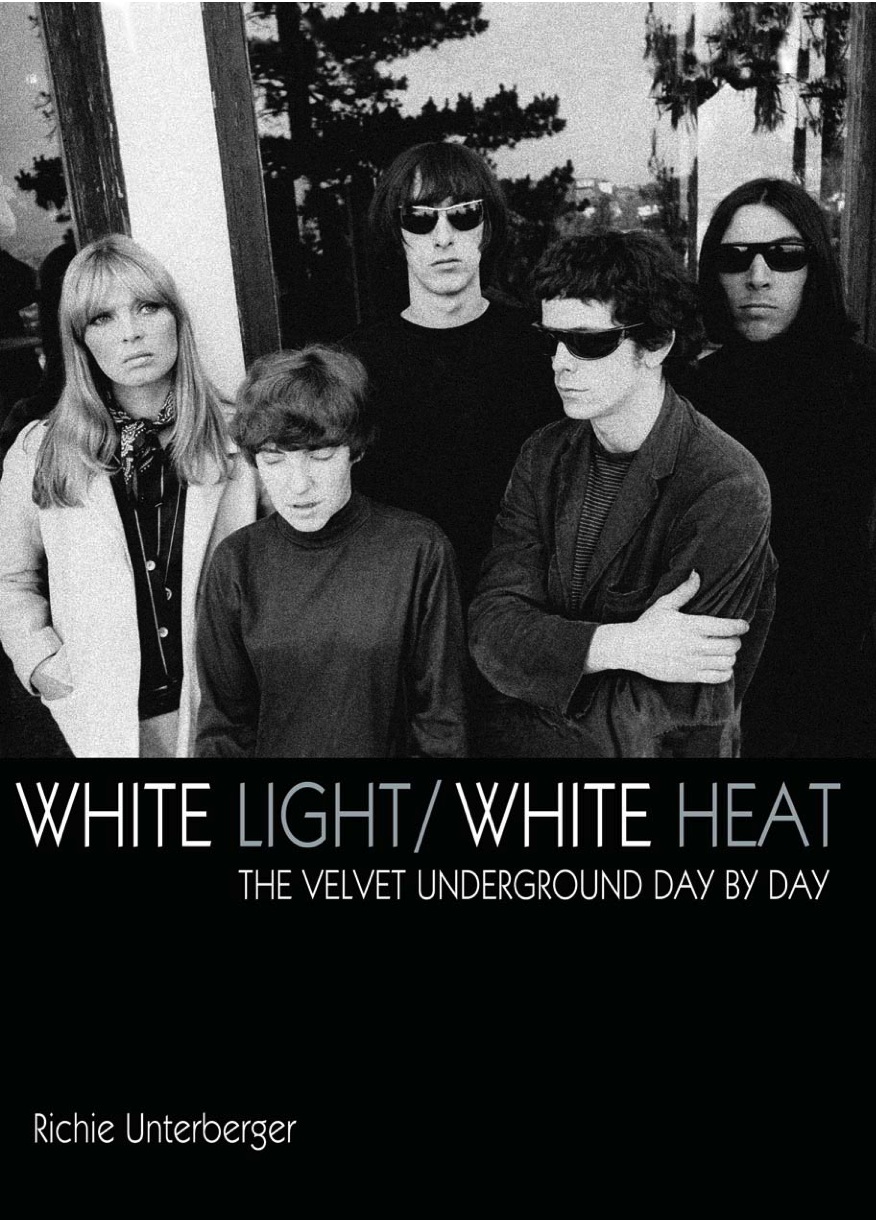 unless otherwise specified.
HOME WHAT'S NEW MUSIC BOOKS MUSIC REVIEWS TRAVEL BOOKS