FROM WHITE LIGHT/WHITE HEAT: THE VELVET UNDERGROUND DAY BY DAY

April 1974

RECORD RELEASE



1969 Velvet Underground Live



Perhaps because of Lou Reed's success as a solo artist, Mercury Records takes the unusual step of releasing a double LP of five-year-old live recordings from a band who effectively ended four years ago, when Reed quit, and who never sold many records while they were still active. The label makes sure listeners know Reed is on the record by adding the prominent subtitle

With Lou Reed

to the jacket, while also taking caring to make explicit Reed and the Velvets' kinkiness by using an illustration of leather-booted legs, undergarments showing on the fleshy buttocks, that takes up both sides of the outer gatefold. The inner sleeve contains a blurry photograph of the Velvets at the Factory in 1966 with John Cale – Nico has conveniently been removed – even though these tracks were recorded by the line-up of Lou Reed, Sterling Morrison, Maureen Tucker, and Doug Yule.

The record's packaging might be somewhat exploitative, but in all other respects this is a remarkably tasteful release of enormous musical value and historic importance. It contains a whopping 103 minutes of music; sells for a lower price than your average two-LP set; and includes sympathetic, insightful liner notes by singer-songwriter Elliott Murphy. "Rock'n'roll people tend to live on the edge," he writes. "That's what this album is all about. Rock'n'roll has always been and still is one of the few honest things left in this world. That's what this album is about … I hope parents will still get scared when they find their daughter listening to this music."

One person who isn't a fan of the record, however, is Sterling Morrison, who will later tell Ignacio Julia: "I didn't like

1969 Live

because all the tracks are from small clubs. That gives you a very good idea of what we sounded like in a small club, but it's very subdued, there's no rough edges because the volumes are turned way down … On the

1969 Live

album at least you get to hear a lot of songs clearly, but I wish some of the stuff had been recorded at the bigger clubs we played on that tour. The

1969 Live

album at least indicates what [Reed] could do – vocally it's better than anything on

Loaded

."

Morrison's remarks might be indicative as much of his perfectionist nature as of the quality of the LP. "He was often not happy with what he played," his wife, Martha, observes. "He was very hard on himself. He'd come back to the table after a set and he'd say, 'Was that awful?' He was never completely happy with his playing – well, once in a while he was. I think that was just his nature."

The material on

1969 Velvet Underground Live

might be magnificent, but the hows and whys of its release are surprisingly murky. "The story I heard was that Sesnick tried to sell [the two-track mix-down tapes] to somebody, and the person he was selling it to recognized that this was something that was not kosher," Doug Yule recalls. "They said, 'Well, leave me the tape, and I'll listen to it.' So Sesnick did, and when he came back, the guy had already contacted someone else, I don't know who, and [told Sesnick], 'It's not your tape, you can't sell it, go away.' And then it was released, sold to Mercury or whatever."

It will also subsequently be reported that at least some of the tracks are from acetates that have been made of the material, most of which was recorded on four-track equipment at the Matrix in San Francisco in November 1969. (A few of the songs are from the band's show at the End Of Cole Ave club in Dallas on October 19.) Mercury and MGM have both been absorbed into Polygram in the years leading up to the album's release, and if the Velvets think they're going to get a better deal from Mercury than they did from MGM in the late 60s, they're sadly mistaken. In an interview with

What Goes On

, Maureen Tucker claims to have been offered a paltry $200 in return for consenting to the release. She and Sterling Morrison eventually hold out for $1,500 each, "which even then was stupid," she says.

Mercury's A&R man for this project is Paul Nelson, who by 1974 has become one of the most famous rock-critics in the USA. He was behind Mercury's recent signing of The New York Dolls, so it makes sense for him to want to get the Velvets on the label as well, even if it's only through archive recordings. He also contributes a brief liner note, in which he declares: "Putting together this double set from over eight hours of performance tapes was as pleasant a task as I've yet encountered, and I sincerely believe that

1969

will be remembered (with

Loaded

) as the very best work done by Reed and the Velvets."

Liner notes by A&R men aren't always the most reliable indicators of an album's artistic merit, but in this instance the hype is justified.

1969 Live

really does contain some of the Reed and his band-mates' very best work. And judging by the abundance of other late-1969 recordings of reasonable fidelity that will later surface, Nelson's choice of songs and versions seems remarkably astute, even if some will later question whether he actually had eight full hours of source material. Certainly there are no better versions of any of the specific songs on the unreleased material from the October End Of Cole Ave recordings, or from the tracks released on the 2001 three-CD compilation

The Velvet Underground: Bootleg Series

Volume 1: The Quine Tapes

. Often in fact the

1969 Velvet Underground Live

performances are notably superior.

The album has been sequenced intelligently, too, and the three extended spoken intros used (before 'I'm Waiting For The Man,' 'Femme Fatale,' and 'Some Kinda Love') are witty and entertaining. Not quite so amused, however, are the managers of the Matrix, who haven't given permission for Mercury to issue material recorded at the club. "Lou Reed sold the copies that he received from us [as two-track mixdowns] to Polygram," says Matrix co-owner Peter Abram. "So we ended up having to sue 'em to get our royalties."

"I do remember [Paul Nelson] telling me that Mercury bought the tapes from the Velvets' ex-manager, and that he really had to push Mercury to get the deal done, because The Velvet Underground was not a commercially successful band even when they were still together," Elliott Murphy notes. "There were some extra tracks, mostly duplicates of some songs, and Paul and I picked the ones to go on the album together. There was talk about it being a single album – I think Mercury wanted that – but Paul fought hard to make it a double album and he succeeded. He had such incredible status as a rock critic that the label gave him a lot of freedom … for a while. I was listening to

Loaded

at this time as well, and that album was really influencing my songwriting and guitar playing. There were a lot of the same songs on the live tapes as on the

Loaded

album itself so that was really interesting, to hear the same songs performed live that I knew so well from the album."

It's through Nelson that Murphy lands the job of writing the liner notes. "Paul's taste was wonderfully eclectic," he explains. "He told me that Mercury had bought the rights to some live Velvet Underground tapes from around the same period as

Loaded

and invited me to come to the Mercury Studios and listen to them with him. Then he kind of offhandedly asked me if I wanted to write the liner notes for the album, which came as a big surprise. Paul made acetate copies for me to bring home. I'm still not sure why he asked me, but maybe it was because of something
I said while listening to the tapes with him, something about that music lasting for 100 years.

"I knew that Lou Reed was from Long Island like me, so I was comparing myself to him and looking to his music for strength and reflecting on how rock'n'roll was both saving my life and destroying my innocence and forcing me to cut with my suburban roots. What pleases me most about my liner notes for the album is that I wrote them when I was still purely a fan; I hadn't recorded my first album [

Aquashow

] yet, and knew little of the soul-splitting machinations of the music business. My ears were pure in a manner of speaking, and those notes were coming from an excitement and passion for rock'n'roll that was totally uncorrupted. It's both a wonderful and dangerous place to be when you're 22 years old, for you hear the glory calling and you see none of the pitfalls, of which there are many. Regardless, I knew it was the world I was determined to enter, and those notes were my calling card to get in the high gates."

At least one member of the Velvets appreciates what Elliott has to say about the music. "I don't even know if the band had ever heard the tapes before Paul," Murphy says. "But I know he was in touch with Lou Reed and eventually sent my liner notes to Lou, because a few months later Lou called my mother in New York City to speak to me. I was out and he had a nice chat with her, because when I came back to her apartment she said a nice boy named Lewis Reed had called for me."

Although

1969 Velvet Underground Live

fails to chart, it is acclaimed almost immediately both for its historical importance and its musical value. As Dave Marsh writes in

Creem

, "It has technical deficiencies (although they aren't as severe as on

Live At Max's Kansas

City

). But its music and the beauty of Reed's singing sustain the argument for the superiority of his earlier work. The material isn't new but gains from a relaxed, almost languid treatment.

"On 'Heroin' and 'Pale Blue Eyes,' Reed is revealed as an influence nearly the equal of Dylan on the new East Coast singer/songwriters. On this set, he achieved a complete mastery over raunch classics like 'White Light/White Heat,' and in general showed himself a more fluid melodist, more effective singer and finer guitarist than he has since become.

1969 Velvet Underground Live

is vintage Reed, flaws intact – a profile of a man who put his heart into his music."

In his Consumer Guide, Robert Christgau is equally enthusiastic, giving the album an 'A-.' "It's nice to have a decent-sounding live record of the legend, especially one that adds a few new songs – notably 'We're Gonna Have A Real Good Time Together' – and choruses to the canon," he writes. "This is a more impressive testimonial to Lou Reed than any of his solo LPs. And if it's not as essential as any of the four studio albums, it does provide an overview of the band's music: deadpan, demotic, jaded, oddly sensationalistic, primitive both harmonically and rhythmically, and all but devoid of flourishes, always hard-edged and usually quick, never slow and heavy at the same time."

Future

USA Today

music editor Ken Barnes adds his stamp of approval in

Phonograph

Record

magazine, praising the album's "highly exhilarating rock, held together by metronomically steady drumming and brilliant rhythm-guitar, constantly shifting texture, driving the songs onward and assuring that even the longest tracks mesmerize instead of catatonize …

1969

is premier rock'n'roll by a band deserving of its legendary status … not only is 1969 far superior to [

Live At Max's Kansas

City

], [it] totally eclipses

Rock'n'Roll Animal

as well, virtually rendering it pointless."

Even more enthusiastic – and far artier – is Patti Smith's hyperventilating review for

Creem

. "I love this record so much," she gushes. "It goes beyond risk and hovers over like an electric moth. There's no question no apologizing there is just a trust a bond with time and god their relentlessly relaxed method of getting it on and over the land of strain … Dig it submit put your hands down your pants and play side C. 'Ocean' is on and the head cracks like intellectual egg spewing liquid gold (jewel juice) and Lou is so elegantly restrained. It nearly drives me crazy. The cymbal is so light and the way they stroll into 'Pale Blue Eyes' not unlike Tim Hardin's 'Misty Roses' the way it comes on like a Genet love song." Smith's only criticism is that "the cover eats shit," but all in all "this double set is completely worth it … not a bad cut." (At the time of writing this review, Smith is still known largely as a poet, but she'll soon be making her own explosive contribution to the embryonic punk-rock scene with her debut album

Horses

, produced by none other than John Cale.)

The album won't be released until February 1979 in the UK, but a young expatriate American living in Britain reviews it as an import in the April 27 1974 edition of the

New Musical Express

. "Takes me right back to the teenage years of my virginal innocence; the evening I spent in some dingy hall, eyes fixed on that cat in the striped T-shirt and wraparound shades, those songs made my eyes water like I was chewing on a wad of aluminum foil, me hoping I could score some dope after the show; me wishin' I could be like them," writes Chrissie Hynde, who will of course go on to lead one of the most successful bands of the 80s, The Pretenders. "Half the fun of hearing the same VU song at various sessions is that Reed never sang (or remembered) the same lyrics twice," she adds, before noting the changes to 'Sweet Jane' and 'New Age.'

For an album that's never intended to be part of The Velvet Underground's core discography,

1969 Velvet Underground Live

will fare emarkably well with historical-minded critics over the years. By 1979, it'll be at Number 30 in

Rock Critics' Choice: The Top 200 Albums

, in which Lenny Kaye picks it as his all-time second-favorite album. Billy Altman gives the album five stars in the same year's

Rolling Stone

Record Guide

, accurately noting that it "captures neatly the often-overlooked ability of the group to rock out gracefully without compromising on music or attitudes. Reed's heartfelt singing, Sterling Morrison's sympathetic lead work, Doug Yule's innocent, supportive vocals and fine bass work … and Maureen Tucker's primitive, solid drumming are displayed here to the fullest and make the set a glorious document of the music." A couple of decades later, the album will find itself at Number 89 in the

Spin Alternative Record Guide

's list of 100 all-time Top Alternative Albums.

The 1988 reissue of

1969 Velvet Underground

Live

on CD is a mixed blessing. Instead of being packaged as a two-disc set, it's split into two separate releases. These are at least sold at budget price, and there's a previously unreleased live track from the same era on each: a second version of 'Heroin' on Vol. 1, and 'I Can't Stand It' on Vol. 2. However it's experienced,

1969 Velvet Underground Live

is one of the greatest live rock albums of all time, and essential to the collection of any Velvet Underground fan. Unfortunately, a full decade will pass before any more VU material is unleashed from the vaults.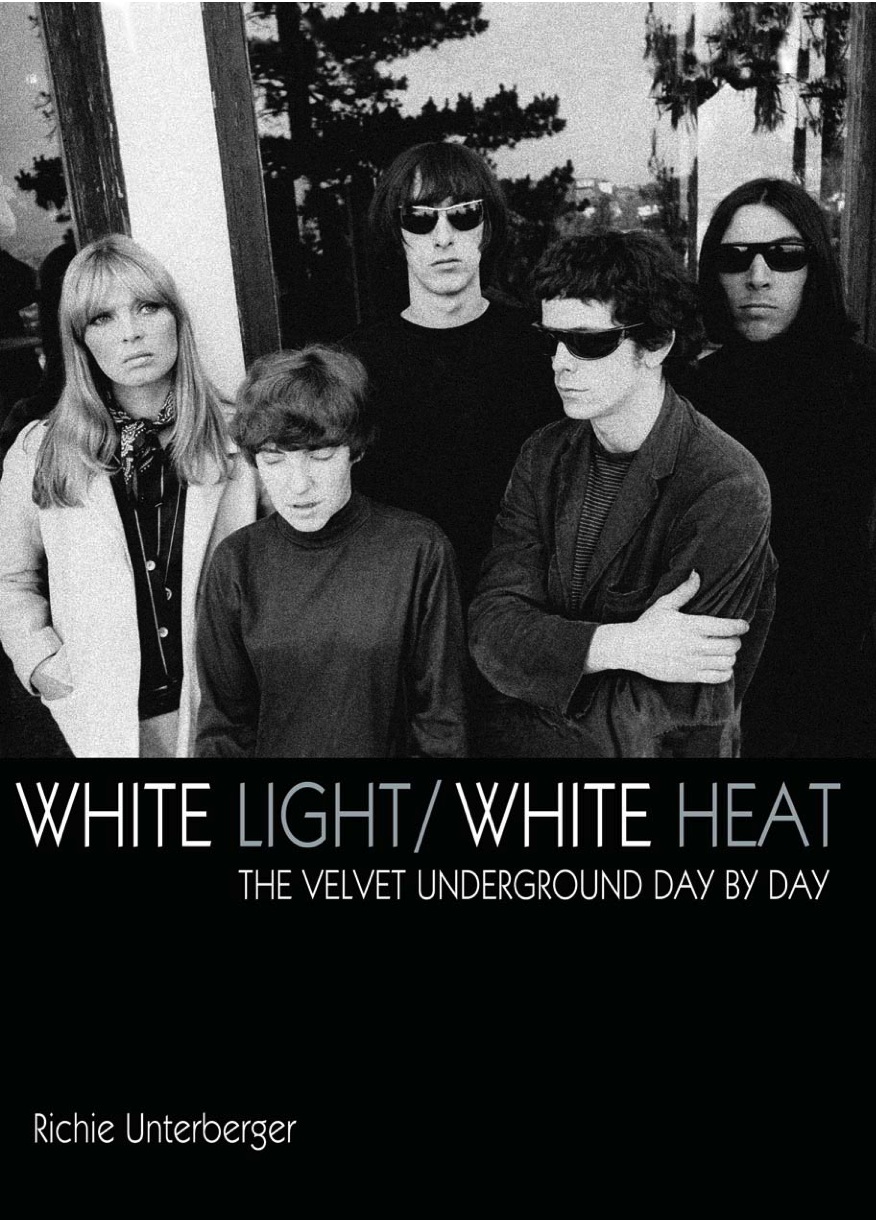 unless otherwise specified.
HOME WHAT'S NEW MUSIC BOOKS MUSIC REVIEWS TRAVEL BOOKS