FROM

WHITE LIGHT/WHITE HEAT: THE VELVET UNDERGROUND DAY BY DAY



Late December 1965, Café Bizarre, New York

It's unclear exactly when Andy Warhol sees The Velvet Underground at the Café Bizarre. But as Lou Reed later tells John Wilcock, author of

The Autobiography & Sex Life Of Andy Warhol

, it's probably during the band's last few days at the club. Despite claims elsewhere to the contrary, it's almost certainly not on the very night they get fired: as contrary an outfit as the Velvets are, they would surely want Warhol to see and hear as much of them as possible, and not risk being kicked out after one song.

What is known for sure is that Warhol's manager, Paul Morrissey, has been looking for a band to work with for some time as part of the Factory's general expansion into multimedia activities. "The most unusual idea I had in order to make money with Andy's name was to have him present a rock'n'roll group, something he was extremely reluctant to do," Morrissey explains in the documentary

Factory Days: Paul Morrissey Remembers The Sixties

. "The opportunities for getting money from experimental movies were obviously nonexistent. And therefore the possibilities in 1965, in the era of The Beatles just coming to America, The Rolling Stones, and everybody supposedly making a lot of money, seemed like a very good idea."

More specifically, Morrissey is keen to find a group to play at a Queens club to be named in Warhol's honor and launched by theater producer Michael Myerberg. "Myerberg asked for a meeting with Andy," Morrissey later recalls. "He said, 'I'm opening the largest discotheque in the US in an old airplane hangar in Queens and I want to bring you out to Queens. I'll give you $500 a week and you can come every night. You can bring Edie or whatever girl you want, and I'll pay you a salary.' Andy sat there, and of course as usual never opened his mouth. "I said, 'Well, that's pretty silly. Why would Andy go to Queens to see a discotheque? If he wants to do that, he's got one right here a few doors away on 47th Street. It'd be different if he was presenting a rock'n'roll group that was appearing there. Then he would have a logic to go there. His name would promote your club, and your club would promote this rock'n'roll group, which we would manage.' He said, 'Yes, it's a great idea. Why don't you do that? It's a couple of months off, but that sounds like a good deal.'

"I thought of the idea of finding a rock group that Andy could appear to manage, or present, let's say. He never managed; he presented. Basically, movies that I made, or things that I thought of, he presented. He was incapable of coming up with sensible ideas of what to do, and he very seldom made the effort. The few times that he did, I would listen, give them some consideration, but I'd never take anything too seriously. But I made an effort to try to humor him.

"I thought I could manage a rock'n'roll group," Morrissey continues. "I didn't even mention it to anybody. There was no interest of anyone in the Factory in going to hear rock'n'roll groups. Andy seldom went to rock'n'roll groups unless there was a photo opportunity there." It should nonetheless be added that, unlikely many culturally respected figures of his age (late-thirties), Warhol does actually like rock'n'roll. He plays hits such as Dickie Lee's 'I Saw Linda Yesterday' and 'Sally Go Round The Roses' by The Jaynetts over and over again in his workspace, and uses music by The Kinks and Martha & The Vandellas in his 1965 film

Vinyl

.

"When I left the meeting," Morrissey continues, "I said, 'Andy, this could be a very good opportunity to make money if we find some new group and present it there. We already have a big job for them and any group that opens the club will get great coverage. Then we'll get them a record contract, and we can make some actual money.' 'What do you mean, manage a group? What does that mean?'

"[Andy was] against the idea from the word go. But if I said to do something, I said it very politely, and he had realized already by then that whatever I suggested wasn't terrible, and he went along with these things. But he really hated doing it. He said, 'Will we have to give them money?' And I said, 'We probably will, we'll have to support them until the job comes along.' He said, 'I don't want to be responsible, I don't want to give them any money. Where would you get a group?' I said, 'I don't know. Maybe I'll find one.' Andy didn't have any large income then."

It's Barbara Rubin who sets off the chain of events that bring the Velvets to the attention of Warhol and Morrissey by asking Gerard Malanga to take some pictures of the group at the Café Bizarre. "Gerard didn't know how to use a light meter," Morrissey recalls. "I was doing all the lighting for all the movies, and I had made my own movies; I was a photographer and a cameraman. He said, 'Can you come and read the light meter so I can take pictures of this group?'

"Normally I would never go to hear a rock'n'roll group, except that it was a very short time, a week or two, after the Michael Myerberg meeting. Therefore I went and told Gerard what to do. I liked them enormously, because the drummer was totally androgynous, and because John Cale had an electric viola and wore a huge necklace of fake jewelry around his turtleneck with his Richard III haircut. They had a different look and sound. They weren't jumping up and down or humping their guitars. They stood still. And I thought that the music was very good, distinctive, different. And they were using the word 'underground' in their name, which seemed an obvious connection.

"I went up to them and said, 'I manage Andy Warhol, I'm looking for a rock'n'roll group that we could present at a big nightclub that's gonna open in Queens. Do you have a manager?' They said no. [I said,] 'I'll bring Andy tomorrow; you can meet him and decide.' So I brought Andy reluctantly… he sat there. Then he said, 'What are we going to do with them?' He had no urge or interest in getting involved in any musical group. I said, 'Look, don't worry about it. I'll manage it, I'll figure it out.' And proceeded from there. They were a calculated business
attempt on my part to be a financially lucrative enterprise."

Also in the audience with Warhol that night are Edie Sedgwick, Barbara Rubin, and Malanga, who is impressed enough to dance erotically to the music. (He will later reenact a variation on the same dance as part of the group's performances with the Exploding Plastic Inevitable.) Another key figure present is John Wilcock, who co-founded the

Village Voice

in the mid 50s and has since turned to even more alternative journalism. He will soon write some of the very first published accounts of The Velvet Underground's live show and will go on to co-found

Interview

magazine with Warhol in the late 60s. "We sat in the front row, a few feet from their horrendous noise, like a hurricane to my ears," Wilcock later recalls. "I became fascinated when they left the stage and the sound was still playing. I was unfamiliar with the concept of 'feedback.' Lou chided me, saying that all I did all night was sit and read a newspaper."

Although this appearance at the Café Bizarre marks the first time that Andy Warhol is exposed to The Velvet Underground's music, he has probably met at least one or two members of the band already. He was in the audience when John Cale took part in the marathon performance of Eric Satie's 'Vexations' in September 1963, and also for a March 7 1965 concert by La Monte Young's group. He has also worked with another Cale collaborator, Jack Smith, and with Piero Heliczer, for whose films the Velvets have provided live soundtracks in the past. And he has shot screen tests with both Marian Zazeela and Susanne De Marie, the wife of Primitives drummer Walter. In a September 1994 interview with Richard Witts, Sterling Morrison will note that he thinks the group played to Warhol films at multimedia happenings. It certainly doesn't seem impossible that Warhol himself might have been at one or more of the experimental film showings at which the Velvets played behind a screen.

By all accounts, however, the Café Bizarre gig marks the first proper meeting between Warhol and the band, with Rubin taking them over to the table where the artist's entourage is sitting after a set. "The idea then was Andy was getting a week at the Cinematheque," Reed later tells John Wilcock. "So why didn't we appear in it? That is kind of what happened. "Obviously he loved the music. We were doing what he was doing, except we were using music and he was doing it with lights… to my mind, nobody in music is doing anything that even approximates the real thing, with the exception of us." Doing something that's "very, very real," Reed adds, "is the only way we could work with him. Because the first thing I liked about him was that he was very real."

Well aware of Warhol's fame and wealth, The Velvet Underground immediately agree to a proposed management deal, and reap some instant benefits in the form of better musical equipment. Warhol is getting a lot out of the deal too, however. There could be no better musical match for him than a band that has started to break similar barriers in pop music to the ones he has been breaking in visual art and film. Sonically and visually, the Velvets are the perfect fit for the kind of bold, multimedia extravaganza Warhol and his associates are probably just starting to formulate. They're already thinking of getting a rock'n'roll band to play at the airplane hangar-sized Queens discotheque tentatively (and farcically) called Andy Warhol's Up. But the other events into which they plug the group will end up being far more interesting.

As unlikely as an alliance between Warhol and an unknown rock band might seem on paper, it should be noted that Andy has made a much more unlikely venture into rock'n'roll already – not as a manager, but as backing vocalist in a group called The Druds. Intriguingly, the band-members also included Velvets alumni La Monte Young and Walter De Maria, further fueling suspicions that Warhol might have already met the group – at least in passing – before going to see them perform at the Café Bizarre. Jasper Johns, another famous painter, wrote The Druds' lyrics, while Claes Oldenburg, his wife Patty, and multimedia artist Lucas Samaras were also involved. This strange group probably never played in front of an audience, and are unlikely to have remained active for more than a few months during the late winter/early spring of 1963. As Warhol will later explain in an interview with Glenn O'Brien for the August 1977 issue of

High Times

, "We met ten times, and there were fights between Lucas and Patty over the music or something."

Warhol would also have gained some knowledge of the embryonic Lower East Side rock scene when he made a rarely seen film of The Fugs and The Holy Modal Rounders in mid 1965. Warhol never considered managing either of these groups, but both are at least moving in directions vaguely similar to those being explored by the Velvets.

It might still seem like a miracle for the group and Warhol's crowd to stumble upon each other at a dead-end Greenwich Village club, but the meeting would probably have happened sooner or later, given the two parties' overlapping social and artistic circles, assuming the struggling Velvets managed to stay together. This will no longer be an immediate concern with Warhol's backing, but changes are almost immediately in the
offing as 1966 dawns, starting with the introduction – at Warhol's insistence – of a new singer.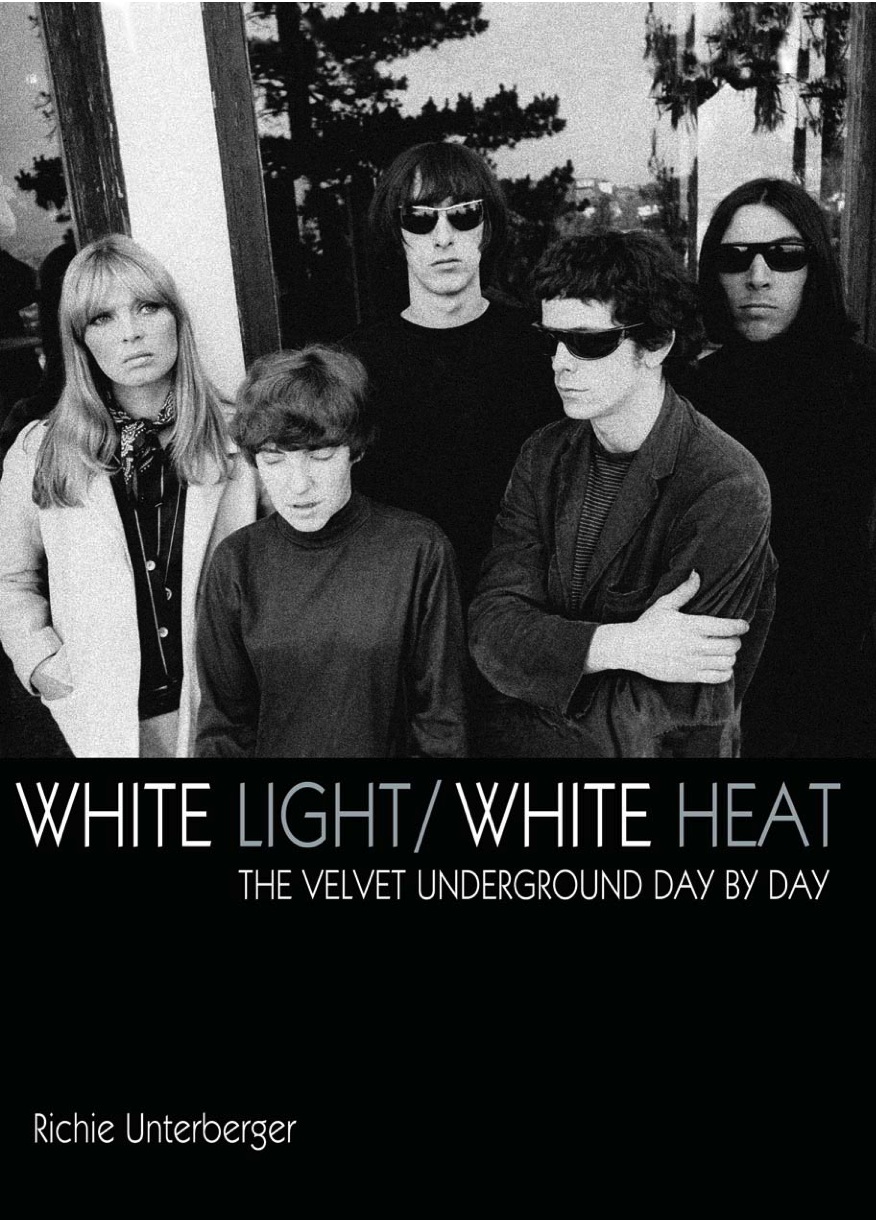 unless otherwise specified.
HOME WHAT'S NEW MUSIC BOOKS MUSIC REVIEWS TRAVEL BOOKS