FROM

WHITE LIGHT/WHITE HEAT: THE VELVET UNDERGROUND DAY BY DAY



January 2-14, 1967

CONCERTS

Steve Paul's Scene, New York, NY

It's unclear whether all of The Velvet Underground's concerts during their time with Andy Warhol are played under the Exploding Plastic Inevitable umbrella, or whether some simply feature the band on their own. What is certain however is that posters for these first concerts of the year make no mention of the EPI, even if the group are still billed as Andy Warhol's Velvet Underground & Nico, with a much smaller line of type identifying them as "Verve Recording Artists." The posters also imply a happening of sorts by advertising a Steve Paul & Andy Warhol Underground Amateur Hour featuring "stars of The Chelsea Girls" as well as "gurus, creative people, pop celebrities, [and] society submergers." The shows are mentioned in passing by Richard Goldstein in his Pop Eye column in the January 19 edition of the

Village Voice

, in which he describes the Velvets as "biting spectral atonality while Andy Warhol programs an 'amateur hour.'"

As Steve Paul recalls, "We always had multiple amusements and mixed it up any which way we thought would be best. Each and every member of the group … and Nico had both a musical capacity and an edge that fused into a mythic group that deserves every bit of its fine reputation."

A line on the posters promising "two genuinely great groups nightly" suggests that other bands might be performing alongside the Velvets during this engagement. It seems likely that, for a few nights at least, one of them is the pioneering jazz-rock band The Free Spirits, featuring young guitarist Larry Coryell. Rhythm guitarist Chip Baker definitely remembers sharing a bill with the VU for a few shows at the Scene around this time; manager Ted Gehrke thinks the concerts might have been in early 1966, but there is no other documentation to suggest that the Velvets played at the Scene then.

"The Scene was on the north side of 46th Street, in the first block west of Broadway," Baker recalls. "The steps went down into Times Square hell in this little club. If you didn't know about it, you wouldn't walk in." Despite its modest, unimposing entrance, Steve Paul's Scene is fast becoming one of the top rock clubs in the USA, putting on shows by acts such as The Doors, The Young Rascals, and Traffic, while also hosting jams with Jimi Hendrix. (The Velvets will return to the venue for at least one show in May.)

"I must confess that my largest memory of The Velvet Underground is [of the] scene around Andy and the Factory," Chip adds. "These guys were a circus, let me tell you! His scene came in with a huge box of aluminum foil. I mean, a big industrial box; it must have had hundreds of rolls. The afternoon they arrived, they started tacking up the foil inside this miserable dressing room we had behind the stage. By the time they left, they had covered something like a third of the club with aluminum foil. Andy never talked to anybody. He would take a table midway back in the club and, surrounded by a modest entourage, he would sit there."

As for the gigs themselves, Chip notes, "They would play a set, and we would play a set, I think. They played very long songs, and their harmonic courses were kind of unclear to me at the time. Maybe they weren't clear to them. But these folks were definitely a part of something special around Warhol and the Factory."

Free Spirits bassist Chris Hills also recalls playing on the same bill as the Velvets on occasion – as well as sitting in on drums. "A lot of their tunes [had] very simple drum parts," he recalls. "There would really be no change throughout the whole tune, a drone – which was probably a new thing, actually, and kind of a concept thing. But I perceived it as kind of rhythm boredom. I went over and started playing [Free Spirits drummer Bob] Moses's drums, playing free around what they were doing. I wasn't ignoring the beat by any means, but I was doing sort of like Moses does when he would keep track of the time and play with all these polyrhythms around it, and come down on the downbeat in important places and so forth. Actually the drummer, she seemed to enjoy it, and Moses said it sounded great."

Decades later, Maureen Tucker's unusual set-up still seems faintly astonishing to Moses, who in the intervening decades goes on to play on numerous respected jazz records. "Where the snare drum was supposed to be, she had an anvil," he recalls with some amazement. "She had a mic right on the anvil, and she used to play these quarter notes, just BANG! BANG! BANG!"

Moses's overall view of the Velvets, however, is rather less favorable, but serves as notable evidence that not everyone was impressed by the group – even among their 'underground' peers. "They had a singer who I would describe [as] an anorexic junkie vampire who looked like she'd never seen the sun in her life, and sang in a complete monotone with no emotion, no rhythm, no soul, nothing," he says. "She was a scary chick. And they were loud as hell. They didn't seem to have any ability to play their instruments at all. It's kind of like maybe in one way [the] punk [that] came later, but at least with the punk era, I felt there was some energy, even if it was anger, even if it was some ugly shit, they were at least trying to tear it down or destroy it or bust it up. These people, [it] seemed to me, just had this bored junkie ennui, kind of almost existential. 'It's all fucked and there's nothing we can do about it, and we're just gonna get high' – that was the vibe."

Years after the fact, Moses remains dumbfounded by the sheer volume generated by The Velvet Underground. "I've heard lots of loud music," he says, "but that was like an instant migraine – 30 seconds of that and your head just was killing in pain. I remember all of us waiting outside freezing in sub-zero weather till they were finished, it was so painful to hear them. We'd be outside just huddling in the cold, and we opened the door, we'd hear a few notes – BANG! Oh god! And we'd stay out there rather than hear them, if we could avoid hearing them."

Moses has little affection for the onlookers at gigs such as these, either. "The whole Warhol crowd would come in – lizard people, man!" he laughs. "I didn't see any emotion out of these people. They all seemed pasty and never seen the sun and never smiled, didn't dance, had no rhythm, no joy. There was a weirdness about 'em that I found very hard to take. There was like a force-field of darkness.

"Just as a freak show, it was an interesting place to be. But that was true about the Scene in general. That was the place where people could really get their freak on. I remember one time going in the men's room, and Allen Ginsberg was teaching Tiny Tim how to sing 'Hare Krishna.' And I'm stoned on acid. I'm thinking, am I hallucinating this or what?"

"The Velvets in those days were almost unlistenable sonically," adds Free Spirits manager Ted Gehrke, albeit in a more charitable tone. "The songs were, or seemed to be, truly cool, and well done. But they didn't have much of an idea about how to SOUND good. At the Scene, the first couple of nights, they put the amps in each corner of the Scene. Primitive sound-surround! Of course all the amps were at 11, all pointed at each other, and all pointed at the mics. And the Scene was incredibly small. Chaos and a severe lack of return customers! The day of the first gig, as I was moving The Free Spirits' stuff into the club, I saw Sterling Morrison busy at work on Nico's electric piano. He was duct-taping five or six of the notes down, and, when I asked him what the fuck he was doing, he said that Nico couldn't play much or stay in tune, so 'this would make sure she was in tune with someone.'"

As for Lou Reed, Gehrke notes, "He was hardly the wasted smack-freak he is/was made out to be. I was involved with several exploratory meetings with Reed and Barbara Rubin, among others, to try to take over an old school on Fifth Street to form an artists' colony, which didn't work out. He was kinda nervous, and jumpy, and smoked one hell of a lot. But he was very intelligent, well-spoken, reasonable, and prompt. He was the realist as opposed to Barbara's flights of fancy."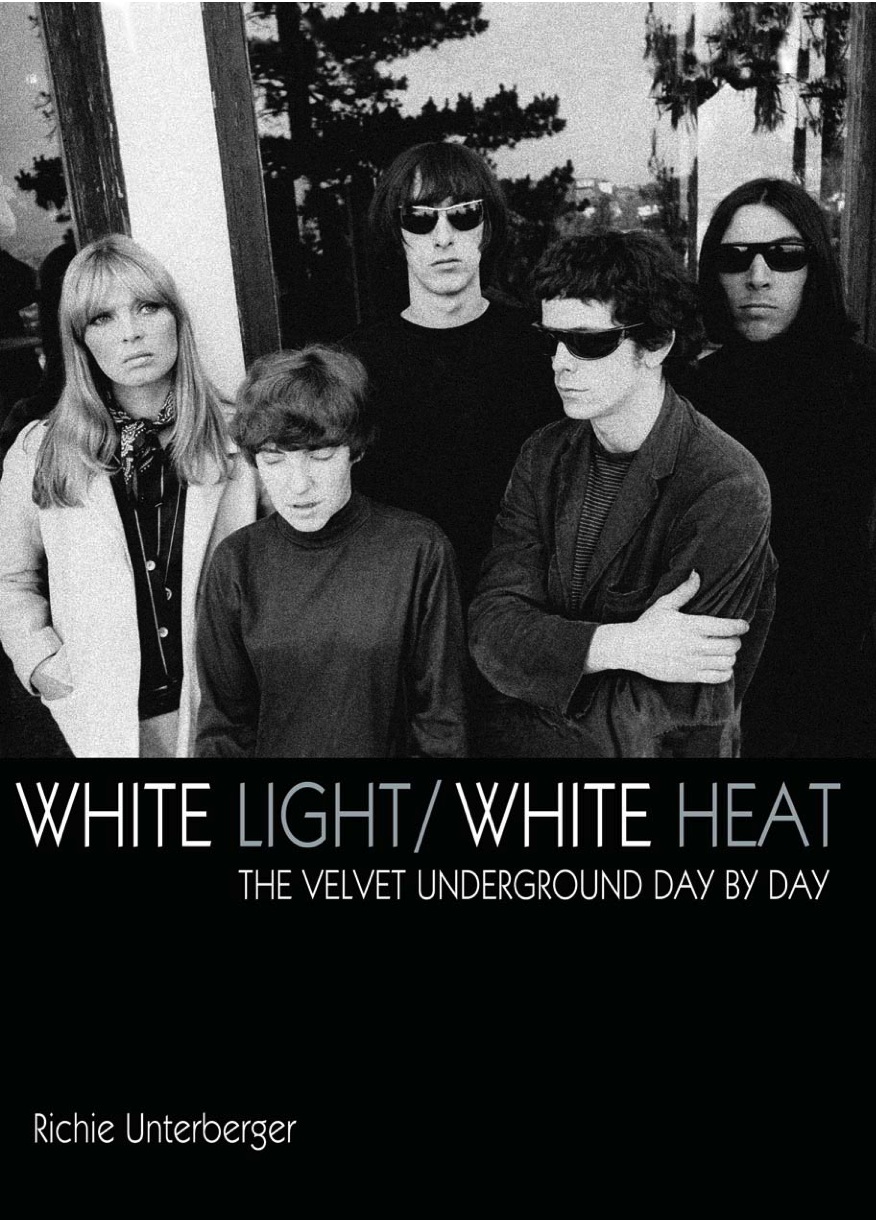 unless otherwise specified.
HOME WHAT'S NEW MUSIC BOOKS MUSIC REVIEWS TRAVEL BOOKS