FROM WHITE LIGHT/WHITE HEAT: THE VELVET UNDERGROUND DAY BY DAY

July 4-6, 1968

CONCERTS

Hippodrome, San Diego, California (w/Quicksilver Messenger Service)

The Velvets' return to this shortlived venue, a converted roller-skating rink, comes just three weeks after their first visit. They play alone on July 4, according to the

San Diego Union

, before sharing the bill on July 5 and 6 with Quicksilver Messenger Service. It's an incongruous match on the face of it, since Quicksilver are venerated as one of San Francisco's finest psychedelic-rock groups, and noted for the virtuosity of lead guitarist John Cipollina, their clean, intricately woven guitar-lines, extended instrumental jamming, and hippie anthems such as 'Pride Of Man' and 'Light Your Windows.' And yet the curmudgeonly Sterling Morrison, who has little enthusiasm generally for Californian psychedelia, is surprisingly lavish in his praise of the band, and Cipollina in particular.

The Hippodrome usually plays host to San Francisco groups such as Quicksilver, The Grateful Dead, and Steve Miller, so it's perhaps not surprising that at least one young fan in attendance is let down by The Velvet Underground. Darice Murray-McKay, who 40 years later works as the reference librarian for the Haight-Ashbury branch of the San Francisco Public Library, reports that the concerts are quite well attended, so the Velvets "must have been liked and known to the local community to play the Hippodrome and draw a crowd … [but] the VU sounded (to me) just like their records, while Quicksilver had the long improvised jams. I remember being bored. The sets were all the same: same songs, same beat, same sound, same order … of the depressing drug-type songs. Very heavy, very dark, very heroin, with a dangerous (underground) feel … while Quicksilver was light and color and acid and mind-wandering. The band seemed to be very East Coast: all dark colors, not a lot of patter between songs, and very serious about the music and being true to the recorded sound."

So much, then, for Morrison's oft-quoted declaration (to Mary Harron of the

New Musical

Express

in April 1981) that "the unanimous opinion was that we were ten times better live than we were on records. We never played a song the same way twice – never wanted to, never could. And Lou changed lyrics all the time. One of his great talents is that he can spontaneously generate lyrics on stage – just like the old blues singers, Lou can go on forever rhyming." (Ironically, given Murray- McKay's remarks, Morrison will also later cite one of the Hippodrome gigs as the greatest
ever VU show.)

Another rabid young fan in attendance is Lester Bangs, who will shortly become one of the most widely read American rock journalists. He supplies a rather different take on the show in a 1971 article for

Creem

. "In a way it was the ultimate Velvet Underground concert," he writes. "The audience was terrible; those that weren't downright hostile kept interrupting the announcements between songs to yell out what they wanted to hear, like 'How about "Heroin"!' and even 'Play "Searchin' For My Mainline"' [i.e. 'Sister Ray']!

"They were on with Quicksilver Messenger Service, and much of the audience was apathetic or put off; they wanted those California acid-vibes instead of what they took for cold New York negativism. Lou Reed, himself, came out from the dressing room and walked around the audience with his hands in his pockets, a slight, calm figure with a noncommittal expression on his face. Seemingly, nobody noticed him, because nobody said anything to him – although almost everybody in that place was so busy being cool they could barely get up the gumption to dance, so it probably doesn't matter. My girl and I wanted to go up and say something to Lou, shake his hand and tell him how much we dug his music, but I was afraid. I thought he would be some maniac with rusty eyeballs or something, the image made me nervous so we didn't approach him, even though she said: 'It seems to me like that was all they really wanted, for someone to just come up and tell them they appreciate what they're doing.' And as usual she was right, as Lou confirmed when I talked to him."

It's the first of several exchanges over the ensuing years between Reed and a man who will do for rock journalism what the Velvets are doing for rock music. Unfortunately the relationship will grow testy over time, but for now Bangs has already anointed

White Light/White Heat

the best album of 1968 in a review he sends to

Rolling Stone

(which the magazine declines to print).

This particular gig will become well known among Velvet Underground aficionados for the unveiling – possibly for the first and only time – of a new song called 'Sweet Rock And Roll' (which bears no resemblance to Reed's similarly titled 'Rock & Roll'). As Bangs writes, "Right in the middle of all these bad vibes, the Velvets launched into a new song that was one of the most incredible musical experiences of my concert career. Lou announced it as 'Sister Ray, Part Two,' but it sounded nothing like the previous song. It was built on the most dolorous riff imaginable, just a few scales rising and falling mournfully, somewhat like 'Venus In Furs' but less creaky, more deliberate and eloquent. The lyrics, many of which Lou made up as he went along, seemed like fantasy from an urban inferno: 'Sweet Sister Ray went to a movie / The floor was painted red and the walls were green / "Ooohh," she cried / "This is the strangest movie I've ever seen …"'

"But it was the chorus that was the most moving: 'Ohhhh, sweet rock and roll - it'll cleanse your soul.' That's classic, and no other group in America could have (or would have) written and sung those words."

As Sterling Morrison will later explain in his 1986 interview for Spanish television with Ignacio Julia, "We also did a four-track tape when we played with Quicksilver. We did the show and then went to a party, and Lou and I and John Cipollina were sitting on this couch. I'm sitting there and I heard Quicksilver – [who] had played first – and it was fabulous. So then I hear us tuning up and I said to Lou: 'Well I think I'm getting out of here!' I didn't want us sounding terrible compared to Quicksilver, and I figured we had to sound terrible compared to them, because I'd just heard how great they had sounded. Cipollina is a real good guitar player.

"After tuning, we started with 'Waiting For The Man' and it didn't sound so bad, so I stuck around. Then came 'Sweet Rock And Roll,' which was never recorded and never played again. We wanted that tape, it sounded so great, so there was no point in recording it. I think we did it a time or two after that, but it was nothing compared to this first one. I remember the chords and some words: 'Sweet rock'n'roll is good to your soul …' We used that as a preamble to 'Sister Ray,' it kind of just goes along and then hits the chords, which were very heavy. It was good. It was heavy, serious. Cale played keyboard on 'Sweet Rock And Roll,' and that was really what carried it."

The song makes for an almost too perfect, typically Velvetian anecdote: a band so perverse they play a great song only once, never returning to it live or in the studio in the belief that this mythical version can never be surpassed. And yet there is evidence that the song will be played at least once more. Robert Gold's review of a show at the Shrine Auditorium in Los Angeles a week later mentions a "sour, raucous version of 'Sweet Rock And Roll.'"

The song must have made an impression on Gold for him to cite it in his review. But it seems unlikely that anyone else will ever get to hear the 'Sweet Rock And Roll.' According to Morrison's unpublished interview with M.C. Kostek and Phil Milstein of

What Goes On

, "That was a great performance … [but] the tape was stolen that very night. Stolen within seconds, actually. As soon as it ended, it vanished, never to reappear on earth."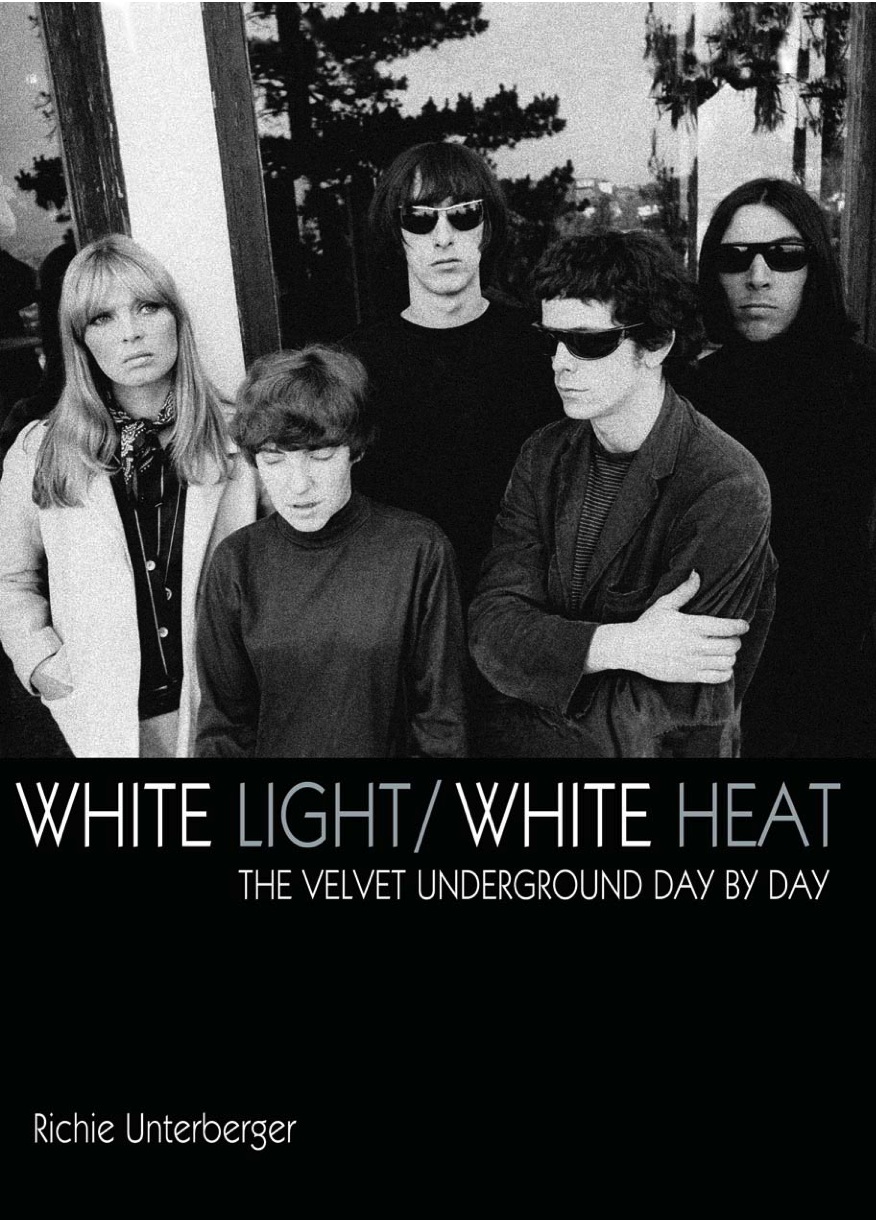 unless otherwise specified.
HOME WHAT'S NEW MUSIC BOOKS MUSIC REVIEWS TRAVEL BOOKS