FROM WHITE LIGHT/WHITE HEAT: THE VELVET UNDERGROUND DAY BY DAY

October 23-25, 1969

CONCERTS

The Vulcan Gas Company, Austin, Texas

As the most liberal city in Texas, and one that has produced a steady stream of folk and rock acts throughout the 60s, Austin is a natural second stop for the Velvets on their maiden Texan tour. According to Billy Angel, a young Austin musician who will go on to play autoharp in local psychedelic group Cold Sun and with Roky Erickson & The Aliens (led by the former leader of The 13th Floor Elevators), the Velvets have a more extensive following in Austin than they might previously have realized. "There was a time, a couple of years prior to that, [when every] home you would visit [would] have two or three albums on the coffee table," he recalls. "The [13th Floor] Elevators' album, the Velvet Underground album with the banana, and maybe one or two other albums;

The Fugs

is another one."

Angel attends all three Austin shows, and recalls that "it just seemed like all the coolest people suddenly had come out of the woodwork. I'd never seen that many of the coolest of the cool all together in one place in Austin… people that probably wouldn't go to any kind of rock show, who weren't into rock music at all, that were like filmmakers and future filmmakers – just the hippest of the hip."

The Velvets apparently play just about every song they've ever released and then some. "Every time someone would yell out a request," Angel recalls, "[Reed] announced, 'We're gonna play it all.'" (When Angel then asks Reed if they'll play 'Sister Ray,' Reed replies, "I said,

all

of it!") Getting into the cow-town spirit, the Velvets' frontman wears a straw cowboy hat for the third and final show; otherwise, Angel says, "he wore the same outfit all three nights – blue bell bottoms, and maybe a shirt with horizontal stripes. It looked kind of like a sailor's outfit in a way."

As far as Angel is concerned, "Lou Reed as a performer was probably way beyond what most people expected. I don't think there were too many people who had listened to the albums and expected that level of professionalism live. During one song – I'm sure it was 'Pale Blue Eyes' – the PA let out a little bit of feedback. It happened once, and then about a minute later it happened again, and then he stopped playing. He motioned for the band to stop and said, 'Now look. These people paid their three dollars to hear this right, and so they're gonna hear it right. So get it fixed! Take your time, we've got all night, we're not in a hurry. We don't get up early, we don't have any place to be in the morning. Just get that fixed,' or something to that effect. I recall the guy that was working the PA running around like crazy, scrambling around, looking kind of embarrassed and uptight. I'd never seen anyone who played there insist on being such a pro. But he was very friendly and humble toward the audience, for the most part; Lou seemed to relate to the crowd like they were in on something, in on it with him."

In a conscious effort to avoid hippie-rock clichés, Reed also reportedly tells a member of the venue's staff, Tyler Jansen, that he "specifically did not want an oil-and-water light show happening. One of the directives about the light show was, no squiggly moving stuff," Angel adds. "But they did have a light show, and they had decent lights." Reed is not much of fan of Jim Franklin's poster art – supposed to represent an underground, velvet-lined coffin – either. Angel remembers him asking the artist, "Why such gruesome subject matter?" to which Franklin replies, "I don't know. Why do you write songs about smack?" Angel adds that Franklin would later call the Velvets' shows "the highlight of the entire Vulcan Gas Company existence. I would agree with that."

"The amazing thing to me was that Nico was not there, and John Cale was not there, and yet they sounded really like The Velvet Underground," notes Gregg Barrios, the Austin writer and filmmaker who in 1967 wrote one of the first reviews of a VU record. "Doug Yule did the Nico songs with such panache. He found that feminine side in him and did them just really wonderful. He didn't try to make [a Nico-sung tune such as 'I'll Be Your Mirror'] his own, but to just make it what it was, a Velvets song. I think Lou Reed would have been very upset if he had tried to take the thunder away from him, because Lou is that kind of guy. I think too often people forget that [Yule] was there, because he was so much a part of the group. Tell him that one of his fans in Austin still remembers the dignity that he brought to the band."

Billy Angel agrees. "Doug Yule could have done a lot of things that were wrong, and didn't," he says. "He stuck to the bare minimum, and it was fine, it worked. It was a minimal version of the sort of stuff Cale had done, sort of a simulation, and he didn't take it far enough to take any chances with it. Anybody else probably would have, and would have probably loused it up, and he didn't. He did it real well. And his singing, his stage presence, was really great. He seemed smart enough to leave well enough alone musically, and a lot of people, especially at that time, just wouldn't have done that. They were lucky to have him, they really were."

As for the overall reaction from the Austin audience, Barrios adds, the Velvets "were very well received. They did a lot of songs that ultimately never came out on [

Loaded

]. When Maureen did 'Ocean' with the cymbals to evoke waves, that was something I had not heard come from them. They were talking about religion [in] 'Jesus.' There was almost a kind of nostalgia that seemed to be creeping into this, as if that era that had produced them had moved on."

At some point during the Velvets' Austin trip, Barrios interviews Sterling Morrison; the lengthy Q&A – with some brief interjections by Doug Yule – eventually appears in the March 6 1970 issue of

Fusion

. Morrison admits he still hasn't heard The Stooges' debut LP, but cites The Byrds, The Kinks, and "Dr John's first album" as favorites; Yule praises Taj Mahal, The Rolling Stones, and Creedence Clearwater Revival. Morrison then puts down Frank Zappa and The Mothers Of Invention at some length, and makes clear how he feels about suggestions that the Velvets are similar in any way to another pre-punk band of sorts: the MC5. "That's a comparison that would drive me to an early retirement," he says.

Asked if he's happy with how things are going with the Velvets, Morrison admits, "I'd like to see us have a hit single. It's really important that you do that. Our singles so far are a joke … Most of our singles were never distributed. However, where they appeared on jukeboxes, people have really liked them." He might be alluding to the backlog of material cut in recent months at the Record Plant when he adds, "We have all sorts of strange things lying around in the can, as they say. We record them and get tired of them before they're released. It happens many times. We get demos and we play the demos and get tired of them."

Years later, Barrios recalls, "I had a great time with Lou, but he didn't want to do the interview. He said, 'Let Sterling speak.' Sterling and I went and had tacos, and he said, 'I kind of like Austin. I kind of would like to move somewhere so I can finish my education.' I assumed he was just talking. I didn't think he was serious." But he was: Sterling will begin graduate work in Austin in 1971, when he starts teaching at the University Of Texas.

In his 1986 interview with Ignacio Julia, Morrison mentions some "terrific recordings" of one of the Austin shows. No such recordings have come to light in the years since, however, so he might perhaps have meant the Dallas tapes recorded earlier in the month. If any Austin recordings are ever discovered, they might include the 45-minute version of 'Sister Ray' mentioned in Stephanie Chernikowski's article for the July/August
1980 issue of

New Yorker Rocker

.

Meanwhile, it's possible that the Velvets also play at an outdoor festival in Texas at some point during October. As Doug Yule recalls, the outdoor shots by road manager Hans Onsager included in

69 On The Road: Velvet Underground Photographs

were likely taken at just such an event in the state, possibly on a college campus. Even more intriguing is the fact that the pictures show what Yule confirms to be "an independent filmmaker wandering around, making films of the whole thing. I think someone has tried [to track him down], and been unsuccessful."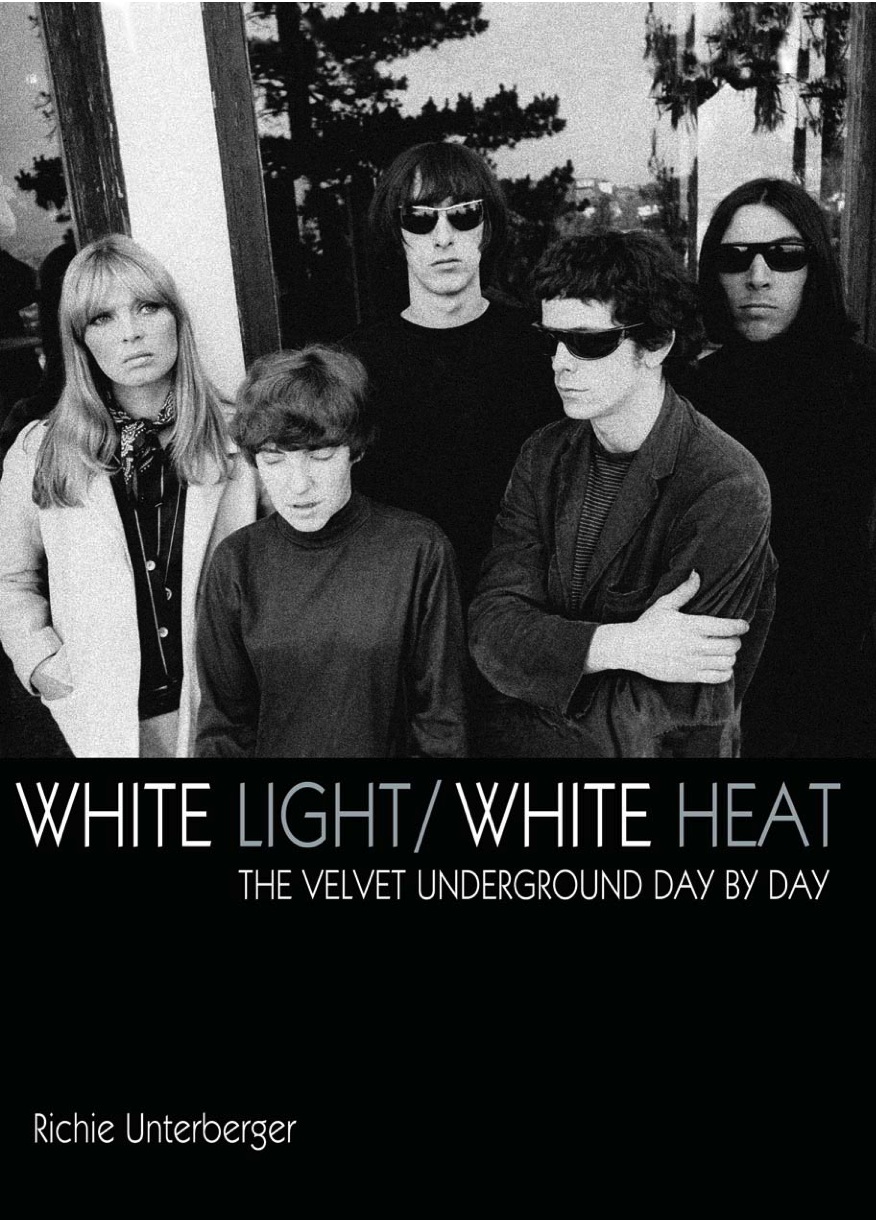 unless otherwise specified.
HOME WHAT'S NEW MUSIC BOOKS MUSIC REVIEWS TRAVEL BOOKS