This story was first posted on the KQED Arts website's new series Into The Mix, which focuses on little-known stories from the Bay Area music scene's past and present. Reproduced courtesy of KQED.
When San Francisco punk group Crime recorded their first single, "Baby You're So Repulsive"/"Hot Wire My Heart," the band "knew only that they wanted the resulting recording to be loud," says Henry Rosenthal, a drummer who later joined the band.
"Apparently, the band kept turning up knobs on the control board, pinning meters and creating that most beautiful of sounds known as analog distortion," Rosenthal says. "The exasperated engineer was ignored, and finally got up and ran out of the control room, washing his hands of the whole mess, saying, 'You do whatever you want! I give up!'"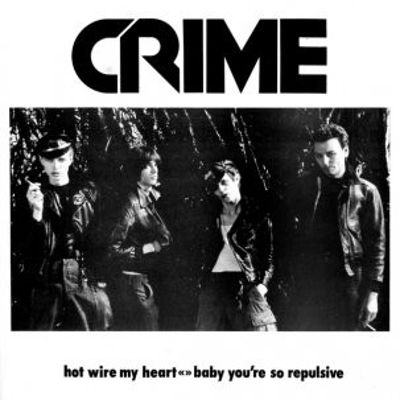 Less than 10 years after Bay Area psychedelic bands rewrote how rock was recorded, a legion of punk and new wave groups from the region were upending the rulebook yet again. In the late 1970s and early 1980s, Crime, the Avengers, the Dead Kennedys and dozens of other acts cut sounds as rude and crude as any being made in the country. Sometimes they met hostility in the studio; sometimes they met bewilderment. Most often, the musicians, engineers, producers, and studio owners worked together to make records that somehow captured the scene's vibrancy in the absence of major label backing, time, or money.
There were no favored one or two studios for the new breed. Sessions were snagged whenever they were available and affordable (or, if they were lucky, free) at studios such as Hyde Street, Different Fur, or even facilities at Mills College in Oakland. Failing that, as producer John Cuniberti notes, "Many early punk records were recorded literally in a garage or basement. My first recordings with the Dead Kennedys took place in a converted mom-and-pop grocery store on a 16-track for $25 an hour.
"The bigger studios like the Record Plant or Fantasy insulated themselves from low-budget unsigned bands, punk or otherwise, by keeping the rates high and catering to the major labels," says Cuniberti, who in addition to much of the Dead Kennedys catalog also engineered legendary punk discs by Victims Family and Flipper. "[However] by 1980 there were a handful of small one-room studios popping up all over the Bay Area. Most of them were owned and built by musicians who wanted to record themselves, their band or their friends' bands."
Gary Hobish saw different ends of the recording spectrum when he recorded as guitarist and bassist in hard-edged Berkeley new wavers the Jars. The band's first 7″ was recorded in a studio in the building housing Target Video (itself important for its films of numerous early punk acts) between 17th and 18th Streets on South Van Ness Avenue in the Mission District.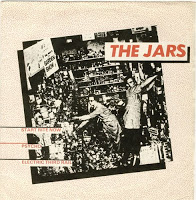 "We had a song called 'Electric Third Rail,' and at one point we wanted the sound of somebody being electrocuted," Hobish remembers. Engineer Mike Fox "came up with the idea of running the tape at half speed, and we took a bunch of aluminum beer cans and crinkled them at half speed. When we sped it up, it was fairly electric."
Yet when the Jars were invited to make a demo for Fantasy Records, famed for their hits with Creedence Clearwater Revival, at Fantasy's Berkeley studios, "I don't think they got it at all," says Hobish. "The engineers were sympathetic, but they would try to clean it up in terms of, 'Well, this is how a recording should be done.' It was no animosity there, but it just wasn't really the right approach for a lot of bands."
"Most punk bands in the beginning were only capable of performing their live show in the studio," says Cuniberti, who later worked with Chickenfoot, PJ Harvey and Joe Satriani. "The recording was pretty straightforward and never required much 'production.' Singles were made in a day, and LPs in a week or less."
Avengers singer Penelope Houston tells of her band recording their debut 7″, exemplifying how and why some early punk classics were cut so fast: "When we did 'I Believe in Me' I made up the verses during a scratch vocal take, and when I was done and it was time to do the real vocal, I said, 'Oh just keep that.' We were broke, jobless musicians who shared the same flat. We couldn't imagine recording, let alone releasing, a full LP."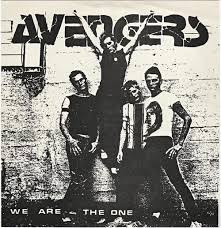 Over time, some of the longer-lived bands could spend more time and money in the studio, a difference reflected in the growing sophistication of their records. For example, the Dead Kennedys "were all business in the studio, and knew what they wanted," Cuniberti says.
"However, capturing the energy of their live show in a studio setting was difficult. The vibe would vanish after a few takes of a song, which required an engineer to have his shit together on the first take. The Dead Kennedys' early 45 singles like 'Too Drunk To Fuck' had very little 'production' but a lot of energy and intent. It wasn't until their second album, Plastic Surgery Disasters, that the band moved away from the formula punk sounds of the '70s," Cuniberti says. "By 1982, the band was well-known and selling tickets, records and T-shirts, and could now afford ambitious studio recordings in more expensive studios. With more studio time available, their imaginations ran wild. The third album, Frankenchrist, went even farther with irreverent amounts of reverb, echo, and layered guitars and vocals."
When Gary Hobish worked as an engineer on the debut LP by legendary San Francisco oddballs the Mutants in the early '80s, a balance had to be struck between punk and polish. "The first set of sessions, they had brought in a well-known producer and Hollywood engineer," says Hobish. "Some great recordings were made, and a lot of it is on the album. But the band sort of rebelled against things being a little too sterile, or looking for that perfect take, when they didn't feel 'perfect' was really one of the requirements."
"They could have made a great record with just that material," Hobish adds. "But they waited about six months and then they brought in [San Francisco-based guitarist] Snakefinger to produce another set of sessions, and that essentially filled out the album [with], I guess, 40 percent newer material. They reacted a bit better to that, possibly because they felt that Snakefinger was sort of one of their own from the same scene from his involvement with The Residents," the San Francisco avant-garde outfit with whom Snakefinger often collaborated.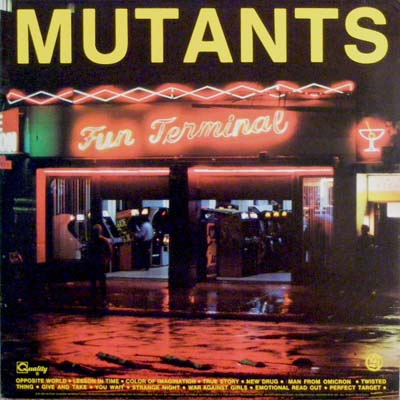 But Hobish, who has mastered vintage releases by the likes of the Avengers and Flipper for CD reissues, believes that despite their desire for both distortion and a lack of polish, those punk bands wanted to make "good recordings."
"The fact that a lot of the recordings from that era are very rough has more to do with wanting to get things done quickly, or not being in the most professional situations, or just wanting to capture some raw live energy, than it did with having any sort of disdain for proper recording techniques," Hobish says.
But, as Henry Rosenthal remarks, it's that very energy, and to some extent the primitive conditions, that fueled the power that makes those records endure today.
"When Crime started, the punk moniker didn't exist yet, so there were no rules for recording the music," he declares. "The band considered itself elemental rock 'n' roll. As a result, Crime's best recordings were those made under the most adverse and restrictive conditions."