In my previous post, I wrote about some of my favorite records that were written by famous artists, but first released on discs by others. It's a huge subject that would take several books to fully document, if someone wanted to do reference volumes going through every example. I limited that list to my very favorites, but there are many other instances that have interesting stories behind them, even if the music wasn't always brilliant. Here are a few, starting with perhaps the most famous that didn't make my first list:
Scott McKenzie/The Mamas & the Papas, "San Francisco (Be Sure to Wear Flowers in Your Hair)." How did John Phillips give away one of his biggest hits, instead of having his own hugely successful group do it? The story's been told pretty often, but McKenzie and Phillips had been friends for a long time before the Mamas & the Papas formed, playing together in an also-ran folk revival group that made some records, the Journeymen. "San Francisco" was meant as a kind of welcome to everyone coming to Northern California for the 1967 Monterey Pop Festival, which Phillips co-produced with Mamas & the Papas producer Lou Adler. It was also a way of helping out an old friend, and it would be McKenzie's only hit.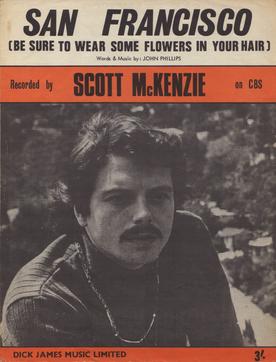 For such a gentle, rather innocuous song, "San Francisco" has stirred its share of rage among some of the very San Franciscans it might have been intended to honor. Some felt it was an inappropriately wimpy anthem for their city. Some rock critics past and present, whether from San Francisco or not, deride it as sappy hippy naiveté. Some also accused Phillips, and indeed the whole Monterey Pop Festival organization, of exploiting the San Francisco scene, both for using it as the trendy subject for a hit single and for having a lot of emerging San Francisco bands on the Monterey bill to enhance its credibility. The Mamas & the Papas were based in Los Angeles, not San Francisco, giving more ammunition to those who saw them as bandwagon-jumping carpetbaggers.
I can't get that angry about something that's just a song, and though I'm not a huge fan of it, I think it's okay. Judging from the singalong reaction of many students (usually now senior citizens) in my adult community education classes when I show a clip of McKenzie miming the tune, lots of people still think it's more than okay.
The Acid Gallery/The Move, "Dance Round the Maypole." When people hear this obscure late-1969 UK single, they often mistake it for the Move, with its catchy British pop tune, lumpy hard rock arrangement, playful lyrics, and foggy vocals and backup harmonies. There's a good reason for that. This was written and produced by main Move songwriter Roy Wood. And the backing vocals were by Wood and fellow Moveman Jeff Lynne.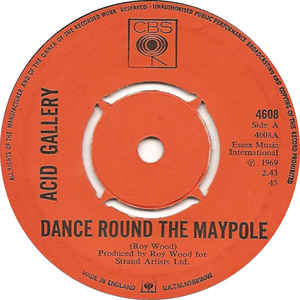 This would have worked fine as filler on an early Move LP, though maybe Wood felt it wasn't heavy enough for what they were getting into by 1969. It wasn't a hit, and the Acid Gallery made just this one single. They weren't done with the record business, however, as guitarist Vic Elmes and drummer Mike Blakely (drummer of the Tremeloes' Alan Blakely) were soon in Christie, who had a big 1970 hit with "Yellow River."
The Barron Knights/The Who, "Lazy Fat People." Pete Townshend didn't make writing for other artists nearly as much of a sideline in the mid-1960s as Lennon-McCartney, Jagger-Richards, and Ray Davies did. He did place some compositions with other artists, including an early version of "Magic Bus" with the Pudding, whose single came out in 1967, a year before the Who had a hit with the same song. Far more obscure was this weird donation to the Barron Knights, a British group known more as a comedy outfit than a serious musical enterprise. It has more of a black-comic vaudeville feel than a rock one, complete with vocals producing fake trumpet sounds. Townshend's demo of the song has been bootlegged, and while it's more palatable, it's not great in that guise either. It's really kind of an ill-advised stab at a novelty song, though I once read it was aimed at man-with-a-cigar greedy music biz tycoons.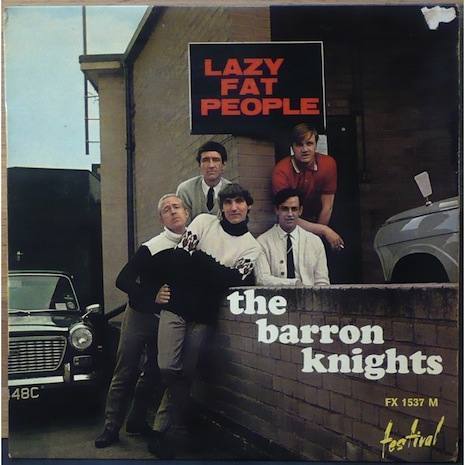 The Searchers/The Everly Brothers/The Hollies, "Have You Ever Loved Somebody." A typically catchy and effervescent Hollies pop-rock original, "Have You Ever Loved Somebody" was done twice before the Hollies' own version came out on their 1967 Evolution LP. The Searchers did a very good, hard-charging, slightly fuzz-tinged arrangement on a 1966 single that just dented the UK charts at #48. The Everly Brothers did a good one on their Two Yanks in England album that same year. Both of these recordings are superior to the relatively ordinary, relatively heavier one on Evolution.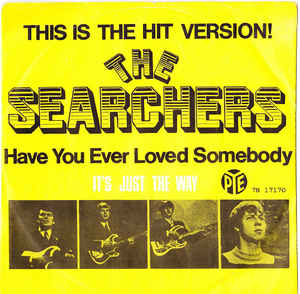 At first glance, the Two Yanks in England album almost looks like an LP stuffed with Hollies giveaways, as eight of the twelve tracks were penned by the group. But although the album's worthwhile, and did mark the debut of some of the songs on disc, none of these were exclusives. The Hollies had already issued their own version of five of the numbers, and the others would all appear on Hollies releases in the near future, whether on B-sides or LPs.
Dusty Springfield/The Zombies, "If It Don't Work Out." Although the Zombies had two excellent songwriters in Rod Argent and Chris White (who wrote separately), they barely got involved in the game of having other artists do songs that didn't find a place on their own records. One exception was Argent's "If It Don't Work Out," which got a spot on Dusty Springfield's late-'65 UK LP Ev'rything's [sic] Coming Up Dusty. She does a good enough job on a tune that shows a greater soul influence than most of the Zombies' work, but it's only acceptable filler, not something with hit single potential.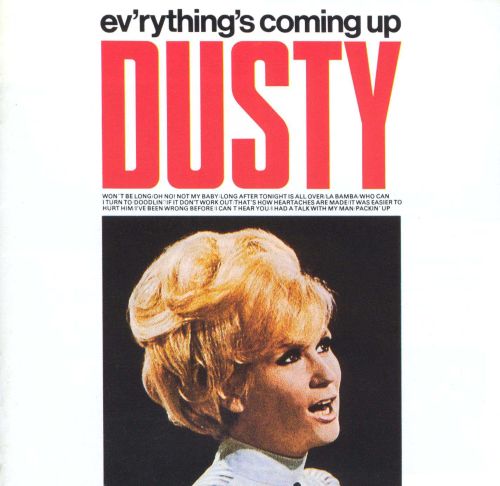 Both the Zombies and Springfield, however, rated it more highly than I do. In the liner notes to the box set Zombie Heaven, Zombies guitarist Paul Atkinson told Alec Palao, "We rehearsed it a lot but [Rod] said 'I'm going to give it to Dusty.' I was upset about that, because I thought it could be a hit for us."
Elaborated Argent in the same notes, "We were on tour with Dusty and she said to me 'I'm recording at the moment, will you write something for me?' So I wrote her a song over the weekend which was 'If It Don't Work Out,' and that was quite good really because I had her voice in mind. I played the song to her in the studio and she loved it."
Said Dusty in 1965 (according to Paul Howes's book The Complete Dusty Springfield), "That tambourine is fantastic. Rod was there on piano. I asked him, on tour, to write something for me—this is it! The strength of the brass is lovely." According to that book, it was planned as a single, though it ended up as an LP track. The Zombies did their own adequate version in July 1965, but it didn't come out (with some overdubs in December 1968) until 1969, after the group had broken up.
Yellow Hand/Buffalo Springfield, Yellow Hand. On their sole album, 1970's self-titled Yellow Hand, this unknown group somehow got hold of half a dozen songs by Neil Young or Stephen Stills that had been recorded or demoed back in their Buffalo Springfield days, but were never released by that great group. These included Young's "Down to the Wire" and "Sell Out," and Stills's "Neighbor Don't You Worry," "We'll See," "Come On," and "Hello I've Returned." All of these songs are on the Buffalo Springfield self-titled box set in Springfield/demo versions except "Sell Out," which is on Young's Archives Vol. 1 box.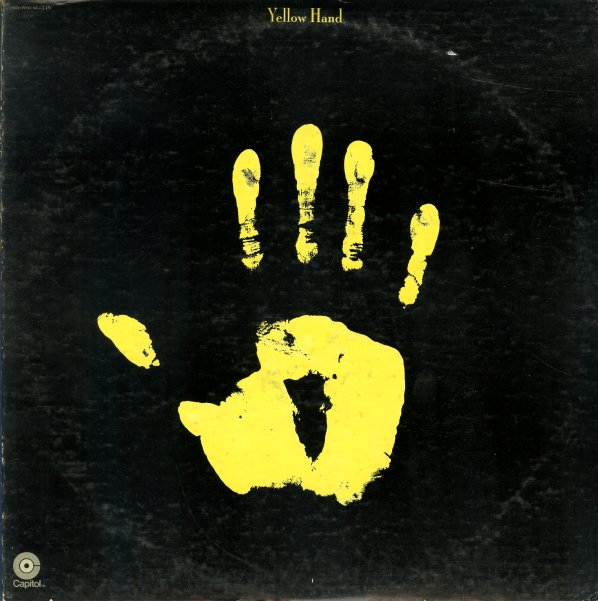 While these songs generally aren't up to what the Springfield put on their LPs, they have their merits, and are sometimes about as good as some of their deep album cuts. Yellow Hand's versions are substantially different than the ones in circulation by the Springfield, having been recorded considerably later, and arranged based on demos that were made available to the group.
Butch Engle & the Styx/The Beau Brummels, most of The Best of Butch Engle & the Styx: No Matter What You Say. "The best of" is an odd title for a Marin County group that had only three singles, none of which were close to being a hit. With the addition of almost a dozen outtakes, Beat Rocket/Sundazed put out a full CD of their 1964-67 recordings in 2000. All but two of the tracks were written or co-written by Ron Elliott, lead guitarist and main songwriter of the Beau Brummels. Elliott also co-produced the recordings, making the band almost a minor league affiliate of sorts to the Brummels.
The Beau Brummels were an excellent and underrated group, and the thought of lots of otherwise unavailable Elliott songs naturally piques the interest of any fan. Unfortunately, however, most of these are subpar castoffs that aren't nearly on the level of what he reserved for his own band. Since they unsurprisingly have a similar minor-based melodic sense and moodiness, they almost sound like the work of an act trying to imitate the Beau Brummels. Although "Hey, I'm Lost" (one of their singles) is a fairly good and tough number, otherwise it's an unexpectedly underwhelming mid-'60s garage-pop-folk-rock collection. Beau Brummels fans will want it, but they'll probably be disappointed to at least some degree.
Georgie Fame/John Mayall, "Something." Strange but true: Mayall never got into the charts with any of the numerous singles he wrote for his band the Bluesbreakers. But he did with a song he co-wrote with guitarist Jon Mark, an accomplished folk guitarist who'd play in Mayall's group in the late 1960s. In late 1965, the Mayall-Mark composition "Something" was a mild UK hit for Georgie Fame, peaking at #23. It's an amiable good-natured effort with more of a soul-pop feel than the usual blues, or blues-rock, in which Mayall specialized. It doesn't scream "hit," and probably got as high as it did owing to Fame's track record, as he'd topped the UK charts (and almost gotten into the US Top Twenty) a year before with "Yeh Yeh."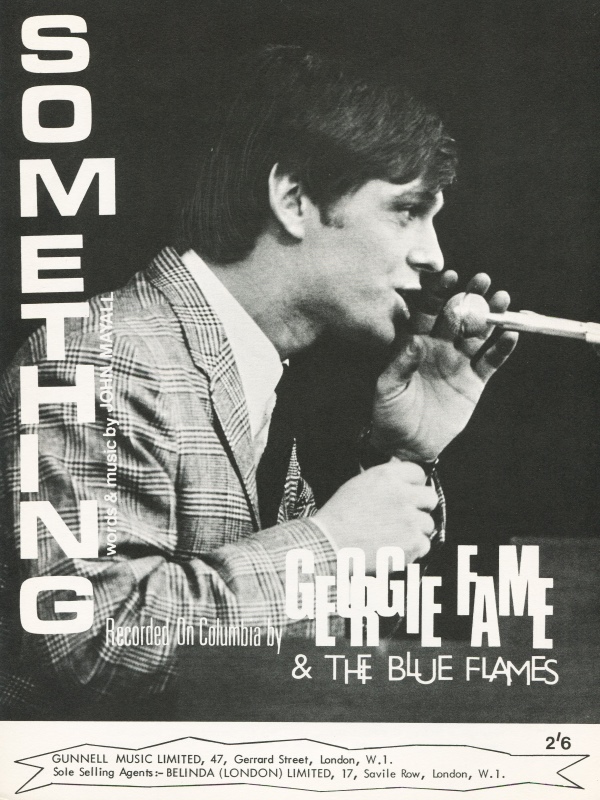 Jim & Jean/David Blue, "Strangers in a Strange Land." Jim & Jean's 1966 album Changes was almost an exercise in digging for then-unreleased songs by significant folk-rock songwriters. These included Eric Andersen's "Tonight I Need Your Lovin'" (which Andersen would never put on his own discs) and Bob Dylan's "Lay Down Your Weary Tune," which the composer had recorded in 1963 at the sessions for his third album, but which would not be issued until the mid-'80s. There were also a couple songs by Jim Glover's buddy Phil Ochs, "Crucifixion" and "Flower Lady," that wouldn't become part of Ochs's discography until his 1967 album Pleasures from the Harbor. "Crucifixion" is a standout as it's a straightforward, haunting interpretation that doesn't have the musique concrete effects that some fans feel mar Ochs's arrangement.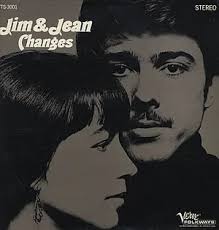 Also haunting, and yet better, is their version of David Blue's "Strangers in a Strange Land." Blue is most notorious for his 1966 self-titled Elektra album, on which he seemed determined to sound (and, on the cover, look) as much like early electric Dylan as possible. "Strangers in a Strange Land," however, wasn't at all like Dylan. Its beguiling, winding melody was well suited toward Jim & Jean's close harmony, as well as the economic but biting folk-rock backing track. Indeed, "Strangers in a Strange Land" was better and more original than any of the songs Blue placed on his own 1966 debut LP, though Blue never released his own version anywhere.
The Changes album also includes a couple other Blue compositions, though these ("Grand Hotel" and "About My Love") were also on the David Blue album. Incidentally, "Strangers in a Strange Land" is an entirely different song than "Stranger [singular] in a Strange Land," a superb David Crosby-penned early folk-rock single by the male-female San Francisco duo of Blackburn & Snow.
The Fresh Windows, "Fashion Conscious." This is kind of an honorable mention because actually this wasn't written by a member of a famous group. But some collectors assumed it was, because this obscure 1967 UK single bears the songwriting credit Barrett. And as it's a really cool mod rock number about a too-cool trendy-following dolly bird with mild psychedelic touches and an acidic satiric vocal, it seems like it might, just about, have been a composition by original Pink Floyd leader Syd Barrett. It's rather more straightforward than his Pink Floyd songs, but there's some similarity in the songwriting and the very British, measured vocal.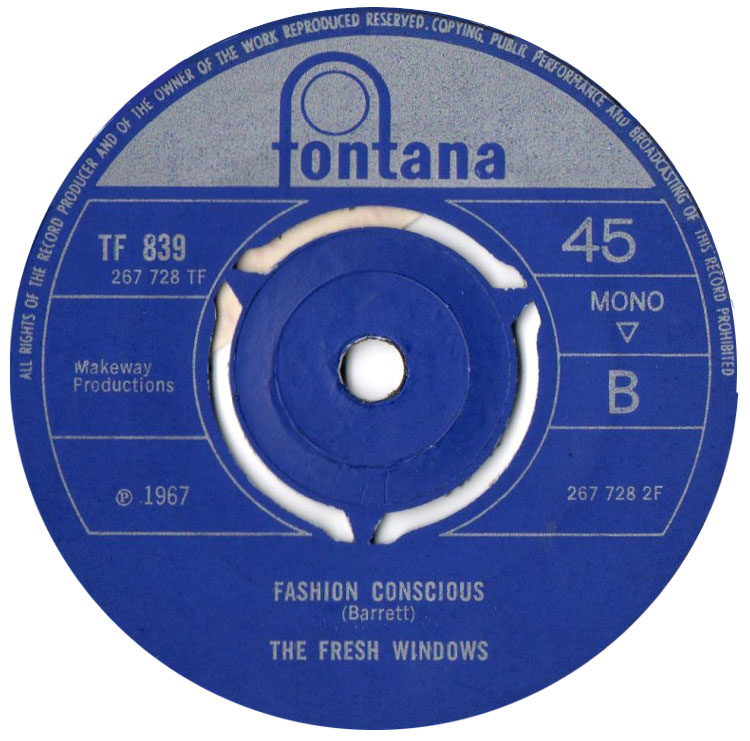 It turns out, however, that there's no known connection between this Barrett and Syd Barrett. Rumors were fueled, perhaps purposely, when it was given a credit of "S. Barrett" on the inner label of one of the first and best (if unauthorized) compilations of rare '60s British psych, Chocolate Soup for Diabetics. In fact, virtually nothing is known about this group. "Fashion Conscious" has never been reissued again to my knowledge, despite its considerable quality.