One of my recent blogposts covered, in part, how disputes over a couple of songs—specifically "Triad" and "Goin' Back"—helped lead to David Crosby getting fired from the Byrds. It was by no means the only factor, but it certainly played a strong part. Were there any other instances from the era in which a song, a couple songs, or a specific block of material played a major role in a band's breakup, or at least in changing a band's lineup?
There were quite a few, and no doubt there were more—perhaps some never reported—than the ones I've listed here. But here's a summary of some of the more notable ones, some of which have been written about for pages, not just paragraphs.
The Byrds, "Triad" and "Goin' Back." To recap, David Crosby wanted more songs on the Byrds albums, and specifically wanted his ballad about a ménage a trois, "Triad," on their fifth album, The Notorious Byrd Brothers. The other Byrds, specifically Roger McGuinn and Chris Hillman, objected, and not just because they didn't think the song was in great taste. They preferred a classy Gerry Goffin-Carole King composition, "Goin' Back," which they gave a typically glowing folk-rock treatment with ringing guitars and soaring harmonies. Crosby didn't like "Goin' Back," both because he felt the band should be doing their own (and his) material, and because he thought the song was too lightweight.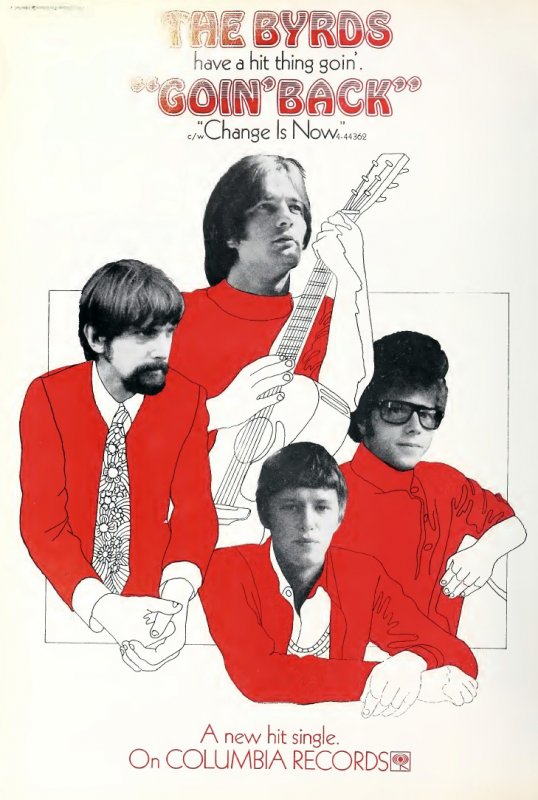 "Goin' Back" did come out well, but without help from Crosby, who didn't offer his full or enthusiastic participation. Before The Notorious Byrd Brothers was completed, McGuinn and Hillman drove to Crosby's home in autumn 1967 to fire him, finishing the LP without him. You can read a fuller account in my blogpost. But it's worth noting that in his interview presented as a bonus feature to the DVD of the documentary David Crosby: Remember My Name, McGuinn admitted, "It was a mistake to fire him. To fire the best harmony singer in the world. It was the best sound we ever had vocally…never got that good again. We missed David. David was an essential part of the Byrds."
The Beatles, "The Long and Winding Road." Probably the most famous example of a song playing a key role in a group's breakup. The story's been told many times, but basically Paul McCartney was furious at Phil Spector's overdubs of strings and a choir on "The Long and Winding Road." He maintained this had been done without his knowledge, and announced his departure from the Beatles shortly afterward, on April 10, 1970. It's uncertain how soon he made up his mind after hearing the track, but it couldn't have been too long before April 10, since the overdubs were recorded on April 1.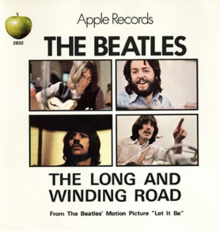 It's never been completely established whether McCartney (then busy wrapping up his first solo album) was completely unaware of Spector's overdubs on the song. An April 14, 1970, telegram from Paul to Allen Klein reprinted in The Beatles Anthology states, "In future no one will be allowed to add to or subtract from a recording of one of my songs without my permission," implying the mix was done without his approval. In the Evening Standard, he added, "I was sent a remixed version of my song 'The Long and Winding Road,' with harps, horns, an orchestra and women's choir added. No one had asked me what I thought. I couldn't believe it. I would never have female voices on a Beatles record." (Although there actually had been female voices on Beatles records on occasion, most recently at the January 1970 overdubs for the "Let It Be" single, which included harmonies by Linda McCartney; Mary Hopkin also recalled singing on this session.)
Ringo Starr, however, told Melody Maker, "He heard it. I spoke to him on the phone and said, 'Did you like it?' and he said, 'Yeah, it's okay.' He didn't put it down. And then suddenly he didn't want it to go out…two weeks after that, he wanted to cancel it."
Contended Spector in the 2009 documentary The Agony and the Ecstasy of Phil Spector (in an interview filmed shortly before he began serving a prison sentence for murder), "Paul loved, he said, 'The Long and Winding Road' when it was done. … It was a terrible recording when I heard it. John was playing bass on it with all the wrong notes, there was no snare drum on it. I had to get Ringo in to play. It was bass, drum, and piano. It was really awful. … I had to do everything I could to cover up the mistakes. And I even called Paul to ask me who he'd recommend as arranger. And I used an arranger that Paul recommended."
For his part, George Martin told Melody Maker, "John insisted that [Let It Be] was going to be a natural album, a live album, and he didn't want any of the faking, any of the Pepper stuff, any production. … When the record came out, I got a hell of a shock. I knew nothing about it, and neither did Paul. All the lush, un-Beatle-like orchestrations with harps and choirs in the background—it was so contrary to what John asked for in the first place."
Yet this is what came out, and history generally accepts the overdub of "The Long and Winding Road" as one of the last straws that finally led Paul to throw in the towel and quit the group on April 10, 1970.
The Yardbirds, "For Your Love." Although they were already a great R&B-blues-oriented group, and had already issued a couple fine singles and recorded an exciting live album, the Yardbirds didn't have a hit as 1965 dawned. They took a chance on a decidedly non-R&B-blues song, Graham Gouldman's "For Your Love." Guitarist Eric Clapton seemed disgusted by the move, as he wanted to play blues and viewed it as a sellout, though he does play in the boogie bridge. He might have been wanting out of the group anyway, but he left shortly after it was recorded.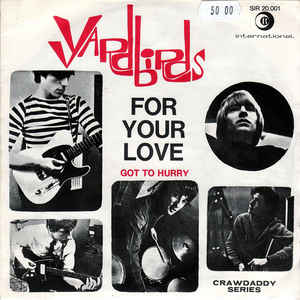 Actually, this worked out well for everyone. Clapton got to play the blues he wanted in John Mayall's Bluesbreakers. "For Your Love"—hardly a sellout, but a radically different kind of pop-rock song, with harpsichord, bongos, an ominous melody, and unpredictable tempo changes—was the big hit the Yardbirds were gunning for, in both the UK and US. And Clapton's replacement, Jeff Beck, was not only just as great a guitarist, but more amenable to the non-blues risk-taking at which the band would excel for the year and a half he was in the Yardbirds.
Clapton's sometimes painted as the heroic figure who refused to be compromised by commercial considerations, but that wasn't necessarily the case. "Eric didn't like the change of policy towards getting hits," Yardbirds drummer Jim McCarty told Chris Welch for the liner notes of the 1977 double-LP compilation Shapes of Things. "I thought that was a bit strange, because he got a bit commercial afterwards didn't he? I just think he didn't like 'For Your Love.'" And while he might have played the noble purist, Clapton was quite soon going into some non-blues directions—much to his musical benefit—starting with Cream and on through Derek & the Dominos, though not so much to his musical benefit (and much more commercially) in his post-Layla career.
McCarty has a humorous insight along the same lines in his fine recent memoir, Nobody Told Me! "Years later," he notes in the book, "I read an interview with Eric where he complained that we'd seen the Stones come out of the Crawdaddy, score a few hits and become international superstars, and we wanted to follow them. It's true! We did, and I don't see anything wrong with that. We saw how others were going to America and making out like bandits. Why shouldn't we do the same?
"And another thing. Yes, 'For Your Love' was a pop song. But had there ever been another one that sounded like that? And that, in turn, was what the Yardbirds had been all about, back when we first got together. Take something 'normal' and give it a twist. A unique Yardbirds twist."
The Beach Boys, "Surf's Up." The Beach Boys were probably never in serious danger of breaking up in the 1960s, but Brian Wilson's ambitious (and ultimately unfinished) Smile project certainly put them to the test. A whole book's been written about it, and it also takes up chunks of some documentaries and other Wilson/Beach Boys books. But it usually comes down to this: the other Beach Boys, but most particularly singer Mike Love, to varying degrees did not understand and thus did not fully support the rather avant-garde album Brian had in mind. In particular, it's been reported that Love could not get to grips with some of Van Dyke Parks's lyrics, especially the "columnated ruins domino" phrase in "Surf's Up." That might not have doomed the Beach Boys, but it certainly seemed to play a part in dooming Smile, though much of what was recorded for the album is now commercially available—much of it on a box set, even.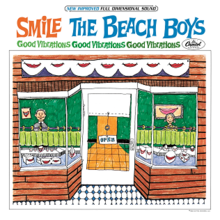 Mike Love is one of the least popular rock stars, at least among a major band's core fanbase, and his widely reported opposition to Smile is part of the reason. It should be pointed out, however, that Love has sometimes maintained he wasn't opposed to the project, at least to the extent that's often perceived. In his recent memoir Good Vibrations: My Life As a Beach Boy, he admits he had concerns about the record, mostly to do with the impenetrable lyrics. Yet he also writes, "We all had questions, but we did what Brian wanted, and we worked harder on those vocals than on any others in the history of the band."
The Kinks, "Days." Compared to Ray Davies and Dave Davies, original Kinks bassist Pete Quaife wasn't at the forefront of the band's creativity. Still, he was part of the group's original and best-loved lineup before leaving in 1969. In an interview with Disc & Music Echo around that time, he explained, "I'm sick of standing onstage and just playing two notes per bar…I was fed up playing pretty bubblegum music."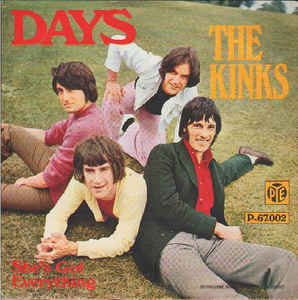 Few if any others would call the Kinks' late-'60s records bubblegum. But they were certainly more subdued than their raunchy British Invasion hits of the mid-'60s, and maybe Quaife found their new material too staid and boring in comparison, at least for a non-writing/non-singing bassist. He might have especially had one song in mind. According to Ray Davies, Pete wrote the word "Daze" on a tape box of their 1968 single "Days," although that's one of their more beloved songs, and not one that was especially languid in mood, at least relative to their other discs of the period.
Again this is a story that was challenged by one of the participants. "That is so not true," Quaife told Neil Rosser years later. "Ray always insisted that we be in the studio whether we were involved or not. I think he looked upon us as his courtiers who had to sit around watching the master working. He loved that. So we had to sit there with nothing much to do but listen to the music. It would have been interesting if we knew what the goal was, but we didn't.
"I'd spend my time casually sketching little figures, having always been a cartoonist. I drew this little man with a raincoat and a hat. It was just on the side of one of the boxes of tape. Ray, who often did this, found something to make a huge fuss about and assert his authority. He started yelling and screaming that he was doing all the work and all I was doing was sitting around drawing stupid pictures. Years later he came out with the story that I wrote 'Daze' on the box. I never did."
Pink Floyd, "Have You Got It Yet?" Such was Syd Barrett's instability around the start of 1968 that his departure from Pink Floyd couldn't be attributed to any one song or incident. But this particular composition seemed to tax the other guys' patience to the breaking point, Syd changing the melody and chord progression each time they tried to rehearse it. Calling the song (which never has been released or otherwise circulated) "a real act of mad genius," Roger Waters told ZigZag in 1973, "I stood there for an hour while he was singing….trying to explain that he was changing it all the time so I couldn't follow it. He'd sing 'Have you got it yet?' and I'd sing "No, no!'"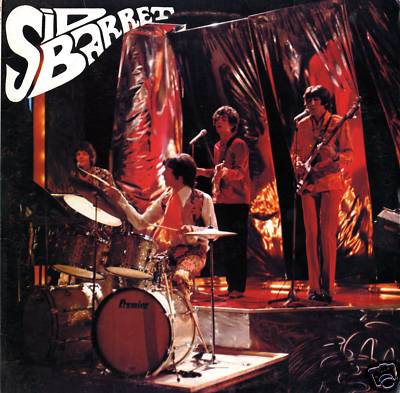 Not long afterward, the other four (David Gilmour having recently temporarily made the Floyd a quintet) determined they couldn't go on with Barrett, even if he took a Brian Wilson-like role of restricting his activities to the studio and songwriting while leaving the others to play live. We'll never hear "Have You Got It Yet?," though indications are that like some of his final Floyd compositions—"Vegetable Man," "Scream Thy Last Scream," and "Jugband Blues"—they reflect a considerably confused state of mind, teetering on madness.
The Velvet Underground, "Sweet Jane" and "New Age." This is a bit of an outlier, since this is more something that could have broken up a group than actually did. By the time the Loaded album with these songs came out in fall 1970, Lou Reed had quit the Velvet Underground — actually he left in late August, near the end of their residency at New York's Max's Kansas City club. That meant he might not have had a voice in the final shape of Loaded, but that didn't keep him from complaining about it after its release, singling out a few songs in particular.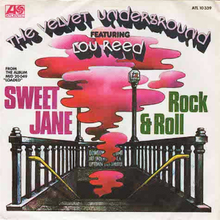 "Toward the end [of 'Sweet Jane'], just before it gets heavier, it had a minor melody," Reed complained in an interview with Karin Berg, "but they edited it out. That was sheer stupidity." The final part of "New Age," he noted, "was supposed to go on for a full minute, that was the powerful part of the song, they have it go on for one chorus – how could anyone be that stupid? They took all the power out of the song." In an April 1977 ZigZag interview, Reed added another grievance: "The guitar solo on 'Train Coming Round the Bend' was fucked around with and inserted."
Reed was also angry that the songs were sequenced without his input. "The thing is I always took great care in putting the songs in order so they made sense," he told Tony Stewart in a June 1972 New Musical Express interview. "One character would say one thing, and another character in another song would answer it. There was reason why they were put together in a certain way. But that's not true on Loaded, because I left long before the mixing even. So Loaded doesn't make sense. I didn't like the production. Like with the vocals, sometimes they didn't use the right mics."
Added Lou in ZigZag, "Loaded was a rock and roll album that I thought was badly produced. I don't like the sound. I left before the editing and all that, and they just butchered two of my songs. I was very displeased about that." "In Creem, Reed maintained, "I left before the thing was even mixed. They took me out of a lot of it."
As usual, there are different points of view on what actually transpired. In his 1995 interview with Pat Thomas, Doug Yule—bassist in the Velvets by this time, who also plays other instruments on Loaded—recalls that all of the Loaded mixes, including the "Sweet Jane" and "New Age" edits, were done by Reed himself.
The Rolling Stones, "Time Waits for No One." Considering he's had more than 45 years to talk about it, Mick Taylor's never been too forthcoming or specific about why he left the Rolling Stones in late 1974, after five years in the group. It's often been speculated, however, that one of the principal reasons was his failure to gain songwriting credits for material in which his contribution was substantial. One example might be the extended instrumental tag to "Can't You Hear Me Knocking," whose Latin (almost Santana-esque) flavor was quite a departure for the Stones, and quite a good one. Another might be the less famous "Time Waits for No One," heard on their 1974 album It's Only Rock and Roll. Its fluid guitar lines, again especially on the instrumental tag, aren't much like what Keith Richards played, or what Richards and Mick Jagger wrote.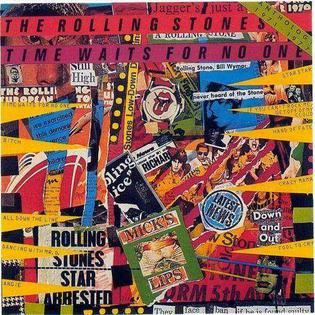 Taylor wasn't the only Rolling Stone not to get songwriting credits for songs in which contributions by members other than Mick or Keith might have been substantial. Most famously, Bill Wyman doesn't have a co-credit for "Jumpin' Jack Flash," although he's remembered coming up with the main guitar riff. Here we do get into the very broad and controversial subject of what exactly constitutes a contribution that entitles you to a co-credit. Some people are awarded co-credits for a word or two or a lick; more often, it's considered that if you didn't write most or all of the melody and lyrics, you're not entitled to one.
The Who, "Substitute." Here we have a song, or certainly record, that threatened the livelihood of a band known for quarreling viciously among themselves. Roger Daltrey had even been fired for a bit (and subsequently rehired) not long before this classic was recorded. But the problems the song caused had nothing to do with interpersonal tensions within the Who. Instead, they arose because they'd recorded it without the producer to whom they were contracted, Shel Talmy, who produced all their 1965 recordings, including three British hit singles and their debut LP.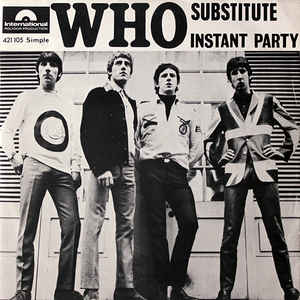 When the dispute went to court, the Who were prohibited for recording for almost half a year—nothing in twenty-first century terms, but a huge gap in the 1966 singles-oriented market for a band hungry to establish themselves as stars. It's a tribute to their perseverance, in spite of their frequent conflicts with one another, that the group stuck together until they could enter the studio again later that year. Many if not most bands much less renowned for fighting with each other might have broken up in the face of such a huge obstacle.
There were other times when the Who were reported to be on the verge of breaking up or fighting so hard that their very existence was threatened. That was sometimes reported to be the case whether it was most of the guys and their managers trying to understand what Pete Townshend was doing with the uncompleted early-'70s opera Lifehouse, or Daltrey punching and injuring Townshend in a heated argument in late 1973, apparently exacerbated by a Quadrophenia mix that didn't make the vocals as prominent as Roger would have liked.
As the Who stayed together with the same four guys from 1964 to 1978, verging on splitting eventually seemed more like the normal state of things than something ever likely to happen, at least while Keith Moon was still alive. It really took an external circumstance to threaten their career. It's been reported that Moon and John Entwistle might have considered trying to join or form another band around then, though typically nothing ultimately came of it.
The Hollies, Hollies Sing Dylan. Graham Nash had been growing apart from the Hollies, musically and personally, for some time before he left at the end of 1968. Basically he wanted to get hipper and write more sophisticated material, though his cause was hurt when the ambitious "King Midas in Reverse" wasn't a big hit in 1967. Also the Hollies didn't want to do "Marrakesh Express," which would be a popular track (and a modest hit) off Crosby, Stills & Nash's first album.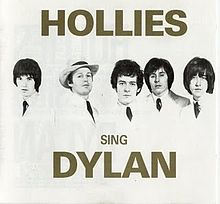 Nash probably would have left the Hollies to join CSN no matter what. But the point of no return was marked by the Hollies Sing Dylan album. He was plain enough about the matter to Melody Maker in mid-1969: "I quit the Hollies because of the Sing Dylan album. It was just that I knew they would turn his songs into big commercial rock-riffed, hit single-type album tracks. I dig Dylan, man, but this—to me—is not how you treat his songs."
The Hollies offered this rebuttal, also in Melody Maker: "All of Graham's songs are very slow, and very boring. He wants to go all soppy, artistic and beautiful. But we just want to stay as the Hollies." Everyone got their wish in the end, most likely. The Hollies did record their erratic album of pop-rock Dylan covers, which made #3 in Britain. Nash was free to chase his more esoteric pursuits (which, in truth, were not that far-out) with Crosby, Stills & Nash (and later Crosby, Stills, Nash & Young).
The Doors, "Riders on the Storm" and "L.A. Woman." This classic hit single and the title track from their final album with Jim Morrison didn't break up the group, but they did play a big part in breaking them up with their longtime producer. Paul Rothchild had produced all their previous records, but bowed out before the L.A. Woman sessions after hearing some of the material. As James Riordan & Jerry Prochnicky's Break on Through: The Life and Death of Jim Morrison notes, according to Rothchild, "the entire group had been lazy and had developed only rough versions of four or five songs." Rothchild is quoted as follows in the book:
"The most complete were 'L.A. Woman' and 'Riders on the Storm,' both of which I thought were great songs, but I couldn't get the group to play either of them decently. There was simply nothing there, no energy. We rehearsed and rehearsed, but it didn't get any better. I figured I'd do it like the last few—patch together the best stuff.
"We went into the studio and it was dreadful. Jim got into his spoiled brat thing and dragged everything down deliberately. I worked my ass off for a week, but it was still just fucking awful. Hoping to make them angry enough to do something good I'd tell them, 'This isn't rock'n'roll, it's cocktail lounge music!' But they just didn't have the heart anymore. You know, it got so bad that for the first time in my career I found myself drifting off to sleep, putting my head on the console and nodding off. It was just BAD."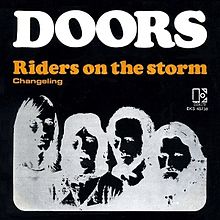 L.A. Woman ended up being produced by the Doors with their longtime engineer, Bruce Botnick. At least the album, if not the Doors story, had a happy ending. L.A. Woman was a good record, and "Riders on the Storm" and "L.A. Woman" were the highlights. We don't know how they sounded when Rothchild heard early versions, and if they were as bad as he says. Maybe a fresh production team was needed to get the album in shape, especially if Rothchild's initial reaction was so negative.
The Everly Brothers, "Temptation." While this single didn't break up the Everly Brothers, it did have a long-range damaging effect on their career. Not because of a dispute between Don and Phil Everly, but the ruckus it caused between them and their manager, Wesley Rose. Rose didn't like how the duo had arranged this standard, possibly at least in part because he didn't have the publishing.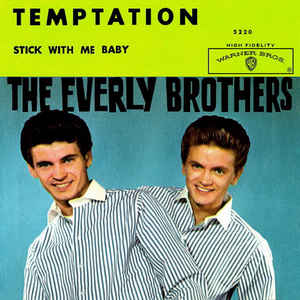 "I woke up one day and I said I wanted to do this song this way," Don Everly told Gavin Martin for the liner notes of a CD reissue combining the Everlys' It's Everly Time! and A Date with the Everly Brothers albums, adding bonus tracks ("Temptation" among them). "I had this idea with this beat and these voices and stuff. Wesley made it as difficult as possible. We cut it like twice. He would just be sitting there shaking his head. It's really hard to work when somebody's supposed to be nurturing and for them to walk around going, 'Oh God, I can't believe how terrible this is.' You know, that kind of thing. But, if he'd have been publishing it, it would have been a different story."
After "Temptation" was recorded in November 1960, the Everlys split from Rose. Unfortunately, that cut off their access to songs by Felice & Boudleaux Bryant, who'd written many of their hits (and some other good compositions they'd put on disc). The Everlys did record a good deal of fine music in the 1960s, much of it unheard beyond devotees. But they'd never make as consistent records, or score as consistent hits, again.