Like most San Franciscans, I've hardly ever been to one of the city's biggest tourist attractions, Alcatraz Island. Before last week, I'd visited twice—which is one or two more times than many local residents I know. There's a good reason for anyone to go this spring, however, since it's now hosting a one-of-a-kind exhibit of work by Chinese artist Ai Weiwei.
Ai Weiwei is not only an acclaimed modern artist, but also a noted human rights activist. Currently he's not allowed to travel outside of China, and could not visit Alcatraz during the planning of this exhibition, which opened on September 27 of last year (and runs until April 26). Alcatraz makes for an especially apt venue for his artwork and installations, as like the prisoners who famously inhabited the island for much of the twentieth century, he is unable to freely travel, and his interaction with the outside world is restricted.
The trip to the exhibit begins, as it does for all visitors to Alcatraz, at San Francisco's heavily touristed Fisherman's Wharf. As has long been noted, the beauty of the island's setting in the San Francisco Bay is a sharp contrast to the notorious prison (for many years open to tours) it once housed:
Even in their current semi-ruinous state, some of the buildings left from the days when the prison was in operation make for a jarring juxtaposition against a small island that, on its own, is a quite pretty oasis:
You can't see it too well in a picture taken at twilight, but some structures on the island still boast hand-painted slogans from the brief period in which Native Americans occupied the island in the early 1970s. This water tower is emblazoned with the red-painted slogan "Peace and Freedom: Home of the Free Indian":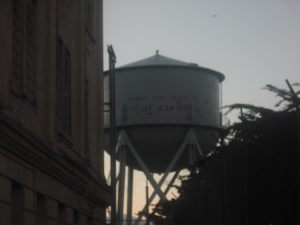 Those features can be viewed on any trip to Alcatraz. What makes the ones you can do now unique, however, is the opportunity to view Ai Weiwei's art in this environment. The first stop on that tour is the New Industries Building, which features colorful kites such as these: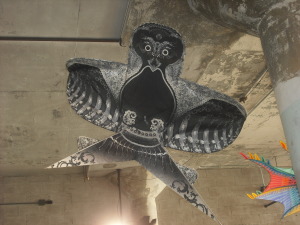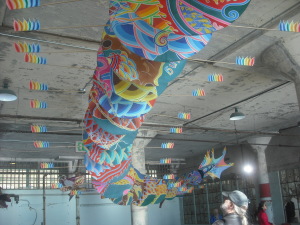 Look closely at some of them, however, which are emblazoned with quotes such as these reflecting current affairs and human rights situations/violations: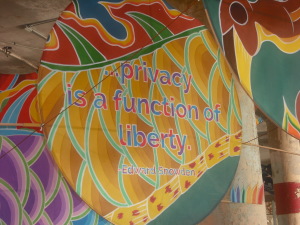 That aspect of Ai Weiwei's work is far more pronounced in the room behind the kites, which uses LEGO bricks to build portraits of almost 200 people from around the world "who have been detained because of their beliefs or affiliations," as the guide pamphlet states:
In the cellhouse, a block of cells now contain sound installations playing the music, poetry, and speeches of figures from around the globe who (again quoting the guide pamphlet) "have been detained for the expression of their beliefs." Some of the more famous voices represented are those of Afrobeat giant Fela, Chilean singer-songwriter Victor Jara, Russian punk band Pussy Riot, and Martin Luther King, Jr. Also represented are Czech rock band the Plastic People of the Universe, who were prosecuted for playing avant-garde free-form rock in the 1970s and 1980s: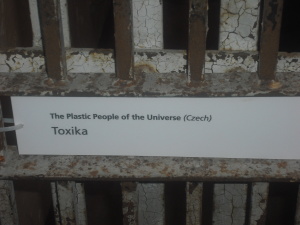 I wrote a chapter on the Plastic People in my book Unknown Legends of Rock'n'Roll, which you can read here. When I wrote this back in the late 1990s, I never thought they'd be featuring in a major art exhibition on Alcatraz. But life sometimes has more imagination than we do.
In the cellhouse's hospital, some tubs, sinks, and the like are now filled with porcelain bouquets:
In the cellhouse's dining hall, you can write postcards to prisoners of conscience around the world (including some from the United States). Binders on the tables have paragraph-long synopses of their situations. As an illustration, here is the profile of the one I selected to write a card to, Irom Sharmila Chanu in India:
"Charged with an attempt to commit suicide. Chanu is a political and civil rights activist. She began a hunger strike in 2000 to protest the killing of 10 civilians who were allegedly shot by Indian paramilitary forces. Since then she has been arrested, released, and re-arrested every year. Currently she is held in a hospital security ward, where she is force-fed. This is the 14th year of her fast."
Ai Weiwei's communication with the world, incidentally, is largely build around Twitter messages. Take a look at the dragon kite again, and notice that the eyes are twitter birds: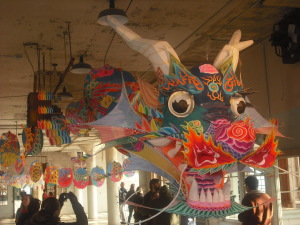 Tickets for the Ai Weiwei exhibit are available through Alcatraz Cruises, but you should book now if you're interested. I don't know how much space is left, but when I reserved tickets in early December, there weren't any available until February. More information about the exhibit is at AiWeiWeiAlcatraz.org; the main forum for ongoing conversation about the exhibit is #AiWeiWeiAlcatraz.