In a previous post, I wrote about notable EPs of the (mostly) 1960s. I'm not a big EP collector by any means, but there are some EPs I have outside of that time frame that aren't discussed too much, and are pretty interesting. Some of them are from later than the 1980s, and some are reissues or first-time issues of '60s material that didn't come out until decades later. Some of them are rare, too, but that's not the main reason I have them in my collection.
Here are ten of them, not ranked in order of quality, and not meant to be a best-of list of any sort. It's just a survey of some interesting and fairly obscure releases in a format that's never caught on like the album or single.
Various Artists, Folk Rock E.P. (sic) (Moxie, 1981). Back in the stone age of 1960s reissues, the Moxie label was one of the few companies generating vinyl compilations of mid-'60s garage rock. There were plenty of things to pick on about their anthologies if you were so inclined. The sound quality was, to put it mildly, uneven, especially as it seemed that all of the tracks had been dubbed from vinyl copies, some of which had a lot of surface noise. Sometimes you could even here brief bursts where someone seemed to have dropped and lifted a needle. The graphics were crude enough to have been etched by an actual stone age transplant.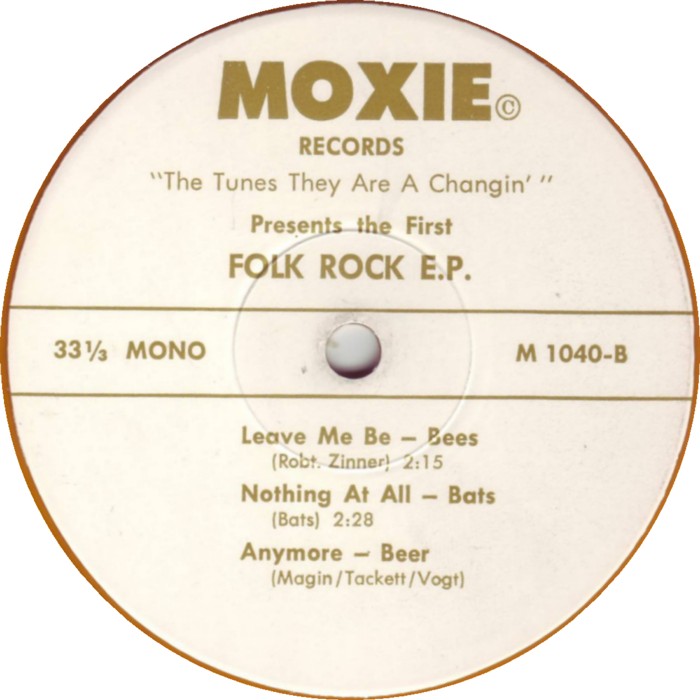 Moxie's most well known products were found in their series of Boulders '60s garage rock anthology LPs. They also did some EPs, including this six-track seven-inch of mid-'60s folk-rock rarities. Maybe as a concession to polished marketing, it was pressed on yellow vinyl. Below the Moxie logo, the inner label proclaims, "'The Times They Are A Changin' presents the first folk rock E.P." No picture sleeve, though.
Precisely because the overwhelming majority of garage-rock comps focus on rather similar-sounding raunchy sounds that are often cruder variations of the British Invasion, this release marks a refreshing departure from the formula. What's more, none of the songs have been reissued much, though this came out back in 1981. As far as I can tell, the Bats' "Nothing at All" and Beer's "Anymore" haven't been reissued anywhere else, though it's hard to keep up with this kind of thing.
While much of the EP has a slightly raw adolescent feel, all of the tracks have their merits. In fact, the Avengers' "Open Your Eyes" is one of the very best obscure folk-rock cuts, with fine Byrds-ish harmonies, chiming guitars, and a touch of eerie psychedelia. Boo Boo & Bunkie's "Turn Around" is an amusing Sonny & Cher takeoff; the Black Sheep's "It's My Mind" a solid harmony folk-rocker; the Bees' "Leave Me Be" an archetypal sullen teen rejection ode; and the Bats' "Nothing At All" an enticingly sluggish number with mournful melodic harmonies. The closer, by the oddly named Beer, is more like teen garage lament with folk-rockish guitars than classic folk-rock, but still an affecting listen, like the rest of this EP.
The Plagues, Through This World (Quarantined, 1987). This obscure Lansing, Michigan garage rock outfit put out three rare singles in 1965 and 1966. In 1987, some devoted soul put out five of the six tracks on this seven-inch. The graphics were basic in the extreme, with a crudely photocopied picture of the group on a pink background.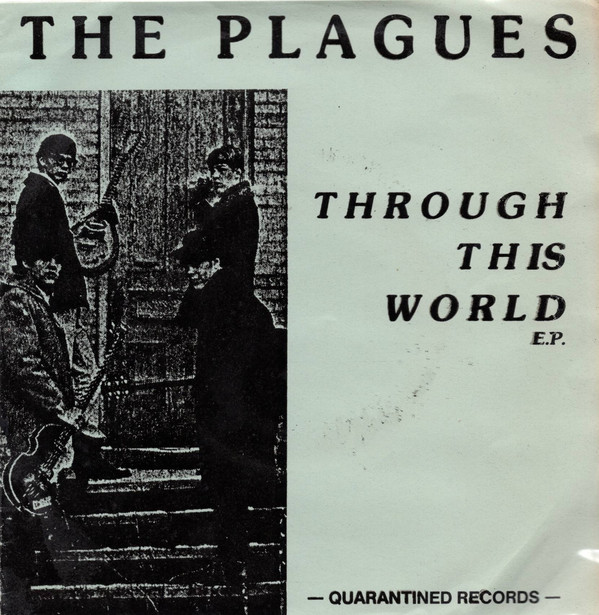 Their story is probably much like thousands of other garage bands that didn't make it big, but the music isn't exactly like most of them. "That'll Never Do" is such a downer take on typical lovelorn teen garage rock that it almost sounds like K Records post-punk alternative rock act Beat Happening would have in the mid-'60s. The father-of-Calvin Johnson-like vocal verges on deliberate parody of the form. The drumless "Through This World" nearly seems like a garage Herman's Hermits, in the best sense of that phrase. Sure it's primitive, but it's pretty catchy, too.
While things get more upbeat, full-bodied, and typically garage on side two, these cuts have their strengths too. "I've Been Through This Before" is a haunting but forceful blast of disappointed romance (there were many such garage-rock songs) with the kind of fuzz guitar garage rock fanatics treasure. "Tears from My Eyes" is the kind of folk-rock-influenced brooding garage that could have fit onto the above-listed Moxie Folk Rock E.P. "Why Can't You Be True" is more formulaic "done-me-wrong" garage, but again shows their knack for fairly catchy minor-keyed melodies, which lifts into unpredictably jubilant Merseybeat-ish mode in the bridge.
Incidentally, this doesn't include one of the sides from their three singles, their initial B-side "Badlands." It's a garage-surfish instrumental that's not bad, but not as interesting as their other efforts.
Various Artists, The Magic Cube (no label, 1982). This nine-song nine-inch flexidisc – you read that right, nine inches – isn't really a standout for the music, though it's decent. It's a mid-'60s garage rock compilation, some with an ominous psychedelic tinge. Some of the tracks are fairly off the beaten path, though the Rising Storm's "Frozen Laughter" has been easily available on reissues of their LP, and the Unrelated Segments' "Cry, Cry, Cry" has shown up on numerous collections.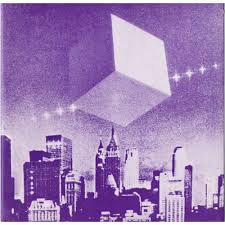 What really makes this stand apart is the oddball packaging. It's strange enough to have a nine-inch EP, or a flexidisc garage comp. It's yet stranger to have both at once. It was enclosed in a cover more like a business envelope than a record sleeve, with a blurry purple-tinted cover of a city skyline, over which a cube hovers. The tracks are listed on a traffic signal-shaped arrow that folds out into a three-dimensional cube, should you be so inclined to make one.
For what it's worth my favorite track – a garage-frat take on Edgar Allan Poe's "The Raven" by Kenny & His Fiends – does not seem to have been reissued anywhere else. For all its obscurity, The Magic Cube itself has been reissued on CD and vinyl, though that vinyl measures ten inches, not nine.
The Byrds, Another Dimension (Sundazed, 2005). In truth this could have been a standard LP instead of a double EP, as it has twelve tracks. Alone among the items on this list, these are ten-inch discs – a measurement that was uncommon at any time in the record business history. And these alternate versions/outtakes from the sessions for the Byrds' third LP, Fifth Dimension, are the kind that will only generate enthusiasm among fanatics, since they're more like mix variations than unreleased material. "Instrumental tracks," "long version, partial alternate vocal," "long version instrumental without sound effects," "no string overdubs" are some of the subtitles, to give you an idea.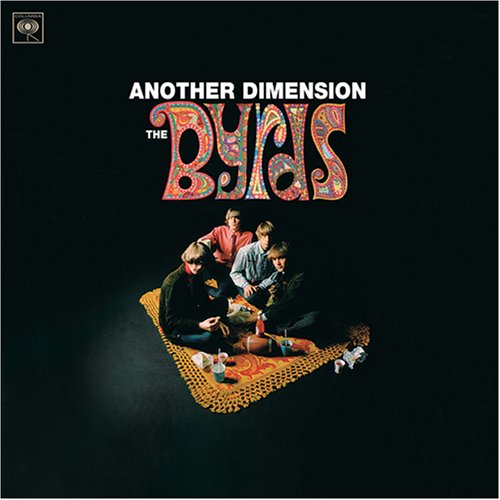 Still, if there groups worthy of official releases of the kind of tinkered variations that show up on bootlegs, the Byrds are one of them. In no cases do the alternate versions match the released ones, but it's kind of neat to hear "John Riley" and "Wild Mountain Thyme" without strings, a slightly longer version of "I See You," and "2-4-2 Fox Trot (The Lear Jet Song)" without sound effects. Not to mention "version 2" of "John Riley" as a faster-paced, jazzy instrumental; "version 1" of this instrumental, as you'll surely remember, was a bonus track on the expanded Fifth Dimension CD. I don't think any of these variations had been officially released elsewhere, though again it's hard to keep up with things like that.
What really puts this double EP on this list, however, is the packaging, featuring a gatefold sleeve with alternate color cover shots. Best of all, the inner gatefold has the transcript of their March 1966 New York press conference, where Roger McGuinn and David Crosby speak at interesting length about the "Eight Miles High/Why" single and raga rock (and press officer Derek Taylor gives a long answer to the question about Gene Clark's departure). It's a rare example of valuable historical documentation being presented on archival releases – not just on reissue EPs, but on reissues in general.
The Left Banke, "Things Go Better/Hertz Rent-A-Car/Toni Hairspray" (Winfield, undated). The Left Banke didn't record much in their brief lifetime, leaving behind less than thirty tracks (not counting reunions). This unauthorized three-song seven-inch is a scant supplement to their scant legacy, with commercials they did for Coke, Hertz, and Toni hairspray. The tunes aren't much – are jingles ever that substantial? But they sing very well, in their usual style of backing Steve Martin's superb lead vocals with sort of New York Beach Boys harmonies.
The tracks flash by in a mere three minutes or so, and the exact same recordings grace each side. The packaging won't win any awards, setting text against a color photocopy of graphics from their first LP, and snapshots of the group in performance on the back cover.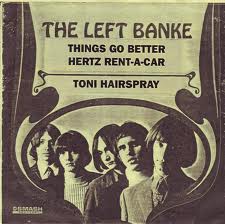 Syd Barrett, Vinyl Sessions (Octopus, 1986). The release of the Barrett outtakes compilation Opel a couple years after this four-song, unauthorized seven-inch would seem to have eliminated any need to track this EP down. Not so, since the version, or at least mix, of "Milky Way" — a song that did not appear on Barrett's two early-'70s LPs — on the EP is different. And, to my ear, better, starting with the "1-2-3-4" spoken countoff that doesn't make the officially released counterpart. The Vinyl Sessions version also has some almost sitarish buzz to some of the background guitar that gets lopped off the one on Opel.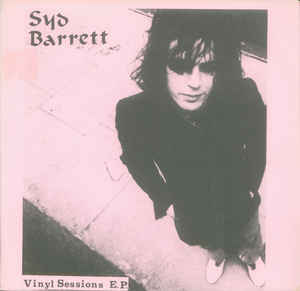 More notable are the differences on "Dark Globe," which had been on his debut album The Madcap Laughs. The alternate take on Opel (mysteriously retitled "Wouldn't You Miss Me (Dark Globe)") has a single-tracked vocal. The one on Vinyl Sessions is doubled tracked, a ghostly and slightly out-of-sync vocal shadowing the main one. That ghostly shadow enhances the woozy mystique of the recording considerably, and is entirely missing from the Opel counterpart. Both the Opel and Vinyl Sessions versions, incidentally, are far superior to the haphazard one on The Madcap Laughs, which is so strained and out of tune that its selection as the final take seems like deliberate sabotage.
The differences between the Vinyl Sessions "Word Song" and "Birdy Hop" and Opel's seem minimal, if they're even different takes at all. The EP's certainly worth hearing, however, for the different version of "Dark Globe" alone. In line with many of the entries on this list, the packaging is threadbare, the front cover displaying a photocopied picture of Barrett against a faint pink backdrop; a drawing of an octopus adorns the back. It also didn't take long before the tracks appeared with others on a Barrett bootleg LP (1987's Vegetable Man Where Are You?), and of course in the current era they probably circulate on other physical product and online guises.
Start, Tales of Glory (L-Ert, 1981). Since I get a lot of grief for not liking many cult acts/records as much as their fans do (or not liking those records at all), it's refreshing to have some groups I like to which almost no one else seems to pay any attention. One is the obscure early-'80s Lawrence, Kansas indie rock group Start, aptly described in one review as having a sort of Doors-meet-the-Jam sound. That didn't fit in with the usual barometer of what was hip in either the underground or the mainstream at the time, and Start got much notice to my knowledge, putting out an eight-song mini-LP and this yet scarcer three-song seven-inch.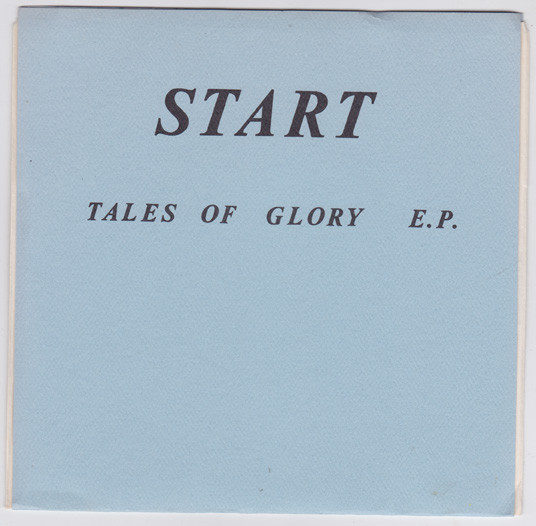 Should that 1983 mini-LP Look Around get reissued on CD (it hasn't), these three tracks would be worthy and indeed essential bonus cuts. On side one, "Let's Dance" is a catchy if throwaway number, while the eerie organ-led instrumental "Tales of Glory" is something like an early-'80s indie rock counterpart to the surf classic "Pipeline." The B-side's "(No More) Living in the Past" is a more heavyweight entry, and a match for anything else in their slim legacy, with a lean, moody melody; tough vocal; odd background bits that sound like blends of yelping sung notes and outer-space blips; and forceful anti-nostalgia lyric ("maybe we all live in the past when modern times move too fast"). The performance has an unusually live one-take feel, and is all the better for it.
This isn't a bootleg, but the cover art isn't much more elaborate than what's found on the unauthorized releases detailed in this post, with black type set against a basic pale blue background. Here's something I didn't know until writing this entry: the producer, James Grauerholz, was a personal assistant to William Burroughs, becoming his business manager and now his literary executor. Grauerholz had been recommended to Burroughs by Allen Ginsberg, which probably explains how Ginsberg does a spoken word cameo on a track from Start's mini-LP, "Little Fish/Big Fish."
Shonen Knife, Yama-no Attchan (Zero, 1984). The music on this release is good catchy pop-punk, similar to if not quite as brash as their 1983 release Burning Farm. What makes it stand out more, especially if you're the kind that covets discs as much or more for their appearance as their music, is the unusual shape and artwork. Like Burning Farm, this is an eight-inch disc – a format I don't think I've seen elsewhere, though Burning Farm (which I don't have in its original form) was also an eight-inch. That's enough to accommodate ten songs, which probably wouldn't be possible on a seven-inch, at least without notable loss of fidelity.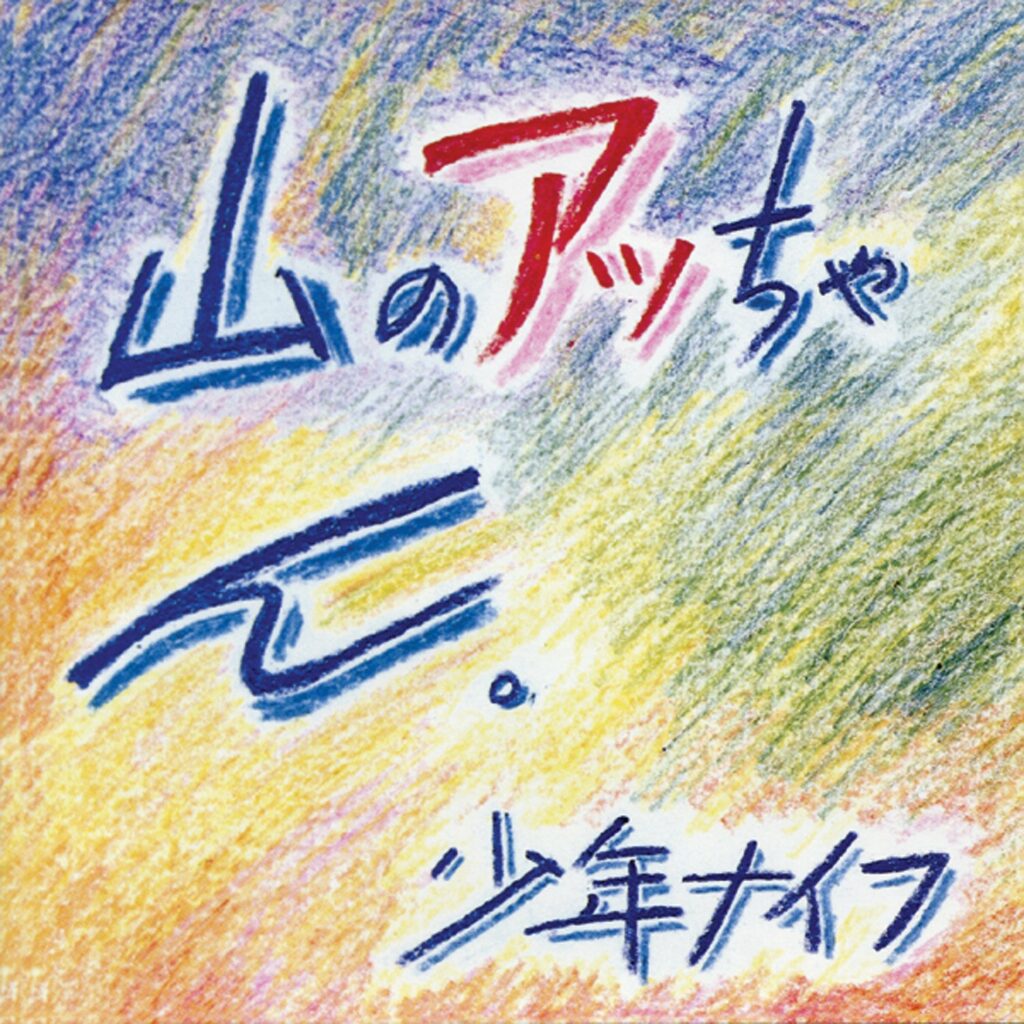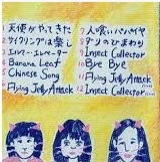 The cover has hand-drawn images of the three Shonen Knife women, as well as handwritten song titles, some in Japanese, some in English. The pink insert also mixes Japanese and English, to the extent that you don't get quite all the lyrics and recording information, at least if you're an English reader/speaker. I guess another bonus for future estate appraisers, unique to my copy, is a handwritten January 1986 reply (in English) to my interview questions from Shonen Knife's Naoko Yamano.
The Corsairs, Today (Music Rage, 1984). I'm not much for retro-'60s sounds cut after the 1960s. This six-song twelve-inch – the twelve-inch becoming a more common form for EPs starting around the late 1970s – is an exception. The Corsairs played with melodic mod rock punch, and also paid more attention to crafting a well-balanced, imaginatively flavored recorded sound than most acts of the era that took their inspiration from the mid-'60s. The driving, dramatic title track alone would qualify this as a notable release, with powerhouse bass, glittering vocal harmonies, and unpredictable song construction that doesn't fall into derivative clichés.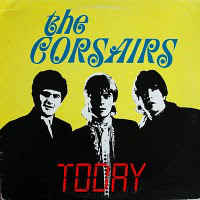 While the other tracks aren't up to "Today"'s standards, they're good solid British mod-style rock, more on the Beatles side than the Who's. Alan Shalby, the singer and songwriter, had some flair for compositions with more ambivalent, sometimes darker nuance than most '60s revivalists on "Today" and some other numbers, like "Never Listen." The Corsairs didn't attract much attention even within the '80s-'60s scene, and had just one other release, a 1986 single. I've been made aware of some additional unissued studio recordings, and a CD compilation would make for a worthwhile project.
Degenerazione Musicale, "Nord/Sud/Est/Ovest" (Crazy Mannequin, 1988). One of the weirdest releases I've come across, on an EP or anything else, is this four-track seven-inch by an Italian act. The music's strange enough – a college of white noise that segues into garage-surf guitar and whispered weeping; a jazzy instrumental with munchkin giggles; hysterically overwrought operatic singing backed by synthesizers and psychedelic swoops; and industrial grinds while discordant guitars clang and a woman whisper-moans. Shards of mirror glass are glued onto the sleeve, at least on my copy.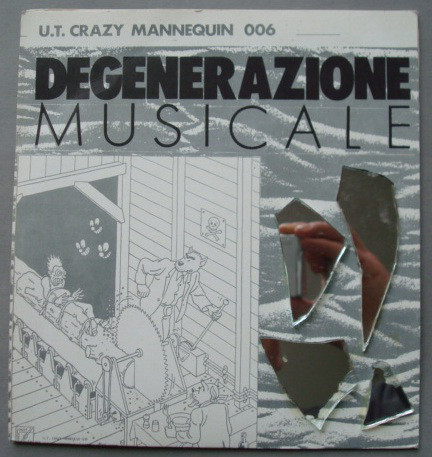 What really makes this hard to play on the radio – even underground college radio – are the tiny holes drilled into the vinyl. Not in the center label, but in the grooves themselves. Each of the four, fairly brief tracks is separated by the kind of blank extended bands that usually (well, virtually always) are placed at the end of the last track on vinyl sides. And there's a tiny hole drilled into each of those, so your needle can't help but get stuck in them if you just let the disc spin. Maybe that can damage your needle permanently – I've never tried to let the EP spin uninterrupted.
Some collectors will get enraged by this act of hubris. Even if your needle doesn't get damaged, you'll have to keep getting up and down to pick up your stylus so it doesn't get stuck in that rut. But by strategically placing these holes so they're impossible to avoid, the Crazy Mannequin label is subverting the very act of playing records, thus shaking us out of our collector complacency. Rather like Christian Marclay's artworks that have spotlighted (and even released) vinyl that's impossible to avoid scratching or even walking upon, it knocks these supposed holy relics off their pedestal and cuts them down to size. For Degenerazione Musicale, that size happens to be a seven-inch EP.
As an honorable mention, here's a recent EP reissue I reviewed for my best-of 2016 list. I'll reprint it here:
Jesse Fuller, Working on the Railroad (Mississippi/Secret Seven, 2016). This six-song, ten-inch vinyl reissue is of considerable historical importance. Cut just north of Berkeley, California in El Cerrito in 1954, these were the first recordings by major folk-blues singer and one-man band Jesse Fuller, including his first version of the well-known "San Francisco Bay Blues." But it's also musically impressive as well. I'm not much for most recordings from the very early folk revival, of which these just about qualify, being geared more toward specialized folk fans than the commercial market. However, these recordings are rich and full, with some pretty amazing instrumental work (more so on guitar than kazoo) considering it's all by one guy. Most of these songs ("San Francisco Bay Blues," "John Henry," "Lining Up the Tracks," "Railroad Work Song") would be overdone in the ensuing ten years of the folk revival. Yet as these are the first or among the first versions, they have a powerful freshness most interpretations lack.