Just like there aren't that many good movies based on a fictional story that takes place in rock music, there aren't that many good fiction books based around rock. I've tried quite a few, and given up on quite a few. Part of the problem is one that also hinders attempts at rock fiction films. It's hard to convincingly portray a successful rock band when the band doesn't exist in real life, and often doesn't sound like anything people would especially want to hear, whether it's being described in prose or actually played in a movie. It's not a coincidence that the most successful rock movies have been of the greatest group essentially playing themselves (the Beatles' A Hard Day's Night), or satires with flawed or failed bands whose music has to be bad or silly to work (Spinal Tap or the more obscure punk send-up Hard Core Logo).
To compile this post's list of top ten rock fiction books, I had to stretch the concept (some would say cheat) to actually fill up the list with ten titles. Only a few of these are actually novels in which rock plays a part. There are short story collections and, taking more liberties, fiction by rock musicians. There are even film scripts and poetry.
But I think it adds up to a more enjoyable list than it would if I forced matters and put on so-so novels or ones that are hard to finish. The #1 choice is a quite famous one that would show up near or on the top of many such lists, because it's that good.
1. High Fidelity, by Nick Hornby (1995). I knew this was popular, and that sales might have been jacked up by the subsequent 2000 movie based on this book. But it still surprised me to find out online that this has sold more than a million copies, which might be the equivalent of selling ten million copies of an album. The main characters aren't in rock bands (and the one started by one of the guys is kind of a joke), but this very accurately and humorously captures the banter and obsessive behavior of record collector and record store employees. Because Hornby is himself a huge rock fan, the historical references to all sorts of records, rare and otherwise, are accurate—something you can't take for granted in fiction books (or movies, for that matter).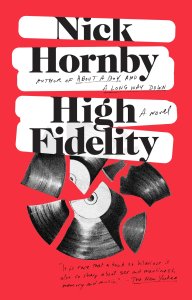 Even as someone who's sensitive to film adaptations that screw up some/much/or all of what are good about the books on which they're based, I liked the film version of High Fidelity. I still prefer the book version, in part because it's based in the UK, and the decision to move the locale to Chicago seemed kind of arbitrary (though it did make room for Jack Black to play the acerbic record clerk). Also, the movie is, as you'd expect, missing some good and funny scenes from the novel, like the one where a jilted wife tries to sell the protagonist her husband's incredibly valuable record collection for pennies. (That scene was filmed but not used, and can be seen as an extra on the DVD release.)
Now that it's twenty years since the book was published, it's a little painful to think that it would be much harder to find real-life stores like the one portrayed by Hornby. For the general shrinkage of physical product in the music business has meant that many such shops—which even in the mid-1990s were surviving on a shoestring—have closed.
Hornby has, by the way, made rock music a minor or major part of some of his subsequent novels, especially Juliet, Naked (in which a reclusive cult singer-songwriter strongly figures) and A Long Way Down (one of whose suicidal characters is an American rock musician). I've liked most of his post-High Fidelity books, or at least liked some aspects of them, but never nearly as much as I like High Fidelity itself.
2. Glimpses, by Lewis Shiner (1993). If you're not a science fiction fan, the premise of Glimpses might sound daft. The protagonist is an obsessive rock fan who develops the ability to travel back in time through his dreams, where he tries with mixed success to help the Beatles, Brian Wilson, the Doors, and Jimi Hendrix complete their unfinished masterpieces. (Those being Get Back, Smile, Celebration of the Lizard, and First Rays of the New Rising Sun.)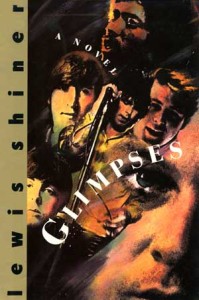 Part of what makes this work is that Shiner really does know a lot about these legendary aborted records, and a lot about rock in general. He also knows a lot, or went to the trouble of learning, about how the artists actually spoke and acted. The dialogue featuring Jimi Hendrix, for instance, is very much in the fractured and somewhat stoned way in which he spoke, in interviews and on stage. Like a lot of time travel stories, his efforts to change history don't quite work out the way the main character intends, though you'll have to read this to find out why.
3. Waterloo Sunset, by Ray Davies (1997). This short story collection isn't nearly as well known as it should be, even to big Kinks fans, some of whom remain unaware that it exists. It didn't help that it didn't come out in the US until two years after its UK publication. I don't think the American distribution/publicity was that good, as I just had to go online to confirm it came out in the US, not remembering ever seeing an American edition.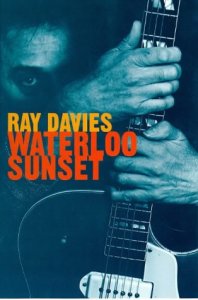 Anyway, Davies is a very good writer—by any standard, not just a "good for a rock musician" one. As you'd expect from his songs, he stories are witty, sad, and poignant. Some of them are about fictional rock musicians, and no doubt some of the characters and stories have roots in Ray's real-life experiences. But there are good stories that have little or nothing to do with music. In fact, the stories are better than his post-1970s music, even as they bear similarities to the best songs he's written and sung.
Some readers, by the way, would contend that Davies's semi-autobiographical X-Ray should be on this list, as some of the fantasy sections are obviously fictional. Yet although I liked X-Ray very much, the core of it seems pretty much an actual autobiography (and a very good one) of his life with the Kinks in the 1960s, not a work of fiction—even historical fiction.
4. Show Business, by Kevin Coyne (1993). The late Coyne was a cult rocker with odd, sometimes creepy songs that split lines between blues rock, singer-songwriter music, music hall, prog rock, and more. Show Business is a short story collection with engrossing vignettes, musical and otherwise, that detail peculiarly British character neuroses with both menacing humor and subtle compassion. There's a nastier streak than there is in the character sketches of Ray Davies, but that's fine—there's room for more than one kind of British rocker who can also tell tales on paper.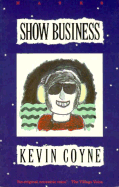 Dark with a comic bite, Coyne's stories often mercilessly satirize the experiences of the touring rock band—the neglected sidemen, the has-beens undergoing cosmetic surgery, the one-shot wonder being milked dry by greedy relatives. If a musical play based on squabbles in rock'n'roll heaven between Sid Vicious, Janis Joplin, Bob Marley, Jimi Hendrix, and Jim Morrison strikes you as tasteless, you may be better off giving it a miss. If you like your rock'n'roll fiction with both savage wit and a dose of all-too-true realism, however, Coyne's your guy. "All I know is that the musicians who've read it have laughed their heads off," Coyne told me in an interview. "I must be reaching somebody and doing the right thing."
Coyne's literary ambitions, incidentally, predated the publication of Show Business by more than twenty years. The January/February 1970 issue of ZigZag reported that "Kev is writing a book about rock'n'roll." Coyne explained to the magazine, "I feel that the subject has never been covered properly. It's either written about by people who don't really know enough about it, or else by people who insist on dragging out obscure artists and saying how fantastic they were, like someone has just come out saying that some guy called Charlie Feathers was better than any of the other old rockers. As far as I can see, the best people were the ones that were the most popular—like Fats Domino." In a sense, Show Business could be said to be his history of rock'n'roll, but from a fictional first-hand perspective that, to its credit, does not look at it from the view of the musicians who "were the most popular."
5. Tales of Beatnik Gory, by Ed Sanders (1990). Sanders is known to rock fans mostly as the leader of the Fugs, and to the general public mostly as the author of his history of Charles Manson's cult, The Family. This is a big (almost 550-page) collection of short stories that, as he wrote in his introduction, "are set in the Lower East Side of New York City, where I lived from 1960 to 1970." No doubt many are based to some degree on his personal experience, he (and the Fugs) almost epitomizing the bohemian Lower East Side to the world. Mostly quite short (there are about thirty stories in all), these tales are witty reflections of life on the artistic edge at the time, when the neighborhood was teeming with figures like Sanders who were somehow surviving as ambitious poets, writers, activists, and general counterculture innovators. It's also a reminder of a vanished era when such young men and women could get by in any part of Manhattan on a low income. Sanders has also written a non-fiction memoir focusing on his 1960s days in the Fugs, Fug You, which is highly recommended.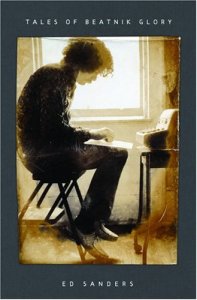 6. Vinyl Cafe Unplugged and Vinyl Cafe Diaries, by Stuart McLean (2000 and 2003). McLean is the host of CBC Radio's The Vinyl Cafe on CBC Radio, in which he performs comic story-monologues about a Toronto record store owner and his family. More genteel and family-friendly than Davies (and certainly Coyne), he might be something of a Canadian Garrison Keillor without nearly so much sentimental corn. Not all of his stories revolve around or even involve main character Dave's record store, but some of them do, which makes them qualify for this list.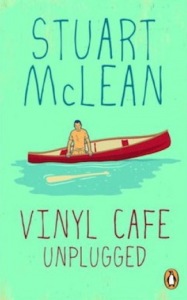 To give you an indication of how rare records can figure into the stories, one of them actually mentions a tape of demos Syd Barrett made for the Purple Gang during his Pink Floyd days. Barrett did tape such material, which doesn't survive and hasn't been bootlegged, though Dave actually possesses a copy in the story. (Which, also in the story, is provided to him by myself, though I assure readers that I don't have a copy and have never heard it.) And yes, more than one volume is listed in this entry, but as they're all collections of short stories, I think it's okay to consider them of a piece. McLean has also issued some spoken word CDs of live performances of stories from his program, if you want something offbeat to play in the car (especially in the US, where he's not nearly as well known as he is in Canada).
A la High Fidelity, it's uncomfortable to think of what might have happened to Dave's record store in real life. The kind of store he runs in the stories was on the verge of becoming an endangered species by the early twenty-first century, though some of the ones that specialized in vinyl have made a comeback in recent years.
7. Poetic Licence, by Martin Newell (1996). Should poetry count as fiction? Why not, at least for the purposes of this list, when it's good and funny? This is a slim but humorous collection of about forty poems published in The Independent by Martin Newell, the quirky cult British indie pop-rocker who's released records on his own and as the figurehead of Cleaners From Venus. Not all of the poems are about music, but quite a few of them affectionately take the piss out of sacred cows like Eric Clapton, Shadows guitarist Hank Marvin, Pete Townshend, Ringo Starr, and the Beach Boys. Sample speculation of how one Beach Boys lyric would have read if Brian Wilson had been born in the English seaside town of Clacton: "She'll have fun fun fun till her daddy takes the tea-bag away." On Ringo: "Took a glammy second wife/Having had a hard days life."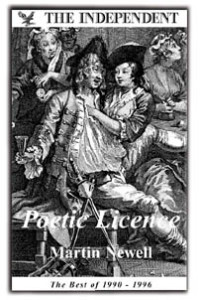 8. Sick of Being Me, by Sean Egan (2003). On the gloomier side of things, we have this novel about a troubled rock musician who doesn't quite make it to sustained success, getting done in by troubles with drugs, women, a depraved upbringing, and his own psychological demons. Written in the first-person, it's a harrowing look at rock'n'roll's seedier aspects, in which using the music as a cathartic enlightenment doesn't work as a springboard to stardom. Light moments are few, but Egan does know the rock world of which he writes, as he's a respected rock historian who's written fine books on the Animals and the Creation, among other musical subjects.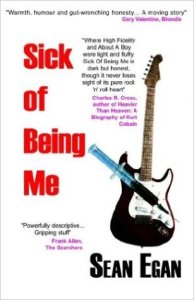 9. A Cowboy Like Me, by Thomas Edward Shaw (1992). Thomas Edward Shaw is Eddie Shaw, who played bass in the Monks, the mid-'60s cult group formed by ex-American servicemen in Germany to play furious minimalist pre-punk. Their very interesting story is told very well by Shaw in his memoir Black Monk Time (co-written with Anita Klemke). Far less known is this collection of short stories, which take place not in the Monks days, but in his earlier youth in Carson City, Nevada. Not as dark as Sick of Being Me or even Show Business, these are pithy tales of a bygone time in which personal and social turbulence was bubbling under the surface of placid, conformist American small-town life. They're not as dark as the Monks' music either, but in their way they also probe into disquieting parts of mid-twentieth-century culture.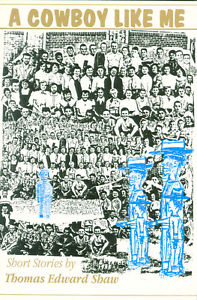 10. This Is Spinal Tap: The Official Companion (2000). It's stretching things to put a film script on a list like this. But when I realized that I did not own and couldn't quite fully remember a contender for the bottom of the list that I won't name (but did read, via a library copy), I thought it better to go with something you can vividly remember and enjoy. This book has the script to what most viewers, spanning several generations and musical tastes, would agree is the funniest rock satire. It also has lyrics to Spinal Tap songs, a Spinal Tap timeline, and (the actual bulk of the book) an A-Z of listings/descriptions of people (real and fictional), songs, albums, and so forth in the Spinal Tap saga.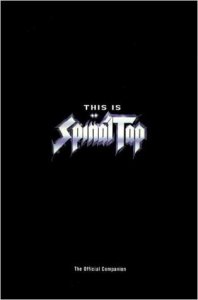 10. The Beatles in Richard Lester's A Hard Day's Night: A Complete Pictorial Record of the Movie, edited by J. Philip Di Franco (1977). Tied for tenth is an even more outrageous cheat. This has the script for A Hard Day's Night, linked/accompanied by many stills from the movie. Since the Beatles were essentially playing themselves in A Hard Day's Night, some would argue it isn't even fictional, let alone a fiction book. But the movie was fiction and not a documentary, as much as it boasted a cinema vérité style, and as much as some scenes were close to those they went through in Beatlemania. The book is more valuable than you might think from this description, as the script includes quite a bit of dialogue and shot instructions that were cut from the final film (and are clearly marked as such). There's also a lengthy interview with director Richard Lester, and intros by producer Walter Shenson and film critic Andrew Sarris. Although it's been out of a print for a long time, it sells online for quite reasonable prices, usually between $10-15.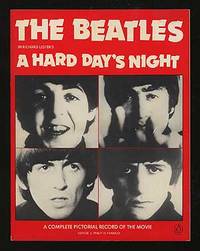 Honorable Mention: Pete Townshend's short story that is printed on the inner sleeve of the Who's Quadrophenia is untitled, very short, and not a book or anything close to it. But it conveys the essence of Quadrophenia's plot and protagonist very well, and fits very well within the spirit of Quadrophenia's music.