Like most San Franciscans, I seldom take official guided tours of my own city. There are the usual excuses – I've lived here for many years, I see lots of what's special about the city on an everyday basis, I don't want to be mistaken for some out-of-town rube taking in the superficial highlights, there are lots of things to do outside of the city itself in the Bay Area, etc. But as with any great city, even the densest, most overcrowded parts of San Francisco have corners that you'd be very unlikely to detect if you didn't have someone point them out to you.
That's even the case with the city's downtown Financial District, as I found out when I recently took the San Francisco City Guides "City Scapes and Public Places" tour. The Financial District is more a place to rush through than linger, with more suits-per-capita than any other neighborhood in the city, sidewalks overpopulated with professionals hastening to and fro, and a skyline dominated by skyscrapers. But there are some areas designated as "public places" that provide some calm and even some offbeat quirkiness, though you'll sometimes have to look hard for the official plaques that mark them.
I was a little disappointed that there weren't more such rooftop spaces on the tour – only a couple, in fact. The first of these, on top of the Crocker Galleria, is easy to access through just a few flights of stairs, even if the ones marked "Rooftop Garden" aren't exactly prominently signposted. Climb that flight, however, and you reach a relatively quiet space, with this unexpected landmark of sorts:
Some wags might remark that it's a waste of space to have a sundial in a city that's fogged in at least as often as it's sunny. Fortunately it was a brilliant sunny morning when I took the tour, though that's a forecast you can't count on.
The other rooftop on the tour is more impressive, and in such a relatively anonymous building that it's doubtful anyone would come across it by chance. Take the elevator to the 15th floor of the building at 343 Sansome, and you find this rooftop garden, a popular lunch spot for downtown workers: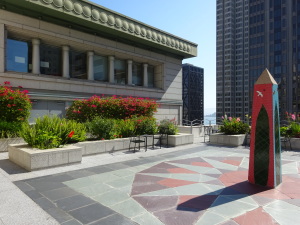 Look to the northwest, sort of, and you'll see a building with three odd figures perched on a nearby roof, not visible from street level: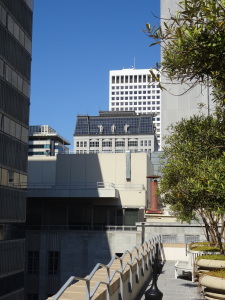 If your camera has a zoom lens of sufficient strength, zero in to find these three angel-of-death-type figures: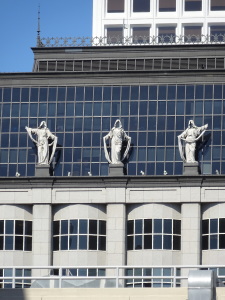 The City Scapes and Public Places tour also goes through quite a number of ornate bank lobbies/entrances. Bank lobbies generally aren't such exciting places to hang out, but a couple of them boast surprisingly arty and humane touches. Take this public open space at the Citigroup Center at 1 Sansome Street:
Weirder is the lobby near the elevators on the ground floor of the Merchants Exchange Building at 465 California Street. Sculptures of heads of some of San Francisco's founding financial fathers line the walls, though some of them succeed in making them seem more shifty than trustworthy: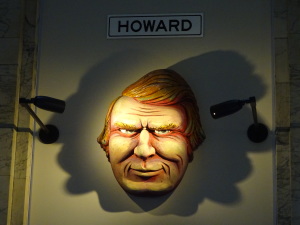 The tour ends up near the Transamerica Building, itself one of downtown San Francisco's most famous landmarks. No, there's no public open space on the roof; you can't even pay to go on the roof. Many visitors and residents, however, remain unaware of the nice, if tiny, Redwood Park just a few yards away, with frogs in the fountain:
The City Scapes and Public Places tour is given at 10am and 1:30pm every Friday, meeting at the Native Sons Monument at Montgomery & Market Streets in downtown San Francisco. Tours are free, though donations are appreciated. More information at http://www.sfcityguides.org/desc.html?tour=11. (It looks like they might be adding 1:30pm Wednesday tours on a regular basis; check the website's calendar.) San Francisco City Guides also offers tours of many other areas in San Francisco.