As time goes on, it seems like there are more and more tribute/covers albums than ever before by acts known mostly for doing their own material. Songs from the 1940s, x superstar interprets compositions by x songwriter, an all-blues covers session – there are plenty of examples. In fact, such projects have been a part of rock from its start, whether it was Elvis Presley doing a Christmas album or Ray Charles doing Modern Sounds in Country and Western Music. Del Shannon even did a Sings Hank Williams LP in 1965, though like many such combos, it looks more interesting than it sounds.
Arguably, the first such post-Beatles detour by an established star known for doing original material to gain wide attention was David Bowie's Pin-Ups, devoted to classic British Invasion covers in 1973. Around the same time, the Band did their oldies record, Moondog Matinee, and Bryan Ferry his all-covers LP, These Foolish Things. A little more than a year later, John Lennon put out his oldies covers collection, Rock'n'Roll.
Sometimes these records seemed to mark time when a band had run out of inspiration or fresh material (Moondog Matinee). Lennon's Rock'n'Roll was at least partly cut to settle a legal dispute over song copyrights. The motivation behind other projects seemed kind of inscrutable—Bowie kept pumping out original material shortly after Pin-Ups, and maybe just wanted a break from the pressure to deliverable more compositions after his ascent to glam superstardom.
With this post, I'm listing my favorite such sort of side endeavors predating Pin-Ups. Even considering there weren't as many such projects back then, it's a little surprising how few of them excite me. There are a good number such attempts by artists I like very much that basically leave me indifferent. I'll list a few of these with brief notes at the end.
The clear winner—the only one that sounds very good, makes for a good album-length statement, and doesn't sound like a novelty or a distraction from the main course—is:
Laura Nyro and LaBelle, Gonna Take a Miracle (1971). Nyro is most known as a songwriter, and mostly for songs that were big hits for other people, like "Eli's Coming," "And When I Die," "Wedding Bell Blues," "Sweet Soul Picnic," and "Stoney End." She was also, however, a very good singer, with a bigger soul influence than most musicians put in the singer-songwriter bag.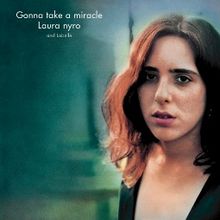 So she was well suited for doing an album of soul covers, most of them fairly big hits, although some of the older and more doo-wop-flavored ones ("The Wind," "Desiree," and "The Bells") weren't as familiar. And while temporary teams of well known performers usually aren't special, she also blended well with LaBelle as backup singers for the sessions. Kenny Gamble and Leon Huff, who produced the album as they were rising to prominence in the Philly soul sound, don't lay it on as lush as they did on many of their hits, which also works well with Nyro's approach.
Gonna Take a Miracle doesn't sound like a novelty or side project, but a strong album on its own merits. I wouldn't say any of these versions surpass the originals, but they're appreciably different, and moving enough that you aren't mentally comparing them to superior renditions. The 2002 CD reissue enhances the product with four previously unreleased soul covers (none of them on the studio LP) from a 1971 Fillmore East concert, though a couple of those are pretty brief.
Why did Nyro do this at a time when few other artists of her stature were embarking on similar studio projects? It's harsh, but the best of her songwriting was already behind her, although she was just 23 when this was recorded in June 1971. Indeed, most of her songwriting was behind her. Her next album didn't appear until 1976, and there weren't many others before her 1997 death. Maybe she had dried up and had few notable new compositions to offer. As she's already done some soul covers in concert, it could have been seen as a way of marking time until she had new material. Instead it ended up being her last album of note.
Odetta, Odetta Sings Dylan (1965). While some albums in this post are by artists who wrote most of their own material, some aren't. By the admittedly loose standards I'm applying, I included some where noted artists did something different than what they usually did, even if they wrote few or none of their songs. Here's one instance, from early 1965, with folk legend Odetta presenting an entire album of Bob Dylan compositions. This was, to the best of my knowledge, only the second such Dylan cover LP—there was a very obscure one by Linda Mason (How Many Seas Must a White Dove Sail) in 1964, but neither that album nor that singer are very good.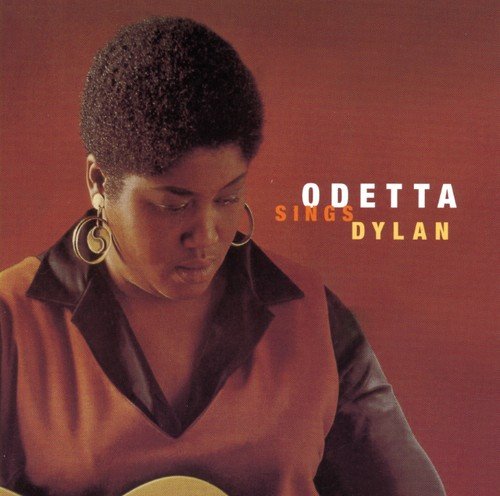 Odetta Sings Dylan, however, is very good. Her singing is expectedly strong, her interpretations sensitive, and her accompaniment—by guitarists Bruce Langhorne (who'd played on some Dylan albums) and Peter Childs, and Les Grinage—is excellent. While the songs include a few that were already well known ("The Times They Are A-Changin'," "Don't Think Twice, It's All Right"), a number of them wouldn't be released by Dylan in the '60s ("Baby, I'm in the Mood for You"; "Long Ago, Far Away," "Tomorrow Is a Long Time"; "Walkin' Down the Line"; and "Long Time Gone"). The ten-minute version of "Mr. Tambourine Man" might have been released before Dylan's own rendition, if only very shortly before that.
The 2000 CD on Camden adds two worthwhile bonus tracks from previous Odetta albums, both Dylan covers ("Blowin' in the Wind" and "Paths of Victory"). One reason this isn't #1 is that it's a folk album, not a rock one, though it has close connections to an artist at the time he was making the transition from folk to rock. Dylan cited Odetta as one of the biggest influences in his changing focus from rock to folk as a teenager.
Various Artists, Phil Spector's Christmas Album (1963). How does a various artists compilation make a list like this? It does if you consider Phil Spector the artist on this LP of Christmas songs by acts on his Philles Records roster, including the Ronettes, the Crystals, and Darlene Love. For the record, originally it was titled A Christmas Gift for You from Philles Records, and then A Christmas Gift for You from Phil Spector.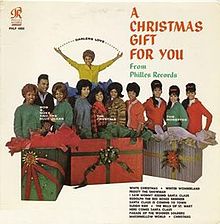 Generally I don't like Christmas music, but this is an exception that proves the rule, mostly because Spector held nothing back in laying his wall of sound on these tracks. So they sound more like Phil Spector records than Christmas ditties, though the singers perform them with praiseworthy passion, especially the Ronettes on "Sleigh Ride."
It's well known by historians that this was released on the day JFK was assassinated. While it's been written that the album was heard by virtually no one because the United States wasn't in the mood for such a record, that's not entirely true. For what it's worth, it made #13 on Billboard's Christmas album sales chart in December 1963, though I don't think records on that chart sold in huge numbers. It's reached plenty of listeners through subsequent reissues, however, even making the charts at various points—including a #12 on Billboard's pop chart quite recently at the beginning of 2021.
The Beach Boys, Beach Boys Party! (1965). No, this isn't as good as the Beach Boys' next (and best) album, 1966's Pet Sounds. It's not even as good as most of their previous LPs. It wasn't really recorded at a party, either; it was done in a studio, with some of the party sounds overdubbed later. It's seen as a stopgap to satisfy Capitol Records' demand for more material as they, and particularly Brian Wilson, prepared to embark on their most serious project, Pet Sounds.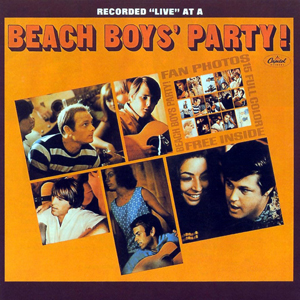 Still, there's an inviting loose and casual atmosphere to this collection of largely acoustic covers. Most of them are far from the same league as the originals, including a couple songs by their chief rivals, the Beatles, and even Bob Dylan's "The Times They Are A-Changin'." But despite the artificial pretense of eavesdropping on an actual party, they sound like they're having fun, and it's kind of like a bootleg that got released. And it was quite successful – Party! got to #6 in the US, and #3 in the UK.
There was one cover that did match and, commercially certainly, surpassed the original. That was "Barbara Ann," which soared to #2 in the US and #3 in the UK, with a lot of help from an exuberant co-lead vocal by uncredited guest Dean Torrence of Jan & Dean. That alone made the album session worthwhile. Greil Marcus's claim in the Stranded book that "Barbara Ann" "feels better than anything on Pet Sounds—or Sgt. Pepper" is not so much revisionism as extremism, however.
Call me behind the times, but I wasn't aware until writing this that there's an 81-track expanded edition of Party! from 2015, titled Beach Boys' Party! Uncovered and Unplugged. Some of it has alternate takes, but there are also a good number of covers that didn't make the original LP. Much if not all this had been bootlegged, and it's fair to say it's probably too much even for many listeners who enjoy the core album, though it's out there if you want it.
The Temptations, The Temptations Sing Smokey (1965). As another example of how loose this category can be, here we have an act who wrote none of their own material filling up an LP with compositions by a guy who wrote (or co-wrote) most of their early hit songs anyway. Still, it was unusual in the mid-1960s for rock or soul stars to prominently bill an album as having been written by, or at least entirely comprised of songs by, a specific songwriter. A couple of the tracks, "The Way You Do the Things You Do" and "My Girl," had already been big hits. Some of the others had been big hits for others—"You Beat Me to the Punch" by Mary Wells and "You've Really Got a Hold on Me" by Smokey Robinson's main group, the Miracles. Others had been previously released by the Miracles, even if they hadn't been big hits ("(You Can) Depend on Me" and "Who's Lovin' You").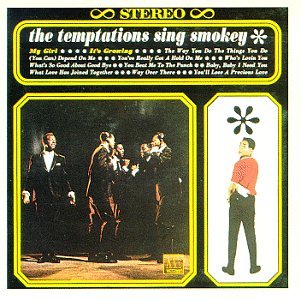 "The Way You Do the Things You Do" and "My Girl" are easily the best items here, and I'm not as big on this album as some other soul critics are. Still, it's fairly solid and was certainly a big hit with customers at a time when Motown (and soul) performers didn't prioritize LPs, hitting #1 on the R&B charts. Motown used a similar strategy on a release by their biggest female stars, 1967's The Supremes Sing Holland-Dozier-Holland, spotlighting material by the songwriting-production team who'd penned and produced all their hits.
Here are some brief comments on similar detours by other notable artists, some of which are valued much more highly by some others than I rate them:
The Everly Brothers, Songs Our Daddy Taught Us (1958). I wish I liked this album more than I do, since I'm a big Everly Brothers fan and the concept is kind of interesting. But this collection of folk songs—an audacious move at a time when the Everlys had just ascended to rock'n'roll superstardom—is kind of dull, with only minimal accompaniment. They harmonize well, but it accentuates how great their early hits (and, for the most part albums) were, with superb catchy songs boasting rock and pop influences that are missing from these tunes.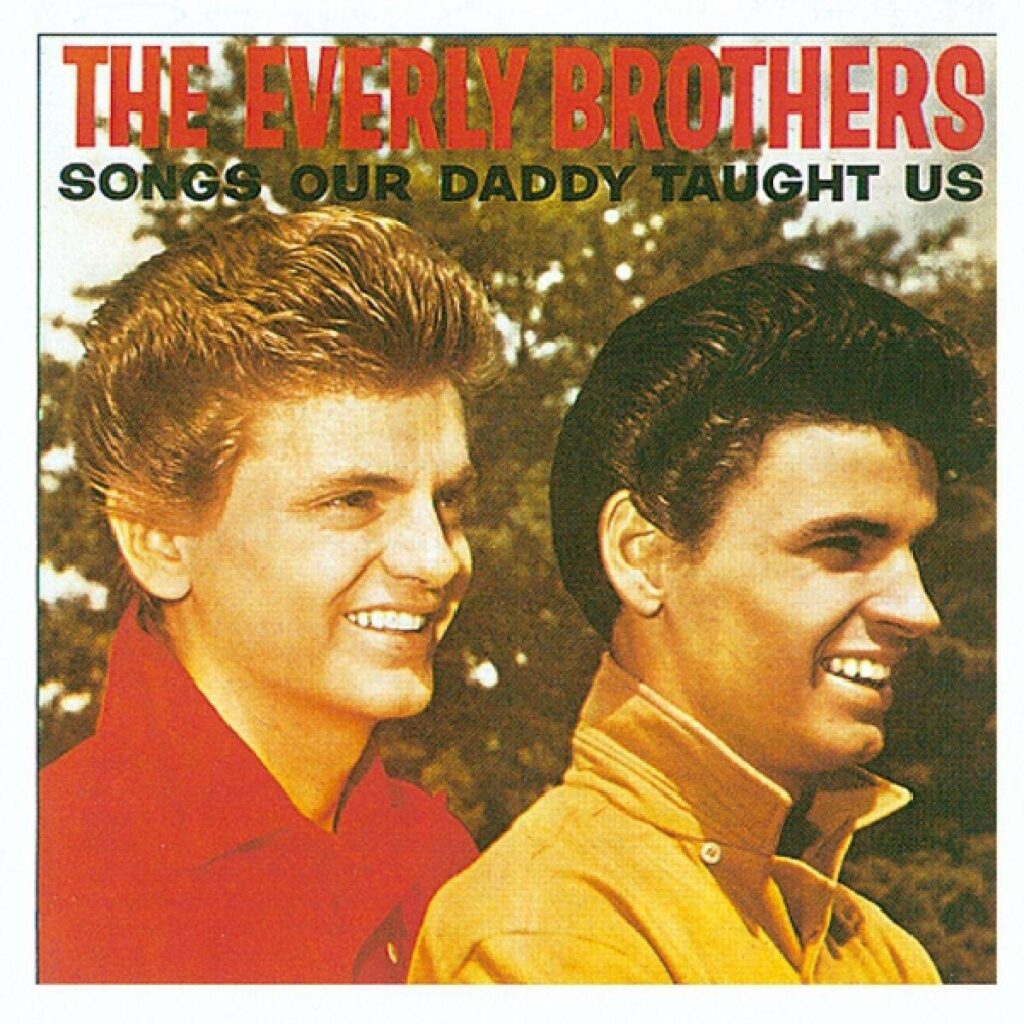 Skeeter Davis, Skeeter Sings Buddy Holly (1967). I like Skeeter Davis, and I love Buddy Holly. But this album's just okay, with country-rockish backing, occasional light strings, and competent straightforward, upbeat interpretations by Davis. It was a bit weird to be doing an album like this in 1967, when Holly wasn't in the forefront of pop and rock consciousness.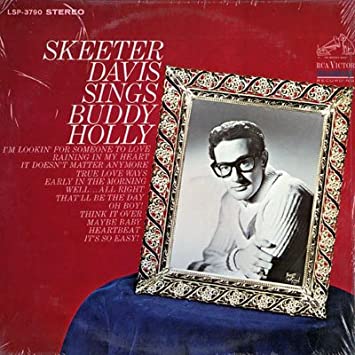 The Hollies, Hollies Sing Dylan (1969). This album's most famous, or infamous, for helping spur Graham Nash's departure from the Hollies at a time when he felt they, and artists in general, should be writing their own material. The album itself isn't discussed that much, although it did reach some listeners at the time, making #3 in the UK (though, titled Words and Music By Bob Dylan, it missed the charts entirely in the US). Despite the group's frequent skill at interpreting material by others, it's not too memorable and doesn't suit their strengths, particularly their rich vocal harmonies. Give them points at least for tossing in a song, "Quit Your Low Down Ways," that hadn't appeared on a Dylan release, though Peter, Paul & Mary did it on their 1963 In the Wind album.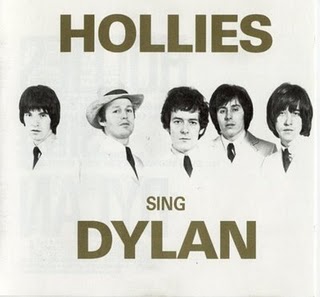 Rolling Stone, by the way, offered a couple radically different assessments of the results in a couple books bearing its imprint. In The Rolling Stone Illustrated History of Rock'n'Roll, Ken Emerson wrote the group "stood Dylan on his head with brilliant rearrangements that made no sense but produced ravishing music." In The Rolling Stone Record Guide, however, John Milward countered, "When [their] formula was applied to more serious-minded interpretations, as on the Dylan album, the effect could be disastrous."
Harry Nilsson, Nilsson Sings Newman (1970). I like Harry Nilsson a lot; I'm not a fan of Randy Newman, much less so than many critics are. There was some courage in doing an entire album of a song by a different composer at a time when Nilsson had just one big hit, "Everybody's Talkin'," and when Newman wasn't too well known, though some stars had already scored some success (and, in the UK, big hits) with his songs. But these songs, and this record, leave no lasting impression on me. Nilsson sings well, but a lot of these kind of albums are sung well. You need a lot more to happen to make a good LP.
Booker T. & the MG's, McLemore Avenue (1970). I like Booker T. & the MG's a lot, and the Beatles are my favorite act of all time. So what could go wrong with an album that covered Abbey Road? Nothing wrong, exactly, but nothing nearly as special as Booker T. & the MG's' best instrumentals, let alone Abbey Road itself. This is often described as an instrumental version of Abbey Road, but it's not quite that. All of the songs are combined into medleys in different order than the Beatles used, and "Octopus's Garden" and "Maxwell's Silver Hammer" aren't here at all.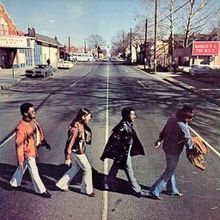 And a footnote for an album that was considered, but never completed: When the Beatles were recorded what was initially titled the Get Back album in January 1969, one idea was to make a record comprised entirely of oldies covers, perhaps as a partner to an LP with original material. As many hours of bootlegged material from the month reveal, they jammed on many, many oldies during the sessions. However, most of those covers were pretty bad, and many of them incomplete, or afflicted with poor memories of the lyrics. Maybe they could have been capable of an interesting such disc had they focused on it, but that focus wasn't there during the Get Back sessions.