Bay Area residents see Treasure Island a lot, since the middle of the Bay Bridge passes over it, and it can be seen from numerous spots on both sides of the bay. Not too many people actually set foot on the island, however, considering how often millions drive right by the exit ramps that lead down there. Few have biked on the island who don't live there, either. But it's become a lot more accessible for bikers recently, with a path winding down from the bike/pedestrian path on the eastern part of the Bay Bridge – which itself only opened a few years ago.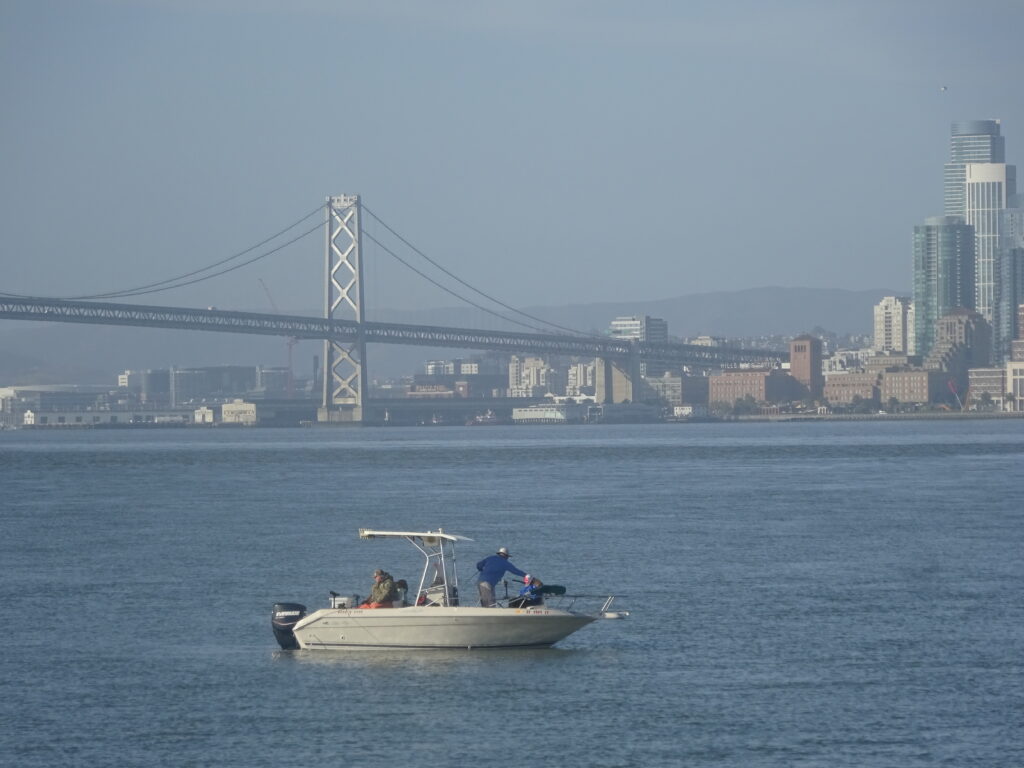 There's actually not too much to see, and maybe less to do, on Treasure Island. It's most known for hosting the Golden Gate International Exposition, i.e. a world's fair, back in 1939. A naval station was there for 55 years, but closed in 1997. Now there are just a little more than a couple thousand residents, clustered in blocks whose bland architecture reflects its past as a military base.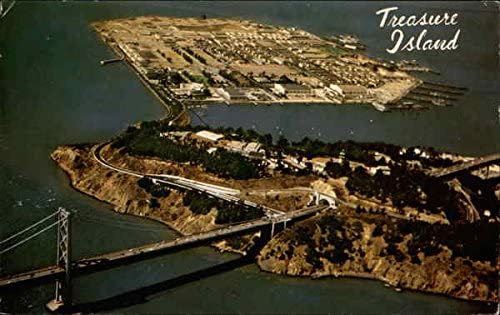 It's easy enough to get to by bike now, however, and worth thirty to sixty minutes of your time if you ride the Bay Bridge. Bike westward until the bike/ped path ends just before the tunnel. On weekends and holidays only, you can take a path that winds down from the left and goes under the bridge, Then a short steep uphill, and a long steep downhill, gets you down to Treasure Island.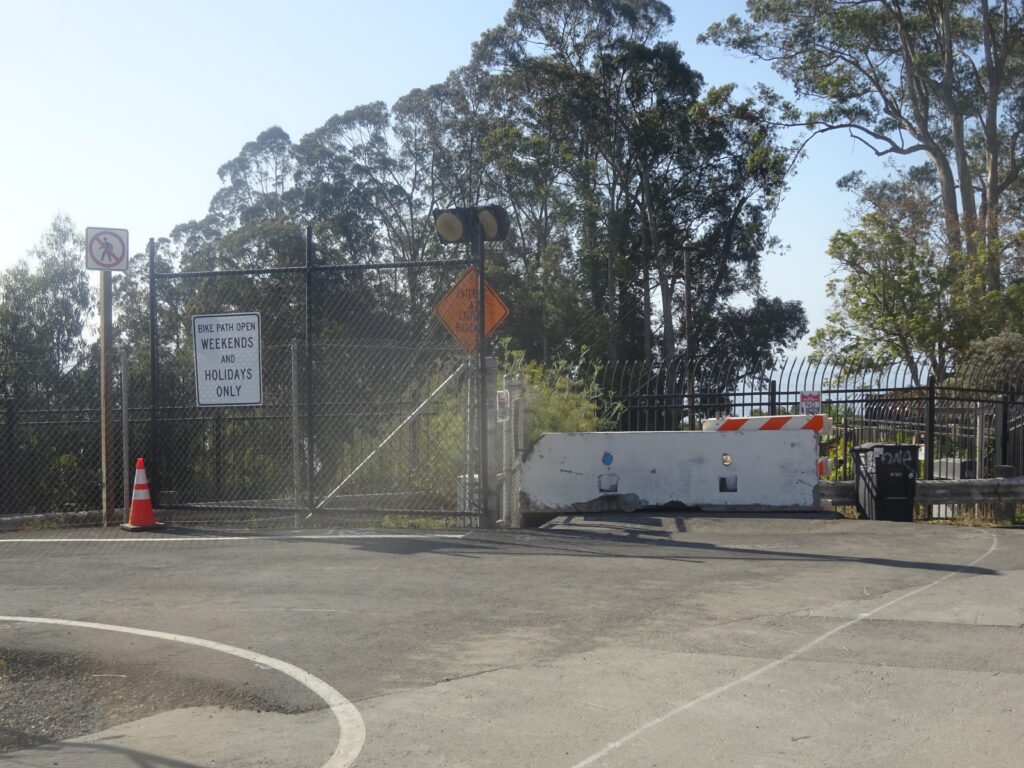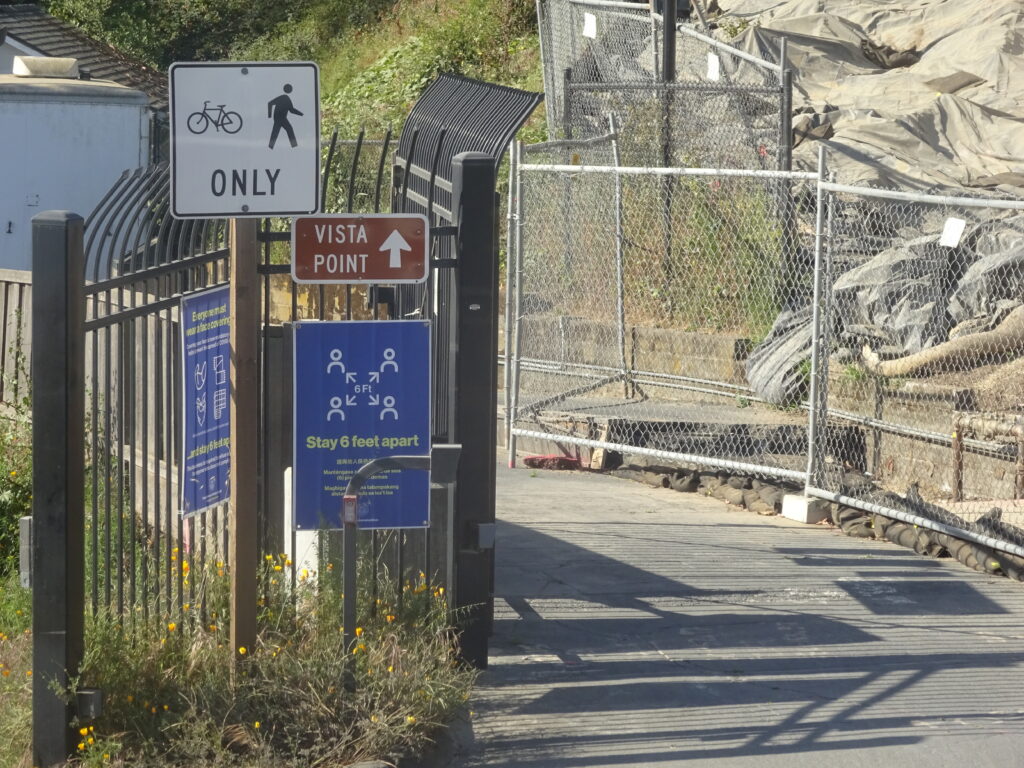 Certainly the most scenic part is the bike path that runs along the water on the island's western and northern side. Almost as soon as you reach the bottom of the hill, cross over to get on the path. It only goes for about a half mile or so, but you get some nice views of San Francisco and the bay. There are likely to be few people about, so it's quieter than much of the Bay Area as well: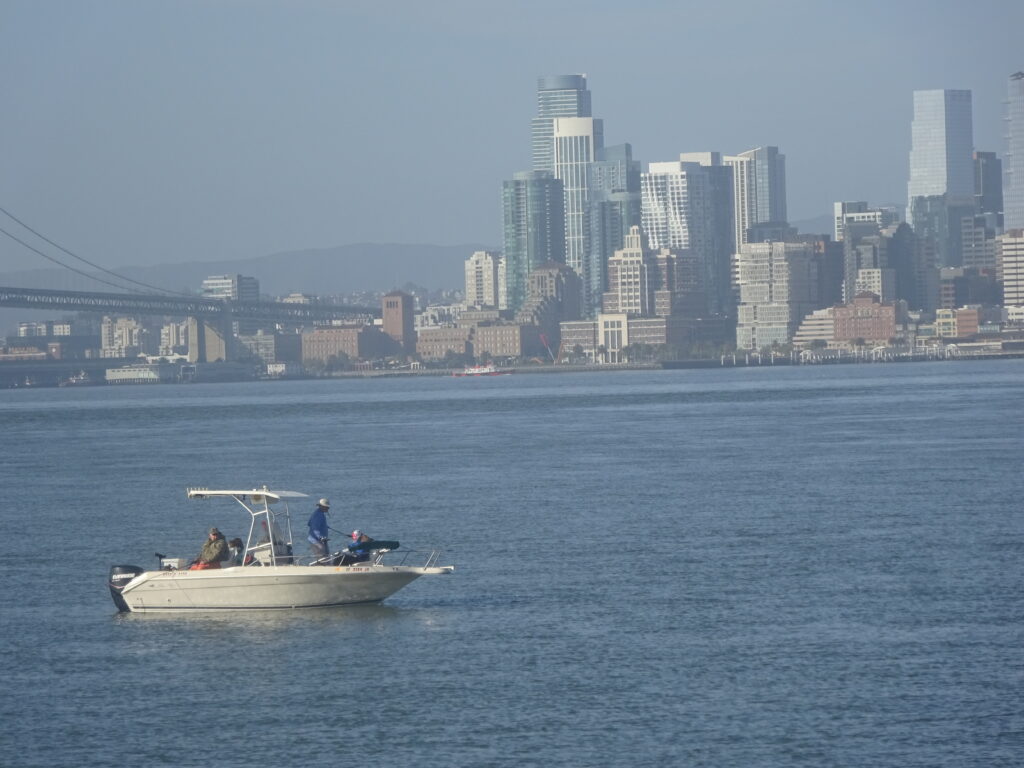 The path doesn't go around the whole island's perimeter, and in fact only for a fairly brief part of it. Here's an outpost near where it terminates on the north side: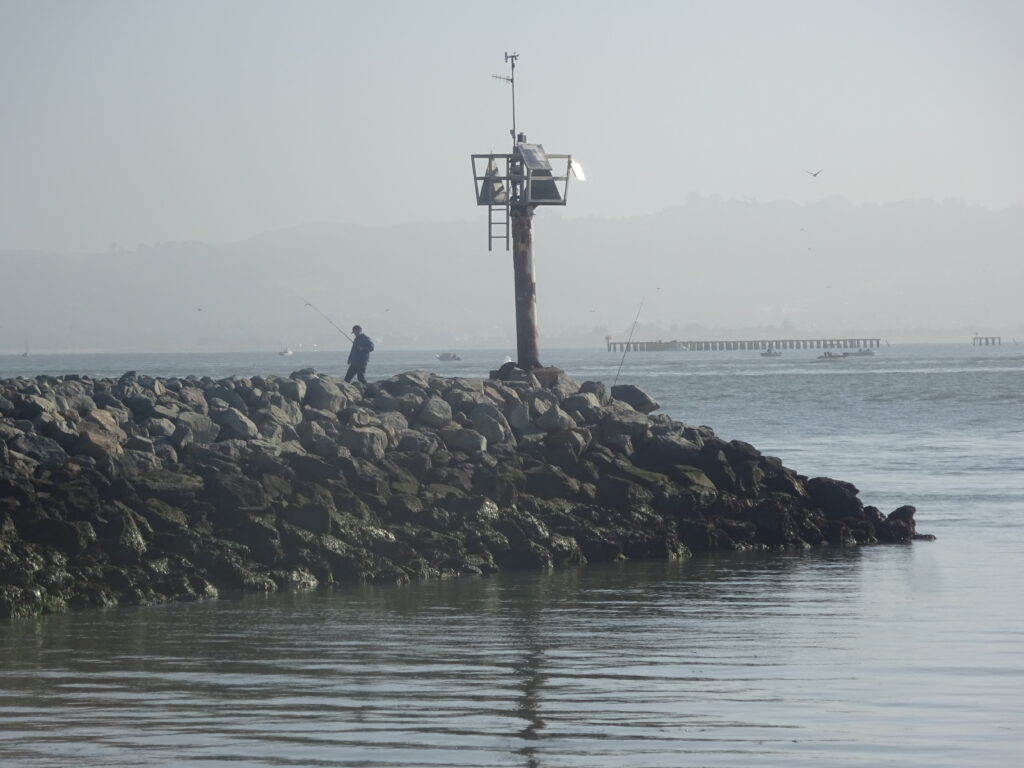 You can also bike around the neighborhoods – more like a neighborhood – with little traffic. A little to the south of the residential area are some pretty decrepit buildings. This used to be an education center, but it doesn't seem to have been in use for some time: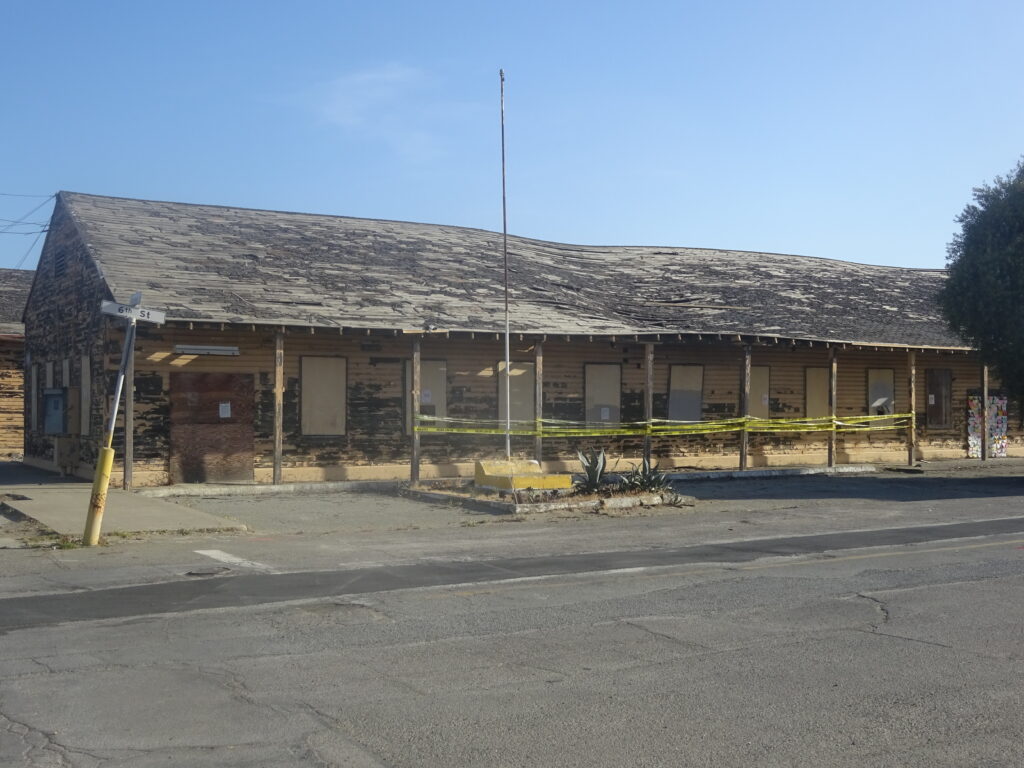 There's a market here and at least one cafe, though it's hard to tell what might have shut down in 2020-21 and when or if they'll be active again. The same thing goes for occasional festivals that are held on the island. Bringing your own food seems advisable if you want to picnic.
Be advised that the path back up to the bridge is a really steep and long uphill. The photo here doesn't really reflect how tough the upgrade is, and you should be in good shape to pedal the whole stretch without interruption. Don't be a hero if you're having trouble breathing; walk part of the way if you have to.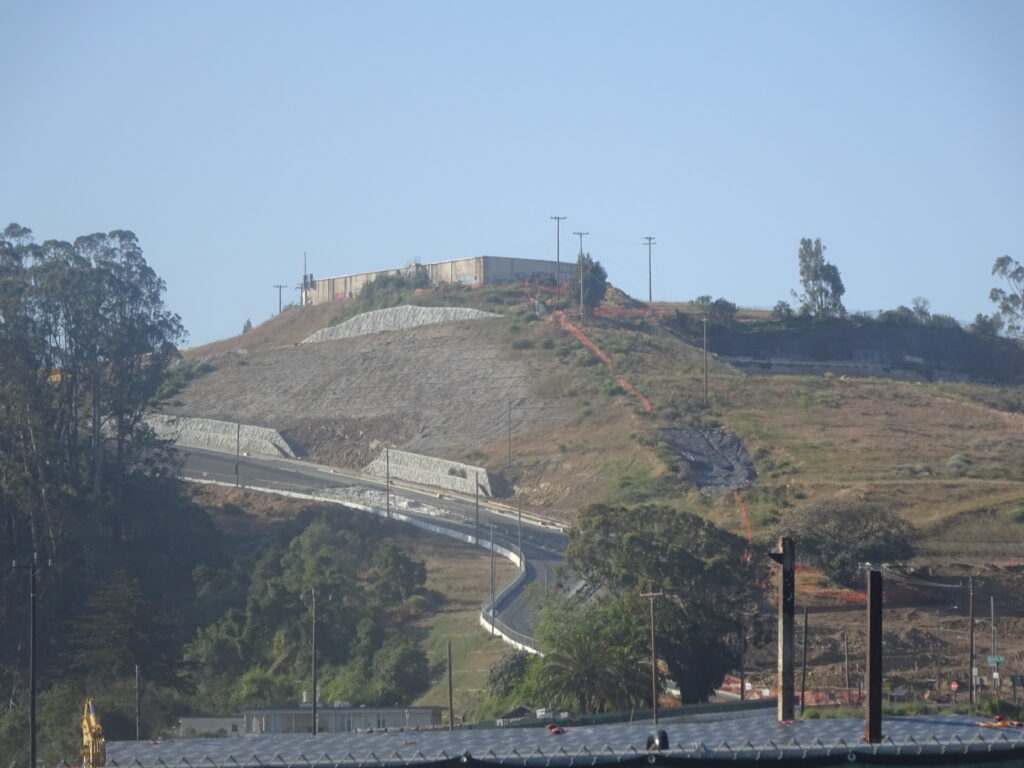 Of course, you can't bike to the island from San Francisco, though you can put your bike on a bus rack and take it there by public transit. If you don't live in the East Bay, the nearest BART station to the Bay Bridge bike path is MacArthur. It's only a mile or two to the entrance, opposite the IKEA on Shellmound Street in Emeryville.