Last month in New York, I saw the Rolling Stones' massive traveling exhibition of memorabilia, instruments, costumes, photos, and whatnot, Exhibitionism. Part of my intention was to write a blogpost about the exhibit, which was partially foiled by a no-photos policy. They do allow cell phone photos, but I don't have a phone that can take pictures. That's why the first graphic here is not of something in the exhibit, but of an EP boasting a cover from one of their first photo sessions, which I bought at a record convention back in the early 1980s for $6. "Where else are you gonna see a picture of Keith Richards looking like this?" was the dealer's pitch.
You're not going to see it at this exhibition. Now even with nine big rooms, such a space isn't going to be able to show close to everything. Still, another reason this blogpost isn't exactly an extended Exhibitionism review is that it was just okay, nothing extraordinary. There wasn't a whole lot to wow the diehard Stones fan/collector. With ticket prices close to $40, it wasn't nearly as good a value as that EP, even adjusting for inflation.
Of course, it wasn't a total loss by any means. I liked the re-creation of the squalid 1963 flat in which Richards, Mick Jagger, and Brian Jones lived, as well as some of the vintage instruments. A fact sheet Brian Jones filled out in 1964 reveals he was a fan of Richie Barrett (original writer/singer of "Some Other Guy," the first song the Beatles were filmed performing) and the New Orleans R&B label Minit. A tape box for tracks from Their Satanic Majesties Request has working titles for some of the songs ("2000 Light Years from Home" is inexplicably called "Toffee Apple," for instance).
That's not enough to fill up a solid blogpost. What the displays did do for me, however, was generate some Stones memorabilia I was unfamiliar with when I searched for some of the things I saw at the exhibit online. For instance, one of the neatest instruments you could see was a Vox amplifier Bill Wyman used when he auditioned for the band in late 1962. As the now well known tale goes, they weren't particularly eager to recruit Wyman. But Bill was, as Roy Carr wrote in The Rolling Stones: An Illustrated Record, "embraced not only because of his ability, but because he appeared to possess more amplification equipment than the rest of the group put together."
The amp that made such an impression back in 1962 doesn't seem so mighty these days: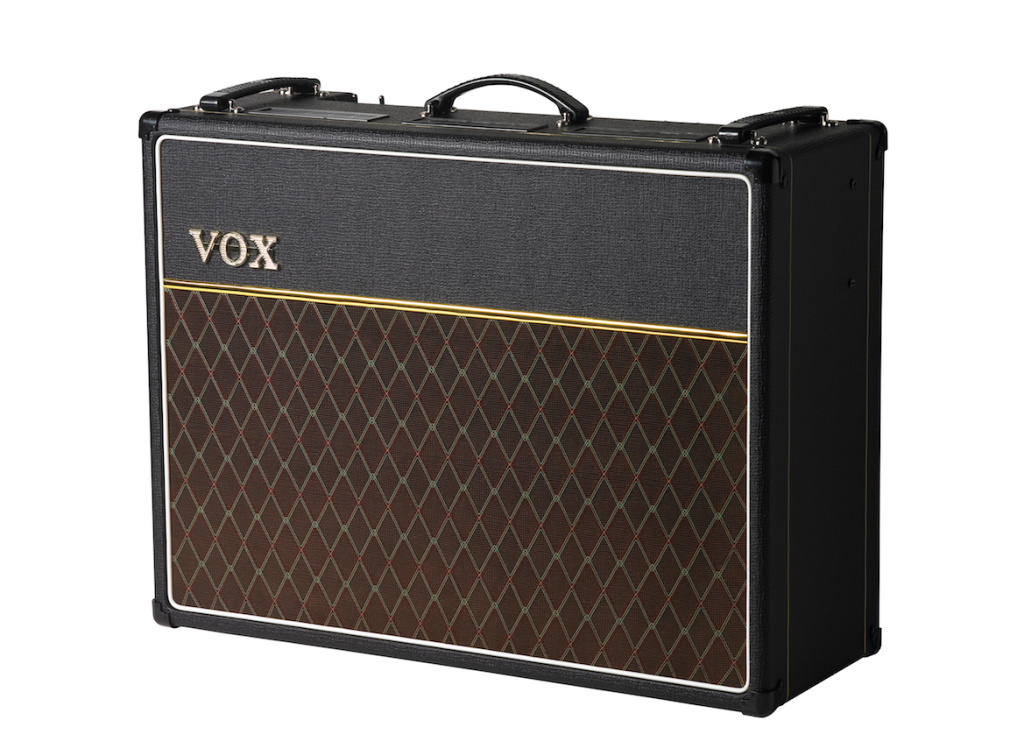 Retrieving this image, however, called up a couple cool Vox endorsement ads the group posed for early in their career. (A few such ads can be seen in Andy Babiuk and Greg Prevost's fine book Rolling Stones Gear: All the Stones' Instruments from Stage to Studio.)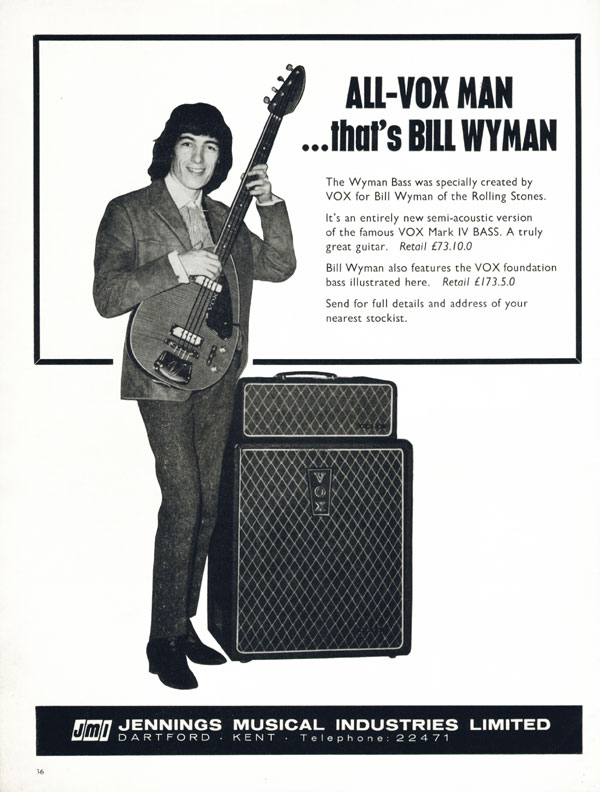 I couldn't find a Satanic Majesties tape box, but the search coughed up one for their 1964 5 X 5 EP. The great instrumental "2120 South Michigan Avenue" is missing "South" in the title. Much more interesting is that it's subtitled "(And Muddy Came Too)." This might be a source of (almost certainly false) rumors that Muddy Waters, the blues great the Stones did meet when they went to Chess Records at 2120 South Michigan Avenue in Chicago, plays on the track. Also check the note "fade at approx 2 mins—between marks," though on a German LP (and a CD reissue of the US LP on which this appears), the track runs about a minute and a half longer, that instruction getting discarded.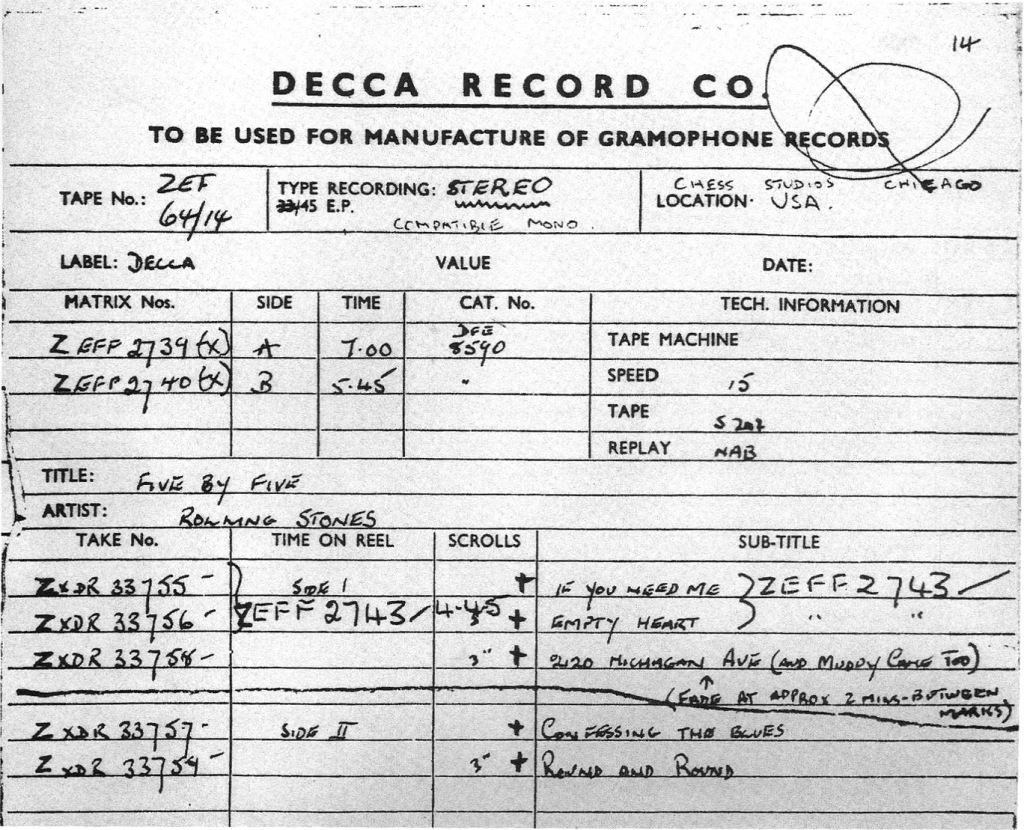 There were some promo posters for Beggars Banquet and Let It Bleed that were new to me, and rare, considering not many are online. As this one for Beggars Banquet (spelled Beggar's Banquet in the copy) shows, this June 1968 photo session at the seventeenth century Swarkstone Hall Pavilion in Derbyshire, England was also the source for the more famous picture that appears on the cover of the Hot Rocks compilation: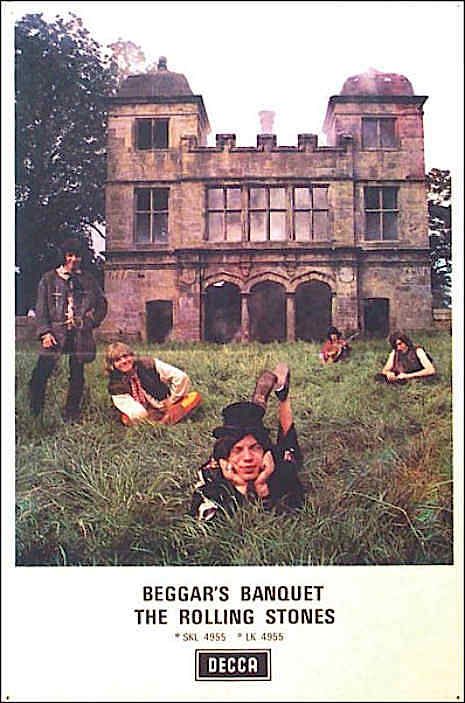 You can stay at this (now restored) building, by the way, though it's expensive, and its website does not volunteer information about whether you can just go there and walk around the grounds for a few minutes.
As long as I was searching (largely unsuccessfully) for the other late-'60s promo posters, this ad I'd never seen for the "Jumpin' Jack Flash" single turned up;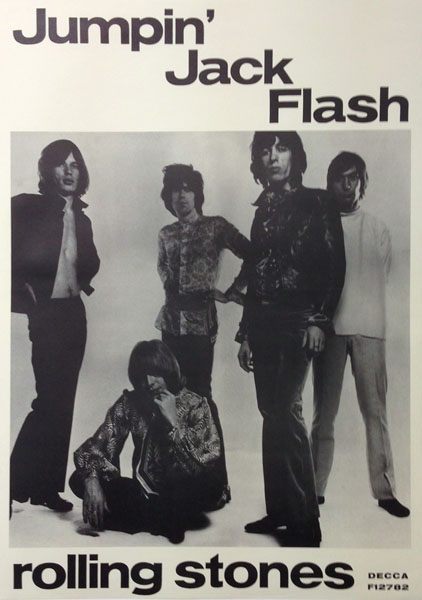 Looks like Wyman had a rough night. He looks more worn out than Jones in this picture—not an easy thing to do in 1968.
The film section of the exhibit was kind of disappointing, just offering a few clips from a few of their rockumentaries with some commentary. The poster for Gimme Shelter wasn't at the exhibit, but it's interesting as it uses an outtake from the session for their famous December Children's LP cover shot. Brian Jones wasn't in the Stones, of course, when Gimme Shelter was filmed in late 1969 more than four years later, and one has to guess New York's Plaza Theatre just used whatever picture they had quickest access to: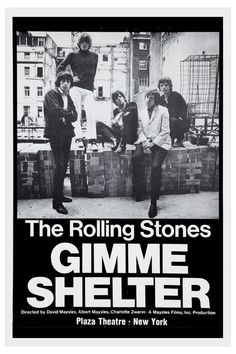 The guitar that Keith Richards used for "Sympathy for the Devil" was one of the more interesting instruments on display. I couldn't find a picture of that online, but the search generated some picture sleeves for European singles that backed "Sympathy for the Devil" with "Prodigal Son," an odd choice for a 45 even considering it was a B-side. Maybe this version of a song by bluesman Robert Wilkins (read more about how the Stones might have found his recording of it here) was selected by Decca to deny songwriting royalties to Mick Jagger and Keith Richards. Here's the Dutch single, which has a really oddball sleeve design: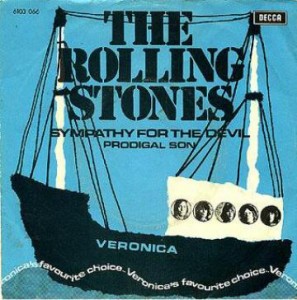 It turns out that there's actually a logical reason the Stones are pictured sailing a ship named Veronica. Radio Veronica was a long-lived Dutch pirate radio station that was still broadcasting when this single came out in 1973—hence the lettering "Veronica's favourite choice" at the bottom.
Should you visit Exhibitionism, take a walk afterward just a couple blocks north on New York's great High Line park. The elevated walkway features ever-changing public artworks such as these, which I saw on my visit: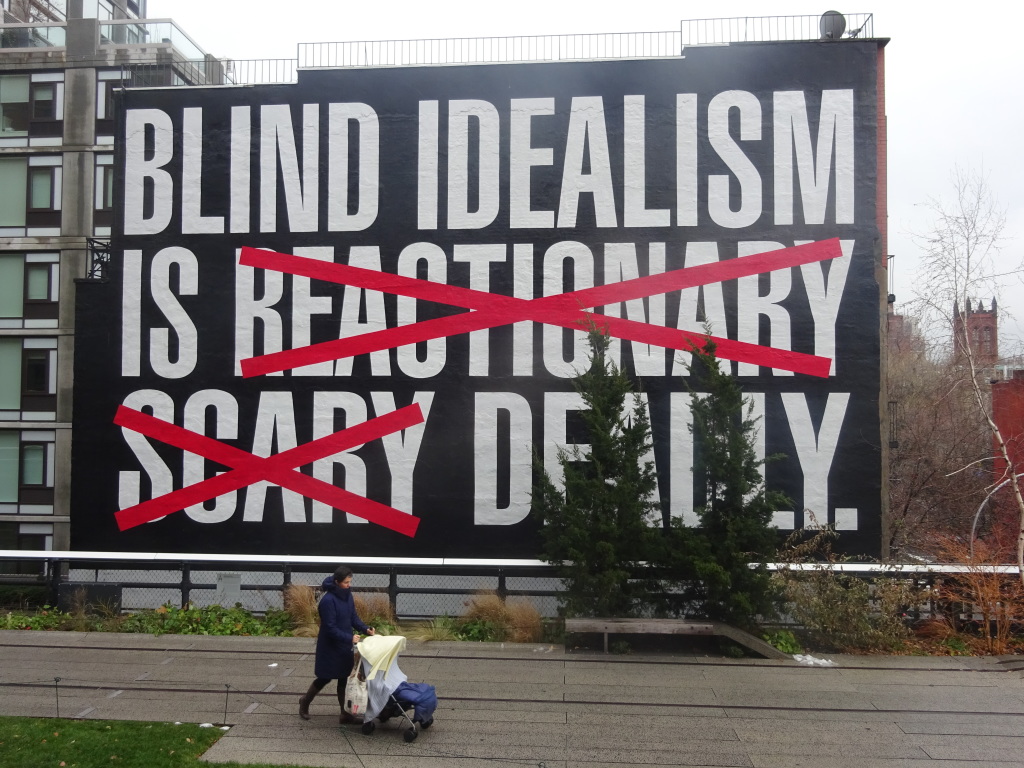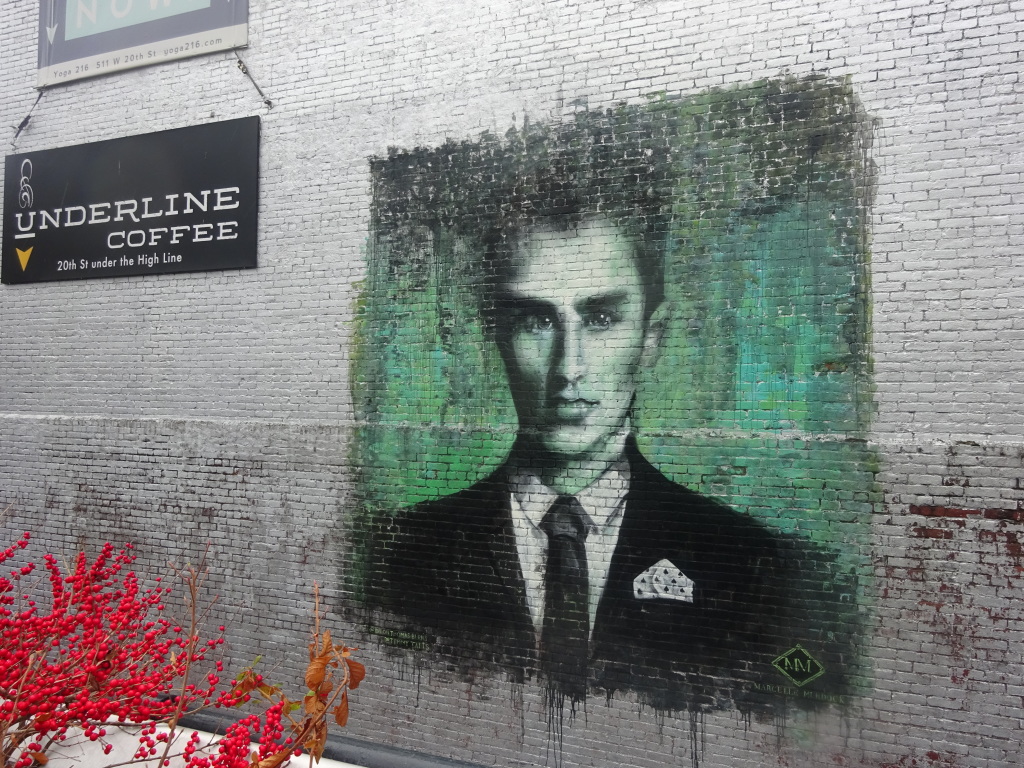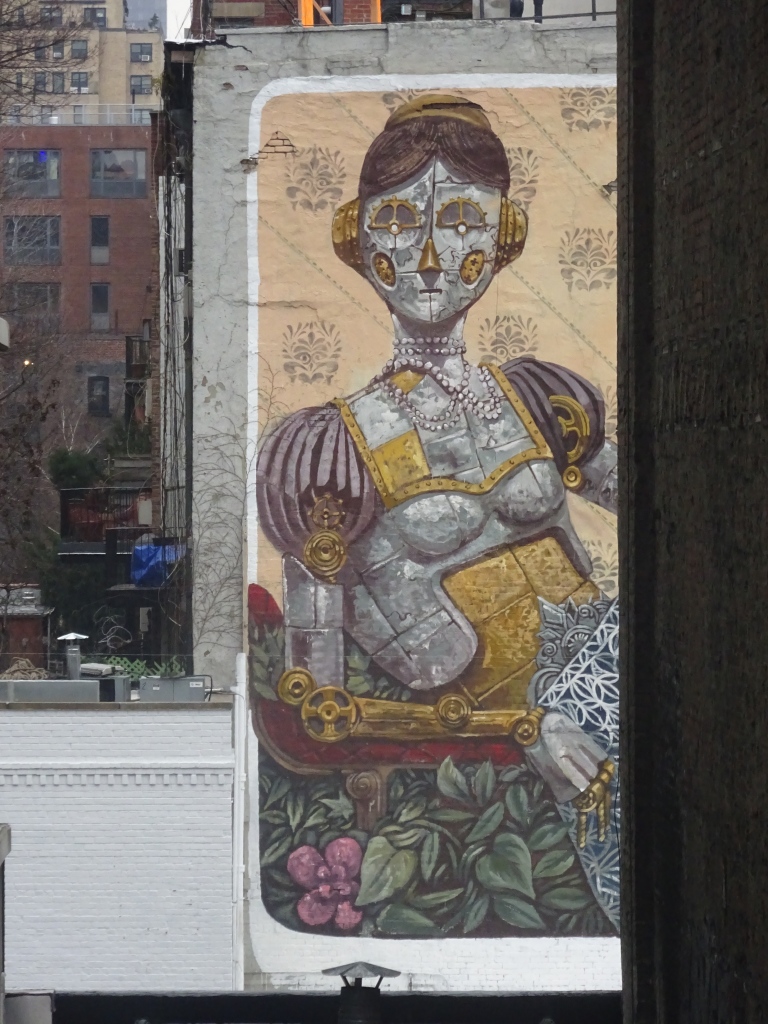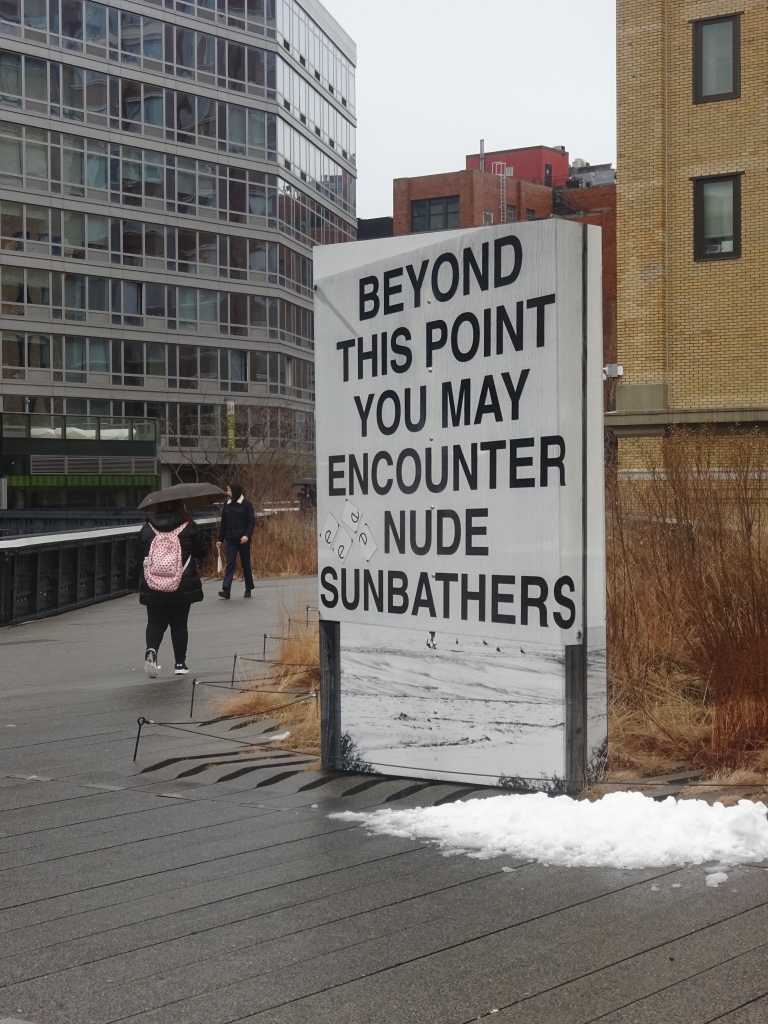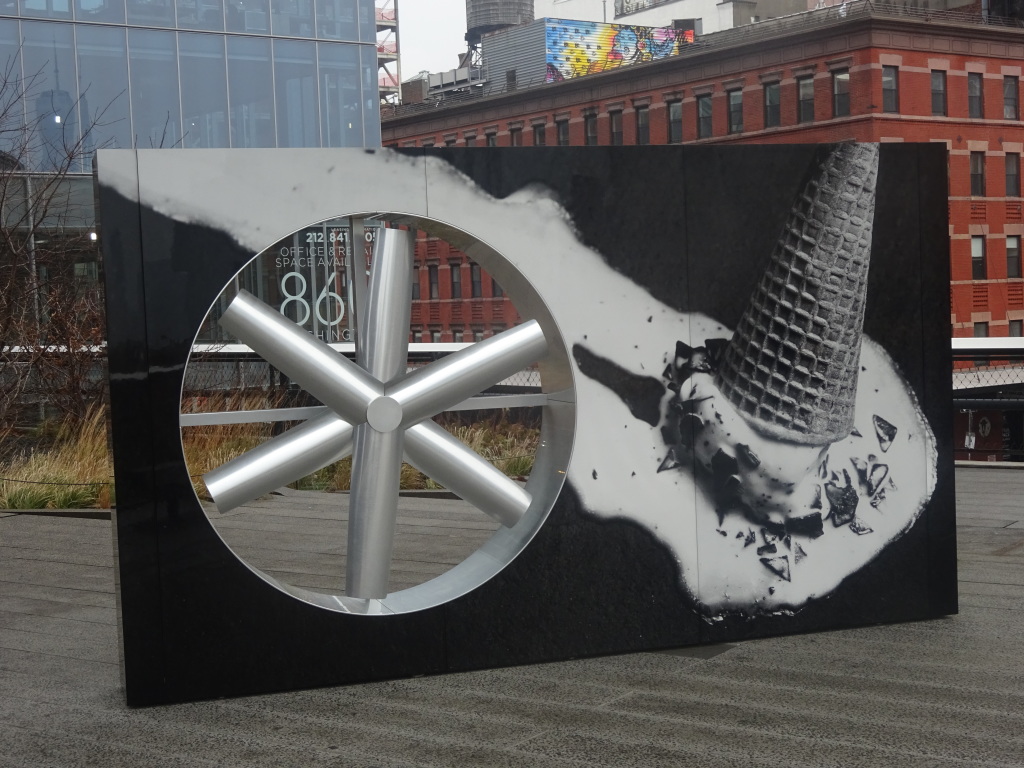 At the southern end of the High Line, there's also the Whitney Museum of American Art, one of the foremost art museums in the US. Here's a view of the neighborhood from one of its outdoor decks: