You've got to think that books on twentieth century popular music will eventually get less frequent and authoritative as the originators pass on and first-hand info gets less accessible. That's certainly not the case yet, given the wealth of volumes on major and minor figures that continue to pour out. The sheer range of performers and styles covered seems wider than ever, as does the kind of books getting generated. Memoirs, photo compilations, day-by-day diaries, discographies, genre and label overviews – all those and more are here. If superstars like the Beatles and the Doors are well represented, so are figures you'd never expect to get covered in full-length book form, from Keith West and Dana Gillespie to Jimmy McCulloch.
1. Beeswing: Losing My Way and Finding My Voice: 1967-1975, by Richard Thompson with Scott Timberg (Algonquin). As the subtitle makes clear, this memoir by the esteemed guitarist only covers the first decade of his career. Which is fine: that's the decade in which I'm primarily interested, when he was original lead guitarist of Fairport Convention through the early '70s before starting his solo career, as well as playing on numerous interesting records as a session man. This hits all the bases, covering the records, tours, and musicians with whom he collaborated with detail, wit, and clarity. If you're on the lookout for bits of info you might not have read before, they're here, like the memory of Fairport learning Bob Dylan's "I'll Keep It With Mine" from Judy Collins's non-LP B-side; Buck Owens and his band harassing Fairport for their long hair and hippie dress, only for Thompson to humble them by asking for their autographs by names, making it clear he admired their music; or Thompson sneaking a look at Joni Mitchell's notebook when they shared a bill in the late 1960s.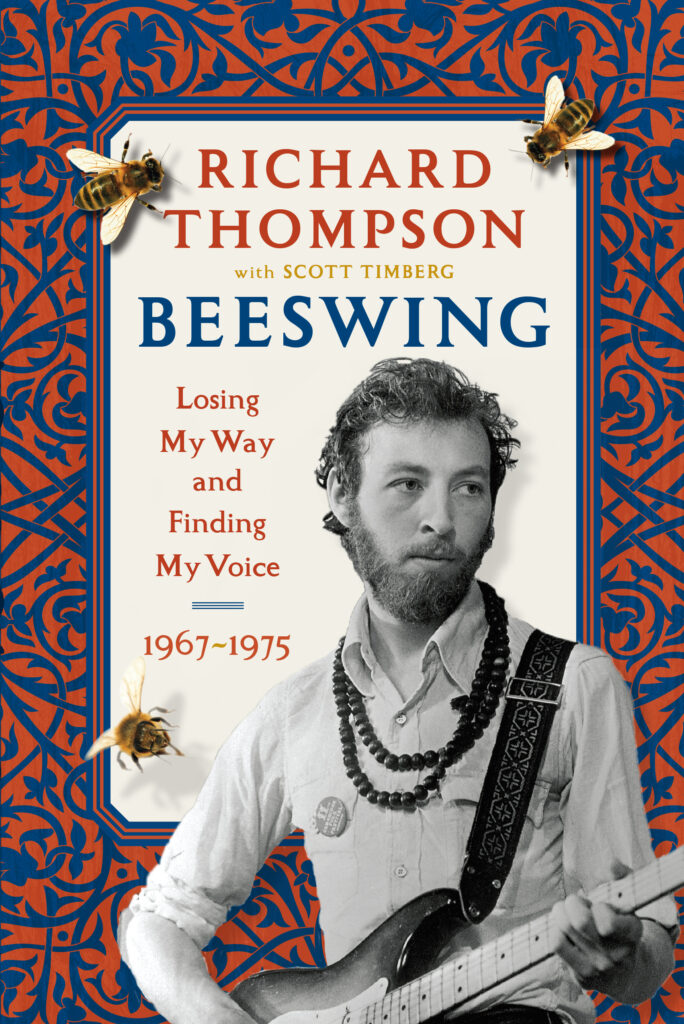 He's embarrassed about that incident now, and expresses regret about some other youthful behavior, especially fathering a child (at the woman's request, with no demands he be involved in the upbringing) but failing to participate in his son's life for the first dozen years. But the book's much more about the music and the sparks behind his stylistic blends and shifts, some form of mixes of folk and rock usually serving as the foundation. He neither romanticizes nor complains about the ups and downs of the life of a musician who can maintain a career without stardom, the downs including the crash where Fairport drummer Martin Lamble lost his life (as did Thompson's new girlfriend) and a truck crashing into the pub where Fairport were living in the early '70s (though Richard was not there at the time).
There are also insightful memories of Nick Drake, Sandy Denny, Linda Thompson, and other Fairporters, and it's a quick-paced narrative that doesn't linger overly long on any part of the story. The Thompsons' embrace of Islam in the '70s is explained, though the book doesn't quite get to the point where they left that faith, or the disintegration of their marriage. An afterword and epilogue quickly offers a condensed summary of his post-mid-'70s experiences, and while it might disappoint some fans that this period is barely covered, that leaves room for a sequel if Thompson's up to it.
2. Paul McCartney: The Lyrics, by Paul McCartney, edited with an introduction by Paul Muldoon (Liveright). The most well known book, perhaps by far, on this list, as it was a #1 New York Times best-seller. Just because it was commercially successful, however, doesn't mean it isn't good—kind of like the Beatles themselves. Crucially, it's not just a book that prints the lyrics with some illustrations, though the lyrics of 154 of the songs he wrote or co-wrote are here, and there are lots of graphics. There's also a lot of text in which McCartney discusses composing the specific tunes, often throwing in a lot of observations about influences, inspirational incidents and people and his life, and life in general. Most of the really well known songs he wrote (with the odd exception like "Hello Goodbye" and "Magical Mystery Tour") are included, and there are some really obscure ones from both the Beatles days and his solo career, even reaching back to a late-'50s number ("Tell Me Who He Is") that was never released, and for which McCartney doesn't remember the tune.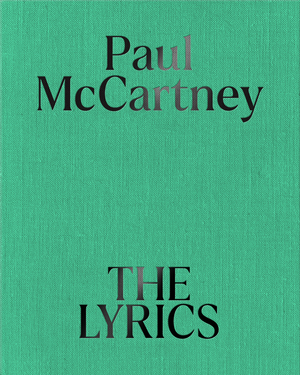 While some of these stories have been told a fair amount (and a few are even repeated with variations in the text), the commentary's almost unflaggingly absorbing and entertaining, both for the information and the lively, witty way McCartney tells it. I'm not overall interested in much of his post-early-'70s solo career, but even the notes on those are usually worth reading, as they usually have noteworthy stories and perspectives not specifically related to the songs themselves—quite a few of which from the previous decades, I admit, I'm not familiar with. Here's one of the better examples of his wisdom, in discussing a character in "She Came in Through the Bathroom Window"—"She found a ladder lying outside my house in London. As far as I recall, she stole a picture of my cotton salesman dad. Or robbed me of it. But I got the song in return."
This doesn't nab the #1 spot on my list since it does spotlight a good number of songs from a period of his career that doesn't interest me (even if, as previously noted, the stories accompanying those usually do). A few (not many) notable Beatles songs in which he was the main writer—"I've Just Seen a Face" and "I'm Looking Through You" are a few others—are missing. And there are a few, if not many, factual mistakes that I'm surprised made it through the editing process. For instance, Paul remembers getting the title for "Sgt. Pepper" from a remark Mal Evans made on a plane ride back from visiting Jane Asher on her 21st birthday in Denver, although that was in early April 1967, and the song "Sgt. Pepper" had largely been recorded on February 1. There are many, many Beatles fans besides myself who could have spotted such errors, and the essence and primary points of the stories could have been retained if they'd been fixed. Was it unimportant to McCartney and the publisher to make the relatively modest effort necessary to catch those?
To get back to the book's substantial pluses, the photos and illustrations are really good, and sometimes rare and unseen (though the absence of captions on some is frustrating). Besides pictures dating back to his childhood, there are plenty of McCartney's handwritten lyrics, drawings, and letters. Most interesting to me of all were a few very early Beatles setlists, from around the late 1950s and early 1960s, listing some songs they haven't been documented as performing. And yes, this is an expensive (though not massively so) book, but it's worth owning.
3. Set the Night on Fire, by Robby Krieger with Jeff Alulis (Little, Brown). Ray Manzarek and John Densmore issued memoirs quite a few years ago, and now Doors guitarist Robby Krieger finally weighs in with his. As a book, this might not be as polished or rigorously researched as some of the others in the Top Five. It's not strictly chronological, weaving back and forth in an episodic fashion, largely though not wholly focusing on his years with the Doors. As a big Doors fan, however, I found this on the whole more interesting than almost any other rock book of the year, and better than the books by Manzarek and Densmore.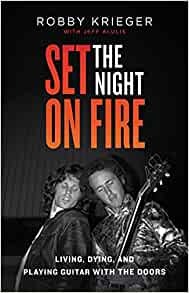 Krieger goes through a lot of details that intense Doors fans want to hear and that aren't explored as thoroughly in other books, like the nature of his songwriting collaborations with Jim Morrison (which were more frequent than are usually reported); how he won the audition for the Doors, in significant part, with his adept bottleneck style of playing; and how their early residency at the London Fog, far from being the near-bust it's often portrayed as, was invaluable to honing the group's playing and songwriting, allowing them to craft new material without pressure. "Every band should be lucky enough to have a London Fog," in his estimation.
Krieger also puts the kibosh on some long-standing mythic incidents. To his memory, the Doors weren't fired from the Whisky a Go Go for playing a profane version of "The End"; in fact, he doesn't think they were fired at all, just moving on to different and bigger gigs. He writes they didn't think the suggestion from the Ed Sullivan Show people to change the lyric to "Light My Fire" was serious, and that they just casually disregarded it rather than using the original lyric as an act of defiant rebellion. Contrary to John Densmore, he recalls the band starting to work on post-L.A. Woman material in anticipation of Morrison's return from Paris, not in preparation for a career without Jim. The notorious Miami concert that caused Morrison such legal hassles was, at the time, just another raucous show they didn't expect to invite prosecution, if more disorganized than usual. He acknowledges the singer's alcoholism and frightening behavior, but also his sensitive and polite behavior when not drunk. He wonders why the group didn't think of recording in their office (as they did for L.A. Woman) before that album was done as a way of getting around Morrison's unreliability, since Jim was often there and sometimes sleeping overnight in the space anyway.
There's some coverage of the post-Doors years that's expectedly less interesting, but not wholly uninteresting. For those who want to know about the strange and sad conflicts between the members when a Doors reunion band of sorts was assembled without Densmore in the twenty-first century, that's here too, though only given a chapter. Krieger comes across much as you'd expect, given his low-key image and onstage presence in the Doors: a nice fellow without an outsize ego who isn't above poking irreverent and self-deprecating fun at himself and the group, though some of his comments about tension with the one surviving member, Densmore, might strain their at-present intact if tenuous friendship. If you're wondering about the black eye Robby sported when the Doors played "Touch Me" on The Smothers Brothers, the story behind how he got that is here too, and more shocking than you'll expect.
4. All or Nothing; The Authorised Story of Steve Marriott, by Simon Spence (Omnibus). This isn't a standard biography, though it has about as many details about Marriott's career and personal life as the most thorough bio could have. It's mostly an oral history, with extensive comments from many people who were in his bands, family, management, or personal life. These are linked together by fairly frequent text from the author filling readers in on the background of Marriott's trajectory, through his days as a child actor and his peaks with the Small Faces and Humble Pie. This is "authorized" (US spelling) because much of Marriott's family authorized the book, and many of them participated in interviews, including two of his ex-wives, some of his children, and his sister. That's just a partial list of the people who are heard from, the most famous including Kenney Jones, Humble Pie drummer Kenny Shirley, Ian McLagan, Peter Frampton, early Small Faces manager Don Arden, and Andrew Loog Oldham (who worked with the Small Faces and Humble Pie at Immediate Records). The late Marriott himself is represented by numerous quotes from interviews he gave.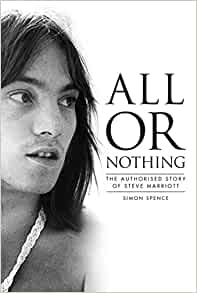 With almost 450 pages, this not only has as much info as you might want to know. It might have more info than you might want to know, considering how boorish Marriott's behavior often was. Arguably, it could have been better served by drawing upon the interviews for a standard narrative format. It's certainly readable, but the many incidents in which Steve was drunk, coked up, obnoxious toward bandmates and partners (and many others), and a general screw-up can be hard to take in such a large dose. This is a big part of many rock and celebrity biographies, of course, but it's bigger in Marriott's case than usual. And the decline from fame and a musical peak is longer here than usual – almost twenty years, as really, he didn't make notable music after Humble Pie's brief stardom in the early 1970s. He kept trying, the trail leading through numerous bands, abortive reunions with guys from the Small Faces and Humble Pie, and a chaotic personal and business life that saw him move from the UK to Santa Cruz, Atlanta, and back again. For much of his later years, he was slogging it out in pubs or with bands with connections to Humble Pie, without writing or recording significant material.
There is a lot of coverage of the music and records along with the volatile personal tribulations, and the Small Faces and early Humble Pie properly get the most in-depth treatment in that department. As for why he spiraled downward so violently and endlessly, the usual suspects – cocaine, alcohol, reckless spending – are most to blame. It seems like he might have had mental problems as well, so erratic was his behavior; bipolarity is mentioned as a possibility. As usual for such biographies, plenty of people around him put up with this because he could be lovable and had a lot of talent – though the average reader wouldn't have stood for this kind of stuff from anyone. Here's one question that isn't answered, and might not be possible to answer: how did he manage to get such lucrative contracts (the amounts are often reported in the book) after the early 1970s, as he never sold many records after Humble Pie's hit albums? Was the music industry that naive as to what Marriott was capable of, artistically and personally, given his poor results and poorer reputation for not delivering good recordings and generally being almost impossible to deal with much of the time?
5. Janis Joplin: Days & Summers: Scrapbook 1966-68 (Genesis Publications). Like many Genesis Publications books, this is a limited edition, this one only running to 2000 copies. And like many of their books, it's expensive, costing £325. I'm not going to pretend that's not beyond what many readers can afford, and that quite a few don't want to pay that amount for any book. Should you be able to read this, however, it is very interesting for the Joplin fan, with much material that has never been published. Most of that material's visual, covering her entire life, though as the subtitle signifies, it's built around her scrapbook spanning the years 1966-1968. There are photos, letters, newspaper and magazine clippings, and memorabilia dating back to her childhood, though the bulk of it's from her '66-68 years with Big Brother & the Holding Company. There's also a lot of oral history text, taken from close associates like Peter Albin and Dave Getz of Big Brother; her sister Laura and brother Michael; and Jorma Kaukonen and Grace Slick of Jefferson Airplane.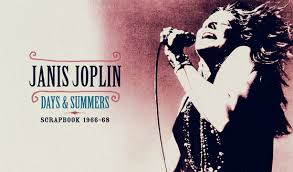 There's some unusual, interesting info, like Joplin writing about of Big Brother making a film (apparently unmade) in 1966, an offer (not taken) to sign with ESP Records, and describing the rigors of their first recording sessions. She wrote quite a bit, and in much detail, about her personal and professional lives to her family in the letters reproduced here, though they decrease in number as her success grew. The clippings include some that would be pretty hard to dig up even through library research, and even from her period of stardom, including ones from short-lived or relatively obscure magazines like Eye. Albin and Getz have a lot of good stories, not all of them common to Joplin biographies, like noting how her vocals were double-tracked on their first album, and how the first Tim Hardin LP was a big favorite of Big Brother's. There aren't nearly as many visuals or as much text from when she went solo the last couple years of her life, which unbalances the book's overview, and some of those interviewed for the text stretch things with general observations of the era that aren't specifically related to Joplin.
6. The Beatles: Get Back, by the Beatles (Apple/Callaway). The coffee table companion book to the Peter Jackson documentary of the same name features photos from the Beatles' January 1969 sessions by Ethan Russell and Linda McCartney, as well as dialogue recorded of the Beatles and associates while Let It Be was being filmed that month. To intense Beatles fans, this won't be as much of a revelation as it will be to much of the public. Some of this dialogue, for one thing, was included in the book that came with initial editions of Let It Be back in 1970 in some countries (including the UK, but not the US). Much of it was paraphrased or summarized in Doug Sulpy and Ray Schweighardt's book Get Back: The Unauthorized Chronicle of the Beatles' Let It Be Disaster about 25 years ago. The dialogue has been selectively chosen, and some of the less flattering bits that are heard on bootlegs aren't heard.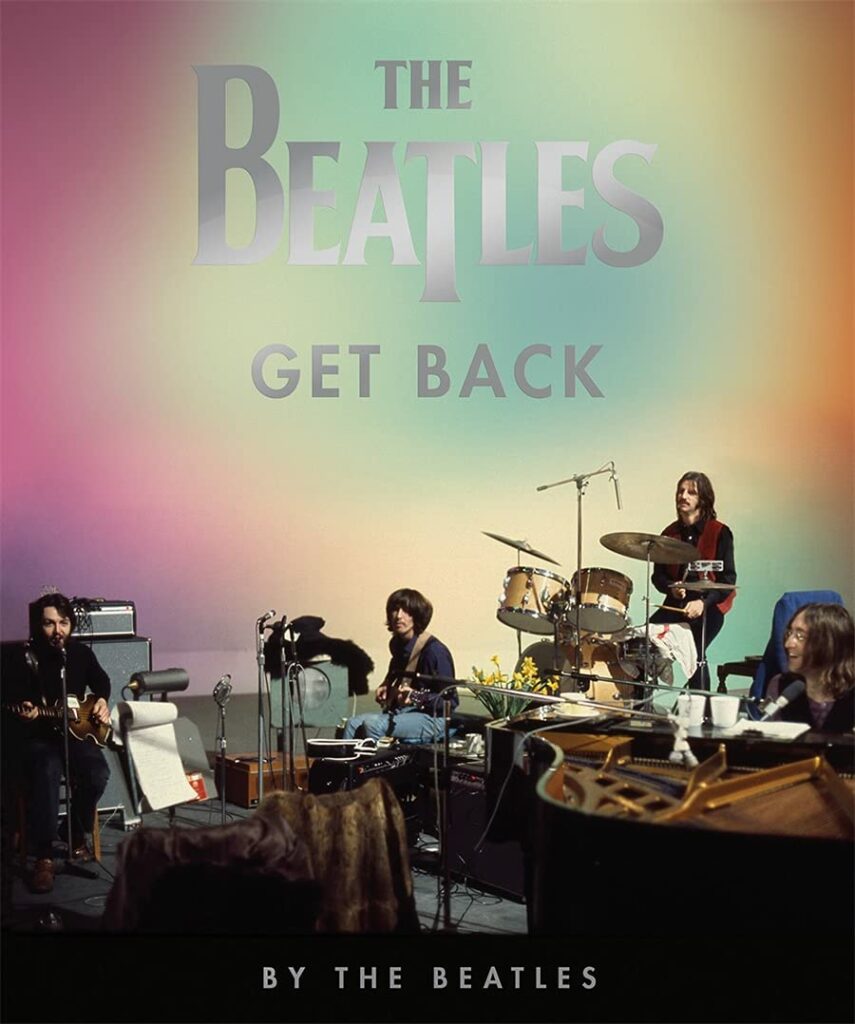 This isn't too heavily sanitized, however. It contains some frank discussions about tensions within the group, John's relationship with Yoko Ono (when both were absent), George leaving the Beatles for a few days, and whether they have long to go before splitting. There were will be some surprises even for those who've previously read some dialogue or about the material, like the presence of early quasi-manager Allan Williams at one session; John enthusiastically promoting Allen Klein as a manager to George Harrison the day after meeting with him, and just as enthusiastically recounting watching the Peter Green-era Fleetwood Mac on TV a few days before that; and; and shots of Paul McCartney, Ringo Starr, director Michael Lindsay-Hogg, and others checking out the roof as a possible concert location five days before the show, though it's often been assumed this wasn't considered until the last minute. In all it's a valuable historical record of what the Beatles were up to in one of the most confusing – possibly the most confusing — junctures of their career. If the text is more interesting than the pictures, the photos are still good to see, and many of them haven't previously been accessible. It's also much sturdier than the slim paperback book that came with some editions of Let It Be in 1970, which is notorious for falling apart due to its loose binding.
7. Those Were the Days 2.0: The Beatles and Apple, by Stefan Granados (Cherry Red). This is an updated version of a book whose first edition was published nearly twenty years ago. It's not a superficial update; there are nearly a hundred more pages, and although some of this covers Apple's twenty-first century activities as stewards of Beatles/Apple catalog, other material has been added. True, Granados didn't talk to most of the principal figures who'd interest readers most, like the Beatles, Allen Klein, Yoko Ono, Derek Taylor, Neil Aspinall, Mary Hopkin, Billy Preston, and James Taylor. But he did interview more than eighty Apple artists and employees, some high-ranking, like Peter Asher and Joey Molland of Badfinger. While most of the others were in obscure recording acts or were Apple workers barely or unknown to the general public, that ensures they had a lot to say and fresh perspectives, having seldom if ever talked on the record about the company.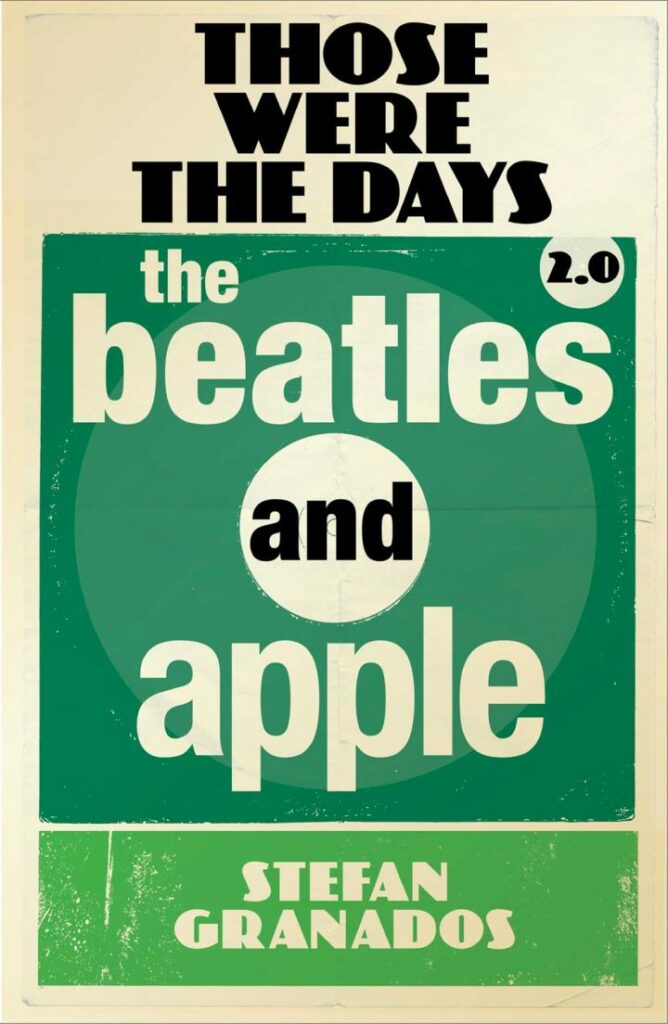 The book doesn't just cover the Beatles' releases and the high-profile ones by the likes of Hopkin and Badfinger. There's lots of ink on the many songwriters they published, who often didn't record for Apple and sometimes never even got to the point of making records. Much attention's also paid to artists who did put out little-noticed discs on the Apple label, like the Sundown Playboys, Bill Elliot and the Elastic Oz Band, and Lon and Derrek Van Eaton. There are colorful tales of the Apple organization's more chaotic incidents, but it's emphasized that for much of the time it functioned as a more or less conventional record company, if one that made some bizarre detours and was subject to the tensions rocking the Beatles as they split and sued each other (and Klein). Also out around the same time as this book is the five-CD compilation Good As Gold: Artefacts of the Apple Era 1967-1975. It complements this book well as it features many of the songs that are associated with Apple but didn't come out on the label, including publishing demos and tracks recorded at the company's studios.
8. Hollywood Eden, by Joel Selvin (House of Anansi). Taking students at University High School in West Los Angeles in the late 1950s as its launching point, Hollywood Eden looks at how L.A. developed a regional rock sound based around the surf-car-sun Southern California lifestyle from then until the mid-1960s. Jan and Dean and Nancy Sinatra were students at University High School, but the book's focus widens to include other L.A. high schoolers who'd soon make their mark on the rock world, among them Phil Spector, Sandy Nelson, Kim Fowley, and the Beach Boys. Although the concentration is on the late 1950s and early 1960s, it edges into the folk-rock era with the Byrds and the Mamas and the Papas before Jan Berry's terrible car accident in 1966—and Spector's retirement after the failure of Ike & Tina Turner's "River Deep, Mountain High"—signals the end of a relative age of innocence.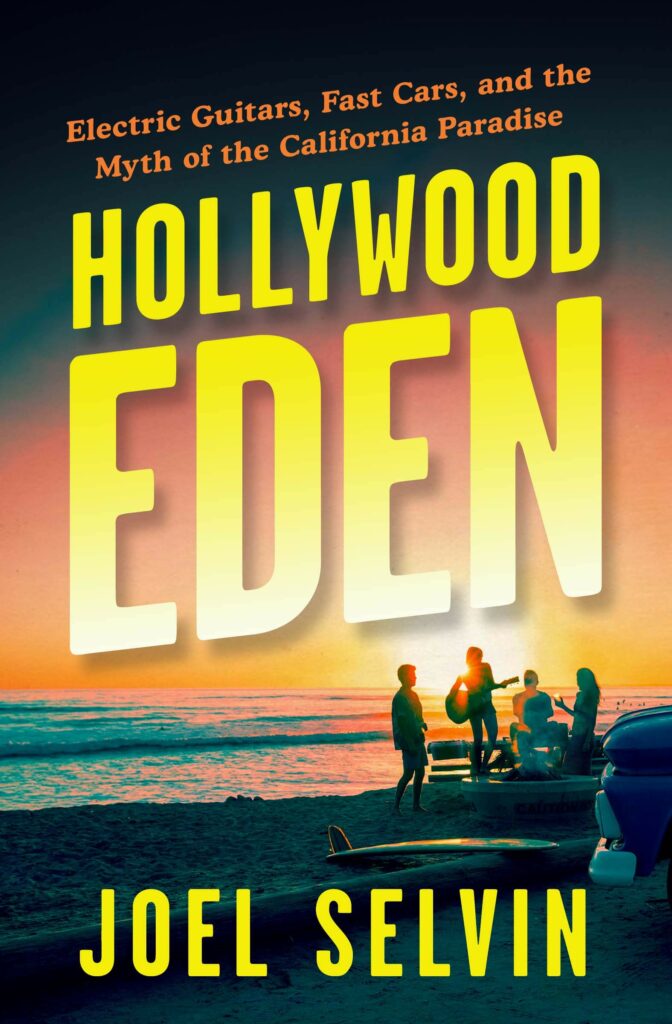 Many of these details have been covered in a few previous books like Barney Hoskyns's Waiting for the Sun, Dean Torrence's memoir Surf City, and books on the Beach Boys, Spector, Byrds, and Mamas and Papas. Still, it's interesting to have them woven together with a lot of attention to interrelationships between the acts. Selvin's style, not just here but in his numerous other books, is to tell the story rather than use direct interview quotes, but there's still a good number of stories that aren't so well known, or are told in greater detail than usual. Such as, for instance, the botched kidnapping of Frank Sinatra, Jr., in which Torrence somehow played a not-wholly-unwitting part. And there's definitely more material on a few interesting figures than makes it onto most books, like Nelson (whose drum style and accident that cost him a foot are thoroughly discussed); Jill Gibson, who briefly replaced Michelle Phillips in the Mamas and the Papas; and Terry Melcher, who made a mark as a surf/hot rod performer/producer before his most famous work with the early Byrds.
The book has a lot of the behind-the-scenes action, not all of it sunny, in the Los Angeles rock scene at a time when opportunities for hustlers were far more rampant than they'd be when Hollywood became one of the top centers of the music business. Given that strength, it's not too important in the big picture, but the chronology of Fowley's 1965 comings and goings is shaky. If this goes into another printing, that section's note that he caught one of the Yardbirds' "first performances" in England in 1965, when they'd already been around for about a couple years, should be corrected. The same for a timeline that has him returning to L.A. in December, but somehow meeting with the Mamas and the Papas just days after the August Watts Riots.
9. The Double Life of Bob Dylan: A Restless, Hungry Feeling (1941-1966), by Clinton Heylin (Little, Brown). Heylin has issued a few books on Dylan, and while they're not flawless, his status as one of the leading authorities on the man is unquestioned. Why another one, considering he's covered Dylan's career in depth already, with specialized volumes on his recording sessions and songwriting in addition to the more standard biographical overview Behind the Shades? He's been able to do a lot more research in the last few years, particularly since he had access to the personal archive Dylan sold to the George Kaiser Family Foundation in 2016.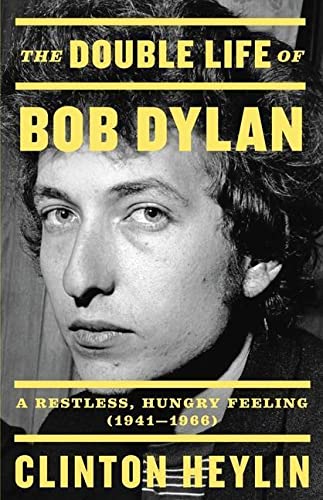 So this is kind of an expanded retelling of the first 25 years of Dylan's life, focusing on the six or so first years of the '60s, when he rose from unknown Minnesota folkie to one of the world's biggest stars. Those who haven't read many other Dylan books, however, might feel lost by the crush of information, not all of which goes through his songs and career path in a standard fashion. There's a lot of space given to previously undocumented material that illuminates or challenges the familiar storyline, like between-take session chatter, unreleased concert recordings, personal and business correspondence, and (less interesting) his writing as he worked toward the book eventually published as Tarantula.
For someone like me who knows the core story well (even if Dylan isn't one of my very favorite artists), that's pretty interesting, even if some of the detail is still rather extraneous. Others might find the scope disorienting, especially as the chapters don't proceed in a strictly chronological fashion, jumping between his boyhood and his early career in the early sections. It's a bit like a fill-in-the-blanks of what's known by knowledgeable fans, though Heylin pays some attention to the singer's general career arc, ending with the famous July 1966 motorcycle accident that pretty much put his public career on hold for a year and a half. One would guess that there will be volumes covering his subsequent career, though this is the era that fascinates fans and readers the most.
Like some of Heylin's other books on Dylan and other subjects, this has occasional smug putdowns of other authors and critics. In the introduction, they're more than occasional. Far from elevating the stature of his own work, they diminish it. His efforts would be better appreciated if he let the quality of his research and appraisals speak for itself.
10. Always a Song, by Ellen Harper with Sam Barry (Chronicle Prism). Harper is not a well known musician, though her son Ben is. She hasn't even made many records, and didn't until she was well into middle age, sometimes recording with Ben Harper. But even if you haven't heard of her, or for that matter aren't interested in Ben Harper, this is a good memoir of coming of age in the '60s folk music revival, with a lot of coverage of the years before and afterward. Her parents ran the Folk Center (which she eventually took over) in Claremont, California, not far inland from Los Angeles. Through them and the center, she met some of the folk boom's leading figures, like Pete Seeger and Joan Baez. She also had fleeting interactions with other famous artists, some of whom don't come off too well, particularly Joni Mitchell (who stubbed out a cigarette on the Folk Center's floor when it wouldn't give her a free guitar), Guy Carawan, Baez, and Bob Dylan.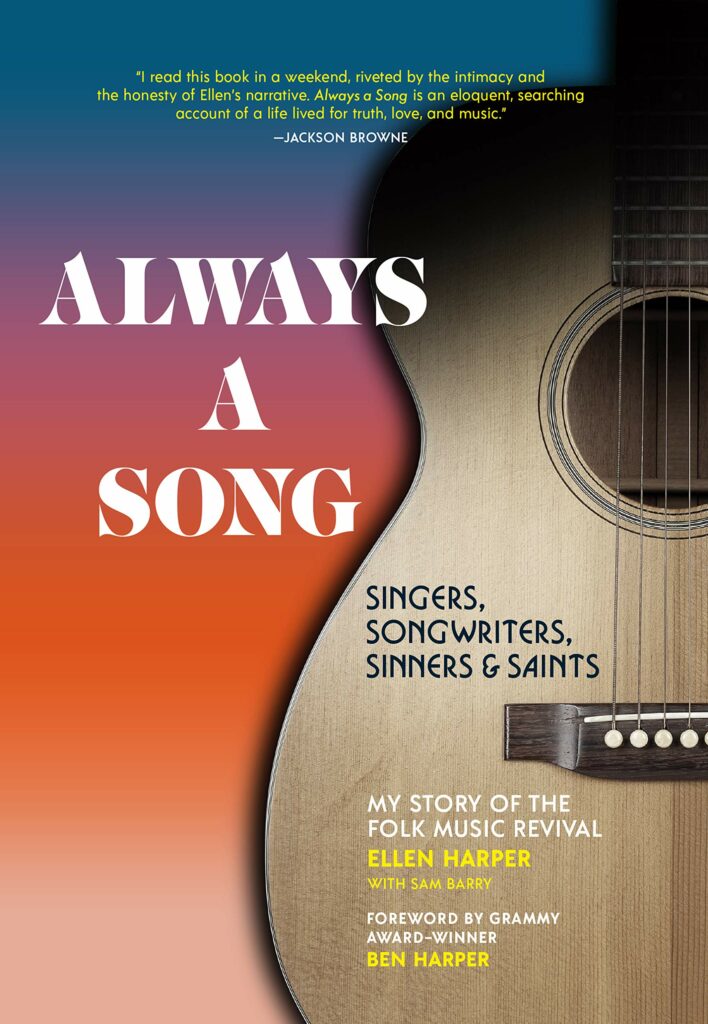 Of more note, however, is Harper's own tale, which is much like many semi-pro musicians of her generation, but well told here. Her parents moved from Massachusetts because her father lost his job in the McCarthy era, and she often felt like an outsider both because of her background and bohemian interests. The Folk Center's growth from hole in the wall to major destination for musicians and fans is itself interesting. But so is her rocky upbringing, struggles for identity as she shifted from adolescence to adulthood, and a marriage to a man who unfortunately turned abusive and alcoholic. The story's told with a firm even hand even when the going gets tough, and brings to life some of the hard tasks of raising a family as a single mother while attempting to make a living at the margins of the folk community with some integrity. Is her role in popular music nearly as important as, say, Dylan's, as documented in Clinton Heylin's new book? No, of course not. Is this a better read than Heylin's The Double Life of Bob Dylan, which contains much more in the way of valuable historical research? Absolutely, demonstrating that the lives of faces in the folk crowd have their place in history too.
11. Motor City Underground: Leni Sinclair Photographs 1963-1978, edited by Cary Loren and Lorraine Wild with a contribution by Kristine McKenna (Museum of Contemporary Art Detroit). Leni Sinclair took many photographs of the Detroit rock, jazz, and leftist political scene. She was married to activist and MC5 manager John Sinclair for much of that time, though she was already entering the circle of Detroit alternative/underground artists and radicals before that, shortly after moving to the city from East Germany. This 400-page or so coffee table book has lots of her pictures – some of which postdate 1978, to be technical, and most of them from the decade starting in 1963. Rock fans might be most interested in her photos of the MC5, whom she knew very well, along with some other stalwarts of the late-'60s Detroit rock scene like Iggy Pop and the much lesser known band the Up. But there are also plenty of images of local and touring jazz icons, as well as demonstrations, riots, and confrontations with authorities. John Lennon and Yoko Ono's concert to benefit efforts (ultimately successful) to free John Sinclair from jail, where he was serving time for marijuana possession, is documented too.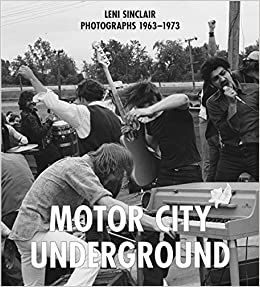 There might be things to criticize if you're looking at the photos from an aesthetic perspective. They're good overall, but some are grainy, and all could have benefited from being reproduced on higher-grade paper, though that likely would have added significantly to the price. What's more important, however, are how they serve as a record of key events and people from a very interesting scene that hasn't been covered nearly as much as what was happening in cities like San Francisco, Los Angeles, New York, and London at the time. The captions often include interesting memories or descriptions of the characters and incidents depicted, as well as generally less interesting excerpts from publications of the period that can lean toward rhetoric. There's an informative, fairly lengthy overview essay of Sinclair and the milieu in which she worked, as well as a recent interview with Leni conducted by journalist Kristine McKenna. This volume hasn't gotten much attention or media coverage, and is worth the substantial investment if you're interested in the '60s Detroit underground. And if you're interested in my story based on my recent interview with Sinclair, you can read it here.
12. Mike McCartney's Early Liverpool, by Mike McCartney (Genesis Publications). Mike McCartney, younger brother of Paul, took a lot of pictures in Liverpool in the early 1960s, often though not always of the early Beatles. Many of his photos have been included in other books and publications. But with a little more than 250 pages, this is by far the biggest and highest-end collection of his work from that era, with numerous images that will be unfamiliar even to many big Beatles fans. Like many deluxe productions from Genesis Publications, the price is on the high end too—£295, which works out to about $400, for one of the 2000 copies in a limited edition.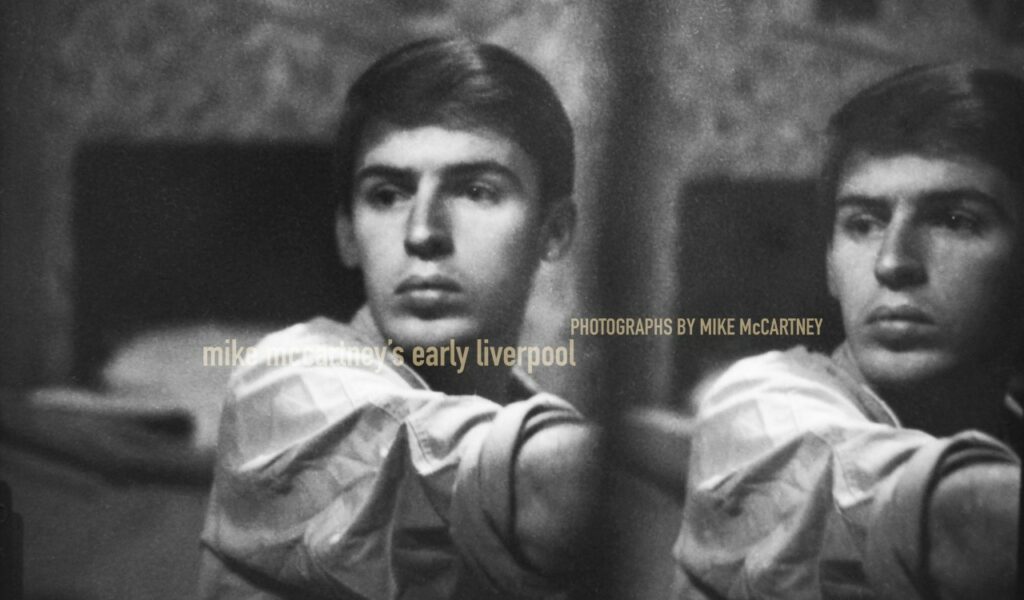 Should you be able to look through this, there are a wealth of interesting shots of the Beatles, mostly from around 1961 through mid-1963, with both Pete Best and (less often) Ringo Starr. Some of the pictures are fairly well known, like John Lennon and Paul McCartney huddling with Gene Vincent at the Cavern in 1962, and John and Paul writing "I Saw Her Standing There" at the McCartney home late that year. Others are less so, and they span a gamut from private rehearsals at the Cavern with Ringo to Paul's twenty-first birthday party, unused scenes from Help!, and a couple color shots of John, Paul, and George Harrison playing in 1958 in the Quarrymen days (although almost everything else is in black and white).
There are also some non-Beatles photos of Liverpool at the time; the theatrical/poetry crowd that Mike McCartney fell into when he joined the Scaffold, though obviously some of the pictures with Mike from this and other times were taken by other people; and visiting American rock'n'roll stars like Vincent, Little Richard, Jerry Lee Lewis, and Chuck Berry. Although there's not an abundant amount of text, Mike supplies some succinct and witty commentary on most of the pictures, sometimes with obscure behind-the-scenes info, though not so much that it unearths a trove of unknown stories. For those serious Beatles/British rock fans who access this, it's a worthy supplement to the historical record, from someone who was actually very much on the inside of the story as it unfolded. And if you're interested in my story based on my recent interview with Mike McCartney, you can read it here.
13. Decades: The Bee Gees in the 1960s, by Andrew Môn Hughes, Grant Walters, and Mark Crohan (Sonicbond). The Bee Gees' career has been covered in a few books, though those for the most part lose my interest after the 1960s, as I'm largely only concerned with their early work. If you feel the same way, this will be a worthwhile read, cutting off at the end of 1969. Everything they did before that is covered in detail, focusing, refreshingly, on their songs and records, and not so much on their celebrity and personal/family lives, though that's also incorporated. All of the recordings they made during this fertile period are documented in exacting but very readable depth, and while the authors might be bigger fans than many general rock listeners, both the strengths and weaknesses are aptly criticized. Refreshingly, their 1963-66 Australian records, some of which were very good (if more derivative than their later material), get almost as much attention as their far more famous 1967-1969 ones.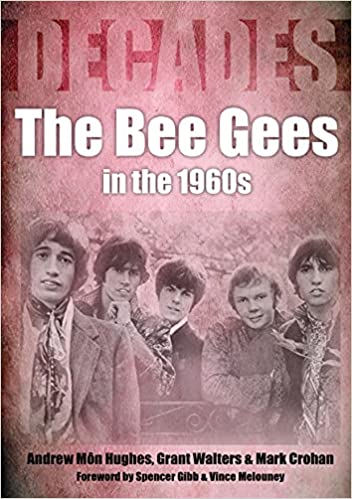 The authors also delve into, with less but satisfactory depth, the many cover versions of songs written by the brothers Gibb. These include quite a few the Bee Gees themselves didn't release or record – an astonishing number, actually, even if not many of those compositions were on par for what they kept for themselves. While this book is far shorter, and far less meticulous, than Andrew Sandoval's Monkees day-by-day bible (reviewed below), it ranks just a bit higher here both because I like the Bee Gees better and it's a zippier read owing to its less completist/encyclopedic nature. There's some overlap (in the focus, not in the actual text) between this and a couple other worthwhile books: The Ultimate Biography of the Bee Gees: Tales of the Brothers Gibb, which one of this volume's co-authors (Andrew Môn Hughes) also co-wrote, and Sandoval's own Bee Gees: The Day-By-Day Story 1945-1972, which is far shorter than The Monkees: The Day-By-Day Story, but also has much valuable info.
14. The Monkees: The Day-By-Day Story, by Andrew Sandoval (Beatland). To be clear, if this list was ordered by how much research and hi-quality production went into a book, this would be near or maybe even at the top. Its modest position in my ranking is due much more to my relatively un-fanatical interest in the Monkees (though I do like some of their music) than the merits of the writing, which is very good, and the depth of detail, which is phenomenal. Sandoval wrote a 300-page day-by-day book on the Monkees published in 2005 that was itself impressive, but this one actually physically dwarfs it in comparison. The near-coffee-table-sized 740-page volume is so large it must have been hard to even bind together. Besides meticulous coverage of the Monkees' professional activities through the end of 1970, emphasizing their recordings and performances, there are loads of photos, quite a few in color, and quite a few rare. The photo credits alone take up eleven columns and three pages of tiny print.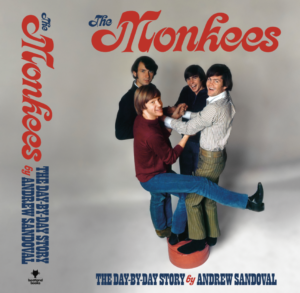 All of the studio sessions for the Monkees' recordings—and there were many—are documented with extreme thoroughness. Interviews all four gave—many from obscure sources like small daily papers and fan magazines, as well as to Sandoval himself—are often and effectively quoted. Sandoval also interviewed quite a few of their associates, like songwriters Bobby Hart and Tommy Boyce; producer Chip Douglas; and publisher Don Kirshner. Their live shows get a lot of attention too, as does the context in which the group formed and functioned—not just their TV series and Headmovie, but also the business and publishing machinations behind their conception, management, and financial affairs.
The author might be more generous than some critics in assessing their work, but he gives the tracks plenty of description, and is not reluctant to criticize their subpar product, such as their 1968 TV special 33 1/3 Revolutions per Monkee. Their solo activities prior to the birth of the Monkees in late 1965 are thoroughly covered, as are their solo projects while the Monkees were going, like Michael Nesmith's outside productions and early solo albums, and Peter Tork's post-Monkees band Release (which, ironically, didn't release anything). Unlikely connections between the band and many of the era's top icons are uncovered, from the Beatles and Neil Young (who played on some of their sessions) to Donovan, who wrote a song for them, "Saint Valentine's Angel," that they didn't release.
While this won't be a surprise to serious Monkees fans, it's astonishing how many recordings were done (aside from their 1967 album Headquarters, very much a self-contained band project) with participation by only one Monkee, or none in the case when backing tracks were laid down without any of them. Nuggets of little known info are plentiful, like Peter Tork having accompanied folk singer Peter La Farge in concert not long before the Monkees started, or Tork having spent wads of royalties on recording his composition "Lady's Baby," which (though it was one of his best songs) didn't even get issued in the 1960s. Through no fault of the author, the book does get less interesting in the 1969 and 1970 chapters after Tork's departure, with the exception of sections on Nesmith's early solo country-rock album sessions in 1970. The layers of detail on the recording sessions for their LP filler, while commendable in their thoroughness, might be taxing to plow through for non-completists. If you're a big Monkees believer, however, this might be your #1 book of the year, or close to it.
15. The History of Bones, by John Lurie (Random House). The memoir by the musician and actor most known for the Lounge Lizards and Jim Jarmusch's early films only goes to the end of the 1980s for the most part, but it's still 435 pages. Most of it's pretty interesting, though it's somewhat exhausting. While there's a lot about his music, and a fair amount about his acting, there's more about drugs, sex, and general debauchery. Lurie doesn't have the image of being nearly as prolific as New York punk and new wave musicians in these categories, but based on what he's written, he gave the most blatant of them a run for their money. These excesses didn't quite cripple his career, but they made it more difficult to conduct, as he acknowledges with wry humor.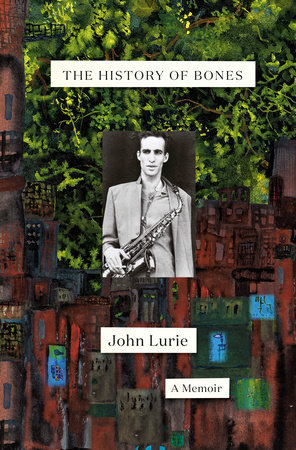 Those looking for in-depth sequential details of his compositions and recordings might be disappointed, since they're fitful and take a backseat to documentation of his lifestyle, though plenty of info about them is here. What comes across most strongly is how difficult it was for Lurie to make a living and maintain sanity as an alternative musician who might have been pretty well known as such figures go, but wasn't making a ton of money, or even always able to find a record deal. The stories of tours, sessions, equipment, and business transactions gone wrong in all manner of improbable ways are abundant, as are the accounts of entertainment business and arts figures who screw artists and colleagues over. Jarmusch comes off worst in this regard, but there are negative lights cast upon some other associates like Jean-Michel Basquiat and Arto Lindsay (whose departure from the Lounge Lizards isn't thoroughly investigated), though their talents are acknowledged. He also praises some he's worked with for their character, and discusses some of his own flaws, principally his lack of aptitude and skill at working within the music and film businesses.
Although Lurie isn't exactly a rock musician (or easy to categorize in any genre), there are passing anecdotes aplenty about other notables in the New York scene, like Debbie Harry and David Byrne. While Down By Law and Stranger Than Paradise get more coverage (if not a ton) than his other movies, there are also stories of his lesser roles in films by Martin Scorsese and David Lynch. There's also a lot about the general squalor of living in the New York underground at the time, when crime and rough residential conditions were common. They can overwhelm the more art-focused segments, though Lurie makes it clear he was willing to put up with all manner of irritations to do the music he wanted, even if he sometimes alienated those he worked with or lost a lot of money. There are also insights into the specifics of scoring for movies, though they're just part of a mix that's something of a helter-skelter ride from his boyhood to the trip to Africa at which the book ends, though he was only at the beginning of that adventure.
16. Nonbinary: A Memoir, by Genesis P-Orridge (Abrams). Most known for pioneering industrial music with Throbbing Gristle, P-Orridge died in 2020, this memoir appearing posthumously. It's not certain from reading the text whether he finished his intended draft, but this is pretty long (about 325 pages) and covers most of his life, if in uneven concentrations. Those wanting a Throbbing Gristle book might be a little disappointed; they do get a lot of space, but don't even form until after the book's halfway point. There's a lot about his pre-Throbbing Gristle years, including difficult school days and general counterculture mayhem with his performance art project COUM Transmissions and other activities. There's also discussion of Psychic TV and his post-Throbbing Gristle years, though the last 35 years of his life don't get much more than 35 pages, and the depth gets much more fitful.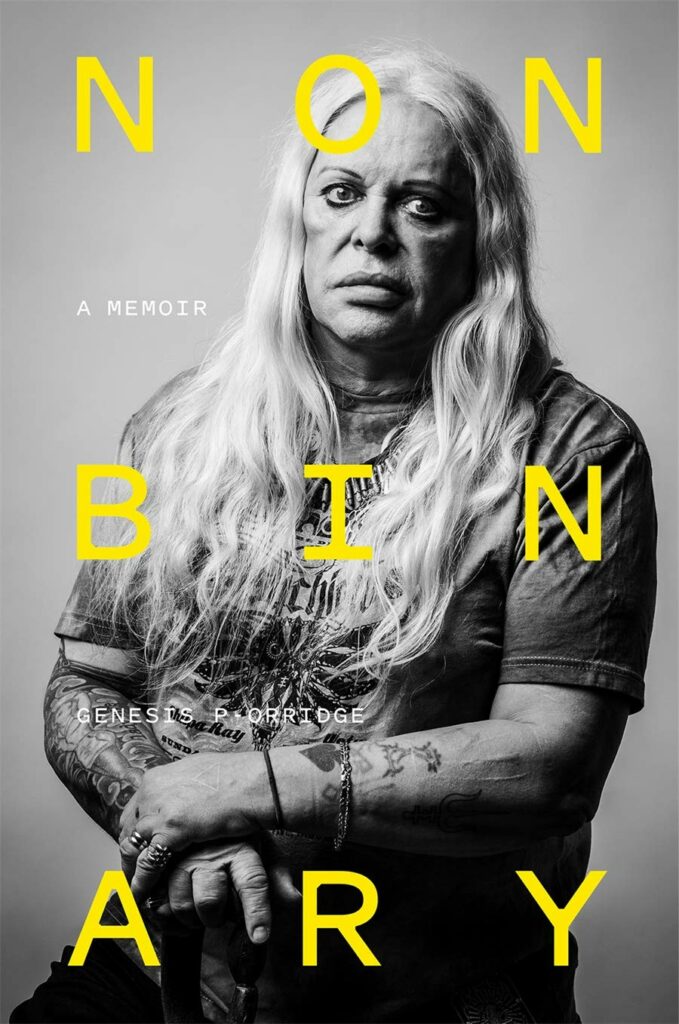 P-Orridge is a notorious and in some ways polarizing figure, and not everyone, even in the underground, will agree with his philosophies. But it's usually an interesting narrative, with more wit and humor than you might expect from a guy determined to push the boundaries of socially acceptable behavior and constantly brush against authorities. His flights into meditations on pandrogyny, the occult, and other such matters are less interesting than his stories about struggling to survive as an outsider not just in society, but often in the underground itself. There are also interactions, some surprising, with other famous figures, including Ian Curtis, William Burroughs, and (when he was a teenager in the '60s) the Rolling Stones, among others.
Although he usually comes across as an articulate and thoughtful sort, be aware that a much different portrait of his personality is given by Throbbing Gristler (and, for much of the 1970s, his girlfriend) Cosey Fan Tutti in her 2017 memoir Art Sex Music. In fact, P-Orridge often comes off monstrously in that book. Which is the more accurate one? There's no way to tell, and not much reason for those of us outside their circle to agonize about it.
17. Riding the Carousel: A Biography of the Hollies, by Malcolm Searles (Dojotone Publications). There was a fairly slim and perfunctory bio of the Hollies a half dozen years ago, and drummer Bobby Elliott wrote a fairly mediocre memoir that came out last year. This bio isn't perfunctory or mediocre. It's almost 600 pages, covering the career of this major British Invasion band in both extreme detail and a very readable fashion. Although there's not much inside first-hand interviewing of the Hollies or major associates, a great of info was collected from many sources, from top British music papers to fan club newsletters. There are stories that won't be known unless you've followed their career very closely, like their classic 1965 #1 UK single "I'm Alive" being given to the obscure group the Toggery Five by Wayne Fontana before getting taken by the Hollies when producer Ron Richards played the song to them. The odd shuffle of Allan Clarke leaving shortly before "Long Cool Woman (In a Black Dress)" unexpectedly became a huge US hit, and then quickly returning to replace his replacement Mikael Rickfors, is also explicated.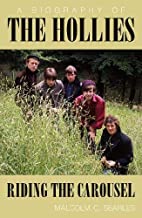 It nonetheless can't be denied that the Hollies weren't the most personally colorful of top groups, Graham Nash excepted. It also can't be denied that they got less interesting when Nash left at the end of 1968 (the reasons are thoroughly traced), and the Nash years only take up 235 pages. After their mid-1970s hit "The Air That I Breathe," the Hollies' music got that much less interesting, and steadily less so over the last 45 years. Those years take up the final two hundred pages, and that's a pretty long string to play out, though the author does his best to find whatever interest he can in their sporadic attempts to record new material, reunite with Graham Nash, and navigate the loss of lead singer Allan Clarke.
18. There and Black Again, by Don Letts with Mal Peachey (Omnibus Press). As a filmmaker, DJ, and musician (if of limited skills, as he admits) with Big Audio Dynamite and some other acts, Letts has played notable roles in British punk, new wave, reggae, and rap since the 1970s. His memoir traces his journey from a music-obsessed boyhood in London as the son of Jamaican immigrants to immersion in the UK punk explosion and beyond. He crossed paths, and often worked closely, with a load of notables—most famously the Clash, for whom he directed videos and documentaries, but also the Sex Pistols, the Slits, a bunch of reggae icons, and a host of others. There are an abundance of behind-the-scenes stories from gigs, film shoots, and more, some quite unexpected, like when Joni Mitchell invited him and John Lydon to her place in Jamaica. These are interwoven with observations about operating as a filmmaker, musician, and collaborator in a music business, and society, that often discriminated against and hassled blacks such as himself. One incident in which MTV backed out of an interview with him after discovering (in person) he was black is especially galling, but there are others along the same lines.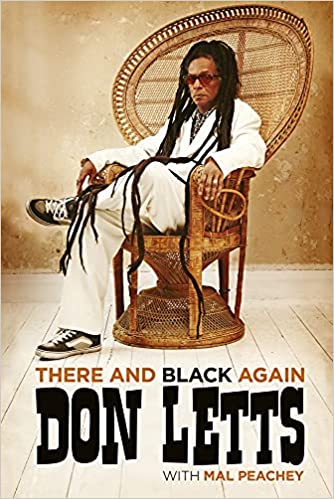 It isn't the most consistent read, each chapter introduced by a film script-formatted scene that isn't as interesting as Letts telling his story in his own voice. Some general detail about musical and social movements isn't as specific to his experience as the personal stories recounting what he went through directly on his own. The post-'70s chapters get less and less detailed and fly through the years with increasing speed, though this does cover his life through 2020. However, almost anyone with an interest in the incubation of UK punk and new wave, as well as the overlap between those scenes and reggae (for which Letts was probably the most active generator), will find material they'll want to digest. There's also some wit in the unlikely anecdotes, like that visit to Mitchell, where Letts complained about a record she was blasting, only for her to calmly inform him it was her new album.
19. Sonic Boom: The Impossible Rise of Warner Bros. Records, From Hendrix to Fleetwood Mac to Madonna to Prince, by Peter Ames Carlin (Henry Holt). Warner Bros., as the official spelling goes, has been one of the biggest record companies of the last half century. It's impossible for a 250-page book to include stories of all their interesting artists, or stories on all the interesting records their artists did. Still, this is an informative overview of how the label evolved from a near-afterthought to the film studio to the biggest record company, and one that launched or peaked the career of many, many acts. It's rather amazing considering the label was on the verge of being shut down in its early years, though the Everly Brothers and then Bob Newhart kept it afloat so it could grow and absorb Frank Sinatra's Reprise label. Major acts not mentioned in the book's subtitle also include Joni Mitchell, James Taylor, Randy Newman, the Kinks, and Van Morrison, for starters, up to R.E.M. near the end of the twentieth century.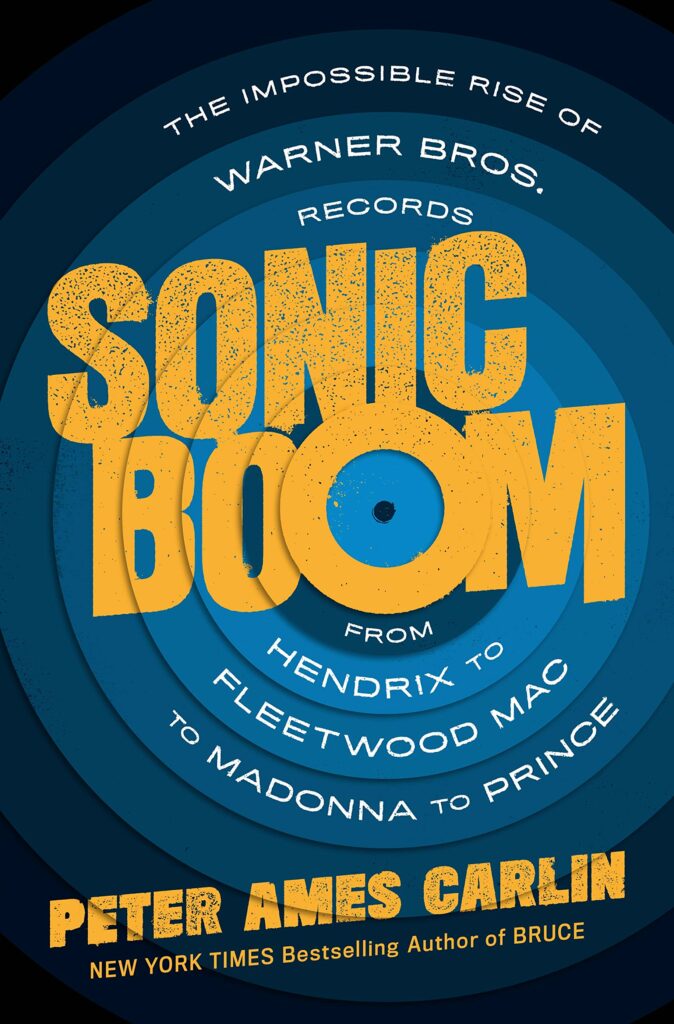 The book's focus is more on the executives who helped Warner Bros. not just survive, but also innovate and keep abreast of or help inaugurate musical trends. These include Mo Ostin, Joe Smith, Lenny Waronker, and Stan Cornyn, and the author interviewed numerous such figures for the book, which has inside information on the wheelings and dealings necessary to both make a profit and cultivate an atmosphere of musical freedom. Warners' willingness to underwrite near-experimental projects by the likes of Van Dyke Parks, as well as stick with unconventional talents who didn't immediately pay off like Mitchell and Newman, is also covered. So is their relative demise in the 1990s, when Ostin left the company after some changes at the top.
However, there are some minor errors serving more evidence that many music history books go through the editorial process without being checked by people with deep knowledge of rock in this era. Ricky Nelson did not sign with MCA Records in the late 1950s; the label didn't start until years later. Van Morrison did not live in Los Angeles in the late 1960s. Captain Beefheart's Safe As Milk album was on Buddah (sic) Records, not Warner Bros. Joe Boyd was (briefly) Pink Floyd's producer, not their manager. The Sex Pistols trashed an A&M office in London, not Los Angeles. Crosby, Stills & Nash were on Atlantic Records, not Columbia.
20. Thinking About Tomorrow: Excerpts from the Life of Keith West, by Ian L. Clay (Hawksmoor). Most known for his big 1967 UK hit "Excerpt from a Teenage Opera" and for being lead singer of the late-'60s British psychedelic group Tomorrow, Keith West is one of the more interesting cult figures of his era. It's still kind of a stretch to get a nearly 300-page biography out of his life, especially as he hasn't put out many records since the late '60s, and wasn't on all that many records in the '60s. Nonetheless, this book has its points of interest, covering West's life and career in quite a lot of detail. There are plenty of first-hand recent interview quotes with West, as well as numerous people with whom he's worked—most notably Tomorrow guitarist Steve Howe and Tomorrow drummer Twink, though also other members of his previous groups the In Crowd and Four + 1. Tomorrow's sole LP, released in early 1968, rightfully gets the most attention, with a good amount of comments from producer Mark Wirtz (who also produced West's early solo singles) too.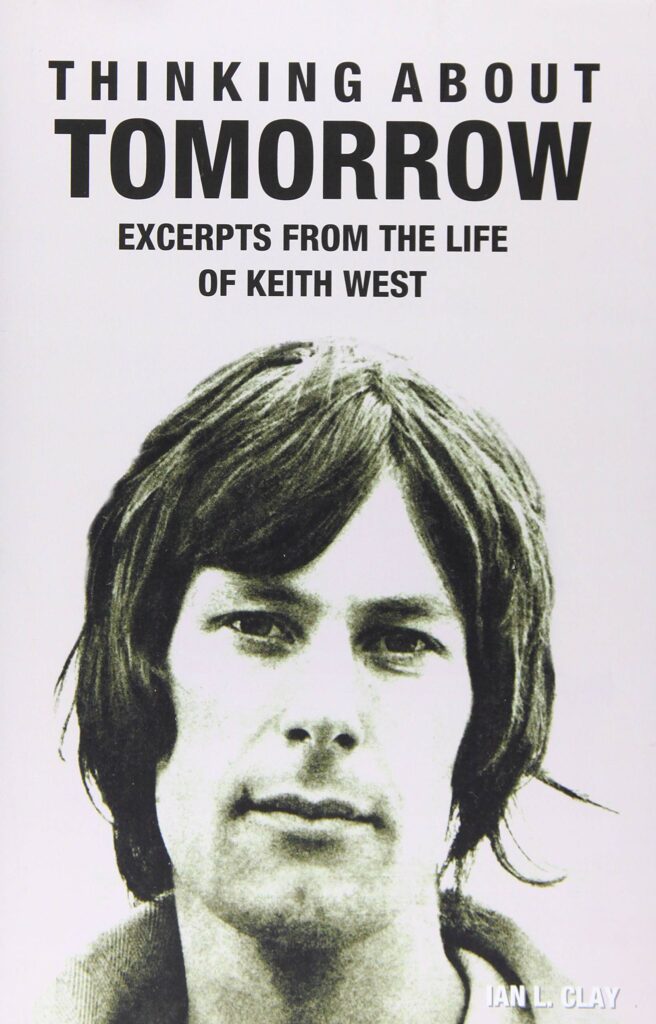 Going back to his mod/R&B days with Four + 1 and then the In Crowd, there are the odd unusual and unexpected stories, such as how the In Crowd almost got into the Blow-Up film, or West seeing Led Zeppelin rehearse just as they were getting together. There are also some mundane stories, especially regarding his sporadic post-'60s musical projects, which never got much traction. Not that it seems to bother West much, as he wasn't as serious or dedicated to becoming a success as many of his peers – for instance, Howe, who's remained friends with Keith for all these years.
21. Weren't Born a Man, by Dana Gillespie (Hawksmoor). Dana Gillespie had about as interesting a career as you could have in the 1960s and 1970s without having hit records. She had intimate relations with David Bowie and (much more briefly) Bob Dylan, among quite a few others; was with Bowie's MainMan management organization, and thus his inner circle, in the 1970s; started in folk as a teenager and moved to folk-rock-pop, glam, blues, and (after the '70s) Indian music; had bit parts in numerous movies, including Bad Timing with Art Garfunkel; and generally circulated and globetrotted among a great deal of people who were more famous than she became. She was even a waterskiing champion as a teenager. Her memoir isn't quite as interesting as you might hope from her resume, but she covers all of this, as well as giving an overall rundown of being close to the center of the action in Swinging London and the glam era.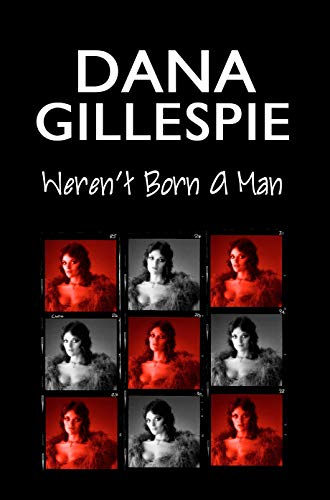 There's a somewhat unapologetic matter-of-factness to her recount of the many people she and those she knew slept with, though she's also a little coy about revealing the kind of sensationalistic details some readers might want. As she acknowledges, some of the behavior might be considered unacceptable these days. One story about Atlantic Records executive Ahmet Ertegun is gross enough that I'm not going to repeat it here, though Gillespie seems to shrug it off as just part of the business in the early 1970s. Her assessment of controversial MainMan main man Tony DeFries is generous, even though litigation meant she was unable to record for a few years; as she notes, she never would have gotten to experience the highs of the glam era without him, and wouldn't give up those years for anything. In common with many a memoir, it gets less interesting and comprehensive after the 1970s, with a lot of commentary about her devotion to Indian guru Sathya Sai Baba, which she notes might not be everyone's cup of tea. There is a lot of attention paid to her music and records, even as far back as her teenage late-'60s debut Foolish Seasons, making this worthwhile for those familiar with the discs of this intriguing if minor musical artist.
22. Shindig! America's Flat-Out Ass-Kickin' Rock'n'Roll TV Show, by Peter Checksfield (www.peterchecksfield.com). Maybe not everyone would describe Shindig! in as enthusiastic a sentence as this subtitle, but it was the best US rock TV show in the mid-'60s. This is more a reference guide than something you might want to sit down and read (though you can, in one sitting). But it's pretty useful if you have an interest in Shindig!, or in '60s rock in general. All of the 85 episodes that were broadcast between September 1964 and January 1966 (as well as three pilots) are documented with lists of the performers and songs they played. Brief comments on performers in each episode give basic background—useful for the many obscure ones who were on the show, though most fans will known the scoop on the many stars that were featured, from the Beatles and Rolling Stones to the Beach Boys and the Supremes. There are also some notes on what made some performances particularly good, weird, or otherwise noteworthy. A half-dozen screen shots, a bit blurry but quite viewable, are also presented from each program.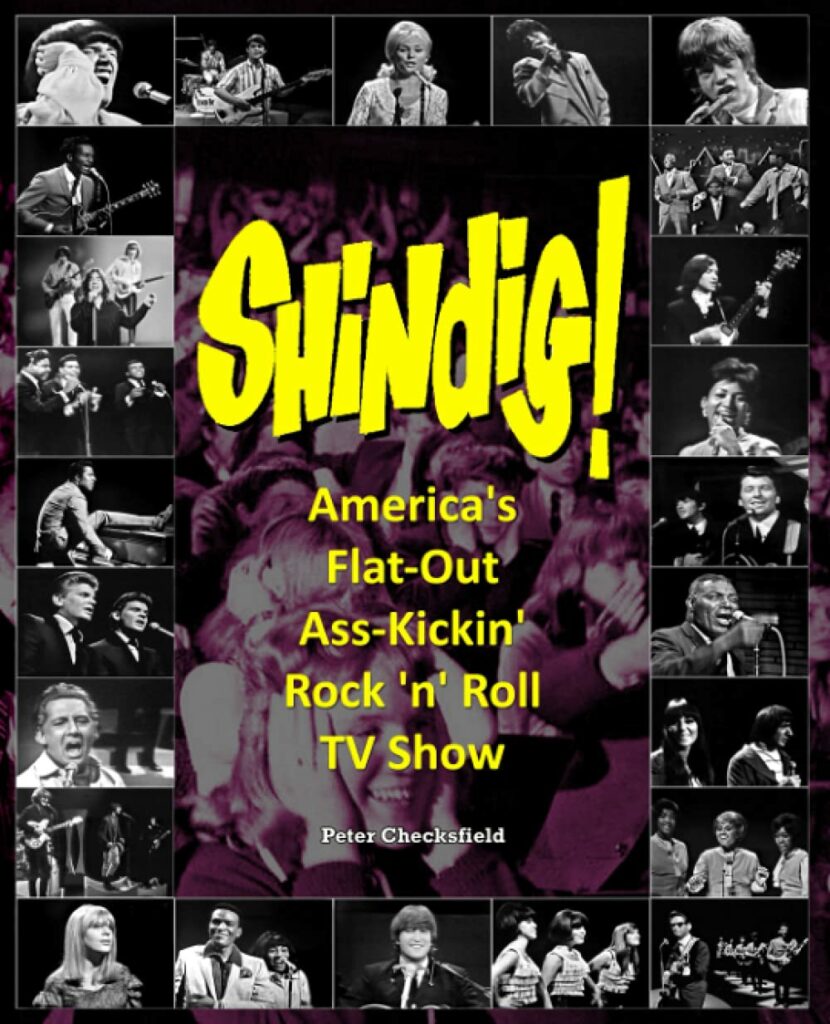 I wouldn't have minded more extensive commentary on some of the performances, or background information on the show's production. But clearly the author's seen them all and provides some of the most essential information. It's amazing just how many stars appeared – not just the aforementioned superstars, but plenty of early rock'n'roll pioneers too, like Jerry Lee Lewis, Little Richard, the Everly Brothers, and Chuck Berry. It seems like very few of the biggest artists from the time didn't appear on the program – the Four Seasons were one. Solid UK connections gave airtime to some notable British acts who didn't tour in the US hits or have hits there when the show was active, like the Who and the Pretty Things. A brief appendix details all the clips that were issued on Rhino VHS compilations in the early 1990s.
23. Having a Rave Up! The Definitive Guide to British Beat Albums in the Sixties, by Peter Checksfield (www.peterchecksfield.com). Another of the prolific Checksfield's books devoted to cataloguing various aspects of early British rock, this one lists, rates, and describes a wealth of UK LPs from what's called the British Beat era there, and the British Invasion in the US. The concentration is the mid-1960s, though early-'60s albums predating the Beatles' breakthrough in the US at the beginning of 1964 are thoroughly covered too. In its favor, this includes almost every album that could qualify through 1966 or so, with release date (usually down to the month), label, and complete track listing, including a good number of LPs only released outside of the UK, whether in the US, Canada, Germany, Japan, or elsewhere. Checksfield's brief descriptive reviews tend toward the more enthusiastic and generous as far as historians of this era go—not many other writers would give the Fourmost's sole LP five stars, for instance—but at least make for an interesting contrast to more established critical party lines. Photos of the album covers are here too, if in basic black and white reproduction.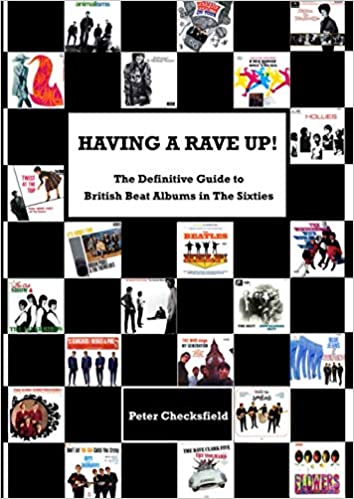 Note, however, that this doesn't include many post-1966 albums, as acts that didn't start releasing LPs until the late 1960s aren't included – even the biggest, like Pink Floyd and Cream. A few omissions will puzzle and frustrate some British Invasion fans, particularly Donovan, who's only represented by a listing of his Greatest Hits compilation. Lists of post-'60s compilations for further listening are useful but inconsistent, usually but not always listing the best best-ofs, complete works anthologies, and BBC collections. Obsessives will find rare errors here and there; it's not noted, for instance, that the Yardbirds' US Over Under Sideways Down LP is missing two tracks that were on its UK counterpart Yardbirds. Galactic Ramble is a bigger, more comprehensive, and more critically acute reference volume covering British albums (including jazz and folk) from approximately the early 1960s to the mid-1970s, though this has some info and perspective not found in the other book.
24. Strat! The Charismatic Life & Times of Tony Stratton Smith, by Chris Groom (Wymer). Not such a well known name these days even among those who pay attention to the history of record labels and their executives, Stratton Smith was head of the British Charisma label in the 1970s and first half of the 1980s. With Charisma, and sometimes also as a manager (although that was in retrospect a conflict of interest when he handled Charisma acts), he's most known for his vital role in the career of Genesis. Charisma was also home to some other noted acts, including Van der Graaf Generator, Monty Python (for their LPs), and Lindisfarne. This is his story, and by extension much of the story of the Charisma label, drawing on a lot of first-hand interviews (though none with the late Stratton Smith, who died in 1987) with his artists and employees.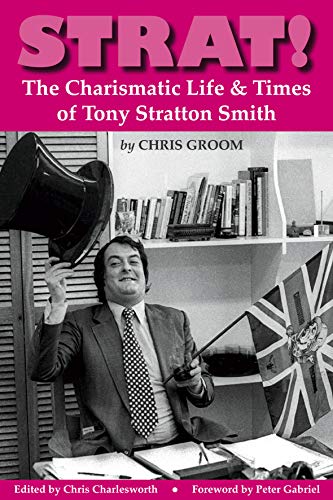 This is more niche even than the average among books that appeal to fans of niche figures in rock history, but it has its share of interesting stories. Stratton Smith was a generally beloved, if erratic, figure who's usually praised by his clients as a generous and fair man, and one whose decisions were driven by personal enthusiasm as much or more than business. As is often the case with such guys, he had less business sense than artistic judgement, though most of those who worked with him are forgiving of his at times reckless spending and uneven bookkeeping. Some of the most interesting anecdotes are about the numerous Charisma acts that aren't so well known (Audience, Clifford T. Ward) or never made it at all, as well as some he managed before Charisma launched, including the Creation, the Koobas, and the Nice.
The narrative does jump back and forth chronologically more than it should, and some of the chapters on Stratton Smith's non-musical ventures, such as his pre-rock work as a journalist and horse racing, can be skimmed or skipped. There's some coverage of successes he had with acts that emerged in the 1980s, like Julian Lennon and Malcolm McLaren, but the bulk's devoted to the heart of Charisma's catalog in the '70s. Like other colorful figures of his sort, Stratton Smith overindulged in alcohol and was often disorganized in general, contributing to his early death.
25. A Consumer Guide to the Plastic People of the Universe, by Joe Yanosik (self-published). Czech band the Plastic People of the Universe's story was, for many listeners, more interesting than their music, though that was interesting too. It's a very involved story, but they survived many years of harassment from authorities in the former Czechoslovakia to make underground rock music from the late 1960s through the late 1980s. Although this 132-page book is billed as a consumer guide, it also has a fair amount of general history of the group, from their origins in the psychedelic era when they were inspired by the Velvet Underground and the Mothers of Invention. This is particularly valuable as while there was a fair amount of press about them in the English-speaking world (including a chapter in my book Unknown Legends of Rock'n'Roll), there wasn't to my knowledge anywhere you could read a fairly detailed overall general history of the Plastic People.
The backbone of the volume, however, is formed by detailed reviews of their albums, as well as numerous ones by acts that had Plastic People members or connections. The Plastic People's avant-rock will never be broadly accessible, and some of the evaluations might be over-enthusiastic, but the author does differentiate between their best and subpar work, criticizing their flaws when warranted. Their are also reviews of more DVDs and books related to the band than almost anyone would be aware of, though unfortunately the books are in Czech, not English. There are quite a few high-quality reproductions of record covers that in themselves are interesting to see, as well as some good photos of the Plastics from throughout their career, including some amazing early ones where they sport striking onstage costumes.
26. Top of the Pops: The Lost Years Rediscovered 1964-1975, by Peter Checksfield (www.peterchecksfield.com). Top of the Pops might be the most famous British pop music TV program, though it wasn't the best, featuring a lot of mimed performances and middle-of-the-road acts. Still, most of the major UK acts appeared on the show in its first decade or so, along with many one-shots and also-rans. This 650-page reference book lists all of the material aired on each episode, including not just artists performing (if often lip-syncing) songs, but also the clips that were videos sent to the program and segments that just showed dancers or crowds dancing.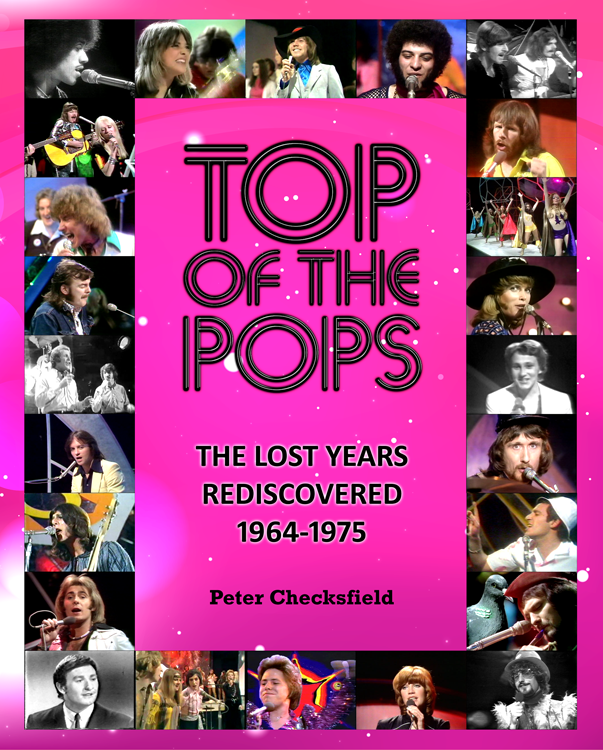 Although this is mostly listings, it's spiced up by numerous first-hand soundbite recollections of performers (some famous, some quite obscure) of the program. Some of these are brief and dry; some are entertaining, like Move drummer Bev Bevan remembering watching the Tremeloes do "Here Comes My Baby" and calling it a terrible song, only for Cat Stevens, who was also on the bill, letting Bevan know he'd written it. Sadly, most of the Top of the Pops footage from this period doesn't survive, but Checksfield notes when it does – much of it getting preserved owing to rebroadcasts on TV programs in different countries, or to BBC videotape engineer Bob Pratt surreptitiously privately copying performances he liked, although he could have been fired for it. Numerous black-and-white stills from Top of the Pops program break up the basic design.
27. Little Wing: The Jimmy McCulloch Story, by Paul Salley (Lotown). Dying in his mid-twenties in the late 1970s, Jimmy McCulloch had an interesting career without making a name for himself that would be recognized by most general rock fans, though he played in one of the most popular groups in the world. A child prodigy of sorts, the guitarist was already recording in his early teens with One in a Million, who put out a superb flop British psychedelic single. His most creative playing was probably with Thunderclap Newman, the enigmatic band that scored a #1 UK hit (and substantial US one) with the anthemic "Something in the Air" in 1969, but only made one LP before splitting. After a short spell in Stone the Crows after their guitarist Les Harvey died, he joined Wings and was their lead guitarist for several huge hit albums and singles in the mid-'70s. After leaving Wings in murky circumstances, he drifted in and out of a few groups, including for a brief time a mostly reunited Small Faces, before dying from causes that remain mysterious.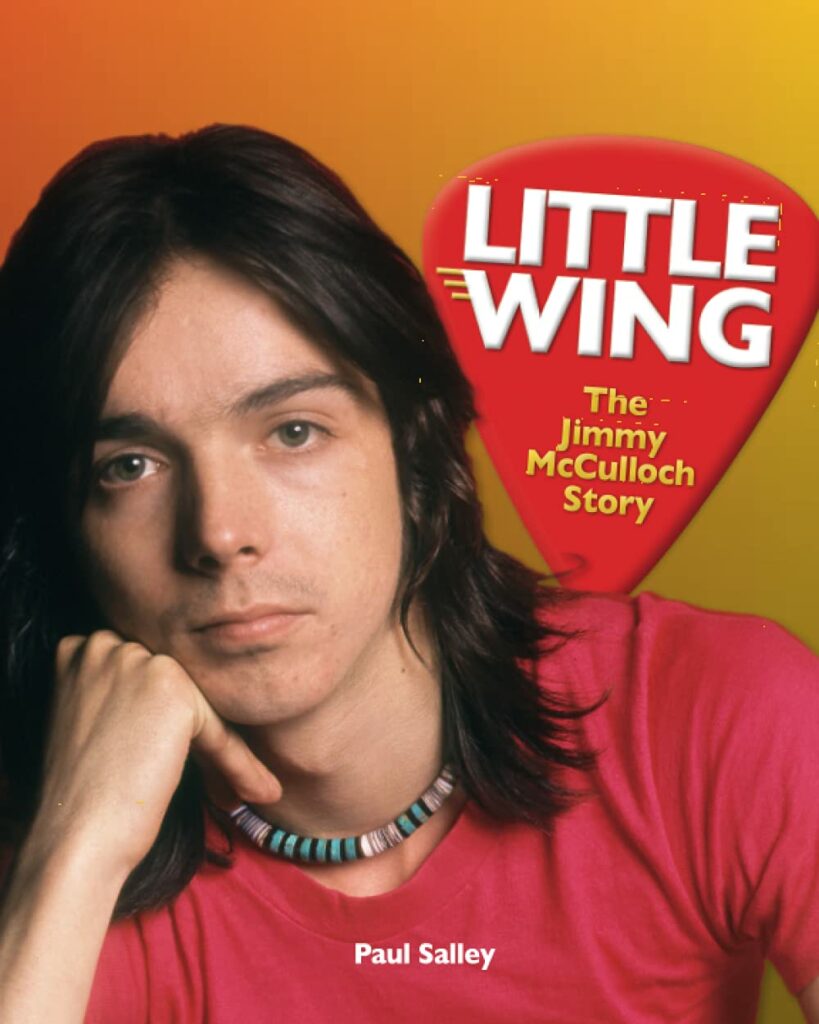 It's a real labor of love to put together a self-published 270-page detailed biography stuffed with pictures and memorabilia illustrations, as Salley has. He spoke with many people who worked with Jimmy (especially McCulloch's brother Jack, a drummer in some of Jimmy's bands), and the book's a very professional-looking and competently written volume. Still, McCulloch wasn't the most colorful figure, and never really stood out as a songwriter or bandleader/solo artist. Really interesting inside anecdotes are outweighed by general (sometimes bland) praise from colleagues, and the text could have used some more detailed description of the records. It's most interesting in the Thunderclap Newman and Wings sections, and the Newman part in particular will likely stand as by far the most detailed account of that group's short lifespan. Intense British '60s/'70s rock fans will appreciate that level of detail, even if McCulloch's life and output wasn't among the most exciting of those in the circles he traveled.
The following books came out in 2020, but I didn't read them until 2021:
1. When Can I Fly? The Sleepers, Tuxedomoon & Beyond, by Michael Belfer with Will York (Hozac). Although he's not a name known to much of the general public, guitarist Belfer played a notable part in the early San Francisco punk and new wave scene in his stints with the Sleepers and Tuxedomoon. He also played with various other acts in and out of San Francisco, including Rhythm & Noise, Blaine Reininger, Rhythm & Noise, and Black Lab. His memoir might well be of interest even if you know little or nothing about those artists, as it's a fairly gripping and entertaining account of coming of age in a volatile scene as a teenager and young adult. He conveys the excitement of playing in a new style as clubs and audiences were just opening up to the music, with stories of collaborations with the Sleepers (especially their disorganized singer Ricky Williams) and Tuxedomoon in a tight but tiny local network.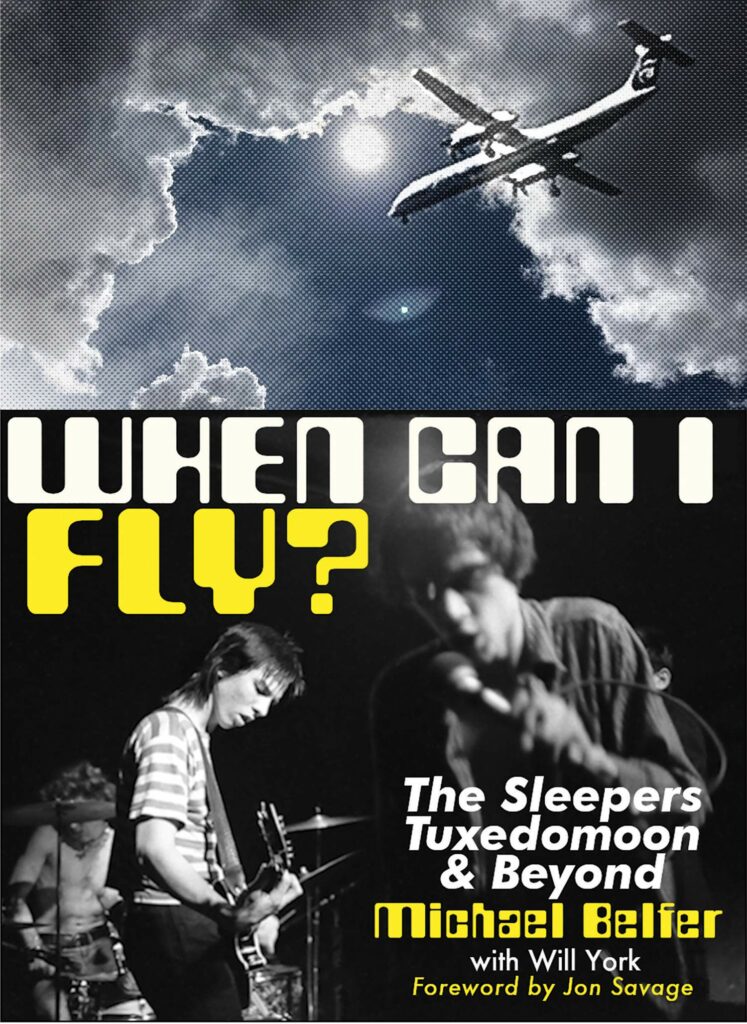 There's also plenty of downside — not just in the sort of expected tales of drug deals and abuse, but also in the theft and violence that sometimes almost literally ran Belfer out of town. As just one example, a Hell's Angel demanded the keys to his car after being falsely told Belfer was selling it; Belfer hotwired it back; and a friend of the Angel forcibly shot him up with speed, Belfer catching hepatitis from the overdose. It's not the only incident of the sort in the book, which also follows Belfer's trail to New York, Toronto, Belgium, Seattle, Los Angeles, and other places as he tries to gain something of a foothold as a professional musician.
Even more disturbing, perhaps, are the accounts of betrayal and deceit that aren't drug-related. As he tells it, Belfer was denied songwriting credits and other official contributions to which he was rightfully entitled. That of course also led to him being financially ripped off a number of times, even if on some occasions the total money involved was probably modest, most of his projects being pretty underground in nature. Although he relapsed into drug abuse and sometimes lapsed into poverty and homelessness, Belfer tells his story with wry (at times gallows) humor and a lack of self-pity. Fast-moving and episodic, it's a quick read that doesn't waste words, enhanced by numerous vintage photos, posters, and graphics. Too bad the reprint of a lengthy Sleepers interview in Search & Destroy is reproduced in such tiny print that it's nearly impossible to read, though. My story on the book, based on a recent interview with Belfer, can be read here.
2. Right Place, Right Time: The Life of a Rock & Roll Photographer, by Bob Gruen (Abrams). A top rock music photographer since the 1970s, Gruen's issued several books of his pictures. This is different from those; although there are plenty of photos, most of it's devoted to autobiographical text. He snapped an astonishing range of musicians over the last half century, and this concentrates on his life and work through the early 1980s, though there's a little on what he did since then. Although it's told in a rather matter-of-fact style, there are plenty of stories, most fairly to very interesting, of working with his clients. Those included the most famous of the famous, like John Lennon and the Rolling Stones, but also quite a few underground or at least alternative artists. As he was based in New York, he got to see and shoot lots of the city's early punk and new wave acts as they were getting off the ground, and not just the ones that became pretty successful, like Blondie. He also interacted extensively with the New York Dolls and some bands that never even got too big an audience on the underground level, like Suicide.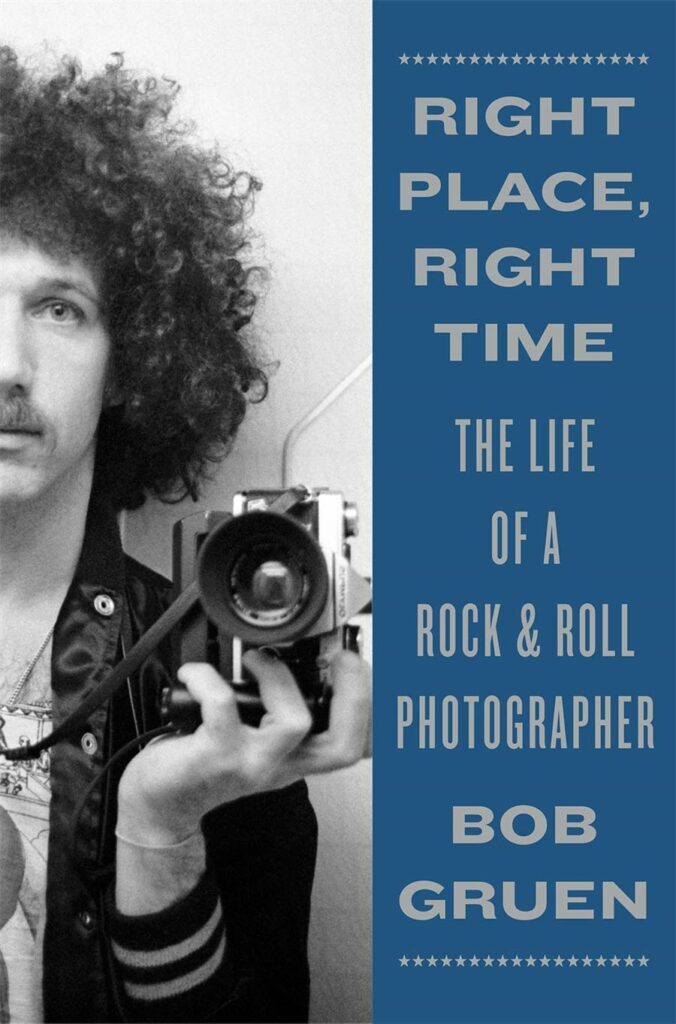 Apparently Gruen was about as interested in working with superstars as underground acts, and took it in stride to shoot the likes of the Clash and the Sex Pistols one week, and Elton John and KISS another. Aside from the sheer variety of artists he captured on film, it's striking how relatively easy access seemed decades ago – not just for photo sessions, but also hanging out with the musicians on tour, in the studio, and in other non-professional situations. It's also kind of amazing how, in his accounts, coincidence seemed to open up a lot of opportunities for him, whether it was running into some of the people he wanted to photograph at airports and venues, or happening to be around when there were chances to tour or find outlets for his work. Working at close quarters with his subjects sometimes gave him insights into their lifestyles, not all flattering, that would seem more heavily guarded in the next century – his tales of Ike Turner's operations and drug use stand out in that regard.
3. View from the Bottom: 50 Years of Bass Playing with Bob Dylan, The Doors, Miles Davis and Everybody Else, by Harvey Brooks with Frank Beacham and Bonnie Brooks (Tangible Press). Harvey Brooks played bass with lots of people, the most illustrious of whom are namechecked in this memoir's subtitle. Some of the others include the Electric Flag (of whom he was a full-time member, not just a session man), Jim & Jean, Richie Havens, Cass Elliot, Karen Dalton, and John Sebastian. The book's a pretty breezy, straightforward read, divided into short chapters that are more or less (though not strictly) chronologically ordered. Some of this is rather matter-of-fact, but some of the stories are juicier and more insightful. His accounts of very notable sessions with Dylan (for Highway 61 Revisited; he also played a couple early electric Dylan concerts in 1965) and Davis (for Bitches Brew) leave the impression those guys operated by intuition rather than instruction, though Brooks was fine with going with the flow and the stars were pleased with the results. The Doors weren't as pleasant, since he remembers business and personal disputes causing a lot of tension within the group (mostly between Jim Morrison and the others), though he still cites "Touch Me" as one of the favorite bass lines he played.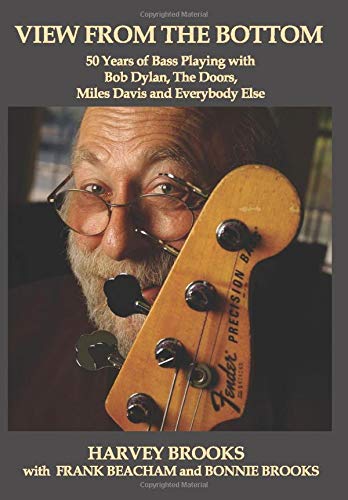 There isn't too much in the way of surprising info, but there's some, like his memory of getting a deal for Jimi Hendrix with Verve Folkways before Jimi signed with Chas Chandler—something not reported in standard Hendrix histories. While tales of drugs and excess aren't as prevalent here as they are in many a memoir, they're certainly present—Brooks didn't indulge as much as many of his colleagues did, but he puts the Electric Flag's demise down to drugs for the most part. Disappointment on the business end is here too, most interestingly in Crosby, Stills, and Nash's decision to cut him loose after rehearsing with him shortly before they formed, Stills wanting to dictate what Brooks played.
I was still hoping for some more in the way of truly nitty gritty detail. For instance, he remembers writing Jim & Jean's "One Sure Thing" with Jean Ray for the duo's underrated Changes album shortly after Joni Mitchell opened for them at a Detroit club where Neil Young was en route to Los Angeles and Buffalo Springfield, but doesn't offer any more details of note. The book's worth the few hours it'll take for rock nerds (especially '60s fans) to digest it, though it's too specialized a corner of that era for more general listeners. It's too bad this has some of the chronological inaccuracies found in too many rock books, like John and Beverly Martyn's Stormbringer album being recorded around late 1965, about four years before that actually happened.
4. John & Yoko/Plastic Ono Band, by John Lennon & Yoko Ono with contributions from the people who were there (Weldon Owen). Like 2019's Imagine John Yoko, this is a well-designed coffee table book celebrating an album, this being John Lennon's Plastic Ono Band, though Yoko Ono's Plastic Ono Band (also issued in 1970) is also discussed. The focus isn't so much on the album itself as what John and Yoko were up to in general in 1970, and in the second half of 1969, when the Plastic Ono Band concept came into being with the "Give Peace a Chance" and "Cold Turkey" singles. There are plenty of interesting graphics from the era, some not often seen, including handwritten lyrics, vintage advertisements, and Klaus Voormann drawings of scenes from the Plastic Ono Band sessions, as well as many photos.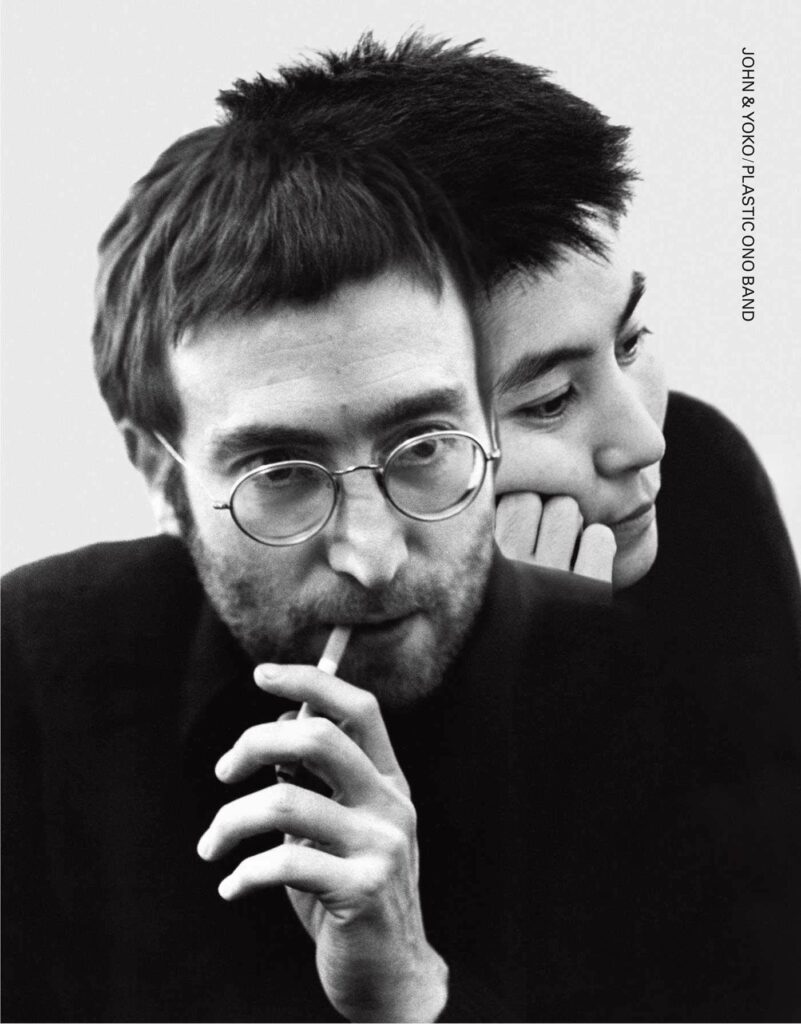 The text is largely devoted to excerpts from interviews Lennon and Ono gave, which range from extremely interesting to rambling philosophical discourses that wouldn't be of note had they been uttered by someone else. They do discuss their songwriting and recordings at points, and interviews with musicians who played with Lennon during this period (Voormann, Ringo Starr, Billy Preston) and others who were associated with his work and life (including Primal Scream therapist Arthur Janov) fill out the picture. There actually isn't too much to learn here if you're very familiar with Lennon's life at the time and his Plastic Ono Band album, but it's a nice-looking supplement to the period.
5. Small Hours: The Long Night of John Martyn, by Graeme Thomson (Omnibus Press). As I noted when I reviewed a reprint of a previous John Martyn biography (Some People Are Crazy: The John Martyn Story) on my previous best-of list, I'm not the biggest fan of this folk-rock-jazz guitarist. His connection to big British folk-rock names like Nick Drake and producer Joe Boyd makes me interested in his general story, which this book covers fairly thoroughly. I don't care too much at times for the author's style, which can get kind of unnecessarily ornamental. But he did speak with quite a few close associates of Martyn's, including Boyd, first wife Beverley, Island Records chief Chris Blackwell, and sideman Danny Thompson. All of Martyn's recordings from the 1960s and 1970s are discussed, and his post-'70s work is rightfully assessed as relatively unimportant and unimpressive.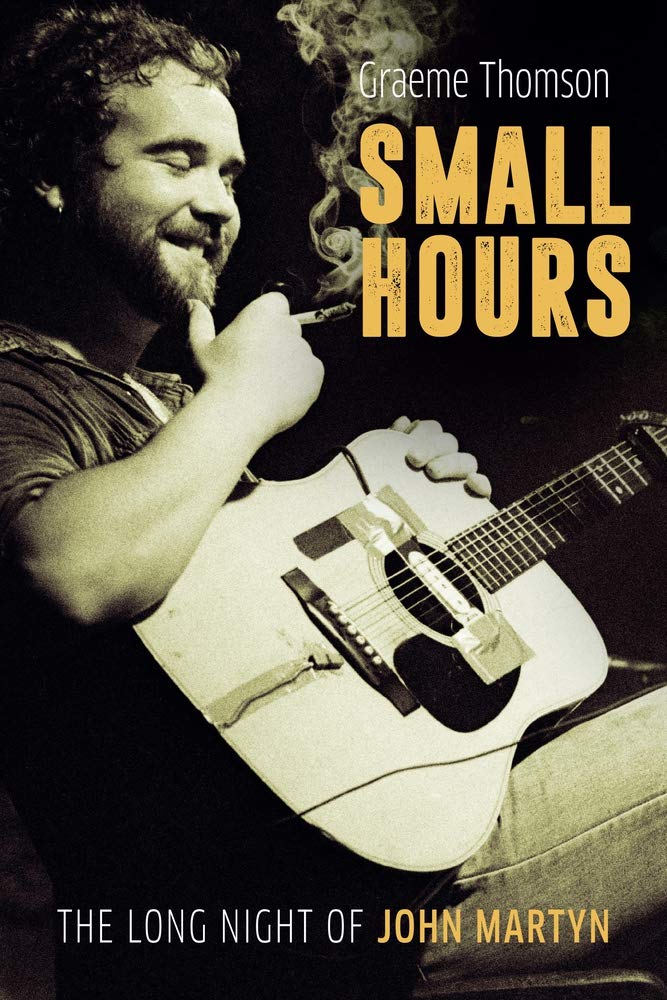 It won't come as a surprise to those who've read about Martyn before that his personal life was tumultuous, and his behavior often offensive. This is never justified by someone's artistic talents, and there's a sizable list of things he did that were objectionable, most prominently his abuse of Beverley Martyn. There was also alcoholism and assorted violent incidents, as well as generally erratic behavior that most people would find hard to be around, but some associates put up with in exchange for the opportunity to play or be around his music. His final years, where his excesses caught up with him and resulted in serious health problems (including an amputated leg and obesity), are covered but not dwelled upon, the bulk of the book getting devoted to his prime output.
6. The Folk Singers and the Bureau, by Aaron J. Leonard (Repeater). The subtitle's long, but goes a long way toward explaining the thrust of this book: "The FBI, The Folk Artists and the Suppression of the Communist Party, USA—1939-1956." During this period, the FBI and other government authorities targeted many in the US who were perceived to be a threat because of their affiliations with the Community Party. Hollywood movie figures get the most attention in historical overviews, but some musicians, especially folk ones, were victimized too. This looks at how several key figures in the early folk revival were trailed by the FBI and often called to testify before the House Un-American Activities Committee. Among them were Pete Seeger, the Weavers, Woody Guthrie, Josh White, Paul Robeson, Oscar Brand, and Alan Lomax.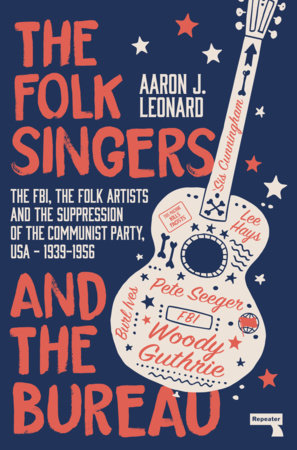 This kind of subject is often treated in a dry academic fashion in book form. This might not excite folk fans as much as, say, reading books on the aforementioned notables (and there are books on almost all of them). But Leonard tells the story in an accessible manner that's plainly stated and fairly easy to follow – rarer in such projects than one might think. He accessed a lot of FBI files, some of which had to his knowledge never been previously written about or referred to before this book. It is striking the degree to which branches of the government found these folkies' doings a possible subversive threat, and also how incompetent they often were in documenting them.
The author contends that these folkies had stronger ties to the party than were often acknowledged, either by themselves or historians. He also supplies a lot of contextual information about the general anti-Communist climate of the era that isn't strictly music-related, but of use and interest for understanding why this harassment took place. Instances in which artists cooperated to at least some degree with the investigations are detailed, particularly those of White and Burl Ives. So are the dubious dealings of Harvey Matusow, an informer whose unreliable accounts helped damage the careers of numerous Communists or supposed Communists. Leonard doesn't accept the views of some historians and takes a nuanced approach, with informed speculation, of the extent to which these folkies acknowledged their leftist associations and tried to avoid prosecution without compromising their beliefs or causing problems for others in the folk community.
7. Odetta: A Life in Music and Protest, by Ian Zack (Beacon Press). Odetta was a major figure of the folk revival; unusual in that scene as she was an African-American who was not, for the most part, a blues artist; and influenced many musicians who went on to become more famous, including Janis Joplin and Bob Dylan. Somehow, however, this biography is blander than expected. It's not especially through flaws in the writing, as it's thoroughly researched by an author who wrote a good book on Reverend Gary Davis. Odetta's life just didn't seem overly dramatic, and she wasn't the most loquacious interview subject, at least as she's quoted here. This follows her life from her humble upbringing (largely in Los Angeles) and rise through the folk world in the 1950s and first half of the 1960s, which saw her become manager Albert Grossman's first notable client. Her activism and involvement in the civil rights movement is noted, though it wasn't as extensive as those of some other figures.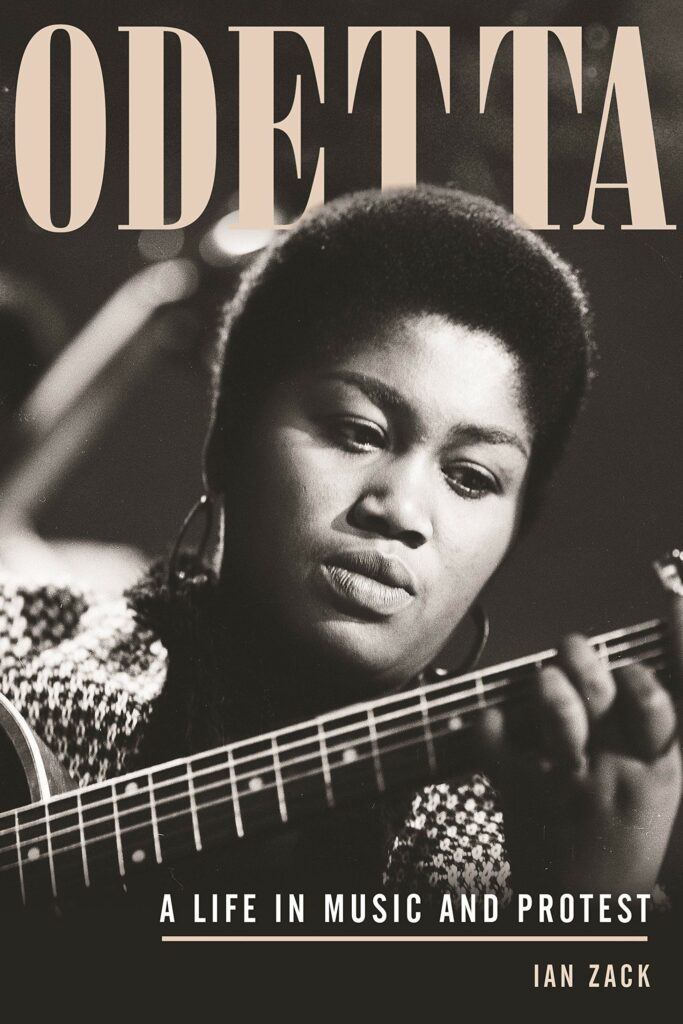 Her recordings are also detailed, with some (though not a great deal) of comments from musicians and others with whom she worked. The biggest surprise, perhaps, is that before recording one of the first albums devoted solely to Dylan covers (1965's Odetta Sings Dylan), she had suggested an album of songs by Buffy Sainte-Marie; Dylan also visited the sessions, though she told him to leave after she corrected some words from the demos from which she learned the songs. It's also reported that Paul Simon offered her the chance to record "The Sound of Silence" before the Simon & Garfunkel original was reworked for their first big hit, though she turned it down. As expected, the coverage of her life and work after the folk revival waned following the mid-1960s is much less in depth than what's given to her previous years, though her comeback with blues albums late in life is detailed.
8. Cuba Music and Revolution: Original Album Cover Art of Cuban Music, compiled by Gilles Peterson & Stuart Baker (Soul Jazz). Like numerous other Soul Jazz books, this is a coffee table volume largely devoted to reproductions of album covers. There's also some text explaining the basic history of and developments in Cuban popular music from the 1950s to the early 1990s, the period covered by this work. Largely unknown outside of Cuba (though there were occasional acts that were exceptions, particularly Irakere), these sounds were enclosed in LPs with interesting and wildly varying artwork. Some of them recall private or vanity pressings in more affluent countries in their homemade feel and snapshot photos, though they're usually more artfully and colorfully done. Some have accomplished modern designs that are on par with those on noted North American and European modern jazz labels. A few have images explicitly reflecting the socialist ambitions of Fidel Castro's Cuba, though most of them aren't political in nature.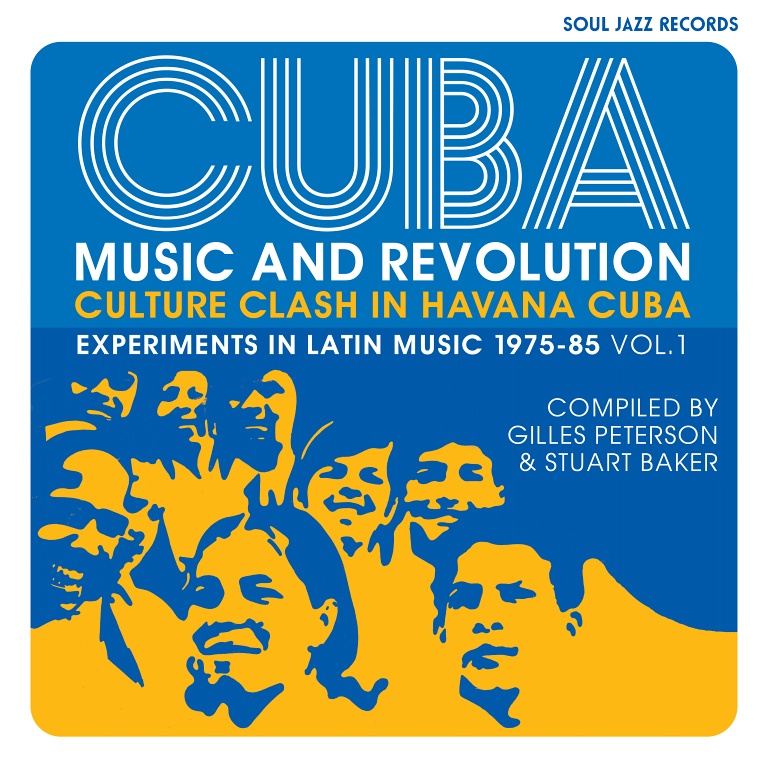 This is something more to browse through via a library copy rather than buy if you're not a Cuban music specialist or vinyl graphics aficionado. But certainly the sizable audience for quality volumes of LP reproductions will like this, no matter what their tastes. Most of the sleeves get full-page reproductions, and more than a hundred others get smaller ones in a final section of this 256-page book.
9. Shut Up You Animals!!!: The Pope Is Dead: A Rememberance of Dirk Dirksen: The History of the Mabuhay Gardens, by Dirk Dirksen, edited by Ron Turner and James Stark (Last Gasp). Yes, I know "rememberance" is spelled "remembrance"; that's how the word's spelled in the title. More about typo problems later. First, you want to know what the book's about, not about the kind of things that English majors notice. Dirksen was the main promoter/emcee behind the Mabuhay Gardens, which from the late 1970s through the mid-1980s was San Francisco's most famed venue for punk, new wave, and other alternative music and performance. Although he gets a byline, actually he only wrote a short introductory chapter, dying in 2006, long before this volume was published in 2020. It's more a scrapbook than a biography (or certainly than an autobiography), the text largely given over to short memories (or should that be "rememberances") of Dirksen from several dozen musicians and scenemakers who interacted with him, as well as a few interviews. Almost as much space is given to vintage graphics, especially posters of Mabuhay shows.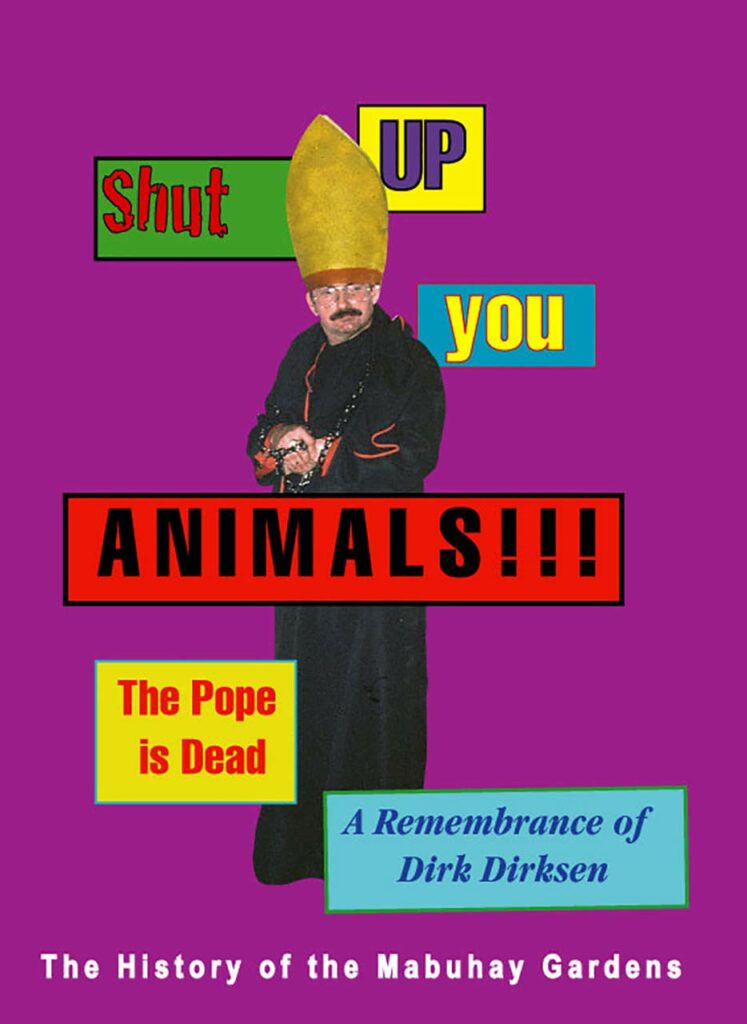 Testimonies emphasize that although Dirksen had (and seemed to cultivate) an image of a hardnosed crank who delighted in insulting performers and audiences, underneath it was a heart of gold that could be generous and thoughtful. Similar points are made often enough that they can become redundant. Most of the brief oral histories have a different colorful tale or more to illustrate the points, whether it's Dirksen breaking his nose in fights with obnoxious parts of the audience or how he gave breaks to all sorts of performers who didn't have much promise on the surface. The unglamorous side of early punk is discussed as much as the exciting one, and Dirksen seemed to get more fun than profit out of the enterprise, almost as though he saw himself as being as much of a creative act as the entertainers he booked. The text is rambling and erratic enough that if it wasn't augmented by numerous poster repros, as well as a day-by-day list of everyone who performed there from December 1976 to June 1982 (though the club kept operating for a few more years), it wouldn't have made this list.
Now for more about typos. There are an extraordinary number of them in this book, so much so it seems like some of the chapters were just pasted into the layout without anyone having looked at them, let alone done any copyediting or proofreading. The mistakes are hardly all things only fussy reviewers would notice, even leaving aside the misspelling of a word in the book's title. "Punk rock" is spelled "ptink rock" at one point, as if the text was scanned by an optical reader and never actually read by a real person. That's in a chapter that is printed twice, one nearly complete version immediately preceding the complete one. This kind of sloppiness isn't "punk." It's being rude to the reader.