Ask most Bay Area tourists—even Bay Area residents—about Bay Farm Island, and they'll look at you blankly. Alcatraz, Treasure Island, Yerba Buena Island, even Angel Island—all are fairly well known, if in diminishing order. Longtime Bay Area residents are even apt to have set foot on most or all of these at least once or twice. Most of them, however, are unaware of Bay Farm Island, which is just as accessible to San Francisco or Oakland as the others, and right next to Oakland.
In part that's because Bay Farm Island isn't really an island, or a town of its own. It's technically part of Alameda, though it's separated from most of Alameda by an estuary. It used to be an island, but landfill has now connected it to Oakland, just north of the Oakland airport. Even less than Alameda, it's seldom visited if you don't live there or work nearby, even by Oakland inhabitants.
A trail around part of the "island"'s perimeter is nice for biking and walking, though it's not too long. Part of the attraction for making an effort to take your bike there is using the ferry from downtown San Francisco, whose 25-minute ride goes to the southern tip of the path (only on weekdays and only in mornings and late afternoons, unfortunately). I'd biked to Bay Farm Island from Oakland a couple of times almost ten years ago, but took the ferry there for the first time when I brought my bike over in August.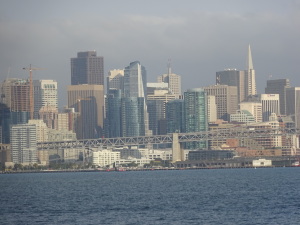 Part of the trail's appeal is its low pedestrian/bike traffic – certainly on weekday mornings, at any rate (though the near-silence is often broken up the sound of planes taking off from the Oakland airport). The trail does peter out into bland industrial-type offices at the southern end, only about half a mile from the ferry:
Bay Ferry's modern housing developments, not far from the trail, make for quite a change from San Francisco or even Oakland. At some points you'll feel more like you're in San Diego: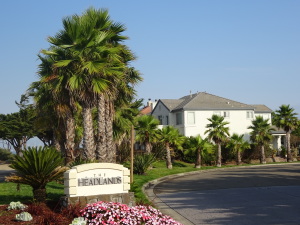 The best section of the trail runs north of the ferry for a mile or two, along the bay and so close to backyards of homes near the water that you can hear some conversations: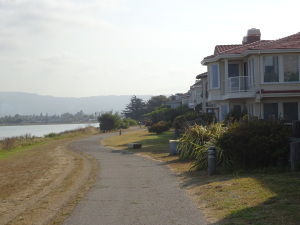 It's not long before you get to the bridge connecting Bay Farm Island to the "main" part of Alameda. Keep on going, though, and a much narrower trail continues for about half a mile on the other side of the island: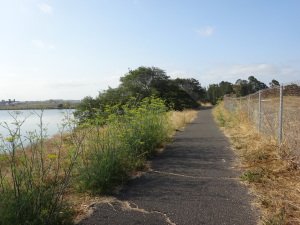 It's not too much to look at, I admit, but it's nice to feel like you're biking a semi-deserted path anywhere in the Bay Area, even if it only lasts for five minutes or so. And you get a view of the Oakland Coliseum that few people have seen, though it still doesn't make it look all that scenic: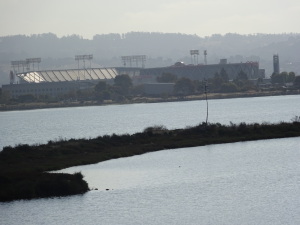 This part of the trail rather abruptly terminates in what's called a "playing field," though one jarringly incongruous structure in particular makes this space (nearly empty on the three occasions I've visited) unappealing: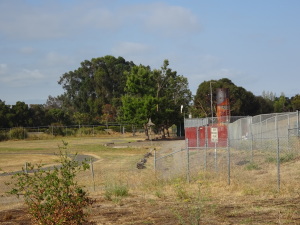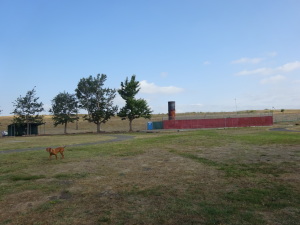 Make sure to take the bike/pedestrian path from Bay Farm Island to Alameda proper, not the main bridge that's busy with car traffic: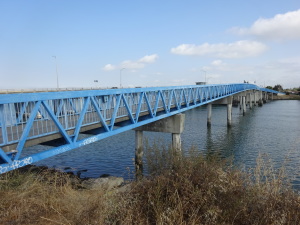 Once there, bear west until you get to Shoreline Drive, which runs for a mile or so along Alameda Island's narrow but fairly extensive beach—again, a feature little known to most Bay Area residents: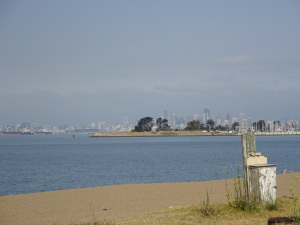 You can see the San Francisco skyline from the beach, though there's a reminder that the same environmental problems plaguing similar spots in the Bay Area are here as well: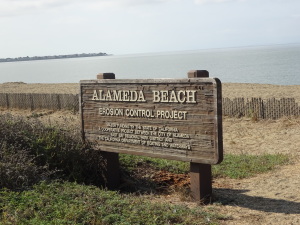 Unfortunately, as there's no ferry service between mid-morning and late afternoon, you'll have to get to a BART station to get back to San Francisco. There are a few options, all of which run through heavily trafficked, drably industrial streets once you leave Alameda Island. The best, relatively speaking, might be taking the wide and fairly bike-friendly Broadway north from the beach, crossing back to Oakland over the Park Street Bridge, and going west on a frontage road until you reach the Jack London Square area in downtown Oakland.