For most of 2020, media's been in, if not a lockdown, a slowdown. We're not going to movie theaters, and access to book stores, record stores, and libraries is limited, if there's access at all. Film directors, record producers, and publishers can't work as quickly and efficiently as normal. This naturally has led to expectations that less product would be released, perhaps much less than in a typical year.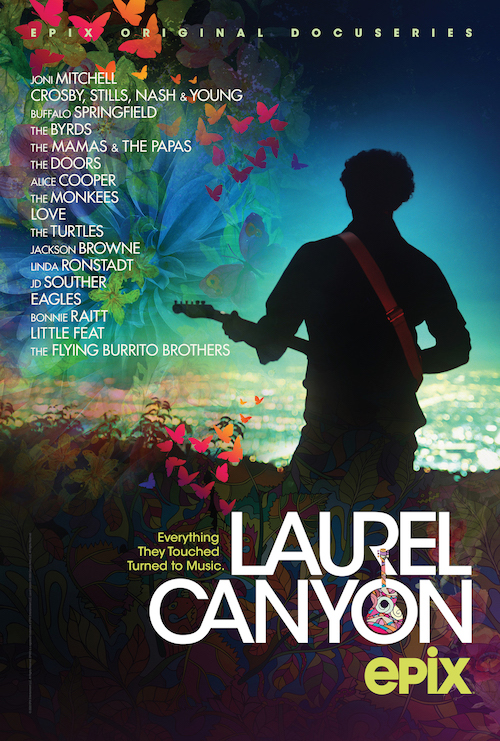 Surprisingly, this hasn't turned out to be the case at all, more so for music history films than music history books and reissue albums. Actually this list is longer than any other best-of I've compiled for the film category. There have been rock documentaries of all sorts, from superstars to cult figures, on regional scenes, magazines, and TV shows.
In part this testifies to the continued, and likely growing, interest in music history. For this year in particular, it reflects the growing use of "virtual" cinema sites that enable viewers to easily stream movies upon or shortly after release. In some ways, it's become easier to see the movies than it would if we'd tried to catch them in theaters, especially for specialized ones that might seldom or never play in your town. Maybe there will be a slowdown next year, when the difficulties in researching and filming movies at a time when there aren't public gatherings catch up with the release schedule. But for now, there's lots to see.
As long as this list is, it doesn't cover everything I would like to have seen in 2020. I don't have HBO, so I didn't see the new Bee Gees documentary. Could I have gone over someone's house who has HBO to see it? Not safely, not now. Released near the end of the year, a DVD set of the complete episodes of the early-'60s British folk TV series Hullabaloo would not have arrived through the mail from the UK before January 1 even if I'd ordered it on the day it came out.
There are also several documentaries that I'm willing to check out of the library, but whose subjects don't interest me enough to pay to watch. These include films on Tiny Tim, the Go-Go's, and Shane MacGowan, as well as Jimmy Carter: Rock & Roll President. I'll add any 2020 documentaries that I don't see until 2021, but find worthwhile, as a supplement to my 2021 best-of list. If it's thought my failure to spend as much time and money as I can to see everything I can before year's end makes me unqualified to publish a best-of list, I eagerly—even hungrily—accept your rebuke.
Since my picks are often not in line with what the majority of critics select, it's refreshing to lead off this list with a documentary that was extremely well received in every review I saw, and by everyone I know who watched it. If there was a list that combined picks from all other best-of lists in this category, my guess is that it would be #1 there too.
1. Laurel Canyon. In two parts adding up to two-and-a-half-hours, this justly praised documentary takes a pretty comprehensive look at the Laurel Canyon rock scene from the mid-'60s through the early '70s. All of the major acts associated with the Los Angeles neighborhood are covered, including the Byrds, Love, Buffalo Springfield, the Doors, the Mamas & the Papas, Joni Mitchell, Crosby, Stills, Nash & Young, Linda Ronstadt, and the Eagles. So are a few that aren't as major (Alice Cooper, Little Feat, the Monkees), and Frank Zappa might have been given more time, although he's in there. Unlike many, maybe most, such films, this doesn't use on-screen recent interviews, with the exception of those for photographers Henry Diltz and Nurit Wilde. Instead, interviews with almost all of the key musicians are voiced over vintage footage and photos, some of them obviously conducted many years ago (including remarks by late figures like Jim Morrison and Love's Bryan MacLean). A few non-musicians from the music industry are also heard from, like David Geffen, Jac Holzman, and radio DJ Jim Ladd.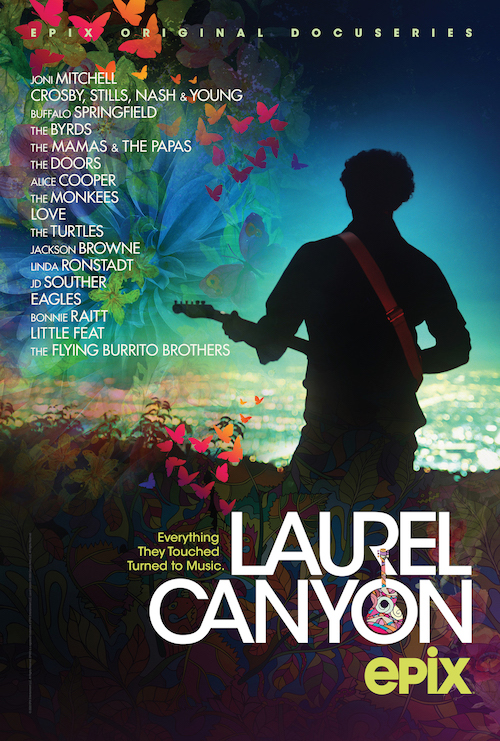 There are many, many photos and clips excerpted in the film, some of which seem to have been rarely or never seen since first screened or broadcast. While much of the story will be familiar to fans who know a lot about this era of folk-rock, psychedelia, and singer-songwriters, the comments are relayed in an interesting and colorful manner. Some of the stories are not so familiar, like Bob Dylan's "Mr. Tambourine" outtake making its way to the Byrds in part because some felt Ramblin' Jack Elliott's harmony vocals made it unusable. There's also Love guitarist Johnny Echols's view that his group got Elektra to sign the Doors so they could get out of their contract with the label, only for that to backfire when they couldn't leave Elektra, who put a lot of its resources into promoting the Doors.
The rapid blend and flow of clips and commentary is excellent, and this refreshingly avoids two overdone clichés of music history documentaries. First, there aren't several introductory minutes of soundbites of numerous figures gushing over how great the subject of the film is. Second, there aren't modern critics or post-'70s musicians supplying unnecessary validations of why this subject is important and how we need to revere it. The documentary trusts the strength of its own content to let that speak for itself.
2. Creem: America's Only Rock 'N' Roll Magazine (Greenwich Entertainment). This packs a lot into its 75 minutes, with a fast pace that verges on the hyper at times, though some would contend that's appropriate for a magazine that prided itself on living fast and hard. There are interviews with many of the key surviving figures, including editors Jaan Uhelszki (who worked on the film as writer and co-producer) and Dave Marsh, and Connie Kramer, wife of late Creem publisher Barry Kramer. There are lots of testimonials from rock musicians like Alice Cooper, Peter Wolf, and the MC5's Wayne Kramer, and rock critics like Greil Marcus, Cameron Crowe, and Lenny Kaye. There's even some grainy vintage black-and-white footage of staff (and a performance by Mitch Ryder's group Detroit) at the early-'70s Detroit offices. There are plenty of stories of the volatile relationships between key staffers like Kramer, Marsh, and the late Lester Bangs, who were all determined to have a fun and lively rock magazine, but often disagreed on how to do it.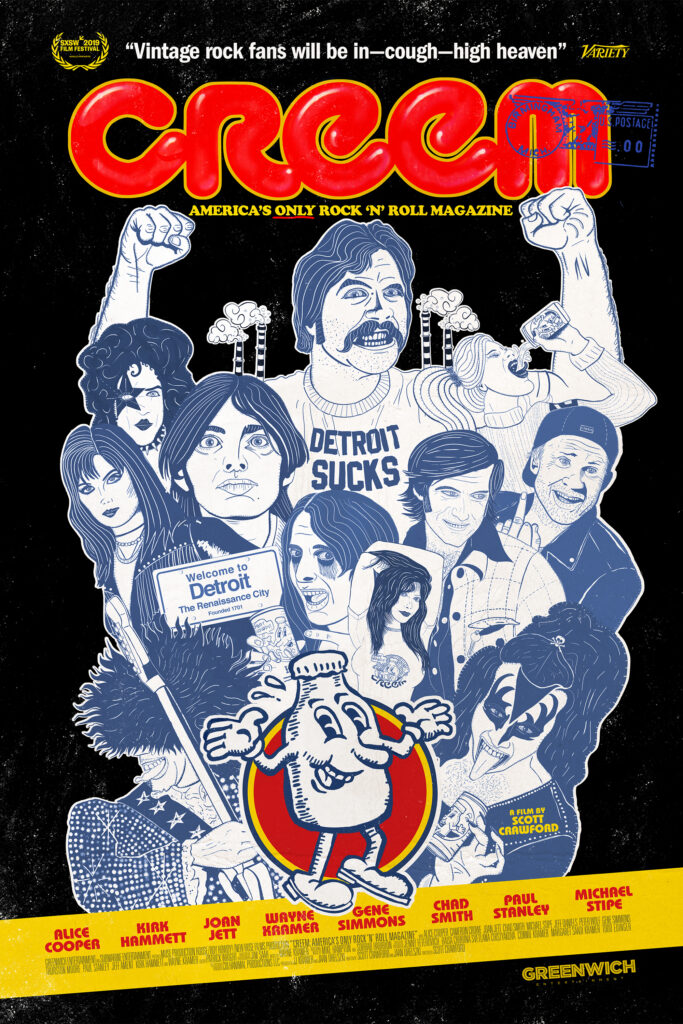 Creem wasn't all high times, and some of the seedier aspects of its history are addressed. Their offices, whether in Detroit or in the countryside, had a lot of squalor. Their humor, meant as provocative and tongue-in-cheek, often skirted the line of getting offensive. The opportunities it gave pioneering women rock journalists are appropriately celebrated at some length. So are the psychological difficulties that led Barry Kramer into drug abuse and death in 1981, when he was only in his late thirties. This movie can now be streamed for free in many regions, if you have an active library card, through kanopy.com.
3. Mr Soul! In the late 1960s and early 1970s, the public television program Soul! (exclamation mark included) presented not just soul music, but all kinds of African-American arts and social affairs. This documentary offers a valuable retrospective of this semi-forgotten, groundbreaking show, focusing on producer/host Ellis Haizlip. There are plenty of interviews with associates who worked on the program and artists who appeared on the show. The prime attraction, though, is the wealth of excerpts from vintage Soul! clips. This includes a mighty impressive roster of stars, lesser known but influential artists, and near unknowns. Here's a partial list: Stevie Wonder, Gladys Knight, Al Green, Ashford and Simpson, the Last Poets, Amiri Baraka, Rahsaan Roland Kirk, B.B. King, James Baldwin, Stokely Carmichael, Kathleen Cleaver, Ossie Davis, and Ruby Dee. And there's room for some figures who haven't been canonized as much, like Black Ivory and New Birth.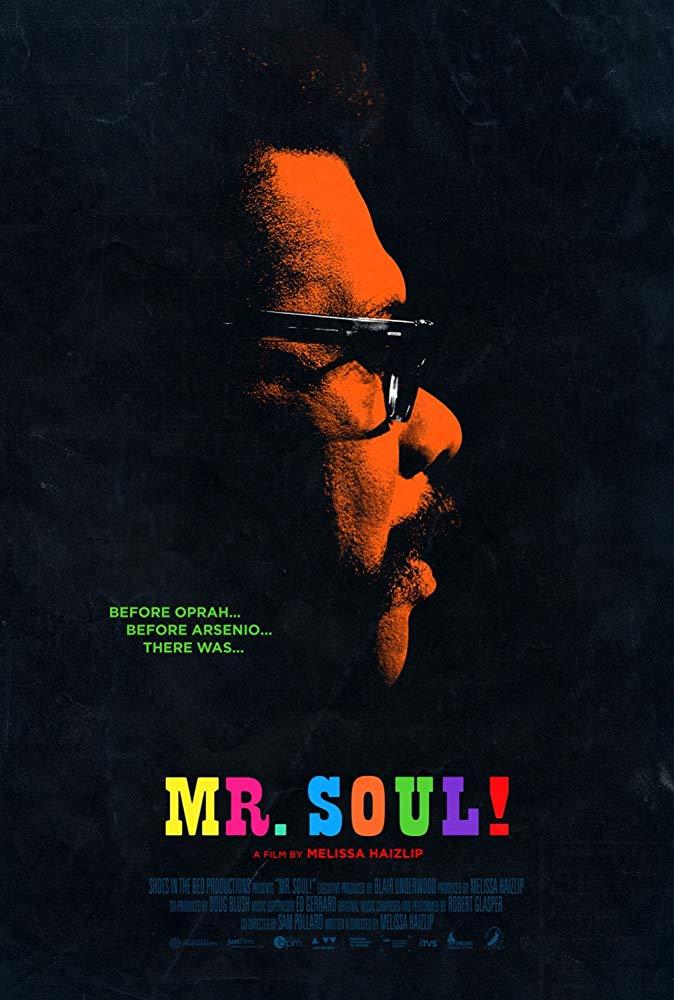 It makes you wish there was a series devoted simply to highlights from the show that offered complete performances, especially since these have seldom been seen since they were aired. The fast-paced documentary does waver a bit in its focus, sometimes jumping around chronologically and between segments concentrating on the show and covering Haizlip's life and personality. But overall it's a highly worthwhile and entertaining look at a television production that should have greater recognition.
4. Zappa. This two-hour documentary of a major figure in twentieth-century (usually) rock music has a lot going for it. There's a ton of rare footage from throughout his career, and even before his career in some family home movies, with excerpts (if brief ones) of things you'd never expect to see, like his wife help setting up the cover shoot for We're Only In It for the Money. Frank Zappa is represented by excerpts from many filmed interviews going back half a century, some of which have rarely or, I'd guess, never been seen, especially the early ones. Some of his key collaborators are interviewed, including his late wife Gail and members of various Mothers of Invention/Zappa lineups, including Bunk Gardner, Ian Underwood, and Ruth Underwood. Several aspects of his work and music are covered, including some (not all) of his early psychedelic-period albums; his work in symphonic/non-rock composition; the "Valley Girl" hit, with vocals by his daughter Moon Unit; and his fight against censorship in the 1980s, which found him testifying articulately in Congress.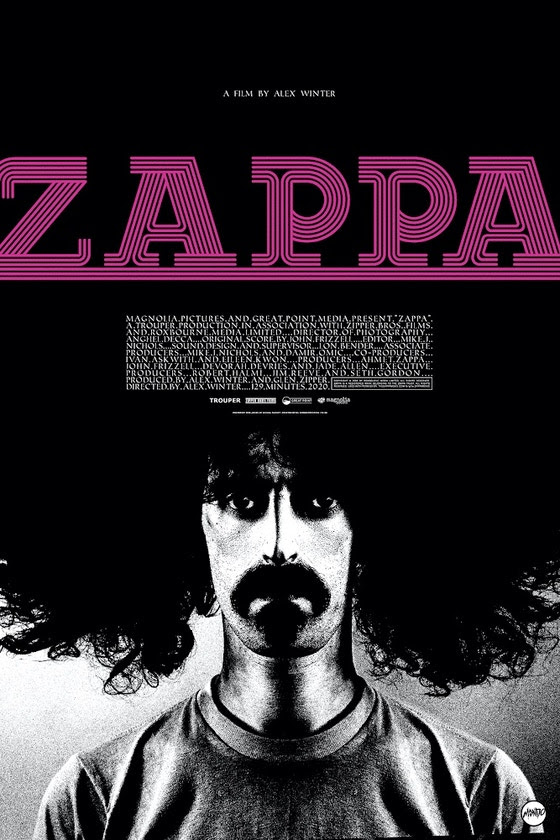 A two-hour documentary can't encompass everything interesting and important about Zappa, of course, and some of his fans might be dismayed by what's missing. Many of his key supporting musicians are mentioned only in passing or not at all, like singer Ray Collins and drummer Jimmy Carl Black, to name just a couple. There were so many in his groups that it would be hard to fit in the majority of them, but it's hard to believe, for example, that Flo and Eddie wouldn't have had something to say for a production like this. His very interesting Bizarre/Straight labels, which put out eclectic productions by other artists (often with direct assistance from Zappa), are barely noted, and his involvement in Captain Beefheart's career not really explained. His manager Herb Cohen, a big part of his early years (and with whom he had major disputes), is entirely absent. His sole Top Ten album, Apostrophe, isn't directly addressed. The list could fill several paragraphs; probably several pages, if Zappa fans more interested in his post-'60s career than I am were writing this.
Rather than rag on the film for what it can't cover unless it was a multi-part anthology, it's better to enjoy its rather episodic journey through much of his career highlights, though the sections on his final appearances in the early '90s are drawn out. Note, by the way, that when I saw this through virtual streaming, some bonus footage played at the end, with a few rather unpleasantly unfunny minutes of backstage hijinx at the Whisky in the early '70s, and a workout by his band during the Apostrophe era. I don't know if this will be showing as part of the presentation everywhere it streams, or will be in theaters, if/when it screens in those.
5. In My Own Time: A Portrait of Karen Dalton. Folk singer Dalton's cult is avid but small, and her recorded output (with just two albums issued during her lifetime) sparse. The odds seemed against the construction of a good full-length documentary, but this film manages to beat those odds, making for an interesting view even for listeners like me who aren't huge Dalton fans. Although she wasn't filmed much, it turns out she was on camera more than you'd guess, and this includes some seldom seen footage of her in performance taken by German and French television. There are also what seem like they might be home movies or supplementary non-musical footage shot by those programs, and a good amount of vintage photos and shots of handwritten lyrics and journals (some of which are voiced by a woman other than Dalton for this documentary). While some of her close associates are gone or not represented, there are interesting interviews with a good number of people who knew or worked with her, including Peter Stampfel, Peter Walker, Dick Weissman (who played with John Phillips and Scott McKenzie in the Journeymen folk group), Michael Lang (who ran the label that issued her second album), her daughter, and her third husband.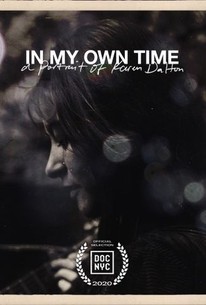 Dalton had a troubled and in some ways tragic life, reflected to some degree in her sorrowful Billie Holiday-meets-folk-revival vocals (which are often heard on recordings used on the soundtrack). She wasn't the most responsible mother; had serious substance abuse problems before dying of AIDS in her mid-fifties in 1993; and never got too far in her performing or recording career, despite moving from Oklahoma to New York and attracting attention and respect from some notable peers. Stampfel makes interesting observations that she seemed to expect audiences to be in thrall to her performances, and was taken aback when such reverence wasn't always forthcoming. While there were occasional interactions with bigger names (she was briefly tried for a slot in the Journeymen but didn't work out; she was close to Tim Hardin for a while and covered numerous songs of his; she opened for Santana on tour, though the match was ill-conceived), these didn't result in major breaks. And she wrote little of her own material and wasn't adaptable to the rock era and recording in a folk-rock style.
As a final stroke of bad fortune, a fire a quarter-century after her death destroyed her journals, as well as some tapes. Fortunately a lot of the archival material had been photographed by the filmmakers, and some of it can be seen in this worthwhile documentary.
6. Music, Money, Madness…Jimi Hendrix in Maui. How did Hendrix end up giving his second-to-last American concert to a few hundred hippies, for free, in the hills of Maui on July 30, 1970? It's not an easy question to answer in just a couple sentences. This hour-and-a-half documentary does a good job in explaining the circumstances, especially as some of the key figures are long gone a half century later. But some are interviewed here, including bassist Billy Cox and several figures involved in the performance's preservation, the concert's staging, and the production of the movie for which some of the show was filmed, Rainbow Bridge. This is supplemented by archival interviews with drummer Mitch Mitchell and Rainbow Bridge director Chuck Wein, as well as quite a few clips from the concert itself.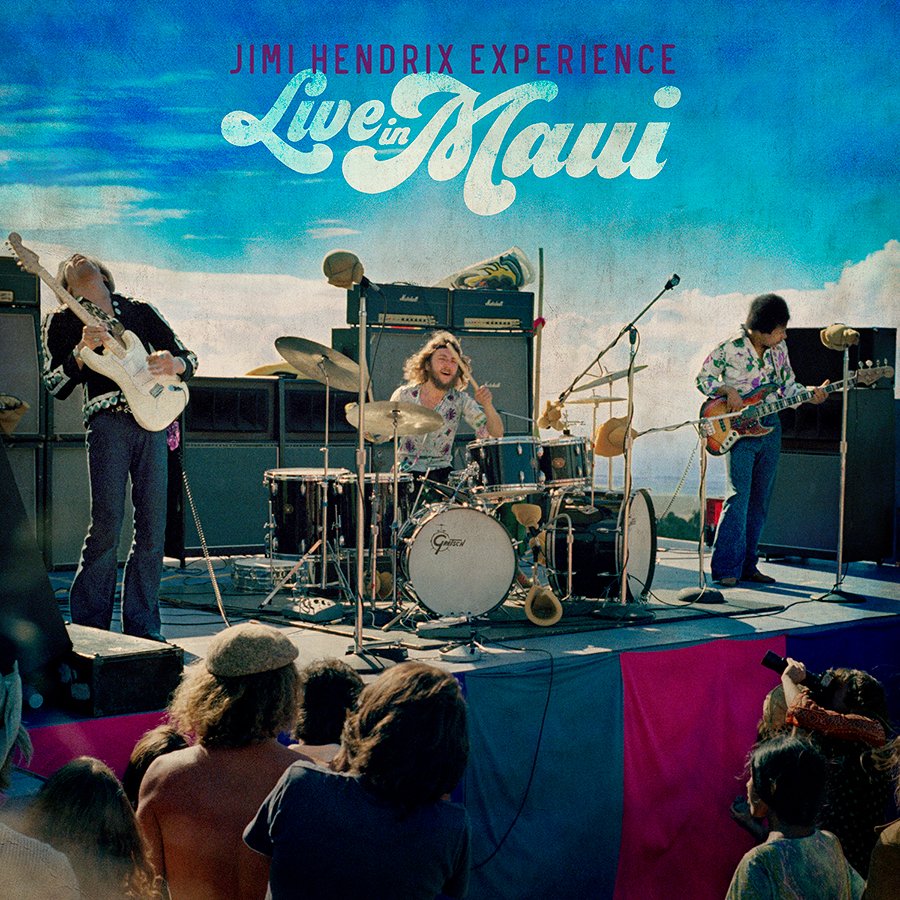 Basically, Hendrix and his manager Mike Jeffery needed money to finish Jimi's studio, Electric Lady. A complex deal was arranged where half a million dollars were secured from Reprise Records to finance a film to which Hendrix would create a soundtrack. The film, Rainbow Bridge, was a disastrous mix of amateurishly scripted (or non-scripted) hippie life and philosophizing, and Hendrix died before he could construct a soundtrack. Its one asset was the seventeen minutes of footage of Hendrix, Cox, and Mitchell performing the somewhat impromptu concert, in conditions so windy that huge pieces of foam had to be placed over the microphones.
Although a few people involved in Rainbow Bridge (notably Wein himself) speak positively about the film, most agree, in humorous detail, that the movie was both chaotically produced and a mammoth artistic failure. The movie's poor reception and its aftermath, in which a deceptive album of unreleased material titled Rainbow Bridge (which didn't include any recordings from the Maui concert) was assembled to capitalize on the film, are also covered. It's amazing that a large company like Reprise (part of Warner Brothers) could be sort of suckered into the deal, so half- (or less) baked was the film's story and setting. It makes for a good tale of hippie-era excess half a century later; in fact, it's a good deal more entertaining than Rainbow Bridge itself.
Also valuable are the bonus features of all the existing 16mm color film from Hendrix's two performances on Maui that day. These include some not used in Rainbow Bridge, though unfortunately the cameras weren't running all the time and missed a good deal of the show. Indeed, sometimes they weren't running all the way through some songs, and still photographs fill in some of these gaps.
This Blu-ray is packaged with a two-CD set, Live in Maui, which has recordings of both of the sets Hendrix played this day. It's reviewed separately in my list of 2020 album reissues (to be published December 31).
7. Every Night's a Saturday Night (MVD Visual). To be precise this documentary on saxophonist Bobby Keys came out in 2018, but it didn't get on DVD until 2020, so here 'tis on this list. Keys is most known for playing on numerous Rolling Stones records and often touring with them, though he also recorded/toured with Joe Cocker, George Harrison, John Lennon, Delaney & Bonnie, and many others. This is a little more low-budget and less slick than most of the films on this list, but that doesn't really hurt because the list of people interviewed for the production is quite impressive. Besides quite a bit of storytelling from Keys himself (obviously filmed before his 2014 death), there are comments from Keith Richards, Mick Taylor (surprisingly as he's seldom interviewed about his peak years), Charlie Watts, frequent musical partner Jim Price, Bobby Whitlock, Richard Perry, and numerous others. There's some vintage footage from his stints with the Stones, Delaney & Bonnie, and Joe Ely, but the accent's on the interviews, tracing his career from his teenage years in Lubbock through his times, some wild and crazy, with the Stones and others in the '70s.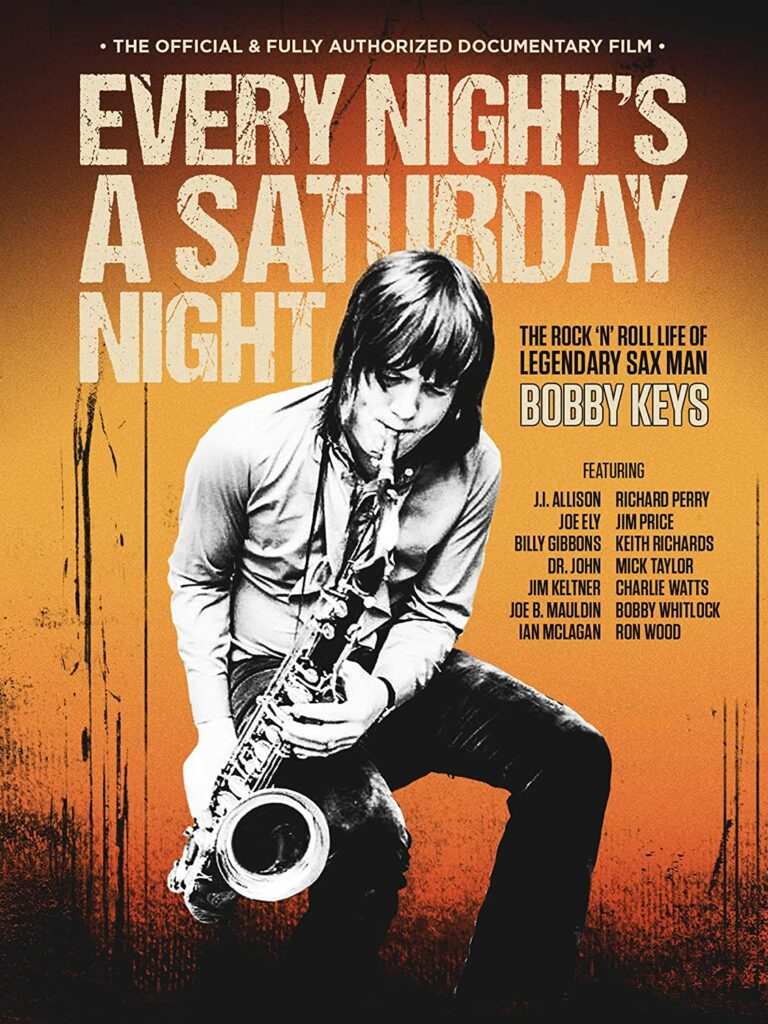 True, there's little post-mid-'70s coverage, though his firing and re-entry to the Rolling Stones entourage is noted. But almost all viewers are here for the years leading up to that, right? And here for the Stones stories above all, and they get more space than anything else, including quite a bit on the Exile in Main Street sessions in France. Keys makes the interesting observation that Jimmy Miller was a good producer for the Stones at this time as he knew when to voice his opinion, and when not to. The story of Keys filling up a bath with liquor to immerse himself in with a female friend is also here, if you want some of the sleaze. There's also the back story of how he and Richards threw a television out a hotel window in Robert Frank's 1972 tour documentary (the impression is it was staged and kind of forced). The clip in which he takes a solo with Joe Ely is too long, but there's not much else to gripe about in a documentary that's both entertaining and doesn't overstay its welcome.
8. Michael Des Barres: Who Do You Want Me to Be? Michael Des Barres has been around as both an actor (since childhood) and rock singer (since the early '70s) for more than half a century without breaking through to true stardom. Since he went through a bunch of mediocre glam/hard/mainstream rock bands, you might wonder whether he's worth an 80-minute documentary. But he is, and not just because he interacted with quite a few more well known figures, from Led Zeppelin and Duran Duran to Don Johnson and second wife Pamela Des Barres. Interviews with Des Barres get the bulk of the screen time, and he's an interesting, drolly funny storyteller who doesn't make unwarranted grand claims for his talents and achievements. The bumpy road includes a weird childhood mixing aristocratic boarding school education with one schizophrenic parent and another in jail; a minor supporting role in the hit movie To Sir with Love; his early-'70s stint as lead singer with glammish rockers Silverhead, probably his most well known band; Detective, who were signed to Led Zeppelin's label; a brief time as singer with Power Station; Chequered Past, with Steve Jones and members of Blondie; and numerous bit and supporting roles in movies and TV series, most famously a recurring role on MacGyver.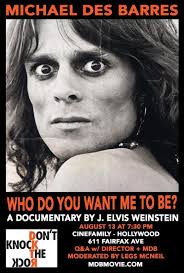 Quite a few others from Des Barres's past and present were also interviewed, including his three wives (most notably Pamela Des Barres); John Taylor from Duran Duran/Power Station; members of Silverhead; Blondie's Nigel Harrison, who was in both Silverhead and Chequered Past; Steve Jones; director Allison Anders; Don Johnson; and music business executive/manager Danny Goldberg. Clips from TV/movies/performances spanning decades are sampled. Des Barres does not shirk from recounting various troubles and flaws, including alcoholism (though he's been sober since the early '80s), excessive/irresponsible womanizing, and a brief time when he was a sort of rent man to rich Hollywood women to pay bills, observing that it wasn't all that much different than what you had to do to make a living as a rock musician.
The actual music and songs of his various projects aren't discussed in depth, and frankly, they're not of such value they deserve that kind of analysis. (Drug dealers, he notes, were the fan base of one of his groups.) As one of the other talking heads aptly comments, Des Barres could easily transition to acting since he was so often acting the part of a rock star, even if he never was one. He's in his early seventies now, but his engaging, entertaining, candid presence in this documentary might be his greatest role. It might be a while if ever before you can see this in theaters, but it's available to rent in the expanding world of online virtual cinema; youtube charges the reasonable price of $3.99.
9. Once Were Brothers: Robbie Robertson and the Band (Magnolia). This documentary – technically a 2019 production, although I'm not aware of it screening before 2020 – is indeed focused on Robertson's take on the Band. He's the main interview subject and storyteller, though there are also interviews, both recent and archival, with the other guys in the Band; producer John Simon; Robertson's ex-wife; Ronnie Hawkins; and numerous other Band associates. While I'm not much of a Band fan, it's interesting and well done, with plenty of footage (some rarely or never seen, I believe), piles of vintage pictures, and lots of attention paid to their roots as backing bands for both Hawkins and Bob Dylan. Robertson can be a bit deliberate as he spins his tales, but he speaks well and gives the other guys in the Band credit.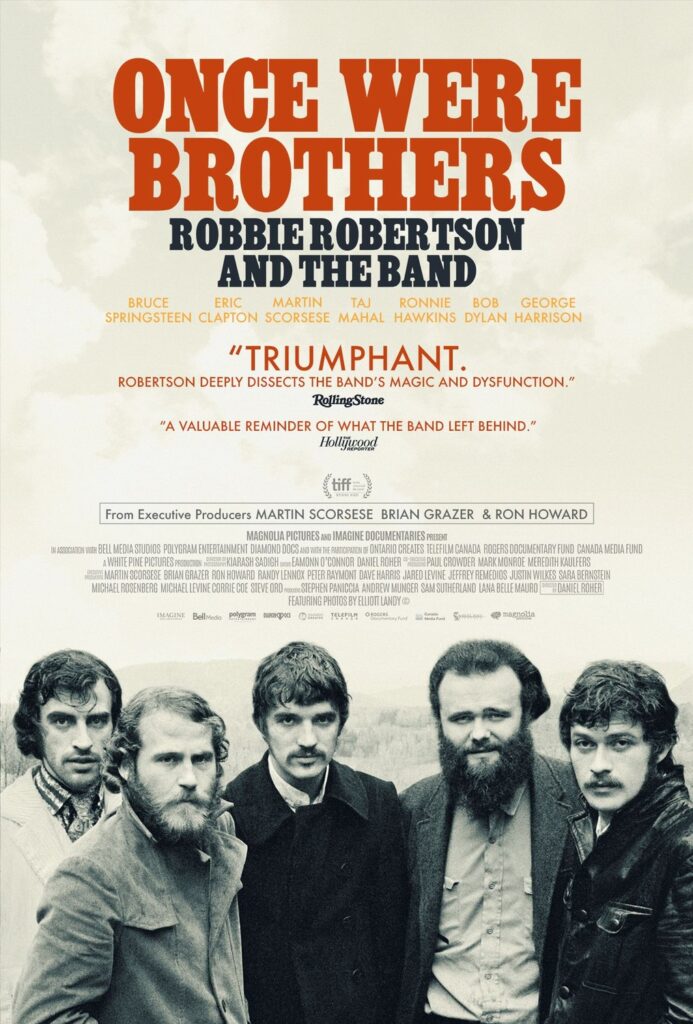 Not enough credit, however, for some Band fans and critics. After its release, this drew some criticism—some of it harsh—for being too Robbie-centric, though the film's title doesn't make any secret of that. More seriously, some feel he was whitewashing his role in the group's troubled descent. In particular, drummer Levon Helm was vocal at points after the Band's breakup over what he felt was unfair apportionment of the group's songwriting credits, which were dominated by Robertson. This issue isn't ignored in the film, though the claims aren't given much weight. The Band's diminishing critical and commercial success after their first two albums isn't examined, the years rushing by between 1970 and The Last Waltz. So there are significant gaps, but—as with most documentaries—there are books to fill those in and give a fuller perspective. What this does cover is worth seeing if you have a serious interest in rock history.
10. The Shadows at Sixty (BBC Four). Hour-long TV documentaries that aren't always easily accessible after their broadcast (especially if you don't live in the region of their origin) usually aren't candidates for high rankings on year-end best-of lists. 2020 was an unusual year, though, and I think critics can be forgiven for including some such TV productions in their selections. And viewers can be forgiven for searching them out on the Internet, through whatever channels they can be seen.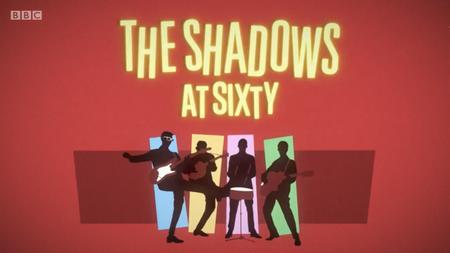 One such deal is this hour-long overview of the Shadows, who were by far the most popular and influential British rock group before the Beatles. In Britain, that is (and much of the rest of the world); in the US, they never had a hit, and are still relatively unknown. Their long run of instrumental hits in the early '60s, however, were vastly important to inspiring many aspiring British guitarists. And with their sort of Ventures-with-a-twang sound, the records did have their moody, mysterious appeal, though there were limitations of what you could do within that format.
While there's nothing extraordinary about this documentary, it's a solid enough look at their career. There are many excerpts of vintage Shadows performances, and while they're exceedingly brief, it could be argued that it might be somewhat tough going to see many full-length versions at once. There are also recent, fairly informative interviews with lead guitarist Hank Marvin, rhythm guitarist Bruce Welch, and drummer Brian Bennett, as well as singer Cliff Richard, the early British rock superstar whom the Shadows often backed on record, onstage, and in movies.
If you're real knowledgeable about their work, there are things to pick on. The contributions of bassist Jet Harris, whose enormously thick sound was innovative in his own right, aren't detailed. Ian Samwell, who was in Richard's earlier backup group and wrote some of his and the Shadows' early material (including the classic initial Richard hit "Move It"), isn't a presence. But it's still a useful survey of the group, and it's good that the survivors were interviewed while there was still time to capture their recollections.
11. The Story of Ready Steady Go! (BBC Four). Technically speaking, there was a 2019 date on the end credits of this hour-long documentary on the mid-'60s British rock music TV program Ready Steady Go! But to my knowledge, it wasn't seen until it aired on BBC Four in March 2020. So it makes the cut here, even considering it's not so easy to watch if you're not in the UK (though there have been ways with today's technology). It's a no-frills, punchy rundown of this legendary pop music program, which presented everyone from the Beatles and the Rolling Stones down, and was a crucial outlet for exposure at a time when BBC radio didn't allocate much of its airtime to rock music.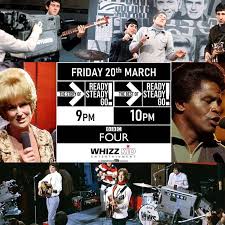 Besides exciting (if very short) excerpts of appearances by the Beatles, Stones, Who, Them, Lulu, Dusty Springfield, Martha & the Vandellas, Stevie Wonder, and others, there are also recent interviews with several artists and Ready Steady Go! staff. These include Donovan, Manfred Mann singer Paul Jones, Georgie Fame, Gerry Marsden, and Chris Farlowe, as well as some of the show's dancers, program producer Vicki Wickham, and Michael Lindsay-Hogg (who directed some of the show's episodes). The show's demise is covered near the end, and largely attributed to the ascendance of the rival program Top of the Pops, which mystifies me as Ready Steady Go! was clearly the better and more exciting series; interviewees feel Top of the Pops' use of charts to determine the content was a crucial factor.
12. White Riot. (Film Movement). The UK organization Rock Against Racism was formed in 1976 to combat racism and the National Front with musical concerts and activism. It makes for an interesting documentary subject that echoes all too strongly in what's happening in society in 2020. That doesn't mean the film's without its flaws, although it's worthwhile viewing. It's strongest in its interviewers with several key members of the original RAR, as it's abbreviated, including founder Reg Saunders. There's also a good deal of vintage footage of performers with ties to RAR, including X-Ray Spex, the Clash, Steel Pulse, and Tom Robinson. Non-musical film clips of National Front rallies and leaders remain horrifying more than forty years later, and there are some recent interviews with musicians from the time (including Robinson, the Clash's Topper Headon, the Selecter's Pauline Black, and Steel Pulse's David Hinds), although these aren't too numerous or extensive. Period photos and graphics (including some from RAR's fanzine, Temporary Hoarding) add to the visuals, which are most impressive in the final few minutes, which focus on a 1978 RAR march/concert (with the Clash, Robinson, and Steel Pulse) that drew about 100,000. Clips of the largely Asian band punk band Alien Kulture, and comments from the band's Pervez Bilgrami, give welcome voice to an ethnic group not often heard from in punk/new wave histories.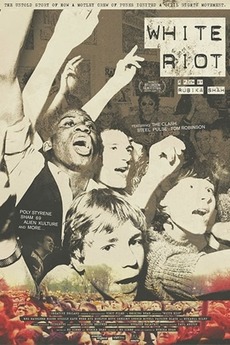 Still, this movie doesn't entirely convey the extent of RAR's reach and influence, especially on the musical side. There's as much coverage of the National Front and general late-'70s UK racism as there is of the music, and while those topics are important, it's hard to gauge how many acts participated and to what degree. The interesting tension between Sham 69's following (which included some listeners with right-wing leanings) and the usual anti-racist stance of punk acts is noted. But the section in which there's unrest at a Sham 69 concert with black reggae act Misty in Roots doesn't make the details of the ruckus too clear, though Sham 69 singer Jimmy Pursey did his part to throw in his lot with RAR by participating in the big 1978 concert. The film doesn't cover what happened to RAR after the 1970s, though its effect was felt in election defeats of the National Front.
There are books that cover RAR with some depth, but the modest 84-minute running time of this documentary could have been extended for a fuller view. The pace is somewhat herky-jerky, too, alternating slower, deliberate sections with frantic late-'70s clips. There's a strange vogue for framing some vintage clips inside a TV set in recent music documentaries, and White Riot does this sometimes, although I'd much prefer seeing that footage fill the entire screen.
13. Meeting the Beatles in India. In early 1968, Canadian Paul Saltzman, then in his mid-twenties, went to Rishikesh, India to learn about transcendental meditation at the ashram of the Maharishi. He didn't know that the Beatles were there when he was admitted, and for a week, he learned about TM alongside the group and their companions. He also took quite a few color photos of the Beatles, which were published many years later in his book The Beatles in Rishikesh. His film Meeting the Beatles in India is based on those photos and experiences, mixing his memories and pictures with a recent visit to Rishikesh and interviews with a few others who were there.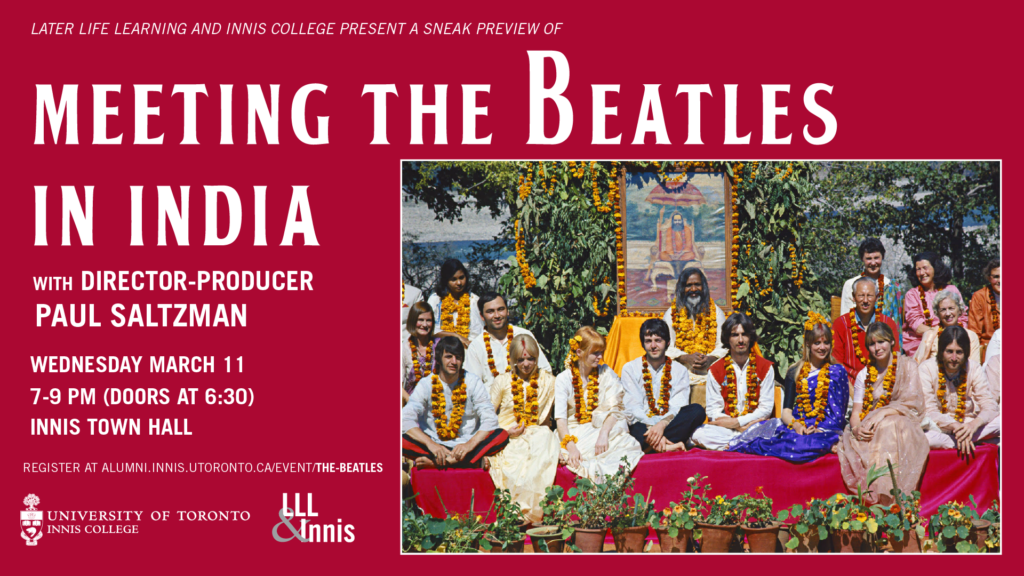 The movie isn't entirely devoted to the Beatles, with some commentary about meditation and its benefits, and some of Saltzman's personal history. While it can get sentimental at times, it's well done and includes some first-hand interviews with insiders who haven't often been seen on film speaking about the Beatles. These include George Harrison's first wife, Pattie Boyd; Pattie's sister Jenny, who was also in Rishikesh; the flute player on "The Inner Light" (who doesn't remember too much); Lewis Lapham, the only journalist who was able to cover the story within the ashram; and, most surprisingly, Rikki Cooke, the real-life model for "The Continuing Story of Bungalow Bill." Top Beatles historian Mark Lewisohn (who accompanied Saltzman on his recent return visit to Rishikesh) supplies some context, and there's some seldom seen footage of the Beatles in Rishikesh and Harrison working with Indian musicians.
14. Gordon Lightfoot: If You Could Read My Mind (Lionsgate). In essential respects, this is a typical competent documentary, mixing lots of excerpts of vintage clips with contemporary interviews with Lightfoot and numerous associates/admirers. For those (like me) who are frustrated by overviews that jump back and forth in time, you might find the structure a little exasperating, though not so much that it interferes with basic enjoyment of the film. Instead of progressing chronologically, it's more episodic, with segments devoted to his songwriting, guitar playing, Canadian identity, rural upbringing, "The Wreck of the Edmund Fitzgerald," and other topics. That still leaves enough for viewers to grasp his basic history, though the torrents of praise from peers past and present (including unlikely people with no strong connection to Lightfoot's career, like Geddy Lee and Alec Baldwin) are a little excessive even by the standards of admiring documentaries.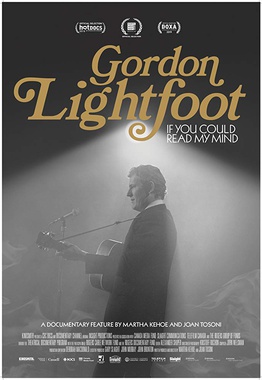 There are so many bits (if usually very brief) of vintage clips going back to before his rise to mid-'60s fame that you wish a compilation of them could have been made separately, since many of them seem rarely if ever seen since they were first made or broadcast. (You can also throw in a brief snippet of Ian & Sylvia performing "You Were on My Mind," the first '60s clip I've seen of them doing their most famous song.) Some of the interviewees do have close ties to Lightfoot, including Ian Tyson, Sylvia Tyson, and Warner Brothers executive Lenny Waronker; others at least have high name recognition and were around when Lightfoot rose to fame, like Ronnie Hawkins, Randy Bachman, and Anne Murray. Some difficult aspects of his life are dealt with, including his alcoholism and relationship with Cathy Smith (later girlfriend of John Belushi). For more music historian types that might be interested in things like his time under Albert Grossman's management (referred to fleetingly) and early recordings for United Artists Records, you'll have to go to the printed record. Lightfoot himself comes off as unsurprisingly self-effacing, if willing to talk to some degree about his craft and experiences, and his lack of productivity since the '70s means there's little about his post-'70s work and recordings. This movie can now be streamed for free in many regions, if you have an active library card, through kanopy.com.
15. Suzi Q. (Cadiz Music). Suzi Quatro had a string of big glam-poppish hits in the UK in the mid-1970s after moving there from her native Detroit, but never broke through as a star in the US. Maybe that opening sentence is considered unnecessarily elementary by many rock fans, but actually she remains more known in her own country for her role as Leather Tuscadero in Happy Days than for her records. This documentary is a brisk overview of her career, built around extensive interviews with Quatro and plenty of vintage film clips. Also interviewed are a couple of her sisters (who were in bands with Quatro before she went solo) and key associates like ex-husband Len Tuckey (who played lead guitar in her band during her prime) and Mike Chapman (who co-produced and co-wrote her big hits with Nicky Chinn). A bunch, perhaps too many, musicians past and present briefly testify to her importance. I'm not big on the presentation of some film clips on TVs that take up a small part of the screen, though for the most part these are used in standard full-screen fashion.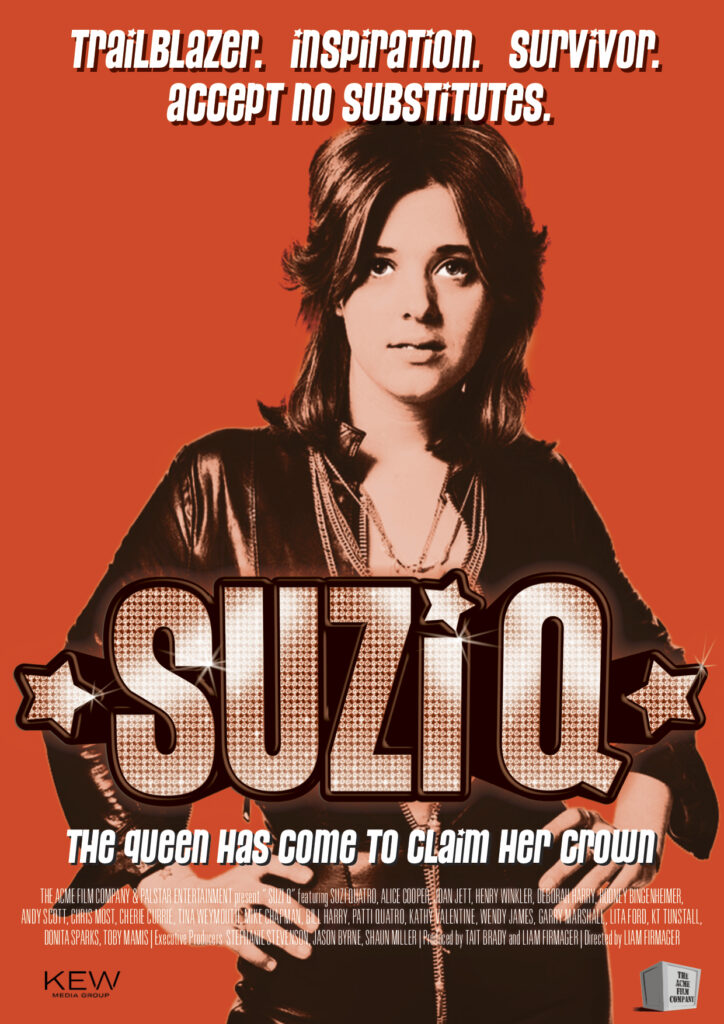 The film, and Quatro herself, address a couple subjects that cloud what for the most part was a success story. Her decision to go solo after producer Mickie Most singled her out as the part of a band with her sisters worth pursuing caused resentment within her family, which to some degree still seems to linger. As to why she didn't break through in the US while scoring lots of big hits in the UK, Australia, and numerous other countries, the blame is placed on under-promotion and being ahead of her time as a tough frontwoman. The sameness of much her material is not cited, but that isn't to be expected from a documentary whose purpose is to celebrate and elevate her legacy, not to criticize it. Also covered are her Happy Days years and ventures into theatrical roles in later years, though this isn't as interesting as the core of the movie, which deals with her rise and '70s peak.
16. Chuck Berry. There aren't any other rock documentaries of the past year or two that are such a mish-mash of the interesting and the mediocre. Its strongest points, though they're not incredibly strong, are interviews with Berry's immediate family, including the woman he was married to for almost seventy years. There are also interviews with a few insiders, notably Marshall Chess of Chess Records and (via archival footage) longtime pianist/accompanist Johnnie Johnson and Berry himself. There are also archive clips of Berry in performance from the 1950s through the end of his life, though these are less numerous and briefer than you'd hope.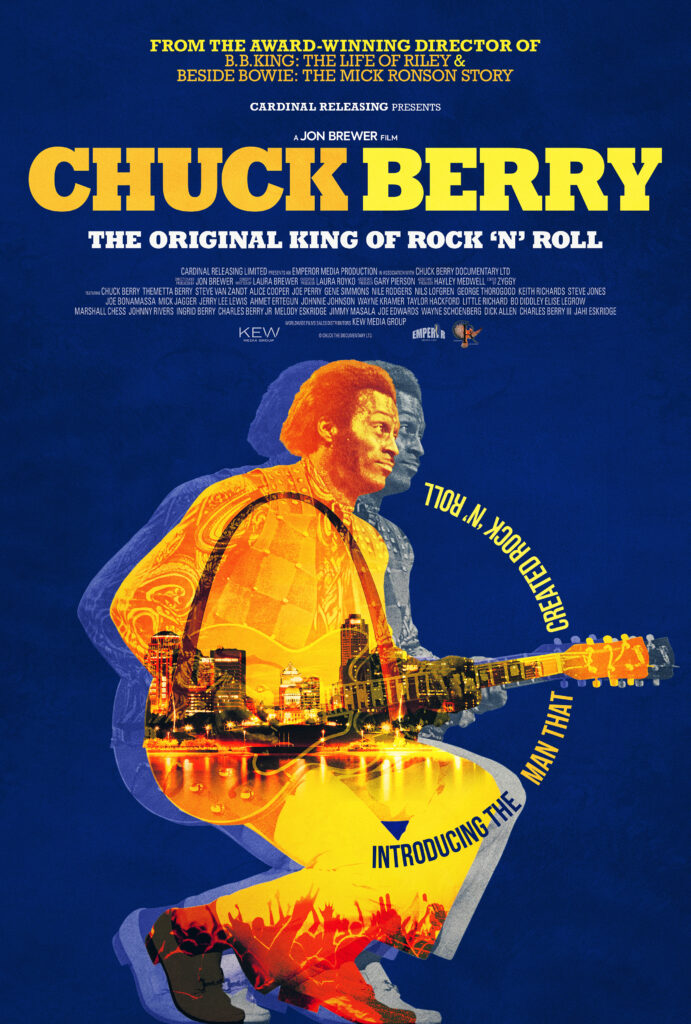 The biggest pitfalls are the ridiculously hokey reenactments of major incidents in his life, which are more numerous and lengthier than you'd wish. Some of the real-life connections of the talking heads to Berry are tenuous at best, and Gene Simmons's comments are featured way too much. You get an overview of his music (though not too much specifically about most of his major hits), and his problems with the law and womanizing are discussed, though in a chronologically nonsequential fashion that avoids getting too critical or going too deep. Those with substantial knowledge of Berry's life—which was quite interesting, musically and otherwise—won't learn too much, though it gives an outline of his times and achievements for viewers who aren't as familiar with him.
17. Herb Alpert…Is(Herb Alpert Mod). Twice this film has a soundbite proclaiming Alpert outsold the Beatles in 1965 and 1966; a promo blurb for the movie plays it a little safer, saying he outsold them in 1966. I don't think 1965 has a case, but that could be true for 1966, more because Alpert released more LPs that year than because he truly surpassed the Beatles in popularity. This documentary doesn't go so far as to claim he's the more significant artist, but is certainly a flattering portrait of the genial trumpeter/record executive. It's in the standard format for such retrospectives of living legends: recent interviews with Alpert and close associates like Lou Adler and A&M Records co-founder Jerry Moss; vintage clips of Alpert and the Tijuana Brass (one of whom offers just a few comments); and a fair amount of attention to the A&M label he co-founded with Moss, with comments from some A&M artists like Sergio Mendes and Sting.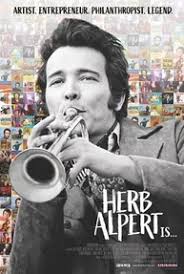 These are the film's the most interesting sections, even for someone like me who doesn't highly rate his music. But then there are the other standard parts of such documentaries that aren't as worthwhile. Those include testimonies from people who didn't have a direct role in Alpert's career, like Billy Bob Thornton (who notes, oddly, in one soundbite, that Alpert's "like butter"); too much repetition of general praise on what a great guy and important figure Herb is; gushing, sentimental comments from his wife, who sang with Mendes; and quite a bit of time on his painting and sculptures, which have been much of his focus in the past few decades since he retreated from the front lines of the music business. As for the A&M sequences, it might be too much to expect coverage of some of the more intriguing acts who were on the label in their early careers (like Captain Beefheart and the Strawbs). But it should have at least been noted that they shrewdly picked up US distribution for numerous major UK acts in the late 1960s, like Procol Harum, Joe Cocker, Free, Fairport Convention, and T. Rex.
18. Vinyl Nation. There have been a few documentaries about vinyl records, usually focusing on what vinyl discs mean to collectors and the resurgence of interest in manufacturing and buying them. Some of Vinyl Nation covers similar territory to previous such films. There are testaments to how great LPs are from fans, label owners, and record store employees; how vinyl is more tactile, has more graphics, and more personal associations; and how record-buying builds community. There are also some more behind-the-scenes aspects of the vinyl revival with visits to facilities where the records are manufactured. This hour and a half movie differs most from others I've seen on the subject with its willingness to explore some areas that are less oft-traveled, and even a bit controversial. These include the substantial environmental impact of manufacturing vinyl records; the much higher cost of LPs, both compared to new CDs and to how they used to cost in the twentieth century; and how much, or even whether, the oft-touted better sound quality of analog vs. digital product really exists. Also, a much higher percentage of people of color and women are interviewed than they usually are for this kind of project.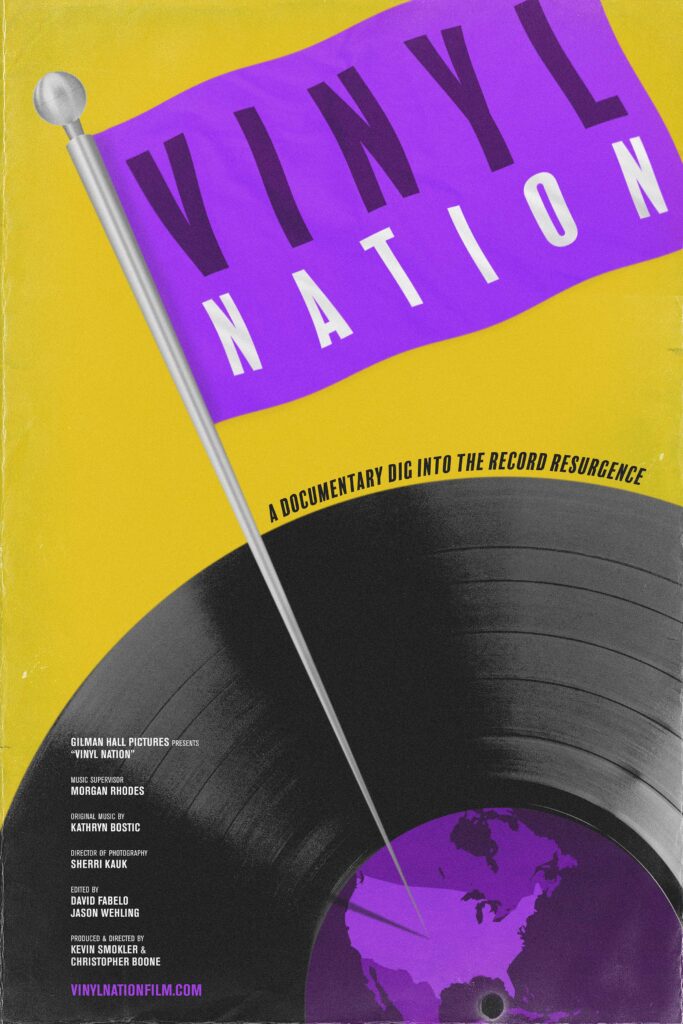 19. The Ventures: Stars on Guitars (Vision Films). The Ventures were one of the most popular instrumental rock groups of all time—the most popular by some measures. They weren't the most colorful guys, and while that doesn't mean they can't be the basis of a good documentary, this one fails in a key respect. It has very little actual music by the Ventures. There are brief archival clips, but even those have only very brief bites of sound from actual Ventures records or performances on the soundtrack. The 90-minute film is based around extensive interviews with the sole surviving Venture of the core quartet from their vintage years, guitarist Don Wilson. Some other Ventures are heard, briefly, talking in older clips, and plenty of other musicians weigh in with praise and observations, from the famous (John Fogerty and the MC5's Wayne Kramer) to the not-so-famous and unknown.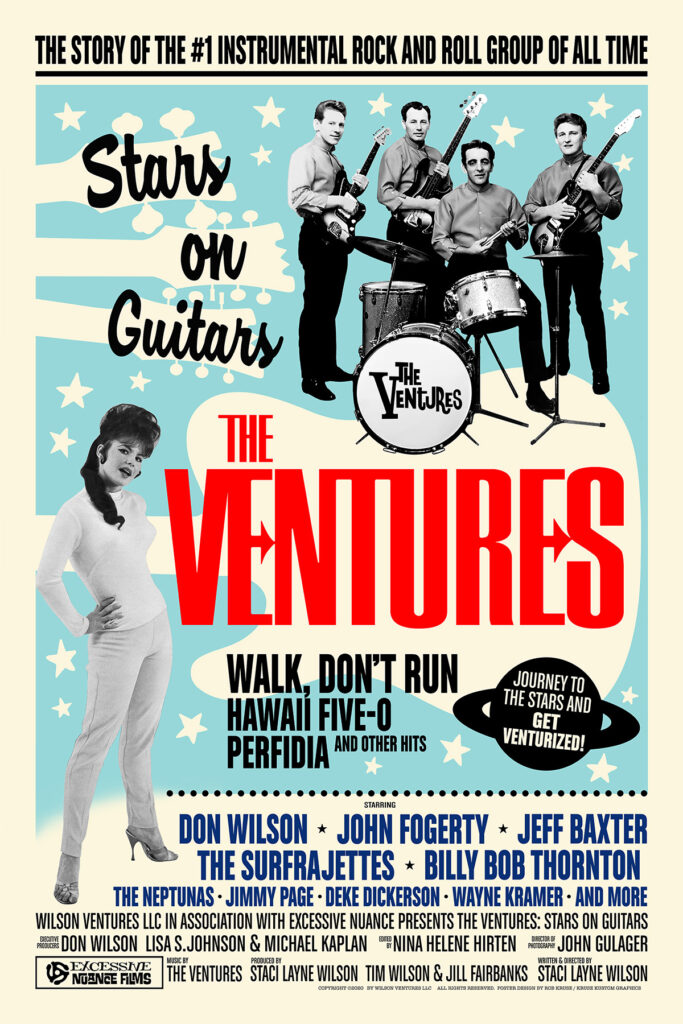 Much time's given to explaining how the group's most distinctive sounds and techniques were perfected. Their actual recordings don't get nearly as much examination, though most of their big hits are discussed. So is the sheer, mind-boggling quantity of their recorded output; their numerous theme albums, and the artwork used to illustrate them; and their phenomenal fame in Japan, where (according to Wilson) they outsold the Beatles two to one. At least it isn't claimed that they were therefore twice as good and significant. This has its interest for Ventures fans, but it's kind of a slight overall production, seriously handicapped by the absence of Ventures music, even if almost anyone interested enough to watch this knows what it sounds like. You can stream it for free, by the way, on hoopladigital.com, if you have an active library card with one of the many libraries that grants you access to the site.
20. Rolling Stone: Life and Death of Brian Jones (MVD). While this documentary lays out the basics of Jones's life (and death), really this can't be considered a top-flight overview of his very interesting career, let alone one that contains revelations. Its good points? It does have interviews with a fair number of people who knew or worked with him, including Pretty Things Dick Taylor and Phil May, photographer Gered Mankowitz, Stash Klossowski, and Volker Schlöndorff (director of the movie Jones scored, A Degree of Murder, starring Brian's girlfriend Anita Pallenberg). It also has some rare photos and silent footage (some dating back to his teenage years), some of which I'd never seen, and I've seen a lot of early Jones/Rolling Stones.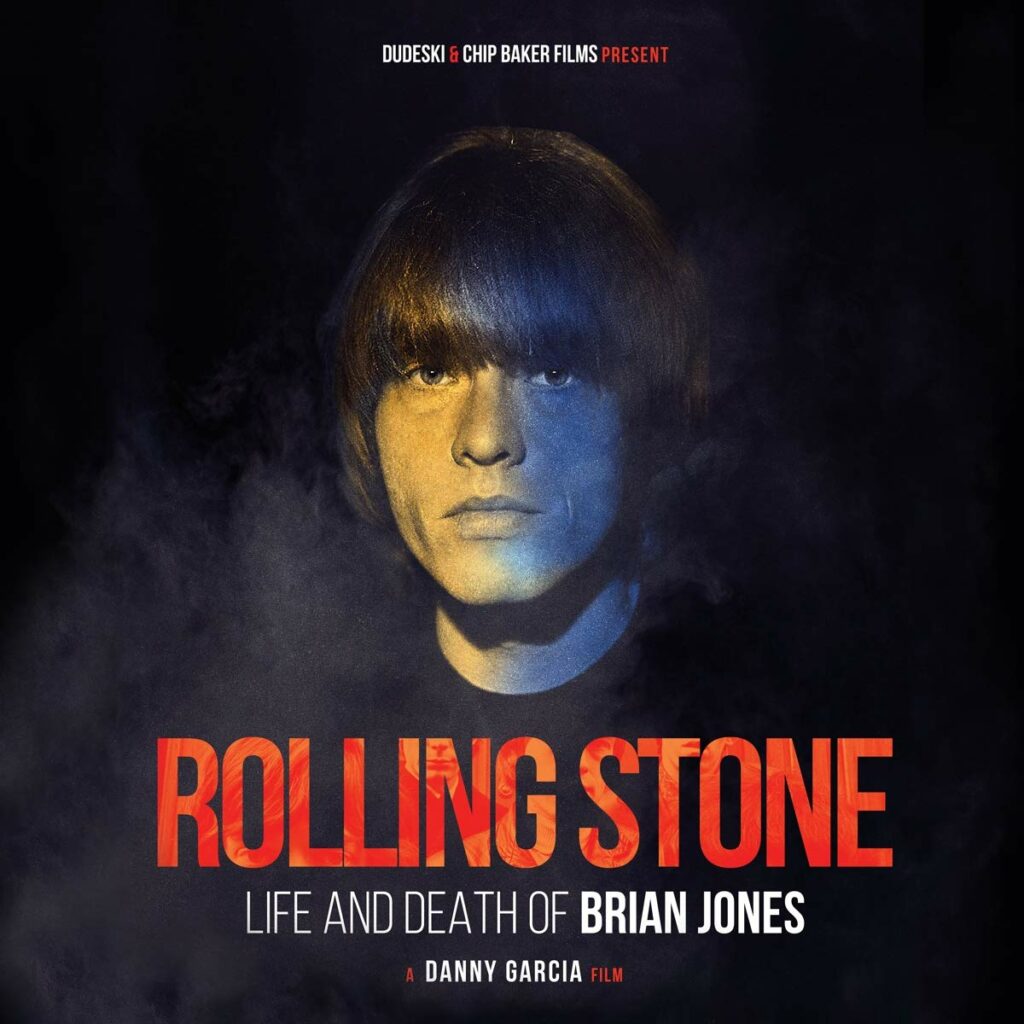 You would think, however, that if there's one thing a Brian Jones documentary should have, it's footage—with sound—of him playing with the Rolling Stones. There's none here—my guess it was deemed too expensive to license, or permission was denied. Recently recorded incidental Stonesy music on the soundtrack doesn't compensate for this. There are also no interviews with the surviving Stones or crucial associates Andrew Oldham and Marianne Faithfull, or girlfriends who bore Jones's sons, like Linda Lawrence. Sure those must be hard to secure, but it does mean this doesn't include the closest perspectives of Brian's life and death. There are numerous rock documentaries in recent years that stretch to cover an important subject without the resources to produce a satisfactory result. This is one of them, though Jones fans like myself might want to check it out for what it does manage to present.
The following documentaries came out in 2019, but I did not see them until 2020:
1. The Gift: The Journey of Johnny Cash. With the same director (Thom Zinny) who worked on Elvis Presley: The Searcher a few years ago, this documentary uses a similar approach. It doesn't go over Cash's career point by point, though it offers a basic tour. It doesn't have talking heads, instead using voiceovers from vintage Cash interviews and many people who knew and/or admired him, including some superstars like Bruce Springsteen who didn't have a notable role in his story. There are many photos and vintage film clips, stretching from the 1950s to shortly before his death. Attention's paid to both his music and up-and-down personal life, including some family and pill problems.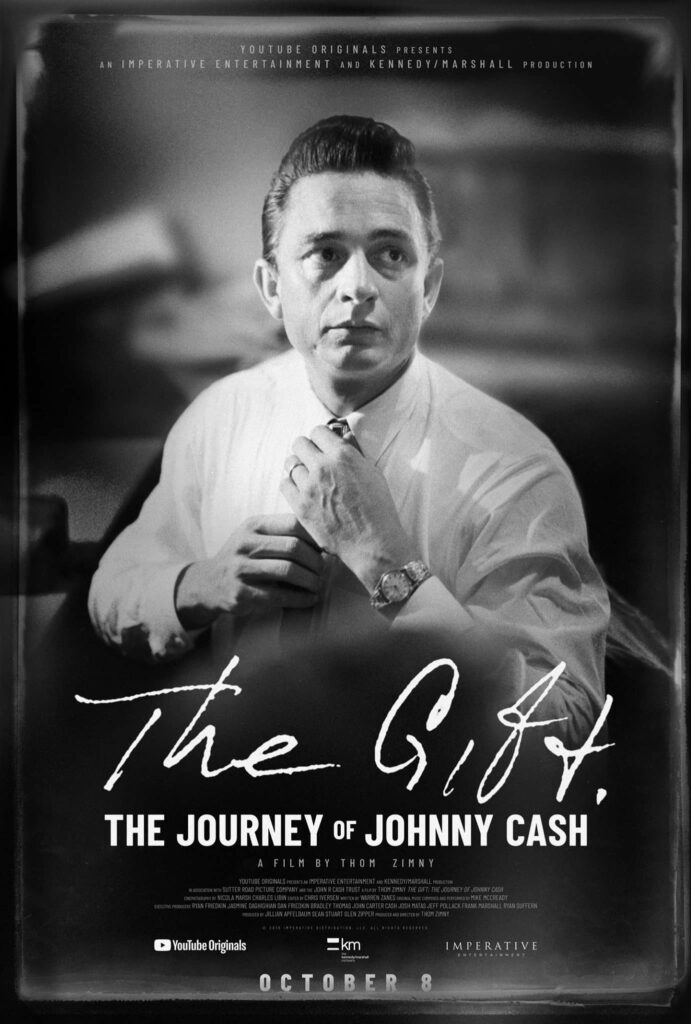 If you're looking for thorough details on all of his notable songs and recordings, you might be at least a little disappointed. "I Walk the Line" isn't heard; "A Boy Named Sue" isn't even mentioned; and his time in the Highwaymen is absent. It's kind of an episodic path through his times, from growing up in poverty in Arkansas through his rise to stardom at Sun Records, his 1960s concept albums, his hit prison LPs, his TV show, his religious beliefs, and his comeback in late life with Rick Rubin. It's worthwhile and fairly illuminating, but I'd say it's worth more than 95 minutes. Give it two hours, and maybe some more interesting details could have fit in—like, say, a clip of and discussion of "I Walk the Line," his first big hit, and one of his best. You can see this documentary for free on youtube, as part of that site's YouTube Originals series.
2. Olompali: A Hippie Odyssey. While only tangentially related to rock history, the Chosen Family commune in Rancho Olompali in Marin County in the late 1960s makes for an interesting story. Its connection to the rock scene was principally through the Grateful Dead. And it wasn't even too strong – the Dead rehearsed there a few times, lived on the grounds for a while in 1966 (before the commune moved in), and, maybe most famously, took the picture on the back cover of Aoxomoxoa there. The communal lifestyle, however, was growing in tandem with the explosion of psychedelic music and culture, and should be of interest to most people interested in that period of musical history.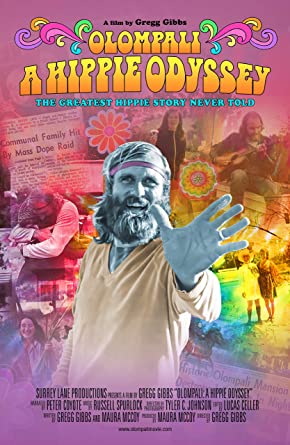 The Chosen Family was started in 1968 by disillusioned ex-businessman Don McCoy, who could afford to support an extended family through an inheritance. The good part of the year or so more than half a dozen families and others lived there was mostly in the beginning, where group decisions were made, children played together and were home-schooled, and lots of cooperative fun was had. There were warning signs soon enough: kids were given drugs at a very young age, and McCoy went to India, where he found a guru while leadership in his absence grew haphazard. Then it got worse – much worse. Hell's Angels gang-raped one of the commune's women. There were two big drug busts. Worst of all, two young children drowned when they fell in the swimming pool without supervision. Not even the main mansion burning to the ground shortly afterward (and fortunately not killing anyone) was as bad as that.
The documentary has first-hand interviews with many of the residents, including the now-middle-aged children. McCoy died in 2004, but is well represented from numerous extracts from an oral history he taped. Plenty of photos from the period also illuminate a tale whose value shouldn't be dismissed as a morality tale of how the hippie dream was doomed and inherently hopeless. There were a lot of noble goals and some happy times associated with its inception, even if its fall from grace was pretty horrible, and due in part to inexcusable irresponsibility.
3. Creating Woodstock (Cinema Libre Studio). Just like Woodstock's 50th anniversary generated several books and a 38-CD box set, so did it generate more than one documentary. Focusing more on the genesis and staging of the event than the music, this covers some of the same ground as the superior PBS/American Experience production Woodstock: Three Days That Defined a Generation (reviewed in my 2019 best-of documentary list). But even with the fair amount of overlap, this is worth seeing if you want some more information and stories, even if some of it's retold with different words.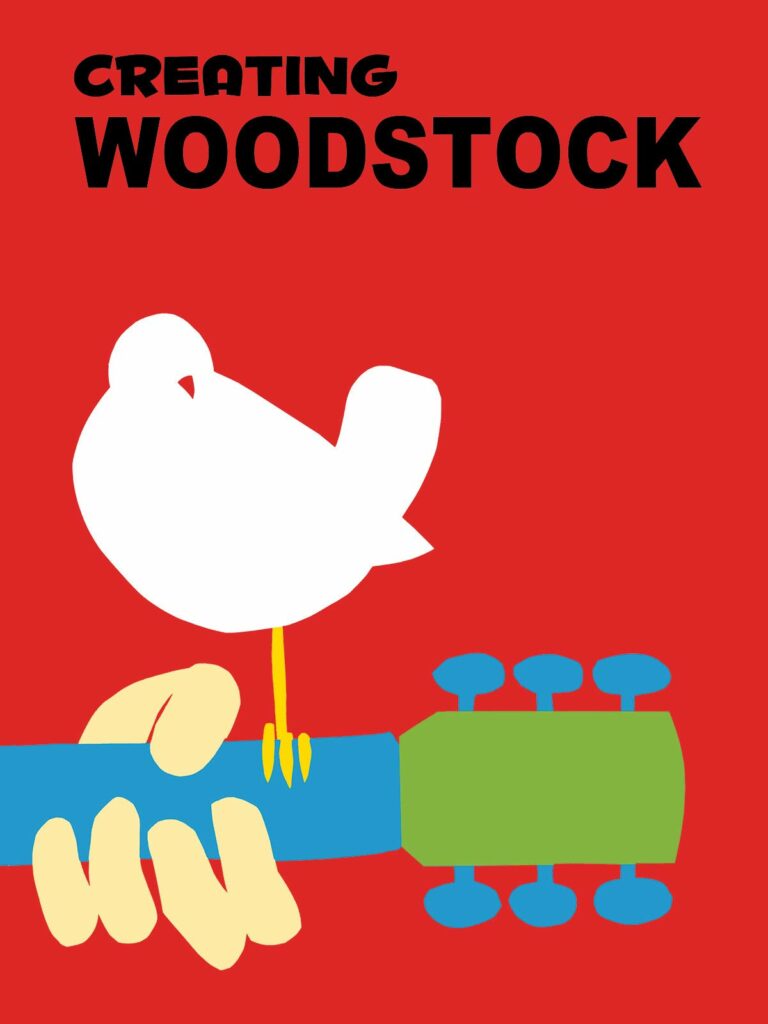 There's little music heard, and the footage of both the performers and audience is variable, the emphasis being on interviews with the organizers. Some of them were among the principal figures, like John Roberts, Joel Rosenman, Michael Lang, and Artie Kornfeld; others, like talent coordinator Bill Belmont, aren't heard from as often. Just a few musicians are here too (Arlo Guthrie, Leslie West, and Richie Havens), along with a couple guys from a band who played off the main stage, Quarry. Some of the interviews were obviously done years, sometime many years, before the 2019 release date of this film; indeed, more than half a dozen of them are no longer alive. Some of the details of stage construction, crowd management logistics, and the like get dry, though they're evened out by a few behind-the-scenes anecdotes about the performers. A half dozen brief extras from a few of the interviews are included on the DVD.
4. San Francisco's First and Only Rock 'N' Roll Movie: Crime 1978 (Superior Viaduct). In 1978, Larry Larson filmed early San Francisco punk band Crime in the city's top punk venue, Mabuhay Gardens. About forty years later, the footage was used as the basis of this 35-minute film, edited and directed by Jon Bastian. It's a brief piece, really more a concert movie than a documentary, and like much early punk footage, has imperfect sound that makes it hard to hear the lyrics. Still, it's valuable for the historic record, capturing the group in color at the Mabuhay's apex. It has better image quality than most early punk films do; there's a little footage of the group filmed separately in an outdoors location; and there are very brief interview snippets with the band that are more statements of attitude than informational observations. It's been issued on DVD with a vinyl double seven-inch record of the soundtrack.