Peter Checksfield's recent book Undercover: 500 Rolling Stones Cover Versions That You Must Hear! details, as the title makes clear, a ton of Rolling Stones covers from 1964 to 2022. As many covers as it covers, however, it inevitably has to be selective. Although many of the versions it documents are of 1960s songs, and many of those were released in the 1960s, it didn't include all of them.
All of most famous ones are there, of course, including the Who's "The Last Time," Marianne Faithfull's "As Tears Go By" and "Sister Morphine," the Flying Burrito Brothers' "Wild Horses," both Otis Redding and Devo's "Satisfaction," the Searchers' "Take It Or Leave It," and Ike & Tina Turner's "Honky Tonk Women." A lot of obscure ones are too, like the Swinging Blue Jeans' 1965 BBC performance of the early Mick Jagger-Keith Richards composition "So Much in Love" (never released by the Stones); the Blue Jeans' version was only issued on a 2019 digital-only compilation, and even the Blue Jeans' Ralph Ellis doesn't remember doing it. Virtually all of the Stones' originals from the '60s were covered at some point, and it took some digging to uncover some of the most obscure; the UK "Paint It Black" B-side "Long, Long While," for instance, was done in 1968 by a Greek group, the Idols.
Still, a few cool or at least interesting '60s Rolling Stones covers didn't make the cut. While this is not an official supplement to the book, or a criticism of it for not documenting every last cover, here are a few obscurities that might be of interest to serious collectors and/or Stones fans. I've listed these not in the order they were released, but in the order the Rolling Stones released the originals.
The Bootjacks, "Stoned" (1965, Sonet 45, Sweden; originally released on the UK B-side of "I Wanna Be Your Man," November 1, 1963). "Stoned" was the very first Rolling Stones original to be released, albeit a (mostly) instrumental song that was credited to "Nanker-Phelge," the pseudonym used for early group compositions. With a basic walking blues beat interrupted by periodic stoned/drunken-sounding utterances of the title (and a few other rambling words) by Mick Jagger, it remains particularly obscure in the US, where it didn't make it onto an album for decades.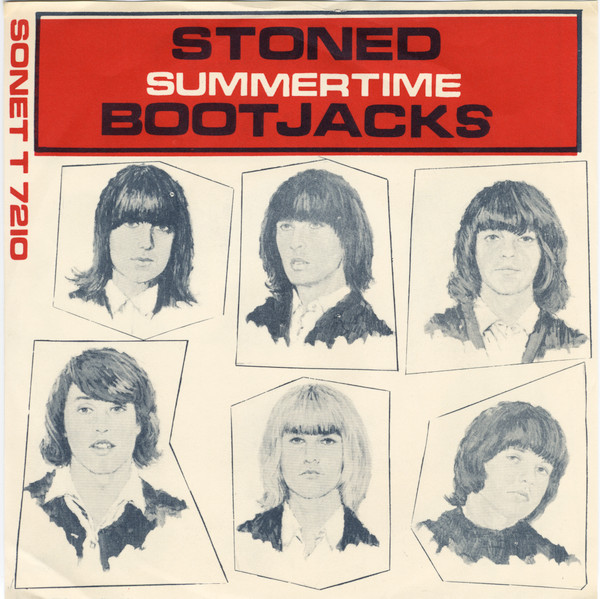 It wasn't particularly well known anywhere else either, which makes it a peculiar choice for a Swedish group to cover a couple of years later. The Bootjacks only issued four singles in their brief career, and their interpretation of "Stoned"—a strange song to begin with—was pretty weird. First, it was a live five-minute recording, at a time when live cuts and songs that lasted five minutes weren't common on singles. While it sticks pretty close to the original arrangement, the vocals, such as they are, sound a little slowed down and distorted, as if the turntable's running at the wrong speed. They do accelerate things for a bit of a bashing rave-up at the end. The oddest aspect is the abundance of teenage screams, which are as fervent as if the Rolling Stones themselves are in front of them.
The Bootjacks must have been big Stones fans, since another of their singles was a cover (which I've never been able to hear) of the first strong and well known Jagger-Richards original to feature on a Rolling Stones disc, "Tell Me." They're most esteemed, however, for their outstanding (and also odd) 1966 Who-ish mod rock single "In the Circle," which was reissued for the fine Searchin' for Shakes: Swedish Beat 1965-1968 compilation back in the mid-1980s.
The Termites, "Tell Me" (January 29, 1965, Oriole 45 UK; original release April 26 1964 on the UK LP The Rolling Stones). Despite the Beatles-takeoff name, the Termites were two girls aged 15 and 16, not a rock group. Their harmony-heavy cover of "Tell Me," with light orchestration, is no great shakes. But it's refreshing as there weren't too many girl groups who did Stones covers in the '60s. There's not much info on the Termites, who put out just a couple UK singles. This track was produced by Ted Taylor, who might have been Ted "Kingsize" Taylor, leader of Kingsize Taylor and the Dominoes, one of the most locally popular Liverpool groups of the early 1960s, though they didn't have hits or make many records.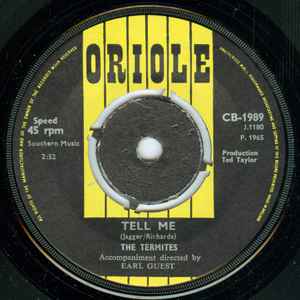 The Fabulous Four, "438 S. Michigan Avenue" (1968, Mystery 45 Sweden; original release August 14, 1964, UK Five By Five EP). Although this is titled "438 S. Michigan Avenue," it's obviously a cover of the fabulous 1964 Rolling Stones instrumental "2120 S. Michigan Avenue," named after the address of Chess Records in Chicago. It's also properly credited to "Nanker-Phelge," at least on the reissue compilation I have. While the Swedish group plays pretty tough garage rock on this cover, what really makes this stand out are the presumably overdubbed, downright deranged screams, cat-like yowls, and gunfire and car motor noises, which are almost more dominant than the music. At four and half minutes, it's considerably longer than the Stones original, too.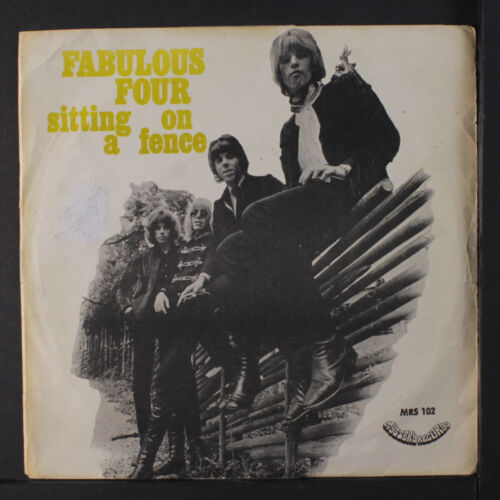 Otherwise, the Fabulous Four were a pretty bland, much more pop-oriented band, which makes it all the more astounding when the sixteen-song LP anthology I have ends with this blast. It's almost as if they were getting all of their repressed unhinged rock'n'roll energy out at once. Like the Bootjacks, they were probably pretty dedicated Stones fans, since the other side of this single was a routine cover of "Sittin' on a Fence," a song the Rolling Stones hadn't put on a UK release by this point (though they did put it on the US 1967 LP Flowers, and it had been covered in 1966 by the UK duo Twice As Much, who took it to #25 in the British charts). The name of the label on this 45, by the way, really was Mystery.
Thee Midniters, "Whittier Boulevard" (June 1965, Chattahoochee 45; original release August 14, 1964, UK Five By Five EP). They might have called it "Whittier Boulevard" and credited the songwriting to Thee Midniters, but this single by this outstanding Latino East Los Angeles group was really "2120 S. Michigan Avenue" in all but name. Sticking to the basic groove of the original, Thee Midniters did add muscular horns and infectious "areeba, areeba" shouts, as well as other miscellaneous screams and the spoken introduction "let's take a trip down Whittier Boulevard!"—the main drag of East Los Angeles. The parts where the song has a stuttering, emphatic instrumental chorus of sorts aren't found in the original, either.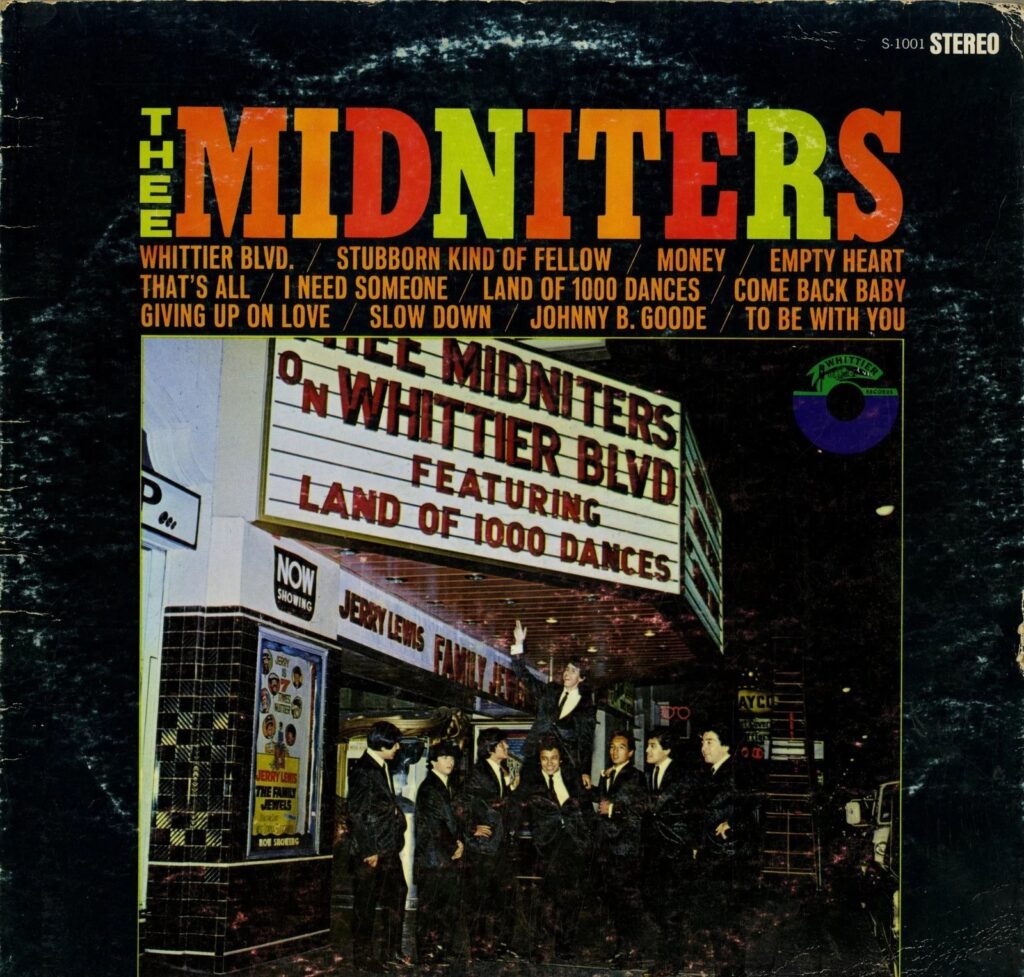 On another 1965 single, Thee Midniters also did a good soul-rock version of another song from the Rolling Stones' Five By Five EP (all five tracks of which were on the 12 X 5 LP in the US), "Empty Heart," with a stomping beat and marching band-like horns. (That cover is detailed in the Undercover book.) Thee Midniters—that is the correct spelling, with a "Thee"—covered a lot of ground in their career, mixing soul, rock, garage, and some Latin music, though they didn't get heard much outside of Los Angeles. They were the best Latino rock band before Santana. For their story, you can check out the chapter on the band in my book Urban Spacemen and Wayfaring Strangers: Overlooked Innovators and Eccentric Visionaries of '60s Rock.
The First Four, "Empty Heart" (November 1965, Claridge 45; original release August 14, 1964, UK Five By Five EP). For a song that was just on an EP in the UK and an LP in the US, "Empty Heart" got a fair number of cover versions. Nine are listed in the huge '60s garage rock discography TeenBeat Mayhem!, including the ones by Thee Midniters and this one by a group from Drexel Hill, Pennsylvania (near Philadelphia).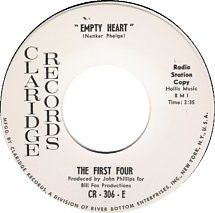 An entirely different outfit from the Swedish Fabulous Four noted in a prior entry, they slow the song down a little and seem to be taking it a little more seriously than the Stones, whose original was (in a good way) a bit sloppy and tossed-off, especially in the vocal harmony department. Most notably, the First Four add a soul-like section in the middle where the lead singer urges the others to "bring it on down." A few other drawn-out lyrics are added in this section that aren't in the original, though the songwriting credit properly read "Nanker-Phelge."
Ian & the Zodiacs, "So Much in Love" (May 1965, Philips 45; original release by the Mighty Avengers in August 1964). In their early days as composers, Mick Jagger and Keith Richards "gave away" some songs to others to record that the Rolling Stones didn't or hadn't yet put on their own records, though Stones demos of some ended up on the 1975 Metamorphosis compilation. Unlike John Lennon and Paul McCartney's giveaways, not many of these were hits, with exceptions like Marianne Faithfull's "As Tears Go By" (later of course a Top Ten US hit for the Stones themselves) and Gene Pitney's "That Girl Belongs to Yesterday." All of the Jagger-Richards giveaways not issued by the Stones in the '60s are covered in Undercover, including "So Much in Love," originally recorded by the Mighty Avengers, who did get it into the British charts at #46.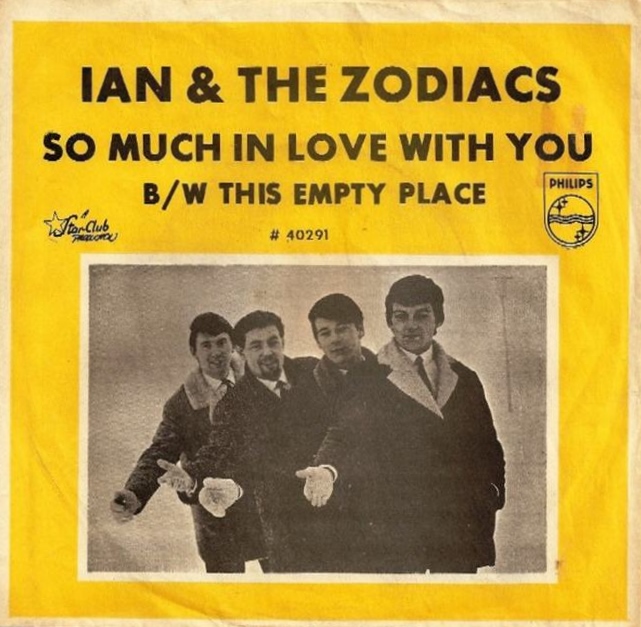 For a rather average number aptly described in Undercover as "one of Jagger-Richards' most convincing attempts at writing a Mersey-style Beat song," "So Much in Love" got a good number of covers. As noted in this post's intro, the Swinging Blue Jeans did one in 1965 on the BBC. British group the Herd tried with a somewhat harder rocking and more soul-influenced arrangement in 1966, though before Peter Frampton joined that band for their late-'60s British hits. So did Ian & the Zodiacs.
Although they were one of the better Merseybeat groups, Ian & the Zodiacs didn't have much luck in their own country, and actually got more records released in the US and Germany. Their version is a little better and certainly more lively than the more ponderous one by the Mighty Avengers, as they take it with a notably brisker and Mersey-ish tempo. Oddly, it was titled "So Much in Love With You" for their single. Also incidentally, though the song "The Crying Game" is primarily identified with Dave Berry (who had a #5 hit with it in 1964 in the UK), Ian & the Zodiacs' version is better, with distinctive tone pedal guitar.
Patti Smith, "Time Is On My Side" (1977, Stoned I Never Talked to Bob Dylan bootleg LP; original release January 15, 1965 on the UK LP The Rolling Stones No. 2). This is taking some liberties as "Time Is On My Side" was definitely not written by the Rolling Stones. It was written by Jerry Ragovoy under the pseudonym Norman Meade, and first done as an instrumental by noted jazz trombonist Kai Winding. With additional lyrics by Jimmy Norman (although Ragovoy disputed this contribution), it was done as a gospel-flavored soul song by the great New Orleans singer Irma Thomas. That, and not Winding's, is the version through which the Stones learned the song.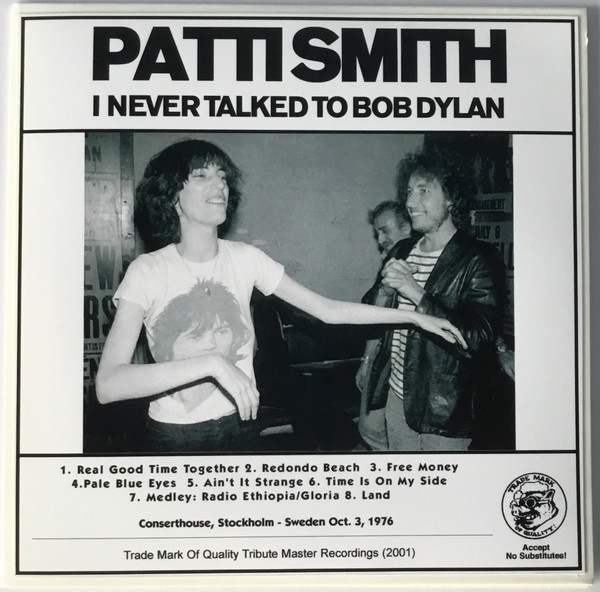 Nonetheless, it's the Stones' version that is by far more well known, giving them their first US Top Ten single in late 1964. And the Stones' version—the one starting with an extended guitar solo that appeared in the US on their first greatest hits collection (Big Hits) in 1966, not the organ-led one that was on the 45—is definitely the one on which the Patti Smith Group modeled their arrangement. There are several live '70s Smith versions floating around, but the most well known one was recorded in concert in Stockholm on October 3, 1976, in part because it was also filmed for television. It's been on several bootlegs, and I think the 1977 one titled I Never Talked to Bob Dylan (on the Stoned label) was the first.
Her take isn't too different from the original, though more oriented toward '70s hard rock, and of course featuring her distinctive vocals, sometimes shouted as much as sung. The spoken bit in the middle is kind of different and improvised, too, as it was on some of the other classic rock songs she covered. There's also a live version from October 21, 1976 recorded in Paris on the B-side of the official French single release of "Ask the Angels" in 1977. One way to distinguish the two is that she gives a shout-out to the Stones at the end of the Stockholm performance, but a shout-out to the MC5 in Paris.
Napoleonic Wars, "The Singer Not the Song" (January 1967, 20th Century Fox 45; original release October 22, 1965 on B-side of "Get Off of My Cloud"). This group from the Pittsburgh, Pennsylvania suburb of Greensburg were among the few acts to tackle this relatively obscure Jagger-Richards composition, used as the B-side of "Get Off of My Cloud" in the UK and on the December's Children LP in the US. As a rather folky number with harmonies, it was also rather atypical of what Mick and Keith were writing by late 1965, and one of the final gasps of the Merseybeat influence on some of their early compositions.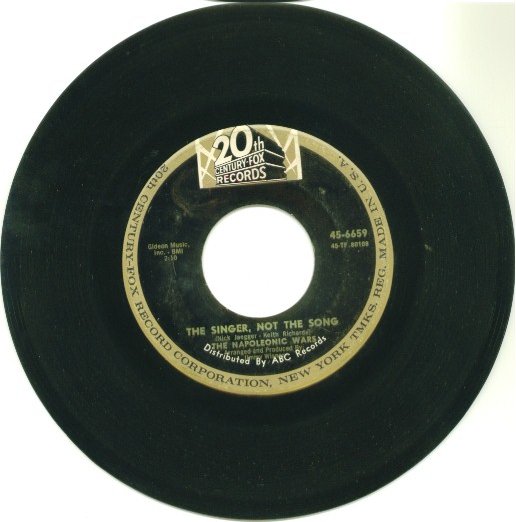 This was the second of Napoleonic Wars' pair of rare 45s, and while the Stones' original has been criticized for some off-key guitars and vocals, this group takes it more seriously. Taken at a slightly higher key than the original, the delivery is accomplished and heartfelt, with an organ (and in the instrumental break, brief plunking piano notes) not heard in the Stones' arrangement. They also go into a higher key for the final verse. It's not a radical reinvention, but it's a pleasingly straight and sincere cover of a relatively neglected early Stones song, which Alex Chilton did on a 1977 single (covered in Undercover) to far greater attention.
Rotary Connection, "Lady Jane" (February 1968, Cadet Concept LP; original release February 4, 1966 on the UK Aftermath LP). I'm a little surprised this didn't make Undercover, and I'm guessing it's because a couple other Rolling Stones covers by this Chicago psychedelic soul group did. "Lady Jane," however, is the best known of their Stones interpretations. And it's quite different from the original, with a lengthy classical instrumental introduction with high operatic vocals that sounds like it's from an entirely different song.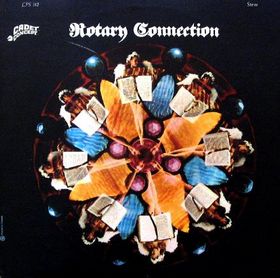 The bulk of the track, however, gives the actual "Lady Jane" song a distinctive and dramatic orchestral baroque-classical-rock treatment. Those stratospheric high vocals are by Minnie Riperton, seven years before she had her huge hit solo single with "Loving You." Remarkably, a clip of the Rotary Connection performing (actually miming) the song on local Chicago television in the late 1960s has surfaced–recently, I think, since I only found it a few months ago.
Blondie, "My Obsession" (2016, RoxVox CD The Old Waldorf, SF CA 21 September 1977 Early and Late Shows; original release Between the Buttons LP, January 20, 1967, UK). One of quite a few outstanding songs on Between the Buttons that's underrated and not terribly well known to most of the public, "My Obsession" was a most unpredictable cover choice for Blondie. Although they didn't put it on their records, they even led off the early set of their concert with it at the Old Waldorf in San Francisco on September 21, 1977.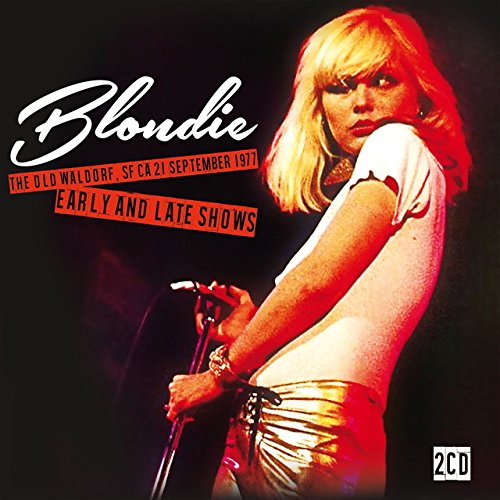 As you'd might expect, they speed and fuzz it up, with a clangorous climax. In fact, the drumming's so fast that it teeters on collapsing on itself. Like Patti Smith's "Time Is On My Side," the biggest point of interest is the difference between Jagger's original vocal and Debbie Harry's. Blondie probably didn't endorse this live CD, but it's been reasonably available since 2016.
The End, "Loving Sacred Loving" (January 1968, Sonoplay 45, Spain). It's not so well known outside of serious Stones fans, but Bill Wyman wrote a fair number of songs that were recorded in the 1960s, and sometimes released. The only one the Rolling Stones issued was "In Another Land," a genuine highlight of Their Satanic Majesties Request album that even made the bottom reaches of the Top 100 as a single billed to Bill Wyman. The Stones did record a couple other of his compositions in the '60s, but "Downtown Suzie" only saw the light on Metamorphosis in 1975. The other, the routine R&B-rocker "Goodbye Girl," was recorded in 1964, but remains unissued, although it's long circulated (with Jagger on lead vocals) on bootleg.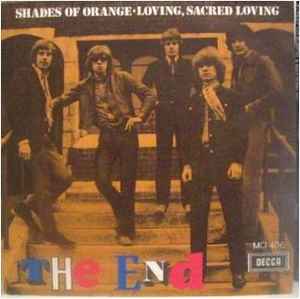 Some other Wyman compositions, however, were recorded and sometimes released by other artists. None of them were hits, and in fact they're pretty rare. They include a 1965 B-side by the Cheynes, who for a while had Mick Fleetwood on drums. Wyman sometimes wrote with Pete Gosling of Moon's Train, and there's a whole CD of Moon's Train material, cut between 1965-67, with a bunch of their collaborations.
Why hasn't there been a CD compilation, Moon's Train aside, of the songs Wyman wrote for others in the 1960s? Well, they're not very good, unfortunately. "In Another Land" doesn't seem so much like a sign of untapped potential as an outlier. But Wyman was involved in writing some better psychedelic-flavored material for The End, who evolved from Moon's Train, and had one Wyman-produced album, 1969's Introspection.
Introspection has some cult followers, but I'm not too big on the LP. The exceptions are two songs that appeared on singles by The End in early 1968, particularly the first of these, "Loving Sacred Loving." Although Wyman doesn't sing or play on it, or even wholly write it (collaborating with Gosling), this is the kind of thing you'd expect more of from the guy responsible for "In Another Land." It's beguiling woozy psychedelic pop, with a near-hypnotic haunting melody, and shifts between eerie meditative passages and full-out rock ones – again, like "In Another Land." Tightening the thread to the Stones, Nicky Hopkins is on harpsichord.
"Loving Sacred Loving" hasn't been too hard to get in the CD era, with full reissues of material by the End, though it's hard to say what's available at any given time. Although it was first released as a single, it was also on Introspection, which also includes "Shades of Orange" (see below).
The End, "Shades of Orange" (March 1968, Decca 45, UK). Similar to but not quite as impressive as "Loving Sacred Loving," this is another Wyman-Gosling co-write. It's got more of the whimsical child-friendly bounce you associate with the lighter end of British psychedelic pop, and sounds closer to the kind of psychedelia of early Pink Floyd when Syd Barrett was their leader, though not as good. Wyman's made clear his love for the blues and R&B, but based on "In Another Land" and the two End singles, for a brief time he seemed quite influenced by Sgt. Pepper-era British psychedelia.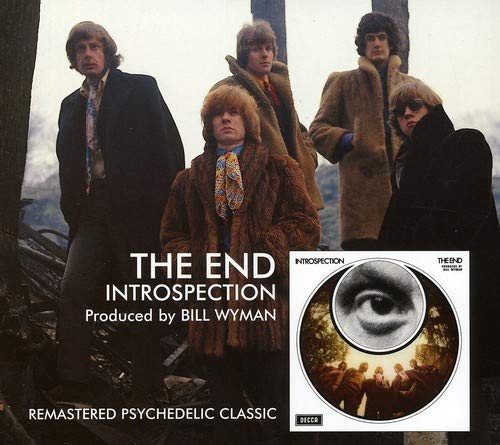 And an honorable mention to:
The Score, "Please Please Me" (November 1966, Decca 45, UK). "Please Please Me," of course, is a Beatles song, not a Rolling Stones one. So what's it doing here? Well, this heavy mod-rock makeover of the Beatles' first hit ranks as one of the most imaginative '60s Beatles covers. In part that's because it wittily, and briefly, quotes the famous main fuzz riff from "Satisfaction" near the end without overdoing it. Not much info has circulated about this London group, who only recorded this one single, which flopped at the time, but fortunately has been reissued on numerous compilations of rare '60s British psychedelia.