There wasn't any particular trend in the rock books I liked well enough to list here from the past year, except that there were a lot of them. Biographies, memoirs, genre overviews, journalism-on-rock-journalism, oral histories, volumes on non-rock musicians who made some impact on rock and pop—all are represented below. And there were quite a few others I read, or gave a try, that I didn't think good enough to make the cut.
I still ended up with nearly 25 books worth writing about, plus about half a dozen from 2016 I didn't read until the following year. One slight oddity is that in all four of the annual book lists since I've started this blog, the #1 choice has gone to a British author, as it does in the volume that leads off my 2017-best of.
1. Roots, Radicals and Rockers, by Billy Bragg (Faber & Faber). Subtitled "How Skiffle Changed the World," on its most valuable level this serves as a fine history of skiffle, the peculiarly British mixture of folk, blues, country, and DIY amateurism that helped revolutionize UK music in the 1950s. More subtly, this connects the dots linking skiffle to previous roots music movements (in the decade following World War II) in the country's traditional jazz revival, and to the first generation of British rockers it helped inspire, first in the late 1950s and then (far more meaningfully) in the mid-1960s, when teenagers who'd graduated from skiffle to rock launched the British Invasion. Such links aren't always so easy to hear in skiffle itself, especially to American ears, to whom trad jazz and skiffle sound both unlike British Invasion music and rather tame when compared to the best US jazz, blues, and folk.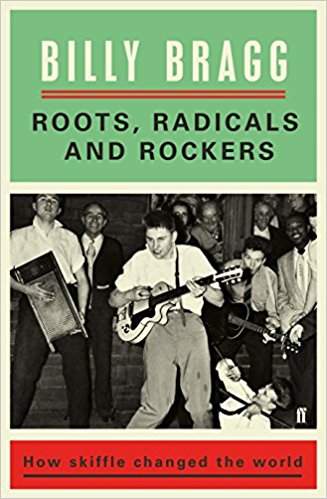 But whatever you think of skiffle (and I—as one of the few Americans, I'm guessing, who owns a skiffle box set—am not much of a fan), this is an interesting and well written document of a revolution that was both social and musical. Bragg also draws in the rise of the British teenager, the stirrings of a British folk revival, the emergence of television, and other non-strictly-skiffle subjects without either detouring from or overextending the reach of the book's main subject. Although Bragg's more known as a musician than a writer, it's a serious volume that (unlike many books by celebrities) is not inappropriately self-referential and is diligently researched, even if many of skiffle's key figures are no longer alive to be interviewed. It deserves the wide acclaim it's received, though if you like it, be aware you should also check out Pete Frame's The Restless Generation (Rogan House, 2007), a fine hefty volume that takes a wider view of 1950s British music.
2. In the Midnight Hour: The Life & Soul of Wilson Pickett, by Tony Fletcher (Oxford University Press). Until this book, Wilson Pickett was one of the few remaining giants of soul music who hadn't been honored with a decent biography. This is it, Fletcher doing his expected good job in interviewing plenty of associates, researching Pickett's recordings in depth, and giving more detailed description of the singer's records and music than most soul biographers do (even of the turkey discs Pickett cut after the early 1970s). Although he had a volatile personal life and temper, Pickett's life wasn't quite as interesting and dramatic as some of the legends he approached but didn't match in influence, like James Brown, Otis Redding, and Aretha Franklin. Yet if his story isn't as epochal, it's not apt to be told better than it is here. For those (like myself) who notice such items, the two eight-page spreads of pictures are better than average than they are for such things, including some seldom seen photos of Pickett in the studio, onstage, and with family.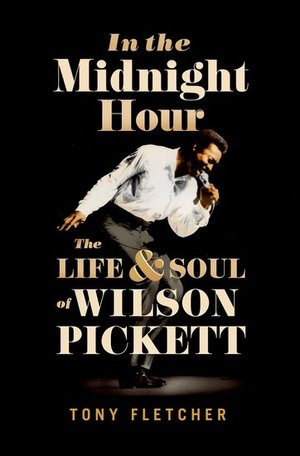 3. Spider from Mars: My Life with Bowie, by Woody Woodmansey with Joel McIver (St. Martin's Press). Woodmansey was the drummer in David Bowie's band the Spiders from Mars for about three years at the beginning of the 1970s—still the most celebrated period of Bowie's career. From the larger-than-average size of the type, I was braced for the kind of superficial memoir you get from many notable associates who weren't stars. But this is a pretty good breezy read, justly focusing on those Spiders from Mars years, though there's some background on his earlier experiences and a bit on the post-Bowie times. He could be bitter considering he was unceremoniously dumped from the Spiders right after Bowie's short-lived "retirement" in mid-1973, and given the news on his wedding day. But he looks back on the era with equanimity, and goes over almost all the Bowie records on which he played track by track.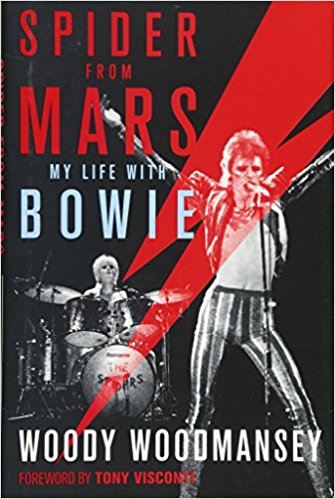 Refreshingly, Woodmansey also has quite a bit to say about how he played drums on these, changing his style to integrate himself into the songs (and Bowie's own swiftly mutating personas) as suitable. There's some sex (and yet less drugs), but the spotlight is very much on the music and their fairly fast, though hard-earned, rise to stardom. The sections on his post-'70s activities (including a reunion with bassist/producer Tony Visconti as part of a sort of The Man Who Sold the World tribute band) aren't very interesting, but the great bulk of the book is directly Bowie-related, and is recommended reading for Bowie fans.
4. Soul Survivor: A Biography of Al Green, by Jimmy McDonough (Da Capo). A la the Wilson Pickett bio reviewed above, it's hard to believe this is the first decent book on this soul giant. In part that's probably because Green's life is daunting to research given his enigmatic behavior; the proliferation of murky incidents dotting his history; and the inaccessibility of the still-living Al himself, who did not grant interviews for this volume. McDonough did speak with many people who've worked and known Green, however, including many involved in the Hi record label for which he cut the hit records for which he's most famed.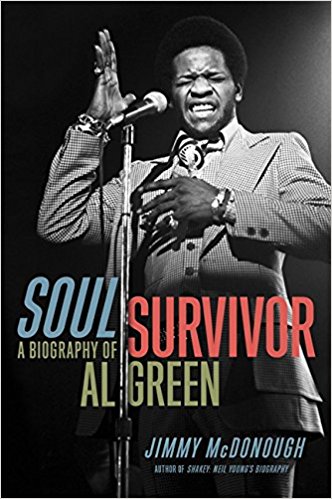 It's a story full of many twists and achievements that are hard and sometimes impossible to unravel, given the many different accounts and perspectives given by associates and Green himself. As is proper, his post-'70s work gets much less space than his prime, though McDonough does not, unlike many biographers, make excuses for or build up his subject's many subpar post-peak records. Sometimes the author's style is overly flippant and glib; otherwise this might have ranked higher on this list. But this is a very interesting and deeply researched book, covering his move into gospel and preaching, and his complicated relationships (including comprehensive reporting of the incident in which a woman scalded him before shooting herself) as well as his music.
5. Peggy Seeger: A Life of Music, Love, and Politics, by Jean R. Freedman (University of Illinois Press). Although she's seldom gotten attention from the pop mainstream, Peggy Seeger's had a pretty interesting life, as well as doing significant music as part of the first family of sorts of American folk, also including half-brother Pete and brother Mike. Written with access to Peggy, this is a thoroughly researched account of her improbable journey, in which she spent much of her life in the UK as partner to Ewan MacColl, a key figure in the British folk revival. Unlike a good number of thoroughly researched accounts on university presses, it's also a pretty accessible, entertaining read, without sacrificing depth of detail and analysis.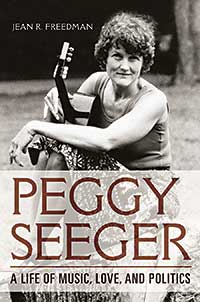 The child of musical academics who played their own large parts in popularizing folk music, Seeger left Radcliffe to travel around Europe and perform after growing up in a more or less middle-class household – itself pretty unusual for a young woman in the mid-1950s. Happenstance led her to London and an affair with then-married MacColl, culminating in her becoming a British citizen and spending most of the next few decades abroad. Her story's interesting enough on musical terms, which found her performing the original version of MacColl's "The First Time Ever I Saw Her Face" (inspired by Seeger) and writing a well known feminist anthem, "I'm Gonna Be an Engineer." But it's also notable for its many intersections with currents that helped shape the music and culture of the 1950s and 1960s, including the staunch leftism and sometimes off-putting musical purism of the British folk revival; the harassment undergone by many US musicians for their left-wing associations; the couple's use of radio to tell stories of the working class mixing music and social commentary; and her celebrated colorful, if sometimes instable, family life, both before and during her relationship with MacColl.
Inevitably, the story gets less interesting in the last third or so of the book after the early 1970s, when the folk revival's influence and audience shrank. I also would have liked more coverage of Seeger and MacColl's relations with record labels, which saw Peggy record (with MacColl and on her own) an astonishing wealth of discs that continues to the present day. On the whole, however, it's a high-quality biography that's superior to Seeger's disappointing memoir, which appeared later in 2017.
6. American Witness: The Art and Life of Robert Frank, by RJ Smith (Da Capo). Strictly speaking, this isn't a music book, as Robert Frank is a photographer and filmmaker. However, his work did overlap significantly with the musical world, most notoriously in his still-officially-unreleased documentary of the Rolling Stones' 1972 American tour, Cocksucker Blues. He also co-directed a 1959 short based on beatnik life (including Allen Ginsberg), Pull My Daisy, that had music by jazz musician David Amram. And a more obscure 1988 film he co-directed, Candy Mountain, had a music-centered plot, with a cast including Tom Waits. He remains most known, however, for his photography, especially his late-'50s book The Americans, but also for his work used on the cover of the Rolling Stones' Exile on Main Street.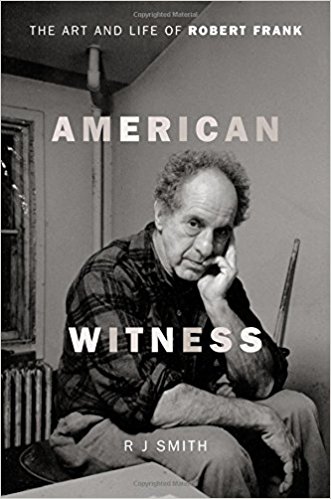 Now that my first paragraph's justified its inclusion, it's time to emphasize that it's a very good book, especially given that Frank has been pretty reticent about reflecting on his career in the media (and did not grant interviews to the author of this volume). It's extensively researched, however, and for the most part gripping, starting with Frank's difficult youth and early adulthood as a Swiss Jew during World War II. Frank made a career out of doing the unexpected and uncommercial, and was an innovator both in his gritty techniques and in choosing unconventional subjects that often did not reflect on the United States in a flattering manner. While his years as a filmmaker did not match his photographic work in influence, these too were idiosyncratic and iconoclastic, sometimes apparently in willful avoidance of putting his professional livelihood on a steady footing.  As a reminder that it could be rough sailing in the publishing world almost sixty years ago, The Americans, now considered a core classic of photography, was remaindered the year following its initial release.
If you're more interested in his work with the Stones than anything else, that's covered in much detail here, though it's just one section of a lengthy book. It is interesting to hear speculation that Cocksucker Blues was not released because the Stones were concerned that its depiction of drug use would imperil Keith Richards at a time when he was in danger of going to jail in Canada on drug charges. (It should be noted that Frank had been working on the 1972 footage for almost five years at that point, and might have stood a better chance of getting it into circulation had he kept to a more conventional schedule.)
Bill Wyman, not known as the most colorful interviewee in the Stones, had this refreshingly irreverent take on the matter (quoted in the book with attribution, though not from one of the author's interviews): "I thought it was a piece of shit, actually. It was so amateur and poorly done. I just couldn't relate to it. [Robert Frank] was obviously just looking for anything sensational. That's why me and Charlie [Watts] are hardly in it, because we weren't sensational. All the good bits, I thought, were cut out. It was just like a poor home movie, shot badly."
The book as a whole, however, is likely to be appreciated by many people with an interest in the visual arts and popular culture, not just Stones fans. Here's one thing it does have in common with many popular music books, however. It kind of peters out in the final sections, as Frank (still alive at the age of 93 at this writing) hasn't done too  much in the past few decades, and the narrative gets both less interesting and jumps around more loosely between different eras and disparate events. This isn't that huge an error, but it's also unfortunate it repeats the too-often-stated-as-fact myth that the Stones were performing "Sympathy for the Devil" when a murder took place at Altamont (they were actually doing "Under My Thumb").
7. Psychedelia: 101 Iconic Underground Rock Albums 1966-1970, by Richard Morton Jack (Sterling). An engaging, finely designed 250-page coffee table survey of top psychedelic rock LPs. Each of the 101 albums gets a two-page spread of its own, with a detailed one-page review and a nearly full-page reproduction of the LP under discussion (with the back covers sometimes reproduced as well). There are also plenty of uncommon photos and ads, some from the author's own extensive personal collection.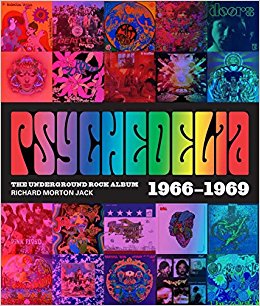 As the introduction acknowledges, whittling down such a fertile genre to a mere 101 selections is bound to stir the ire of psych-heads, all of whom would pick different favorites. But it should be stressed that in addition to expected classics like Sgt. Pepper and The Doors, the book also features a great number of obscure albums that are virtually ignored by all other histories of the period getting published around the 50th anniversary of the summer of love. Blossom Toes, Silver Apples, Mad River, the C.A. Quintet, Tomorrow, the Deviants, and H.P. Lovecraft are all here, as are some even more obscure acts like the David, Ill Wind, and Dragonfly. There are also a few picks from outside the US and UK, like the Churchills (Israel), Traffic Sound (Peru), Os Mutantes (Brazil), and Group 1850 (Holland).
The book's greatest virtue is not its admirably wide-ranging coverage, but its crisply written histories of these records, which combine enthusiastic description and astute critical appraisal. The author draws upon a wealth of vintage quotes from dozens of publications, some quite hard to find and rarely cited by other critics, such as Mojo Navigator, Top Pops, Flower Scene, KRLA Beat, and Fusion. There's also first-hand material from interviews he conducted with dozens of the musicians. Special sections on UK/US music publications of the time, the best non-LP psychedelic singles, late-'60s rock festivals, and psychedelic rock on film add to the fun. No doubt many would wish Richard Morton Jack was able to pick 201 or even 1001 psychedelic LPs, or at least that he has the opportunity to do a sequel. As it is, however, Psychedelia pulls off the rare feat of both serving as a fine introductory survey of many (if hardly every) notable psychedelic albums, and entertaining and offering some new information even to acid rock experts. (A longer version of this reissue appears in issue #45 of Ugly Things.)
8. Otis Redding: An Unfinished Life, by Jonathan Gould (Crown Archetype). There were a couple previous biographies of Redding, one of them (Mark Ribowsky's Dreams to Remember: Otis Redding, Stax Records, and the Transformation of Southern Soul) just a couple years older than this one. (See #16 in http://www.richieunterberger.com/wordpress/top-twenty-rock-history-books-of-2015/ for my review of that.) So could there be that much more to add? No, but this does have some pluses over Dreams to Remember, with some more depth (running about 500 pages) and very detailed, acute critical description of Redding's records.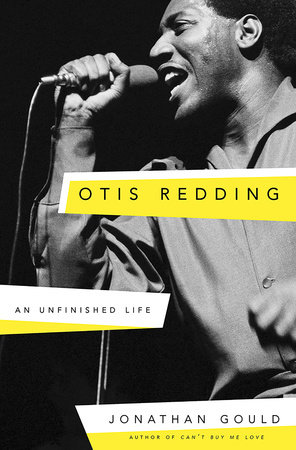 There are some minuses, too. The earlier parts of the book are overcontextualized, with a lot of passages about the general history of R&B, soul, and southern black life that don't refer to Otis at all, and could have been removed or trimmed way down. There are entire (albeit short) chapters, for instance, on Ray Charles and Specialty Records, and these subjects aren't such a strong part of Redding's story that they deserve those sections. Fortunately, the book focuses more and more on Otis as it progresses, and almost solely on the singer for the most interesting part of his life, when his recording career picked up steam in his last few years. The only real dirt not widely known (though it has come to light elsewhere as well) is Redding's involvement in a 1964 shooting that could have led to an attempted murder charge. This is detailed but not sensationalized, the text properly concentrating on his music and professional accomplishments.
9. Byrds: Requiem For the Timeless Vol. 2, by Johnny Rogan (Rogan House). If you thought Johnny Rogan's epic 1200-page Byrds: Requiem for the Timeless Vol. 1 was the last word for the matter, think again. For Requiem for the Timeless Vol. 2, Rogan combines six biographies of varying length into one, devoting different sections to the lives and pre- and post-Byrds careers of the members who are no longer alive: Gene Clark, Michael Clarke, Kevin Kelley, Gram Parsons, Clarence White, and Skip Battin. It runs to 1248 pages – and that's not a misprint, although the last 200 are taken up by an extensive discography and index. It should come as no surprise to those familiar with Rogan's work (also including large volumes on Van Morrison and the Kinks/Ray Davies) that it's a thorough enterprise, drawing on scores of first-hand interviews and unearthing quite a bit of obscure information and perspectives.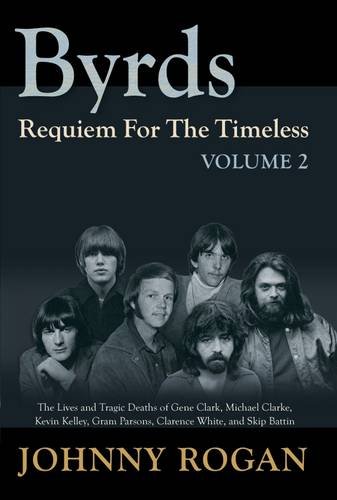 The most interesting parts, alas, are the ones falling closest to when these guys were actually in the band. Gene Clark has the longest of the six chapters – it's a full book in itself, really, at 400 pages – and it's the best section, covering his pre-Byrds days in the New Christy Minstrels and his many solo projects. Clark fanatics will be fascinated to hear of unreleased tracks like "Don't You Know What You Want" (demoed for CBS, but never released, by girl duo the Cookie Fairies in spring 1966) and the apparently different 1965 song "That's What You Want," demoed by Gene himself in a solo acoustic version. Everyone will be dejected to read his long spiral into commercial obscurity and health problems, culminating in an early death in 1991.
Gram Parsons has been covered extensively in other books and documentaries, but Rogan does add some spice to Gram's story with a lot of details on the guitarist's myriad of pre-Byrds projects, as well as unexpected associations like a session the embryonic Flying Burrito Brothers did with Jesse Ed Davis. There's also the dirt on an uncompleted Melcher-produced early-'70s Parsons solo album, during which Melcher threw up in A&M executive Jerry Moss's brand new custom-made Yamaha piano. Clarence White has not been as extensively documented, despite gaining his own cult following for his country-rock guitar work. Rogan again fills in a lot of blanks about his pre-Byrds days, transition from bluegrass to electric rock, and personal life, which like Parsons's ended prematurely in 1973.
There's less to say about the creativity of the other three Byrds covered. Original drummer Michael Clarke didn't write much for the Byrds or sing, though he comes off as an affable happy-go-lucky sort whose drumming was underrated. Kevin Kelley, drummer for much of 1968 (and the Sweetheart of the Rodeo album) before pretty much vanishing from the public eye, is granted the slimmest portion of text, though there's still room for plenty of interesting stories about the Rising Sons (where he played alongside Taj Mahal and Ry Cooder and was produced by Terry Melcher).
Skip Battin, Byrds bassist from 1969-73, might be the least popular member of the group among fans, in part because the songs he wrote for them (some composed with Kim Fowley) were often considered ill-fitting or subpar. Yet his chapter is more interesting than you might expect, in large part because much of it's devoted to his tangled and quite unusual pre-Byrds history. After a couple hits as part of Skip & Flip in the late '50s and early '60s, he—like, in a different way, Kim Fowley—spent a decade throwing a smorgasbord against the wall in hopes that a plate or two would stick, including some mid-'60s folk-rock with Steve Young and Van Dyke Parks; a short-lived band with ex-Leaves guitarist Bobby Arlin; and a weird late-'60s LP with Evergreen Blueshoes.
All six of these Byrds' demises are recounted in detail, and that's part of the reason this isn't as engrossing, or certainly as uplifting, as part one of Rogan's Byrds history. This isn't solely because reading about unchecked substance abuse and its morbid consequences can make for tough, even glum reading. Save for White (killed by a driver while loading equipment in 1973) and Parsons, these guys spent literally decades playing a post-Byrds bar band/nostalgia circuit (sometimes as part of dubious semi-Byrds reunion/tributes), issuing poorly distributed indie records barely anyone heard, and coping with drastically dwindling financial resources.
Rogan valiantly makes the best of some of their efforts, but it's simply not nearly as exciting to read about them as it is about the Byrds' remarkable accomplishments in the '60s. It's yet less exciting to plow through the hassles with club promoters, the squabbles over rights to use the Byrds name, and fights over the estates that also plagued some ex-members. Not as essential as its predecessor, Requiem for the Timeless Vol. 2 nonetheless digs up an abundance of material Byrds fans will judge essential, explicated by dozens of pages of footnotes, some of them quite fascinating in and of themselves. (My fuller review of this book appears in issue #46 of Ugly Things.)
10. In the Wings: My Life with Roger McGuinn and the Byrds, by Ianthe McGuinn (New Haven Publishing). As Roger McGuinn's girlfriend and then wife from the mid-1960s to the early 1970s, Ianthe McGuinn bore two of his children; knew all of his fellow Byrds, often attending shows and sometimes going to recording sessions; and encountered quite a few other Hollywood celebrities in the band's circle before the marriage ended. So her memoir's of considerable interest to Byrds fans, and thankfully not the catalog of complaints some other ex-rock spouses' books have been. Sure, the relationship was rocky; it ended after she caught McGuinn in bed with Roger's next wife at their road manager's home. But Ianthe is also appreciative of her ex's better qualities, including the music he made, which she often writes about in this appropriately concise volume.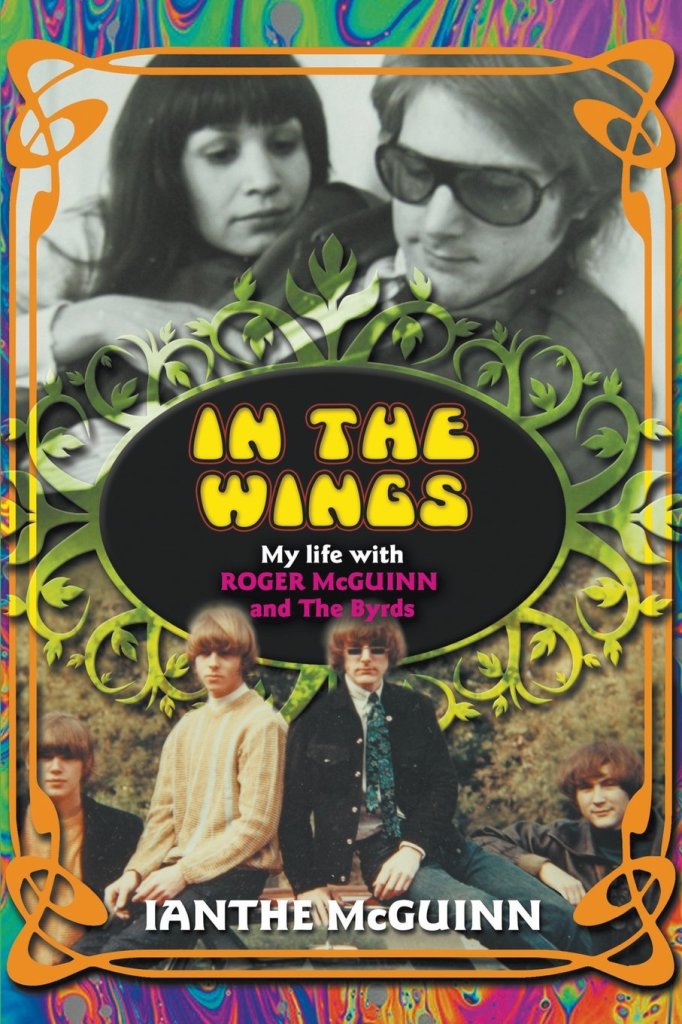 There's plenty of interesting trivia, from where the dialogue for "2-4-2 Foxtrot" was recorded to the revelation that "I See You" was written about a one-night stand McGuinn had with a young girl on the band's first British tour. But there's also useful insight from someone who knew McGuinn as well as anyone, and also knew the other Byrds and their managers pretty well. When Gene Clark left in early 1966, "David and Jim realized they had to become better collaborators. They jammed more frequently together, sharing song ideas, and they experimented musically with new influences." Shortly before Crosby was fired the following year, he "went on diatribes about songs-in-progress on [The Notorious Byrd Brothers], in full opposition of 'Goin' Back.' He was surreptitiously exerting his desire to be a leader in the band, wanting to have the final word." When Crosby was indeed fired shortly afterward, "I felt Roger [as he was by now known] had decided to take control of the group, and I could see that he was joyous."
Although the Byrds' post-Crosby years weren't as interesting as their mid-'60s peak, there are plenty of notable anecdotes from the band's (and the McGuinn's marriage's) latter years. Carl Sagan "was intrigued by Roger's use of space science and sci-fi in his songwriting," asking for Byrds albums in exchange for his book Intelligent Life in the Universe, but their management screwed up and didn't send the LPs. "Jesus Is Just Alright," one of their strongest tracks from their final years, "was a song that [producer] Terry [Melcher] had bought the publishing rights to," perhaps explaining at least in part why they recorded this gospel number (though Ianthe does not make this supposition). Coming across Ry Cooder in a line at the DMV, Ry told her, "I can't believe what the Byrds have done to Clarence White. His character has changed so much. All that drug use is really destroying his talent."
Dotted with previously unpublished photos of the McGuinns and the Byrds (though they'd benefit from sharper reproduction), In the Wings adds a valuable dimension to the Byrds' tale. I wrote a longer review of this book, and also interviewed Ianthe McGuinn, in issue #46 of Ugly Things.
11. Dusty: An Intimate Portrait of a Musical Legend, by Karen Bartlett (Lesser Gods). Although issued in the UK in 2014, this Dusty Springfield bio didn't come out in the US until 2017; I can only hope purists don't think I've committed the gravest of sins by thus putting it on this list. Like some other books on Springfield, this focuses more on her (largely gay) sexuality and less on her music than is optimum. But it does pay more attention to her music and recordings than those other volumes, with detailed descriptions of many (yet not all) of her best singles and albums. Some key musical associates weigh in with pretty detailed first-hand recollections, including Mike Hurst of the Springfields, Kiki Dee, Madeline Bell, and producers Jeff Barry, Brooks Arthur, and Kenny Gamble. So do some ex-lovers, including musicians Julie Felix, Carole Pope (of the group Rough Trade), and Teda Bracci (from the all-women '60s San Francisco group the Freudian Slips, though she and Dusty met much later), though not Norma Tanega, who was with Springfield for a few years in the late 1960s.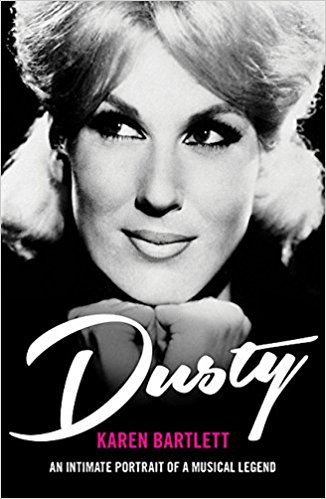 Naturally there's also quite a bit – perhaps a bit too much – on her tumultuous personal life, which saw lengthy struggles with alcoholism, mental problems, and general reckless behavior, particularly after the hits stopped coming and she moved to Los Angeles for much of the 1970s and 1980s. The bulk of the book, however, is on her pre-early '70s glory days. The chronology, though generally linear, sometimes wavers a bit, and the coverage of her '60s recordings has some gaps; it's unbelievable that a full-length book doesn't even mention "The Look of Love," which was both a pretty big US hit and one of her best tracks. Detailed critical description of Springfield's records, by the way, are available in Paul Howes's meticulous The Complete Dusty Springfield (published in 2001), which is recommended to serious Springfield fans.
12. Lightfoot, by Nicholas Jennings (Viking). I like Gordon Lightfoot, most particularly his early work, but he's never struck me as the most colorful character. If his music's anything to go by, he's solid, reliable, and a fine craftsman, but not too quirky or unpredictable. Those assumptions are mostly borne out by this biography, the first thorough one of this Canadian legend. Written with some first-hand input from Lightfoot (though the songwriter still seems fairly guarded and reclusive in what he's willing to reveal), this is a well-constructed survey of his career, though not likely to surprise or intrigue most non-Lightheads. It covers his beginnings as a struggling country-pop sort of singer to his emergence in the mid-'60s as a significant folk-pop-country singer-songwriter, which saw his most inspiring recordings, though he really didn't hit mainstream stardom until his big '70s hits. Those ("If You Could Read My Mind," "Sundown," and "The Wreck of the Edmund Fitzgerald") are written about in depth, and Jennings talked to a fair number of Lightfoot's associates for some perspectives on various eras.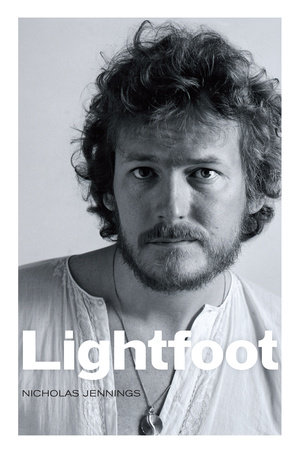 Still, I was hoping for some more unexpected stories about songs like "I'm Not Sayin'," along the lines of a passing note that Trevor Lucas toured with Lightfoot in Britain in 1966, perhaps explaining why Fotheringay did Gordon's "The Way I Feel" a few years later. His management by Albert Grossman (and certainly his parting of ways with Grossman) isn't much discussed, and more comments by his producers would have been welcome, if they had much to say. Nor is there anything, to pick on one example, on nearly three dozen demos (including a lot of material that would never resurface) that have circulated bearing a mid-'60s date. You do learn about his marriages and serious relationships, most interestingly a lengthy one in the early 1970s with Cathy Smith, most famous for her role in John Belushi's death (and previous associations with the Band).
In common with many a bio, it loses steam when Lightfoot starts to tread water after the '70s. For quite a few years (and in common with many a classic '60s/'70s rock musician), he's been a popular touring act, but has done little in the way of recording and composing. He almost died in the early 2000s (and was mistakenly reported to have died in 2010), but some detours into his passions for canoeing and (as a fan) auto racing make for less exciting detail. When you do make it into the 1980s, however, there's this priceless aside: "To clear the house after a concert by punk rockers X, staff at the Greek Theatre in Los Angeles once played Lightfoot's music over the sound system, emptying the venue in record time."
13. Rolling Stones On Air In the Sixties, by Richard Havers (Harper Design). Subtitled TV and Radio History As It Happened, this is a survey of the Stones' radio and television appearances from 1963-1969. There's at least some detail (even if it's just a few words and a listing) about every such known appearance around the world—not just the BBC, Ready Steady Go!, and Ed Sullivan, but local TV appearances in the US, French radio concert broadcasts, performances on Swedish and Australian TV programs, and the like. As a serious Stones fan I'm glad to have this, and the coffee table-sized book is designed well, with plenty of photos and memorabilia, some rare or previously unpublished. It's a rather peculiarly constructed volume, however, that I would have done differently.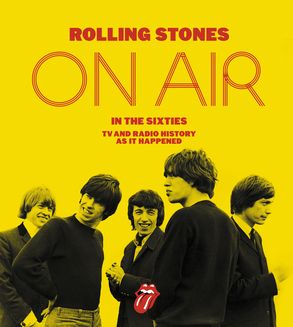 What such book wouldn't you have done differently, you're asking? Fair point, but the level of coverage of these many appearances is variable, and at times unsatisfactorily skimpy. Maybe the author hasn't been able to hear and see all of the rare material (it's hard to tell in some cases). But even for some long-bootlegged items like the Europe 1 Radio broadcast of their April 18, 1965 concert at L'Olympia Theatre in Paris, some more actual description of the performances would have been welcome. Although all of the performances (and songs the broadcasts contained) are listed at the end of each chapter, it's sometimes hard to tell whether specific songs were mimed or live. And unlike some reference-type books of this sort, it's not organized in strict chronological order with individual entries for each appearance, leading to some mildly confusing back and forth between dates and locations.
The audience for a book like this is limited, but of course if even a small percentage of Stones fans are interested in the subject, that's a bigger readership than the entire audience for many bands. And I do value learning about things like a March 18, 1964 live broadcast for Radio Luxembourg of more than a dozen tunes that included a song for which no Rolling Stones version circulates (Bo Diddley's "Pretty Thing"), or that Brian Jones and Mick Jagger talked about "Jumpin' Jack Flash" on a few Radio 1 shows, though again you're left hungry for more info about many such rarities. The most notable graphics, incidentally, are reproductions of correspondence from the BBC, including some snarky remarks from early in their career indicating that institution would have been glad to bar them from the airwaves had they not been so popular with teenagers. A particularly telling November 26, 1964 memo from the BBC's Patrick Newman states, "The agent of the Rolling Stones (Eric Easton) is a jolly nice helpful fellow (who appears to have bitten off more than he can chew in handling this group), whereas the agent for the Animals (Don Arden) is a thoroughly naughty man."
14. The British Underground Press of the Sixties, by James Birch & Barry Miles (Rocket 88). This handsome hardback is basically a catalogue for an exhibition of covers of British '60s underground papers at London's A22 Gallery in 2017, though with more content and higher production values than many such catalogues boast. It features covers of every issue of some of the most famed underground papers, including Oz, Friends, the related Frendz, the more obscure Ink and Gandalf's Garden, and the most famous by far of all of these, International Times (commonly known as IT). Some covers of the yet lesser known Black Dwarf are also here, along with some covers of, to quote the back cover, "the major adult comic books that grew out of the underground press: cOZmic Comics and Nasty Tales."
While the bulk of the book's given over to high-quality reproductions of those covers, there are also a few pages of text introducing the section for each paper. These are penned by the biggest authority of all on the topic, Barry Miles, who was heavily involved with International Times as an editor and writer. Inevitably some of his commentary overlaps with his memoir In the Sixties (an expanded edition of which was also just published by Rocket 88, and is reviewed elsewhere in this roundup), particularly in the IT chapter.
The focus of The British Underground Press of the Sixties, however, is on the covers, not the history. Those covers were sometimes psychedelic, sometimes messy, and sometimes garish, but almost always interesting, rather like the rock posters of the era, though they weren't as classy. Sprinkled among the covers are a few interesting inserts (like the one in a January 1968 Oz advertising Yoko Ono's Film No. 4) and posters (such as one in an October 1970 Oz for Jimi Hendrix by Mike McInnerney, who did the illustration on the cover of the Who's Tommy). Appendices reproduce graphics and documents from IT and Oz, like a flyer for the Roundhouse launch concert for IT in late 1966 with the Soft Machine and "the Pink Ffloyd" [sic]; a poster for an "Oz obscenity fund benefit" featuring Traffic and Alexis Korner; and an Apple Records ad for the Elastic Oz Band single to help with Oz's legal fees, in which John, Yoko, and Ringo participated.
What this book doesn't feature are reproductions of the articles themselves, many of which included interviews with major and minor rockers that can now be difficult to access, even if IT and Oz are fortunately now archived online. Wouldn't you love, for instance, to be able to read the story on the seldom-covered Sandy Bull in the October 16, 1970 Friends? Here's hoping this well done catalogue/book hybrid inspires some other magazines to establish archives, bolstering the visibility of an underground press that, as Miles concludes in his introduction, we need "now more than ever." (My fuller review of this book will appear in issue #47 of Ugly Things.)
15. Lou Reed: A Life, by Anthony DeCurtis (Little, Brown). On its own terms, this 500-page biography is a decent book, written by a longtime rock journalist who knew Reed, though he doesn't falsely position himself as a close buddy. The author interviewed a few dozen people, some who worked closely with Lou, and some of whom haven't talked much or at all about their experiences with the man, like Richard Mishkin (who was in a college band with Reed and occasionally filled in with the early Velvet Underground); Eddie Reynolds, guitarist in the Tots, who backed Reed onstage in his early solo career; and writer Rob Bowman, who had typically frustrating experiences with Reed when they collaborated on a box set. Every phase of Lou's career is covered, though the Velvets aren't investigated as thoroughly as they are in some other books, and there are some intensely detailed track-by-track overviews of post-mid-1970s albums that don't interest me as records.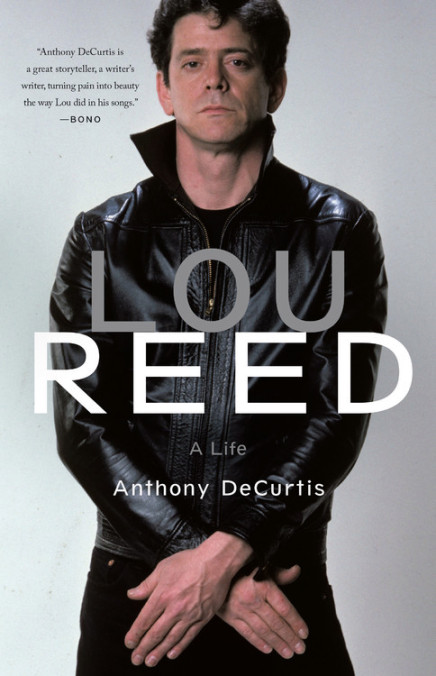 This isn't as good, however, as the first major Reed biography following Lou's death, Howard Sounes's Notes from the Underground: The Life of Lou Reed (issued a couple years ago; see #3 on my post for top twenty rock history books of 2015). That book, which was intensely researched, got some criticism—some of it quite harsh—for putting too much emphasis on Reed's more irksome qualities, though any book on him would find incidents in which those were evident plentiful. DeCurtis doesn't paint as negative a picture. But though an introduction fondly looking back upon their friendship steels you for a possible hagiography, the author doesn't ignore the less appealing aspects of the man, telling many stories of how Reed could be difficult, and at times nasty (and at times kind and generous).
16. Sticky Fingers: The Life and Times of Jann Wenner and Rolling Stone Magazine, by Joe Hagan (Alfred A. Knopf). This unauthorized biography got some mainstream media attention upon its release, as Rolling Stone editor/publisher Wenner was upset about his unflattering portrayal. One can see why, as he comes off as thoroughly unlikable. According to the accounts of many of the more than 200 people Hagan interviewed, Wenner's often been greedy, unethical, untrustworthy, and hungry to hang out with and butter up celebrities, sometimes affecting Rolling Stone's coverage of them. Wenner himself has plenty of time to tell his sides of the stories, as the author interviewed him extensively, in addition to accessing his extensive archive. Still, after the book's 500 pages, you might have more than you ever needed or wanted to know about a guy whose egotism has sometimes crossed the line into narcissism.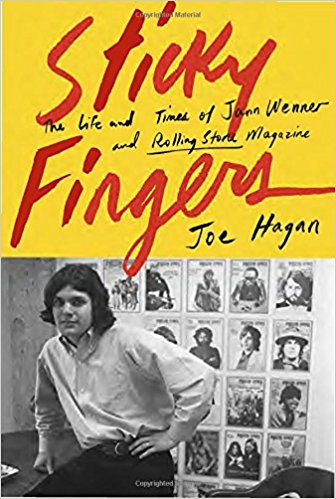 The book itself is extensively researched and gives a lot of insight into how the rock press and popular culture has changed since Rolling Stone was founded in 1967. About three-fourths of it takes place before 1980 (and the magazine's steady move toward more mainstream coverage tilted toward non-music celebrities), so there are plenty of good stories about its glory days when it was based in San Francisco, and actually had much groundbreaking content about rock and the counterculture. For all his flaws, Wenner himself made some notable contributions to rock journalism through his own interviews in Rolling Stone's early years, particularly his marathon conversations with John Lennon and Yoko Ono shortly after the Beatles split. (Wenner then managed to screw up his friendship with Lennon by printing the interviews in book form, against Lennon's wishes.) If you want more stories about Rolling Stone at its peak, and less on Wenner himself, Robert Draper's 1990 book Rolling Stone Magazine is recommended, though it doesn't dig as deeply into Wenner's life (including his homosexuality, which he didn't publicly acknowledge until the mid-'90s).
17. In the Sixties (Expanded Edition), by Barry Miles (Rocket 88). Barry Miles was perhaps the most vital figure behind the most influential British underground paper, International Times (aka IT); ran the similarly inclined Indica Bookshop, patronized by the Beatles and others; got to know the Beatles (especially Paul McCartney) well, eventually working for their short-lived experimental Zapple label; and also had inside views of the worlds of Pink Floyd, the UFO Club, Allen Ginsberg (and numerous other poets), and Frank Zappa. He documented his experiences during the decade well with his memoir In the Sixties, originally published in 2002.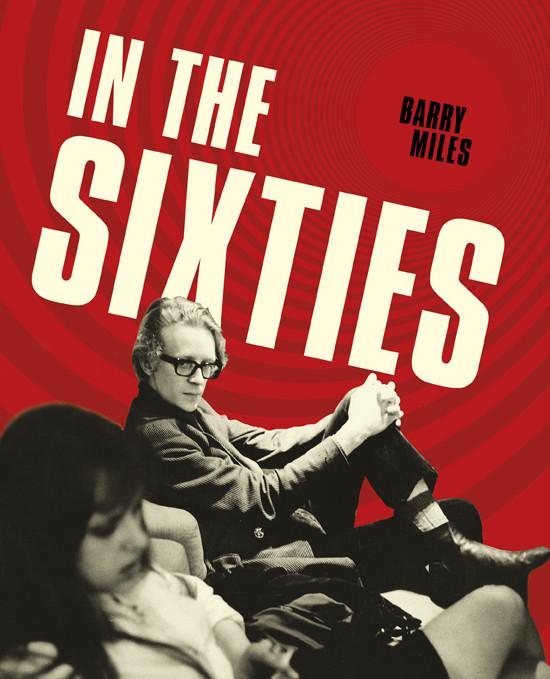 Rocket 88's new expanded edition makes some corrections (though it didn't catch everything) and adds some text, though the printed material is pretty similar (and reduces the sections on Zapple, now covered in Miles's full-length 2015 book The Zapple Diaries). Had In the Sixties itself first come out in 2017, it would place higher on this list, as this is in some ways a reprint of a title that's been around a long time.
The big change—and the major reason to consider getting this edition, if you already have the original—is the addition of hundreds of illustrations. These aren't crammed into their own separate section, but placed in the wide margins of the pages throughout the book in a visually appealing layout. They include not just photos, but also flyers, business cards, correspondence, press releases, ads, posters, magazine covers, event programs, and the like, many from Miles's own extensive collection.
These could alone fill up a worthy exhibition catalog, and a couple of paragraphs aren't enough to list the coolest highlights. Among them are handwritten invitations for Ginsberg's 39th birthday party; McCartney's handwritten note listing the first four books he bought from Indica (including poems by the Fugs' Ed Sanders, Gandhi on Non Violence, and Drugs and the Mind); a Fugs songbook (!), which Miles borrowed from McCartney himself; a two-page color photo spread of an early Pink Floyd gig at All Saint's Hall; the Soft Machine playing at the International Times launch at the Roundhouse in late 1966; and the catalogue to Yoko Ono's show at Indica Gallery, where she and John Lennon first met in late 1966.
And there's more. There's a picture of the photo shoot for the Sgt. Pepper cover (with Miles in attendance) I don't remember seeing elsewhere. There's a congratulatory telegram from George Harrison after Miles interviewed him for IT, and McCartney's release form for including his signature on the 1967 ad in The Times of London supporting legalization of marijuana. And a poster for the first UFO shows features Pete Townshend's wife-to-be, Karen Astley.
The Collector's Edition of the book, incidentally—selling for twice as much (£70) as the standard edition—is signed by Miles with a slip case cover. More notably, it comes with a disc of sound files containing the audio of about five and a half hours of 1967-69 interviews Miles did with McCartney, Harrison, Lennon, Mick Jagger, and Pete Townshend. The audio on these is in variable lo-fi, but the speakers are understandable, and it's amazing enough that the original cassette tapes survive. Townshend and (at least in parts) Lennon are the most interesting interview subjects, all of the conversations rambling somewhat between music and general discussions of the era's lifestyles and social climate. Even though articles and transcriptions with a lot of the quotes from these interviews are online, these tapes do include some other material, such as Townshend's dismissal of Shel Talmy as "a complete shit" and detailed comments on "Cobwebs and Strange" (Keith Moon "would never admit that it was bordering on jazz, but in fact it's the freest bit of free-form jazz, in a way"). (My fuller review of this book will appear in issue #47 of Ugly Things.)
18. Who Wrote the Beatle Songs?, by Todd M. Compton (Pahreah). Generally, you can tell who the main writer was on the Beatles' songs by who took the lead vocals; on some occasions where the lead vocals are shared, the split between Lennon and McCartney was near half and half. On the many Lennon-McCartney songs where one or the other made minor-to-major contributions even if they weren't the primary composer, there are interesting stories behind who contributed what, as well as some disparities in accounts of the responsibilities. While this detailed look at who did what doesn't have information that hasn't been previously available, it's intelligently and straightforwardly written, consolidating a lot of the available (and sometimes conflicting) information and quotes into one place.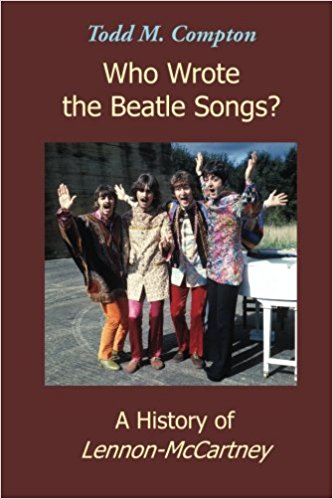 Of most use to Beatles aficionados who've probably already come across a lot of this stuff (especially in Paul McCartney's memoir Many Years From Now), it also diligently credits and footnotes the sources for the many accounts as to who did what, ranging from comments at the time the songs were released until memories offered decades later. While Lennon-McCartney songs are the book's focus, all of George Harrison's songs for the Beatles (as well as the few Ringo wrote or co-wrote) are also covered, along with some commentary on outtakes, cover versions, and songs written during the Beatles era that showed up on solo releases. The instances – and they weren't that rare – where one of the Beatles made substantial contributions to a song where they weren't listed in the credits, and where figures from outside the group (like Donovan and Beatles assistants/roadies) pitched in with ideas that didn't merit a songwriting credit, are also documented.
19. Liner Notes, by Loudon Wainwright III (Blue Rider Press). The subtitle—"On Parents & Children, Exes & Excess, Death & Decay, & a Few of My Other Favorite Things"—clues you in that Wainwright does not take this memoir business as deadly seriously as some stars (or even some cult figures, of which he's one) do. Like his songs, his prose writing's witty, sardonic, glib, and not all that concerned with gaining a big audience. Although it follows a roughly chronological progression, it flits back and forth between eras and hither and thither through various themes and subjects, including big ones like marriage, love, sex, and death. And while it's 300 pages, it's really not that time-consuming, with plenty of short chapters whose last pages have white space, as well as lots of excerpts from his song lyrics and a few reprints of columns his father wrote for Life.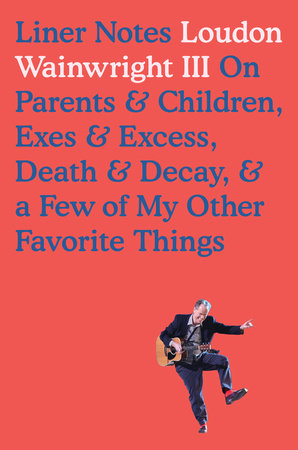 I could have done without those lyrics and columns, but actually I liked what was here, for the most part. Wainwright has plenty of interesting stories—many of them funny, though he doesn't overdo the overt humor—about his adolescence, early career, touring, and sideline as an actor. There are also tales aplenty of the seesawing nature of the music business, which has seen him both hyped as one of the next big things and dropped by labels like a cold potato. There are also some more serious thoughts about family and marriages (he's been through three of them), including stormy times with his first wife, fellow respected cult singer-songwriter Kate McGarrigle, and less stormy times with his second, Suzzy Roche of the Roches.
I would have liked more introspection about the development of his idiosyncratic style of singer-songwriting, and more about how he hit upon his irreverent take on the genre – he wasn't just another new Dylan, which is a reason we're interested in his life in the first place. And if you're looking for even roughly sequential and detailed remembrances of his most notable albums and film/TV appearances, you'll find many gaps, though you won't come up totally empty. Maybe that sort of documentation just isn't in Wainwright as an autobiographer, or doesn't interest him. At least what's here is more entertaining than many memoirs that offer not-exactly-in-order bits of varying size.
20. David Bowie: A Life, by Dylan Jones (Crown Archetype). This isn't the first or second book you should get about Bowie if you're looking for a big biography, even though this is 500 pages. If you already do know a lot about him, or even the basics, this is a good if imperfect supplement to the growing wealth of Bowie literature. For it's not a conventional bio, but an oral history, with a bit (not much) of linking text from author Dylan Jones. Principally drawn from nearly 200 first-hand interviews (including some with Bowie himself, though they don't dominate), it goes over his whole life and career, though not paying equal attention to each phase of his evolution. Some of the expected close Bowie associates are heard from, including the Spiders from Mars, Angie Bowie, Brian Eno, producers Tony Visconti and Ken Scott, and longtime sidemen Mike Garson, Earl Slick, and Carlos Alomar. There are also, however, a good many figures who aren't too well known to the general public, from childhood friends to photographers, directors, journalists, groupies, and some people whose time with the man was peripheral and/or fleeting, but good for a story or two.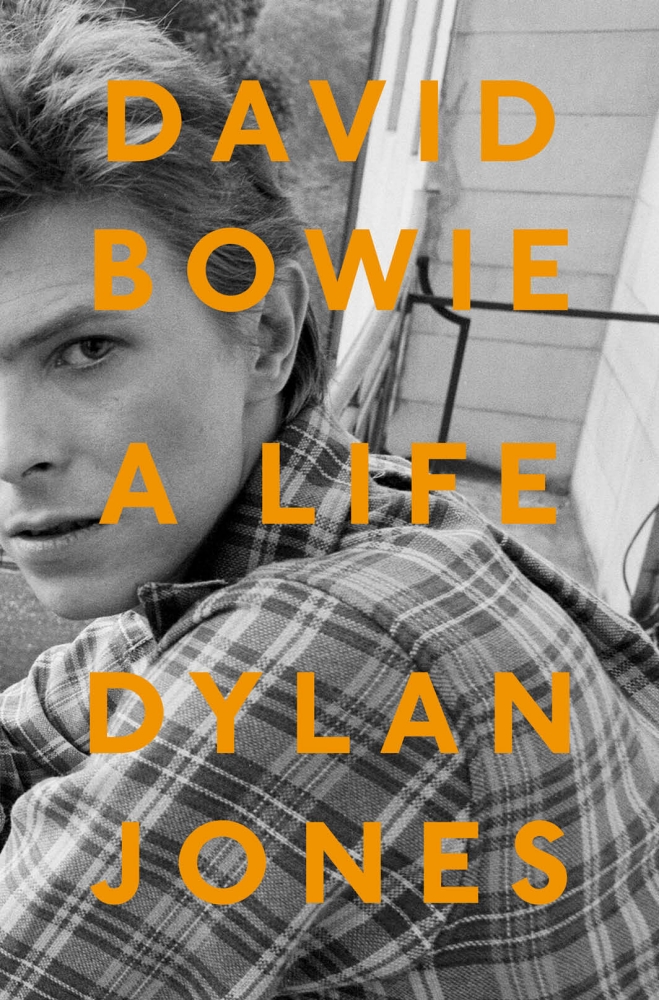 Even if you have a bunch of Bowie books, and/or are generally an expert on the singer, you're likely to come across some interesting tales and observations. Here are just a few: a groupie on one of his early-'70s tours remembers David's obsession with Jeff Beck, and confession to her, whether wholehearted or not, that he would have rather had Beck in his band than Mick Ronson. There's also Bowie's confession to producer Hugh Padgham that "My voice is actually a complete steal from Scott Walker and Anthony Newley." And there's Robert Fripp remembering recording his contributions to Heroes in two or three days, though Eno gives the impression they took even less time.
What's the downside to this useful compendium? Well, Bowie's life after 1983 or so wasn't nearly as interesting as what preceded it, but about forty percent (200 pages) of the book covers that falloff. In this section, you (or at least I) get stories about his art collecting, home in Mustique, and video/photo shoots that really aren't of high interest. The allotment of coverage is uneven, and not always justified; there's a whole (if short) chapter on his Live Aid appearance, but nothing at all about Scary Monsters. And the many notes of how charming and down-to-earth he was get tiresome by dint of repetition, though some would say the frequency of that sentiment reinforces how genuine it was. If you want yet more memories of Bowie, the less impressive 2016 book A Portrait of Bowie gives fifteen people a chapter each to comment on the man, though there's some overlap with David Bowie: A Life both in the associates interviewed and the stories told.
21. I Scare Myself, by Dan Hicks (Jawbone). Hicks's rather short memoir (about 165 pages not counting some supplements by other writers) is much like the man and his music: nonchalantly dry and mutedly witty. (His assessment of the legendary Human Be-In in Golden Gate Park in early 1967: "I only lived a few blocks away. I could've walked over, but I was working on some songs, and I guess that event wasn't a priority for me.") It's not a big deal, but it's also dotted with some minor inaccuracies and chronological misalignments.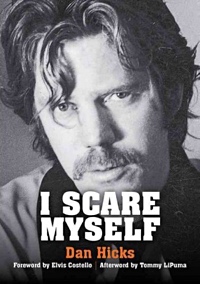 It adds up to a marginal inclusion on this list, but for those familiar with his idiosyncratic cult output, it's fairly interesting and entertaining, going all the way back to his pre-Charlatans folkie days. Although the Charlatans put out just one single while Hicks was with them (a couple dozen or so tracks are now available on an archival release), his time with that notable early San Francisco hippie band is covered pretty well, as is the transitional time in the late-'60s when he started playing as a solo act. And of course his most celebrated era, the half-dozen or so years as leader of the idiosyncratically country-swing Hot Licks starting in the late '60s, gets a good amount of ink.
The book gets more downbeat in its final section, documenting his spiral into alcoholism, which took up most of the next twenty years. And while there are a good amount of interesting stories and ephemera for Hicks/Charlatans/Hot Licks fans, I would have liked at least some introspection into why his music, from the get-go, had a uniquely droll humor – a humor that comes through to some degree in the text, but is oddly not examined in his reflections on his creative work. The wrap-up (by another writer) of his final years isn't nearly as interesting as the main body of the book, which is fleshed out by a lengthy critical discography and a brief afterword by producer Tommy LiPuma. There are quite a few good pictures (some in color), though, some of them rarely seen.
22. Everything Is Combustible, by Richard Lloyd (Beech Hill). The best part of the ex-Television guitarist's memoir—and it does comprise well over half the book—focuses on his time in the group, as well as the half dozen or so years leading up to it, when he was an aspiring guitarist who met all sorts of celebrities and got into all sorts of sex and drugs. There's also a fair amount of extraneous musings about his childhood and outlooks on the world that aren't nearly as stimulating. And there are also quite a few gaps, and occasional chronological leaps back and forth, in his overview — very little, for instance, on his post-1980s solo career or time in a reformed Rocket From the Tombs.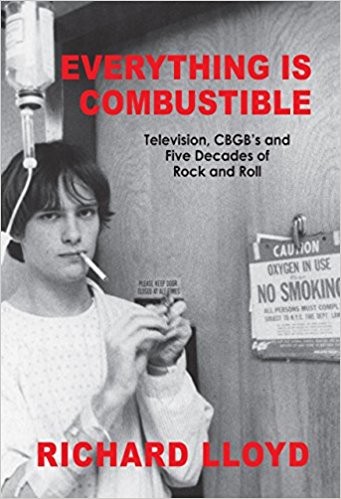 To be harsh, about 25-30% of the text could have been cut, whether or not some of those gaps were plugged as compensation. If that had been the case, the book would have ranked higher on this list. For when it's on, it's really on, with lots of stories about CBGB's, Marquee Moon, Tom Verlaine (who comes off as an uptight controlling figure for the most part), and founding Television member Richard Hell. And the more interesting the subject matter, the more focused and honed the prose, making this kind of like munching on a watermelon until you hit the juicy core. That makes it a worthwhile but flawed read, Lloyd not particularly mourning his tribulations (which have included near-deaths from substance-related health problems and stints in mental hospitals), but regarding them as parts of life's journey, to be experienced for their highs and lows. (Lloyd discussed this book and his career with me for my lengthy article on him and his memoir in the December 2017 issue of the UK magazine Record Collector.)
23. Art Sex Music, by Cosey Fanni Tutti (Faber & Faber). This is one of the shakier inclusions on this list, as Tutti's musical projects (most famously Throbbing Gristle) are not on my playlist, and some of the text dealing with those and her fairly extreme performance/mail art weren't of too much interest for me. Still, Throbbing Gristle, and the spinoffs in which she and her partner Chris Carter were principals, were a pretty big presence in the underground rock scene in the 1970s and 1980s, as well as a touchstone of the industrial genre. Tutti writes lucidly and candidly about all of her musical and performance/mail art endeavors, as well as her work as a nude model and stripper. She seemed to have often viewed such work as supplemental art projects in themselves, although they got her into some pretty nasty situations.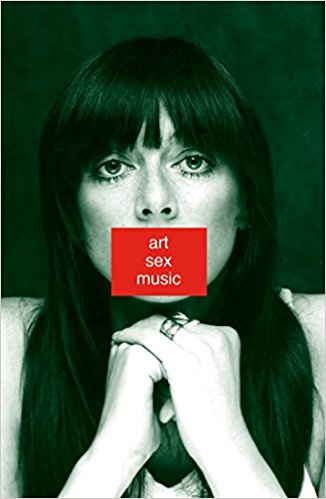 There will be some surprises to those who know Tutti only from her more notorious, noisy, and confrontational endeavors with Throbbing Gristle and others. One is that, professional activities and sadly cruel father aside, she's had a fairly conventional family life with Carter and her son, counting tending to her vegetable garden as one of her favorite pastimes. Another is how Throbbing Gristle, for all its noisy industriousness, actually had their roots in the hippie underground of the late 1960s and early 1970s. The saddest is how manipulative, cold, possessive, and vindictive Throbbing Gristle frontperson Genesis P-Orridge was throughout most of his personal and professional relationship with Cosey and the rest of the band, judging by the extensive accounts in this memoir. Their unexpected twenty-first century reunion worked out about as well as most regroupings of volatile bands, at least in terms of the anguish it caused Cosey and Carter, though she somehow manages to take pride in what music they managed to produce in spite of the circumstances.
24. Reckless Daughter: A Portrait of Joni Mitchell, by David Yaffe (Sarah Crichton Books). There hadn't been any first-rate biographies of Mitchell before 2017, and this isn't one either, although it had more media attention than any previous book on her. Reasonably comprehensive coverage of what happened when, as boring as some authors and critics seem to find it, is the underpinning of any major bio. Reckless Daughter does not have that, with some significant gaps and unsteady nonlinear shifts in the timeline. I'm not a big fan of the author's style, which can be ornate and a little gushy when it comes to Joni's virtues.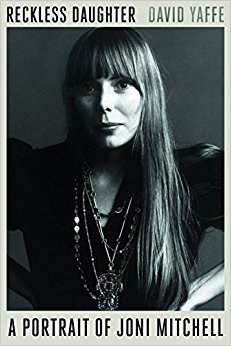 The book does have first-hand interview material with dozens of Mitchell's friends, collaborators, and associates, including some from relatively recent conversations with Joni herself. The interesting stories in some of those propel it onto this list, if only at its bottom. Despite the author's admiration of her art, Mitchell does not come off as too personally likable or kind, dispensing harsh words (whether directly to Yaffe or via other sources) about the character and/or music of Judy Collins, Joan Baez, David Crosby, Graham Nash, and second husband/collaborator Larry Klein. As just one example, Mitchell remarks that Collins (whose hit version of "Both Sides Now" was crucial to getting Joni recognized as a major songwriter) "sounds like the damsel in the greenroom. There's something la-di-da about her." Notes Collins in the book, "I once asked David Crosby, 'Why is Joni so mad at me?' He said, 'Joni hates everybody.'"
The following half-dozen books came out in 2016, but are worth a mention, as I didn't read them in time to put them on my 2016 list. I also added just one from 2015 that I didn't read until this past year.
1. Judas!, by Clinton Heylin (Route, 2016). Heylin might have documented Bob Dylan more thoroughly than any other writer, with books on the artist that include a day-by-day survey and detailed examination of every song he's written. Judas! focuses only on the year or so between his first electric rock performance (at least his first such one since his teenage years) and the end of his 1966 world tour. That year, from about mid-1965 to mid-1966, was the most controversial of his career, the electric half of his concerts generating mixed reviews and some hostile audience response, even as his rock records made him a superstar.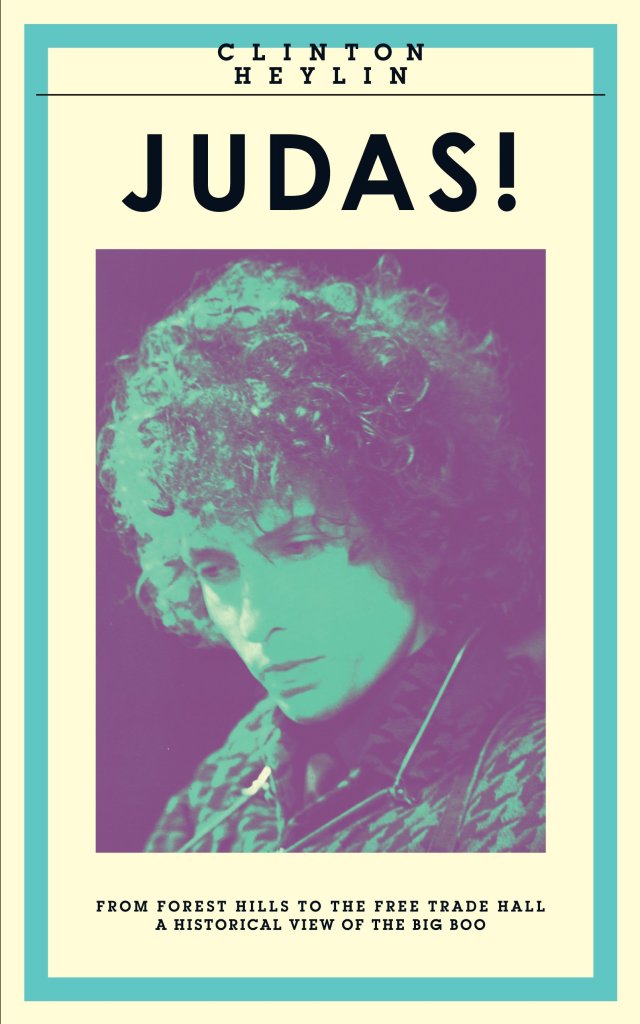 The book's greatest value is in its exhumation of many obscure concert reviews from the time itself, giving us a view of how these shows were received at the time, rather than in retrospect. There's also plenty of commentary from people who were there and analysis of each concert along the way, as well as some coverage of his studio recordings of the era, though his live work gets the greatest attention. In some of the early sections, the back-and-forth between the live shows, studio sessions, and media coverage is a little jumbled, though that is not a concern once the text gets into 1966. The verging-on-minute detail could limit its appeal for non-fanatics, especially as Dylan didn't vary his sets much on his world tour, though Heylin always finds something to say (and often enthuse) about the variations. It's somewhat similar to the 36-CD box The 1966 Live Recordings that came out around the same time as this book in that you're glad it's there for reference and historical posterity, but it's kind of too microscopic in its documentation to be the most entertaining listen or read.
The many quotes from Dylan's press conferences and interviews during this year sometimes get him hailed as a master of the putdown, but lead me to ask: am I the only one that finds many of his flippant responses (sometimes to fairly reasonable questions) dumb and unfunny? A more basic question: why are none of the pictures in the sixteen pages of photos (some uncommon) captioned?
2. Detroit 67: The Year That Changed Soul, by Stuart Cosgrove (Polygon, 2016). Divided into twelve chapters for each month of the year, this closely examines the artistically triumphant but internally turbulent year of 1967 at Motown Records. It also weaves in events shaking the Motor City outside of Motown in 1967, particularly Detroit's summer riots and the police misconduct that led up to it, as well as the boiling local rock underground led by the MC5 and their manager, John Sinclair. It's best when it closely examines controversial developments at Motown, particularly the firing of Florence Ballard from the Supremes and disputes which led the songwriting/production team of Holland-Dozier-Holland to leave the label. It's less successful when it weaves in non-Motown material, particularly the MC5-Sinclair axis, which has been covered better elsewhere. The Motown details are absorbing for the most part, though there are some inaccuracies that shouldn't have slipped through, especially in some references to non-Motown happenings: Jimi Hendrix did not burn the flag at Woodstock, for one. I got this 2016 book as an import remainder in San Francisco in 2017, but it does not yet seem to have been published in the US.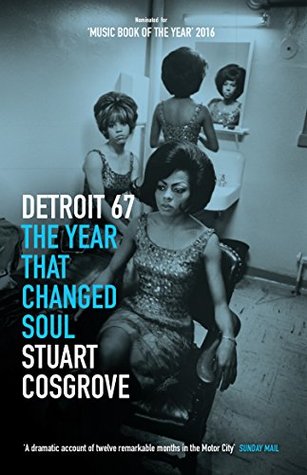 3. Michael Bloomfield: The Rise and Fall of an American Guitar Hero, by Ed Ward (Chicago Review Press, 2016). This is a revised and expanded edition of a 1983 limited-edition biography of the sometimes brilliant, but personally and artistically erratic, guitarist. Bloomfield did his best work in the Paul Butterfield Blues Band for a couple years in the mid-1960s, the same time he did his best playing as a sideman (for Bob Dylan). He made some other records in the 1960s that had their moments with the Electric Flag, Al Kooper, and others, but that's a pretty brief peak for a guy whose career continued until his 1981 death. This bio's pretty brief too, running about 150 pages (not counting a reprint of a 1968 Rolling Stone interview and a lengthy discography).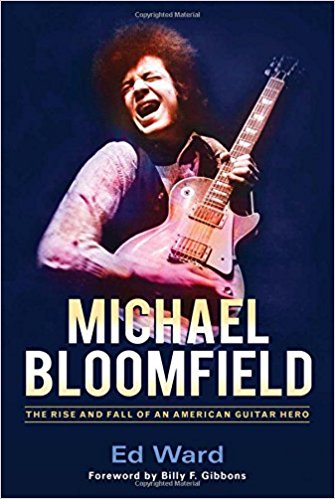 It might not need to be any longer, though, considering it does a decent job of covering the basics, and doesn't dwell on his long decline longer than necessary. Several (though by no means all) of his close musical and personal associates were interviewed, and there are sharp evaluations of his recordings and influences that properly give the most attention to his playing with Butterfield and Dylan. His problems with drugs, insomnia, and family relationships are detailed but not stretched out, as is his curious lack of ambition after he'd help pioneer loud blues-rock guitar. There were probably more stories that could have been unearthed the book itself been more ambitious – how did he end up playing on a 1971 session with Ann-Margret with members of Little Feat, for instance? And how about more details on his contributions to the 1973 Steelyard Blues soundtrack? Some more info on his life and music is in Jan Mark Wolkin and Bill Keenom's Michael Bloomfield: If You Love These Blues: An Oral History, which is a good complement to this more conventionally structured overview.
Speaking of soundtracks, as a minor point, although Bloomfield was credited with scoring Pascal Wexler's classic 1969 film Medium Cool, there seems to be a misconception that he played all of the music heard in the movie. This book states that "Bloomfield created an ominous surf-guitar instrumental to accompany the film's opening sequence." Actually that instrumental was not created by Bloomfield—it's "Emotions," a track off of Love's debut album, which was not that obscure then (though its use in the movie was uncredited) and hasn't been since. From what I can gather, Bloomfield's role seems to have been selecting music for use on the soundtrack, rather than actually creating music for that purpose. It's doubtful there will be any more books on Bloomfield, but his role on Medium Cool should be straightened out, and that instrumental in the title sequence should be properly credited to Love on reissues of the movie itself.
4. India Psychedelic: The Story of a Rocking Generation, by Sidharth Bhatia (HarperCollins). First published in 2014 in India and issued elsewhere later, this is an overview of the rather small and struggling Indian rock scene from approximately the mid-1960s to the mid-1970s. As in other regions far both geographically and culturally from North America and the British Isles, Indian rock acts didn't fully embrace trends until a year or three after they'd passed out of fashion in rock's epicenters. Even relative to many such regions, however, India's rock music was on the derivative and run-of-the-mill side, at least judging from the fairly scant body of recordings that were made.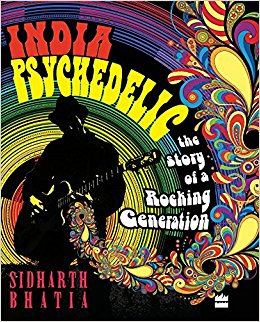 For that reason, this slim volume is of most interest for its well-researched look at the sociocultural context of early Indian rock, rather than for its coverage of the music itself. There were few places to play rock in the country, even in the huge cities; it wasn't even easy to get adequate equipment; and many of the groups, as well as their audiences, featured Anglo-Indians with much greater resources and access to Western music and fashions than the overwhelming majority of the nation's population. There weren't even many opportunities for rock acts to record, both because of the relatively primitive state of Indian music industry and the general lack of widespread interest in rock both within and without the business.
The book's a little matter-of-factly written, and the quotes (from a good number of first-hand interviews) on the brief and basic side. But it's of value for its insight into a scarcely documented scene in which many of the benefits taken for granted in the Western world were only patchily available, or weren't available at all. For those interested in the more purely musical side of things, there are brief chapters on some of the more notable Indian bands of the period, like Atomic Forest. Attention's also paid to the few performers who started in India and made something of an impact in the US and UK, like Biddu and Asha Puthli, though it's curious that it's not mentioned that Biddu managed to release recordings produced by future David Bowie producer Tony Visconti after moving to the UK in the late 1960s.
5. Oh So Pretty: Punk in Print 1976-80 (Phaidon, 2016). When the subtitle states "Punk in Print," what they really mean is how punk was reflected in British posters, fanzines, and other media reprinted here. Virtually everything was originally printed in England, although some of this material features US performers. No matter: even if the subtitle would have been more accurately phrased "Punk in Print in the UK," it's a historically valuable 500-page compendium of reproductions of not only posters and fanzine covers, but also some advertisements, press releases, mainstream publication covers, stickers, flyers, tour programs, and other ephemera. While many punk icons are represented on these – like the Sex Pistols (whose "Anarchy in the U.K." single was actually advertised in programs for soccer matches), Clash, Patti Smith, Blondie, and Elvis Costello – there's also room for artists who didn't even make it to the strong cult level, like the Cortinas, Headache, London, Patrik Fitzgerald, and (featuring John Lydon's brother Jimmy) 4" Be 2".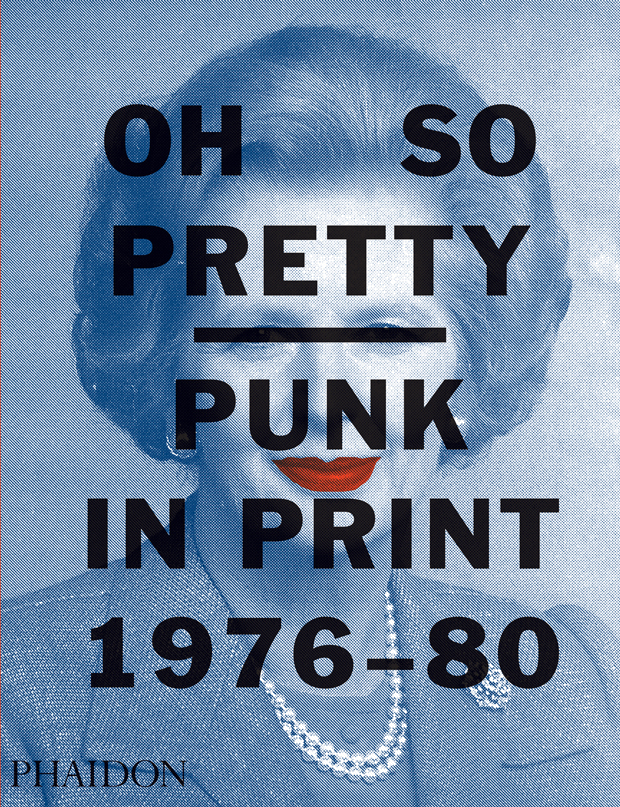 The graphics are usually crude, but that's the way it's supposed to be. The captions are brief yet considerably more informative than they are in many such books that reprint memorabilia, often offering interesting trivia and background bits that aren't obvious just from looking at the graphics. What this doesn't have are actual excerpts from the fanzines and other publications (besides the covers), which likely have quite interesting (albeit often quite amateurish) coverage of the early punk and new wave scenes. One of the few such substantial excerpts included, for instance, is a very detailed two-page account (credited to "Terry") of the Sex Pistols' September 17, 1976 performance at Chelmsford Prison, distributed on a two-page flyer. More such actual text reproductions would comprise a project, perhaps, for another time, as would a book similar to this that focused on US punk from the same era.
6. A Tribute to Keith Moon (There Is No Substitute), by Ian Snowball & the Estate of Keith Moon (Omnibus Press, 2016). I usually don't list books where some sections are of such limited interest that I skip or skim them, but I'll make an exception here given how interested I am in the subject. This volume presents a few dozen chapters, mostly just a page or two in length, in which many associates, drummers, and Moon fans give their thoughts on the Who madman. It's a rather frivolous book, and there are quite a few sections in which musicians from bands who didn't start until after Moon's death pay tribute to him, which are of limited interest.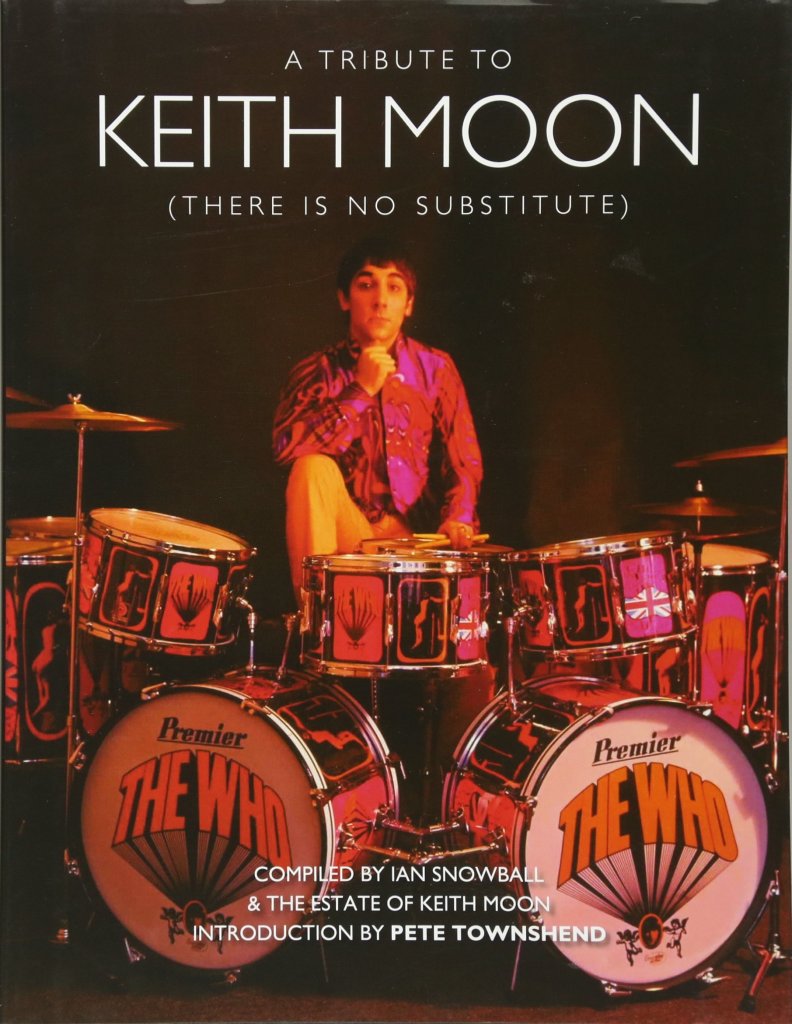 On the other hand, there are some good stories by people who knew and worked with him, and plenty of fine pictures, some of them rarely seen. Contributors range from guys with quite close Who connections – like Moon's replacement Kenney Jones, Keith's personal assistant Dougal Butler, and John Schollar from Moon's pre-Who band the Beachcombers – to journalists, roadies, tour managers, and just plain fans who remember a special concert or chance to meet Moon. There are also comments from notable peers like Jack Bruce, Kinks drummer Mick Avory, and Bonzo Dog Band drummer (and partner in pranks) "Legs" Larry Smith. There are also a couple paragraphs from a 20-year-old Florida girl captioned as a "Keith Moon Look-Alike," so be aware that not everything here is on the serious side, though some may say that's appropriate for a book on a drummer also famed as a manic comic.
And from 2015…
Say No to the Devil: The Life and Musical Genius of Rev. Gary Davis, by Ian Zack (University of Chicago Press, 2015). Often biographies of early blues musicians are more academic than readable, and/or suffer from a lack of source material from which to draw. This is an exception, even if there's understandably much more on Davis's post-World War II activities as a performer, recording artist ,and teacher than there is on his far more sketchily documented earlier times. The author spoke to many folk revivalists and rock musicians Davis knew and influenced, from Taj Mahal and Tom Rush to more obscure but notable ones like Jesse Kincaid of the Rising Sons. His descriptive analysis of the Reverend's musicianship and discs is acute, yet easily comprehended even for those who aren't guitarists, or don't count country blues as one of their favorite styles. His personal flaws, though they weren't so grievous in comparison to many musicians, are not overlooked, including his problems with alcohol.