My friends find it hard to believe since I've followed the game so long, but it wasn't until last month — at the age of 52 — that I visited the Baseball Hall of Fame. You've got to admit it's in the middle of nowhere, or, at least, very hard to access by public transportation from New York City, which is usually the closest I get to Cooperstown. On my last trip to the East Coast I finally bit the bullet, rented a car for a couple days, and made the pilgrimage in early June.
I'm not so big on bats, balls, gloves, and uniforms belonging to historic feats and players, though if that's your thing, the Hall has plenty of those. I'm more drawn to the offbeat items on display, like these: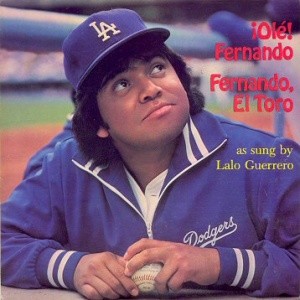 That's a real record, which has to be heard to be believed (and can be easily heard online). Musically it's an average mariachi-flavored tune, but the lyrics are something else, delivered by Lalo Guerrero in a strained, proudly melodramatic, operatic bellow:
He walks out to the mound, like a matador, without a suit of lights,
The crowd lets out a mighty roar, as he steps out of the night
His baseball is his weapon, deadly to his foes
His screwball is his (), this every hitter knows!
Fernando!, you're a breath of fresh air to us all
And when you're pitching the ball
You do it with style and grace
You've got us all back in the race!
(I admit my Spanish isn't good enough to make out the description of his screwball, though I'm sure it's highly complimentary; corrections welcome at this address.)
A silly novelty, yes, but also a testament to just how huge Valenzuela's impact was in his 1981 rookie season. He won his first eight games (four of those wins were shutouts); the Mexican was a huge draw for the huge Southern Californian Latino community; the Dodgers won the World Series; and he even hit pretty well, for a pitcher. He had a pretty good career, but he didn't make the Hall of Fame, unless you count this piece of vinyl.
It's in one of the Hall's best sections, devoted to Latino players. Here's another part of the exhibit that caught my eye, though the reflection on the glass case makes it hard to photograph with perfect definition: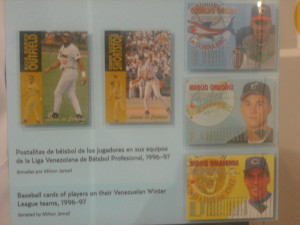 I admit I didn't know there were baseball cards in Venezuela. Here you see 1996-97 cards, not much different in design than their US counterparts, of big league stars who were playing winter ball in the country: Bobby Abreu, Omar Vizquel, Maglio Ordonez, Andres Galarraga, and Ozzie Guillen, here identified as "Oswaldo Guillen."
To the Hall's credit, it has solid sections on minorities who haven't always (or to this day) gotten a fair shake in the majors: Latinos, African-Americans (including players in the Negro Leagues), and women. Here's something I didn't know about a contribution to our pastime from a woman musician: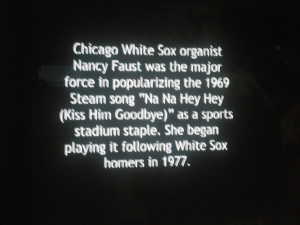 So that's how that started. The weird history of the band who made it a #1 hit in 1969, Steam, is too lengthy to recount here. But basically it was a studio-only group who thought of the tune as a throwaway B-side, only to see it become such a megasmash that another group of musicians was enlisted to tour under the Steam name. Thanks to Chicago White Sox organist Nancy Faust, it's now had a far longer life than even many #1 hit singles, though I think its use as the crowd's kiss-off to George W. Bush's helicopter at Obama's inauguration trumps any occasion at which it's been sung at a sporting event.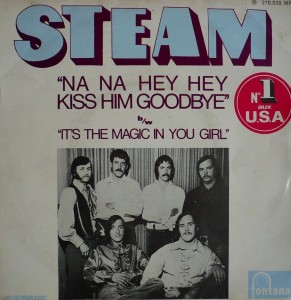 Faust, by the way, wasn't the only woman organist of note at the ballpark. Gladys Gooding was the organist at Ebbets Field, home of the Brooklyn Dodgers, and her "Follow the Dodgers" disc is also on exhibit, though most of the woman's wing is properly devoted to their athletic feats on the field.
What about the many controversies that have threatened the game's image and integrity since the 1800s? The Hall doesn't entirely skirt those, though in the case of the baseball's biggest recent scandal, it kind of mumbles. This smallish card near the entrance to a section devoted to some of the game's most revered records (of the statistical kind, not the musical sort) might easily be missed by many visitors:
If you want to read the text without squinting, here's what it says:
"In documenting baseball history, the use of performance-enhancing drugs (PEDs) cannot be ignored, although a complete list of players who have used banned substances throughout time may never be known. In this museum you will find artifacts, images and stories of players who have either admitted to or have been suspected of using banned substances. Even though you will not always find specific references to this issue, this museum is committed to telling the story of PEDs within the game's historical context."
At least there's something, even if it's buried as deeply as those warnings not to operate heavy machinery on the medicine your primary care physician prescribes for persistent coughs.
Ending on a more upbeat note, here's a guitar whose design is customized to honor the 100th anniversary of Fenway Park. Can't tell you how it sounds, though, as like virtually everything else at the Baseball Hall of Fame, it's under glass and out of reach: