I didn't start looking at baseball cards until I was six years old in 1968, but going through those soon got me interested in gazing at some pre-'68 cards that were still lying around the house in older brothers' collections. There were a lot from 1966, yet barely any from 1967. One of the few '67 cards, however, still strikes me as one of the strangest of all time: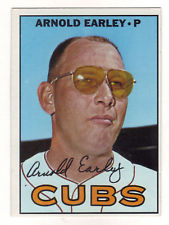 Seldom have I seen a photo, on a baseball card anyway, that looks less like a major league baseball player. Or what we think of major league players as looking like, anyway. He looks more like the guy whose job it was to yell at you not to splash too much at the local swim club.
Of all the guys to have played for at least parts of half a dozen seasons in the '60s, Earley had one of the most faceless careers. The stats on the back of the card are missing his final year, but he would indeed finish his career with a 12-20 record. His lifetime ERA was 4.48; he only started ten of the 223 games in which he pitched; and he never played a key role on any of his teams, racking up 14 saves and only once breaking the 100-inning barrier. His minor-league record wasn't even any great shakes, as he lumbered his way to a 41-62 mark over nine years.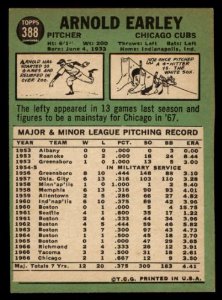 One of those lines in his career record jumps out at you, however. In 1965, he appeared in 57 games for the Boston Red Sox – the most games he ever logged in a single season. You'd think he couldn't have avoided seeing some significant action, right? But in those 57 games, he recorded an 0-1 record, with no saves.
Think about it. All those games, and just one decision, even counting saves. And that decision was a negative one. Is that some kind of record for least-meaningful-result-per-appearance?
That depends on how you measure what's most meaningful, I guess, but it's certainly up there. It took some doing to scrape up the record for most games pitched with fewest won-loss decisions, but there was only one guy who exceeded 57 games. That was Trever Miller, who managed to appear in 76 games for the Houston Astros in 2007 without logging a single win or loss: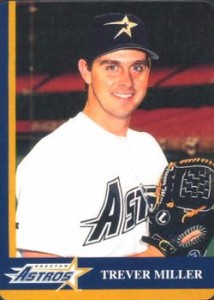 Miller's "record," however, is "tainted" by a solitary (one) save. So he got one positive marker that Earley lacked. The "record" for most appearances without a win, loss, or save belongs to Scott Aldred, who took the mound in 48 games for the 1998 Tampa Bay Devil Rays (when they still had "Devil" in their name). Let's give an honorable mention, too, to Erik Plantenberg, who appeared in 61 games in his career over three seasons without a win or loss, though he managed a single save.
All these guys, however, were left-handed relief specialists who often pitched to very few batters: LOOGYs (left-handed one-out guys), in the modern parlance. Earley wasn't, hurling 74 innings in 57 games, finishing 11 of them. He actually had the second-lowest ERA on the Sox staff, but must have been used in what are now called "low-leverage" situations almost exclusively, to put it mildly.
What's yet more amazing, however, is that Earley very nearly went 0-0-0. In a Charlie Brown-like capper on this most futile of seasons, he was tagged with his one loss – the one decision of any sort he accumulated in 1965 – on the very last day of the season.
The Red Sox were losing 4-2 to the Yankees on Sunday, October 3 when Earley was called in to relieve Earl Wilson, finishing the third inning. In the bottom of the frame, the Sox tied the score 4-4 on a homer by future Hall of Famer Carl Yastrzemski. One has to think that Red Sox manager Billy Herman saw this as a golden opportunity to give Arnold his last-minute victory, avoiding going home with a stat line that made it look as if nothing had happened, 57 games or no 57 games.
What did happen, however, looked more like a Sunday Peanuts comic strip, with hard-luck king Charlie Brown on the mound. In the top of the fourth with two out and no one on, Earley gave up two singles, putting men on first and third. Elston Howard then lifted a flyball to right field, apparently getting Arnold out of the jam…but Tony Conigliaro muffed it, and both runners scored. That was also a lousy capper to the season for Conigliaro, who lead the American League in home runs that year at the age of 20, though he would not have the great career that many predicted:
Earley stayed in a couple more innings, Billy Herman and the bench no doubt rooting for him to somehow hold on while they rallied to give him a chance for victory, or at least not to suffer a loss to blemish his goose egg-stat line. The score was still 6-4 with two out and no one on in the top of the sixth, only for Earley to give up a single, followed by an Elston Howard double that scored Tom Tresh all the way from first. Earley was taken out for a pinch-hitter in the bottom of the inning. It's likely he and the Red Sox couldn't have pulled a win out of the hat even if Conigliaro hadn't made that error, the Yankees ending up on top by an 11-5 score.
For his undistinguished service, Arnold earned a grand total of $12,500 in 1965. As low a salary as that was even in those days, the Red Sox got less bang for their buck than any team did for any player that year, at least as measured by dollars-per-decision.
Take another look at the back of his 1967 baseball card, this time focusing on the typically pithy text at the top: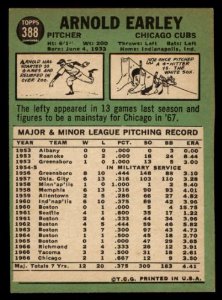 "The lefty appeared in 13 games last season and figures to be a mainstay for Chicago in '67."
Not so. Earley didn't appear in a single game for the Cubs that year, taking the mound just twice in the big leagues, for the Houston Astros. He was pounded, giving up four earned runs and five hits for a 27.00 ERA. He'd never pitch in the majors again. His record for the season: no wins, no losses, and no saves.