The competition for top fifteen reissues of the year—at least the kind of reissues I listen to—isn't as fierce as it used to be. With so much rock from the twentieth century having already been reissued (sometimes several times), it's harder to find lost nuggets that haven't been available, or that most people don't yet know. Reissues increasingly (and some examples are on the list below) depend on big boxes mixing oft-heard material with rarities; thematic compilations; and bells and whistles in the form of long (sometimes mini-book length) liner notes, DVDs, or rare (or, more dubiously, new) mixes. And the easy availability of music of all sorts of reissues (including some just-off-the-assembly line) on Spotify, youtube, and other online sources is making more people wonder why they should bother with physical product in the first place.
But even though I by no means hear every one, or most, of the reissues that might interest me on an annual basis, there wasn't a problem filling a quality top fifteen for 2015. And, as I've said in previous best-of-the-year blogposts, this list covers everything I've heard in the calendar year 2015, through the end of December. Pressure from publications to meet deadlines sometimes means writers submit their lists two to three months before the end of the year. That not only cuts off some post-September releases, but eliminates contenders from throughout the year that they might not hear until the final months.
Note that I've given several of these far lengthier reviews in issues #7 and 8 of Flashback, the London-based '60s/'70s rock history magazine.
1. Them, The Complete Them 1964-1967 (Exile/Legacy). The sudden appearance of a three-CD set with virtually everything Them released with Van Morrison—including an entire CD devoted to demos, BBC sessions, outtakes, and other rarities—is kind of miraculous, plugging a major gap in the catalog of '60s British Invasion rock. Yes, the 1997 double-CD The Story of Them Featuring Van Morrison had most of the studio material here, but it's been out of print for quite some time, and didn't have most of the rarities on disc three of the new anthology. Far more miraculous is that the concise, insightful, well-written liner notes bear the byline of Van Morrison himself, who seems to have gotten over whatever rumored resistance he might have had to preserving Them's legacy. Not everything Them recorded with Van was great, but much of it was, with a fusion of R&B, rock, angst, slicing guitar, spooky organ, and Morrison's commanding vocals that at its best was simply magnificent. The one notable absentee is the notorious alternate version of "Little Girl" (only issued on the first pressing of the obscure 14 various-artists charity compilation LP) on which Van yelps an obscenity on the fade—which means this collection doesn't yet make some bootlegs obsolete.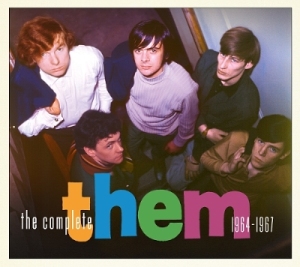 2. The Velvet Underground, The Complete Matrix Tapes (Universal). Four-and-a-half hours (and four CDs) of the Velvet Underground live at the Matrix, a small San Francisco club, on November 26 and 27 in 1969. Some of this formed the basis of the greatest live rock album, 1969 Velvet Underground Live. No other band was as good the Velvets were in late 1969 at imaginatively varying their songs not only from the studio versions, but from performance to performance. With Doug Yule having replaced John Cale a year earlier, the group were also reaching a concert peak as a powerful rock band, albeit one that did some odd songs and engaged in some experimental electronic dissonance and improvisation.
This is not an expanded version of 1969 Velvet Underground Live, and, despite its far greater quantity, not as great a listen. A few songs (notably "Femme Fatale") from 1969 Live that were recorded in Dallas are missing. There are 42 tracks, but just 23 songs, meaning you get two, three, and sometimes even four multiple versions, which works against listening to all four discs at once. And just nine of these performances were previously unreleased, though the half-dozen tracks that previously appeared on Bootleg Series Vol. 1: The Quine Tapes are in appreciably better fidelity here.
Still, judged on its own merits, this is a major document of one of the greatest rock bands at their best. Some of the performances not on 1969 Velvet Underground Live—like the arrangements of "The Black Angel's Death Song" and "Venus in Furs" with creepy organ, the longer version of "Sweet Jane" with neat improvised-sounding new lyrics, and a glowing "I'm Set Free" with some of Reed's finest vocals—are either superb or at the least very interesting and different. And the magnificent, lengthy "version 2" of "White Light/White Heat," long familiar from its appearance on 1969 Live, is in my view the greatest performance they ever taped.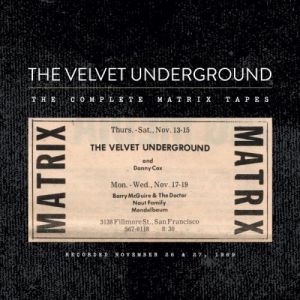 3. Zakary Thaks, It's the End: The Definitive Collection (Big Beat). This isn't nearly as lengthy and elaborate as most of the items on this list, in part because this great Texas garage band only put out a half-dozen singles in the mid-to-late-1960s. Still, it's my #3 pick, such was the quality of their work, with searing fuzzy lead guitar and manic galloping tempos, as well as some good Merseybeat-ish pop and dark psychedelia. They should have been heard beyond their Corpus Christi hometown (where some of these 45s were hits), but weren't heard much beyond Texas, at least until rediscovery by collectors. This has both sides of all six of their singles (not sequenced, however, in strictly chronological order), the length bumped up to 22 tracks with some outtakes and alternative versions. Most of this material has been reissued before, but this is the best package, with comprehensive liner notes featuring extensive quotes from band members.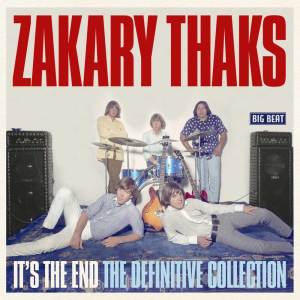 4. The Pretty Things, Bouquets from a Cloudy Sky (Snapper). It's hard to evaluate a mammoth box that includes so much good material, yet also has a lot of inconsequential stuff, and excludes some rarities that need to be there to make it definitive. Such is this 13-CD, two-DVD, one-ten-inch-EP (whew!) box set for, as the tired but true cliché goes, the best British Invasion band not to make it in the US. You'd think a package of this size couldn't help but contain everything they ever recorded, but that's not quite the case. Take the best half of this (and add the missing rarities), and there'd be no question that it would be closer to the top of this list, and in fact find a place on lists of some of the best reissue boxes ever. As it is, it's imperfect and, for all its attributes, quite expensive considering that almost any fan who's tempted to buy it will already have the non-rarities.
To check off the good points: this has all five of their core albums from their prime, as well as all the non-LP tracks they issued during that 1964-1970 period. Two CDs of rarities (as well as the ten-inch EP) feature some rare and sometimes previously unreleased live/radio/TV recordings, alternate versions, and demos, though the first disc (roughly covering that peak period) is far more interesting than the second. One of the DVDs is an excellent documentary with numerous mid-to-late 1960s archive clips (presented in their entirety) that will not be made available separately. And the accompanying 100-page hardbound book of liner notes, by Pretty Things authority (and Ugly Things magazine publisher/editor) Mike Stax, has excellent text and numerous cool vintage photos and graphics.
On the flip side, the fact is that the half-dozen post-1970 studio albums aren't nearly as essential as their predecessors (and, sometimes, just aren't very good). There's nothing from their interesting psychedelic-flavored contributions to late-'60s film soundtracks (usually referred to as the Electric Banana LPs). There are just a few songs from the unusual psychedelic LP they did in the late '60s backing French fan/singer Philippe Debarge (though this has come out in its entirety on a separate CD). And there's little from their numerous BBC radio sessions, though again, fortunately much of that material has been issued separately.
So it's tough to recommend a box that, as big and impressive as it is in some respects, is also notably flawed and pricey. Yet its better half does do justice to this great band, who did so much at the cutting edge of both raucous early British R&B/rock (as heard in their 1964-66 recordings) and early British psychedelic/progressive rock (as heard in the 1967-1970 tracks).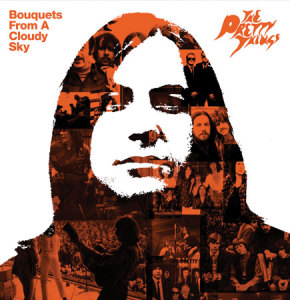 5. Bob Dylan, The Bootleg Series Vol. 12: Bob Dylan 1965-1966: The Cutting Edge: Collector's Edition (Columbia). Where do you rate a huge box set of vast historical importance, but which by the very nature of its completism is often hard to listen to in sequence? Like the Velvet Underground boxes on this list that are almost more documentaries than reissue collections, it's hard to say. I'm putting it in the middle, knowing that some historians and Dylan fanatics would want me tarred and feathered for not anointing it #1.
This is the 18-CD edition of a release also available in six-CD and two-CD versions. It has everything—literally—Dylan recorded in the studio in 1965 and 1966, in the most celebrated juncture of his career, when he shifted from acoustic folk to electric rock. That means you get all the outtakes, demos, and alternate versions from the sessions that produced Bringing It All Back Home, Highway 61 Revisited, and Blonde on Blonde, as well as a few non-LP singles. There's also a disc of informal non-studio acoustic tapes done in hotel rooms during the period. Such is the sheer volume of material that books could be written about it; perhaps some are even in the works (and there are good mini-books of sorts of liner notes and photos accompanying this most deluxe of editions).
So it's hard to sum up in a best-of-the-year roundup, even in five paragraphs. Here are some key points: there are some real interesting variations here, like a full-band electric version of "Desolation Row," an uptempo approach to "Visions of Johanna," an acoustic "Love Minus Zero/No Limit," a "Mr. Tambourine Man" with bass and drums, and (less successfully) "Leopard-Skin Pill-Box Hat" with car horn (seriously!). There are also many alternate versions that aren't too different from the released ones, and as they often run together in bunches since the set is sequenced chronologically, those segments make for more scholarly listening than fun. There are sixteen versions alone of "She's Your Lover Now"—a song not even released in any form until about a quarter of a century later.
In the more interesting alternate versions, minor lyric alterations and tempo adjustments abound. Some of the alternates also give you the chance to hear the Band (then the Hawks) on some songs that were re-recorded with other musicians for Blonde on Blonde. Heard in this mammoth as-it-happened roll call, it's also striking how the box reveals Dylan getting much more comfortable with electric musicians over the course of these fourteen months ("The drums are driving me mad. I'm going out of my brain!" he exclaims when an attempt at "Mr. Tambourine Man" with drums breaks down). It's also striking how much more melodic his compositions got between Bringing It All Back Home and Blonde on Blonde.
As if that's not enough, purchasers of this (very expensive) collector's edition also got a free download of MP3s of 208 (!) unreleased live 1965 tracks by Dylan, adding up to more than ten hours of additional music. Those MP3s are lower-fi (sometimes very lower-fi), and not up to the level of the famous Live 1966 concert from his spring European tour (eventually issued as volume four of Dylan's Bootleg Series) in terms of sound quality, performance, or epochal historical importance. But they do add to the complete picture of one of the most analyzed eras of any musical artist's output—which, with this Collector's Edition box, is now documented in more detail than anyone would have thought possible.
It hasn't been commented upon much in the media, but Dylan's official bootleg series—in combination with his "copyright extension" releases of unreleased tracks, and some other odds and ends—has now made so much of his work available that you can trace his 1962-1967 trajectory in particular in finer details than you can almost any other rock artist. With more "copyright extension" stuff on the way (1966 live shows would be next, is my guess), it seems probable that almost everything he did in his first decade as a recording artist will soon be officially available, if you have the money and the time. (If you don't, it will probably still be accessible in the you-know-where places if you have the right technology.) This isn't only a development that no one would have thought Dylan would have authorized, but one that should be a model for other major artists who haven't green-lighted release of most of their vault material to follow, from the Beatles on down.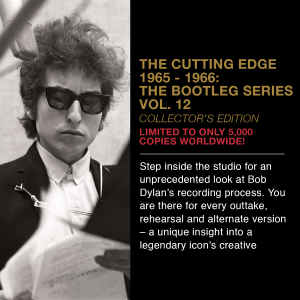 6. David Bowie, Five Years 1969-1973 (Parlophone). For many fans, these are THE five years when it comes to Bowie, as they saw the rise to stardom on which his legend is based. This 12-CD box set has all six of the studio albums he issued during this period, along with six CDs of other material that's not as jammed with rarities as you might think or hope, though there are some. Most of them are on a double CD (titled Re:Call 1 ) that  wraps together most of the non-LP items from this period worth mentioning, from the Italian version of "Space Oddity" and the original 45 version of "Holy Holy" (marking its first official reissue, believe it or not) to the covers of "Amsterdam" and Chuck Berry's "Round and Round," as well as the original 1970 version of "The Prettiest Star" and its non-LP B-side "Conversation Piece." Less essential are the Live Santa Monica '72 disc (already issued separately and officially in 2008) and the double-CD soundtrack to the Ziggy Stardust and the Spiders from Mars documentary, which is  better experienced on DVD (and available since 2003 on CD). Least essential is a CD devoted to a 2003 mix of Ziggy Stardust (by Paul Hicks and original LP co-producer Ken Scott) that is both unremarkable and unnecessary.
As for other bonuses, each CD contains reproductions of the original inner sleeves and inserts, as well as reproducing original LP artwork on the front and back covers (with alternate shots of Bowie-on-Heddon-Street for the 2003 Ziggy Stardust mix). More significant is the palm-sized 128-page hardback book with detailed memories of each of the half-dozen studio LPs by producers Tony Visconti and Ken Scott, and a brief foreword by Ray Davies. The book also has reprints of from-the-time reviews and features, as well as mucho period photos, record sleeves, posters, and adverts (though the tiny print on some handwritten lyrics and tape boxes makes those hard to read).
But — the actual CDs are missing material that could have easily fit on the discs as bonus tracks. These include his numerous BBC sessions of the period (admittedly those are well-represented by the two-CD Bowie at the Beeb: The Best of the BBC Radio Sessions 68-72) and outtakes that have shown up on some expanded editions of the albums. Best of all would have been a legit release, finally, of his early 1969 demos with John Hutchinson (see my chapter on Hutchinson in the ebook edition of Unknown Legends of Rock'n'Roll, based on a lengthy recent interview with him), which have long been bootlegged in lo-fi fidelity, though the release of a couple of these as bonus tracks on prior reissue CDs have boasted much better sound quality.
Is that a lot to ask? Sure. But since the label's asking a good deal of money for the box, and the space is there, it's not asking such a lot, really. Especially since, in common with a number of items on this list, most people considering buying this will already have a lot of the tracks. Which is one reason this package doesn't rank higher. Judged on the music alone, it might well have risen to #3. But the Pretty Things, Bob Dylan, and VU boxes have significantly more material that's both historic and rare.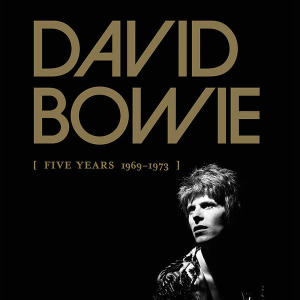 7. Fotheringay, Nothing More: The Collected Fotheringay (Universal). Fotheringay were one of the more interesting one-shot bands, putting out just one self-titled album in 1970 that's most notable for featuring Sandy Denny as lead singer. It's pretty amazing that a four-disc box set was assembled for a band that only put out one album. But here it is, including both Fotheringay and the way-posthumous collection 2 (based on sessions for their unfinished second album): outtakes/demos/alternate mixes from sessions for those albums; nine songs from a live performance at a Dutch festival in June 1970; seven tracks performed for BBC radio; and a DVD with four live numbers they filmed for German TV in November 1970. Truth to tell, while this (aside from the absence of some BBC recordings) is the definitive Fotheringay document, even some major Sandy Denny fans may find this box a bit of a slog at times, owing to the multiple not-too-different versions of numerous songs. It's also true this isn't nearly as good as the late-'60s work by the band Denny had just left, Fairport Convention, and that the tracks featuring her writing and singing are leagues better than those featuring her husband, guitarist-singer-songwriter Trevor Lucas. But if you do want to hear almost everything the band did, this is the best compilation likely to be produced, bolstered by 40-page liner notes by Sandy Denny biographer Mick Houghton.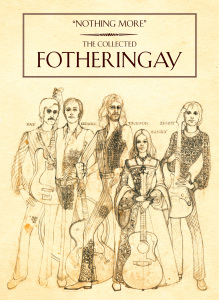 8. Robin Gibb, Saved By the Bell: The Collected Works of Robin Gibb (Reprise). For many 1960s collectors (and many Bee Gees fans who aren't particularly fanatical general '60s collectors), a CD reissue of Robin Gibb's solo recordings in the brief period he left the group between early 1969 and mid-1970 has been a holy grail. His 1969 solo album, Robin's Reign, had mysteriously escaped CD reissue; an unreleased 1970 solo follow-up, Sing Slowly Sisters, was only available on lo-fi bootlegs that sometimes added other rare material. So the appearance of both albums and more unissued tracks on this three-CD compilation was greeted by many fans—and this is not a sarcastic exaggeration—with a "thank god I've lived long enough to see/hear this" fervor. Not only does it have Sing Slowly Sisters in actual real studio quality, and the elusive if official Robin's Reign, but it also adds numerous outtakes, demos, alternates, BBC tracks, and even a couple Italian-language versions.
There's no faulting the thoroughness of this project, then. As for the music, I'm more ambivalent. I like the early Bee Gees, and Robin's my favorite singer of the Gibb brothers, but these aren't quite lost masterpieces. There's an almost unremittingly gloomy rainy-day cast to much of the material, which is cool if you're in that mood (or looking out your window into a torrential downpour), but a little much in such full buckets. His use of drum machine on some tracks was undoubtedly ahead of its time, but also, if you're not a fan of the instrument (I'm not), lends a mechanical air to some of the recordings. The incessant melodrama, particularly on the more orchestrated cuts, are definitive exercises in what I'd call the "gondola rock" genre. Meaning it's almost operatic and more akin to sentimental pop balladry than rock, as if you're being serenaded for actual Italian gondola rides, if ones that emphasize the crumbling side of buildings and relationships rather than celebrating sun-baked lakes.
But if I'm not as gung-ho on this odd phase of Robin's career as many cultists, I emphasize I do find this interesting, if flawed. And Reprise has filled a major gap in a major artist's work, at a time when it's getting harder and harder to excavate such items for '60s/'70s reissues. Note, by the way, that both Barry and Maurice Gibb also recorded a lot of unreleased solo material during this murky 1969-70 period, though what I've heard isn't as good as Robin's efforts. Don't be surprised if some or much of that finally sees the light of day in the future, especially now that this release has paved the way for solo Bee Gees recordings from the vaults that many thought would never gain official reissue.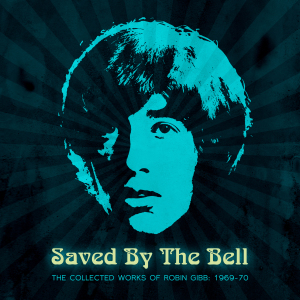 9. Procol Harum, Procol Harum [Two-CD Expanded Edition] (Esoteric). If this were judged merely by the quality of the album at the core of this expanded edition, this would vault to #3 or so on this list. Since this isn't as overloaded with previously unavailable or era-spanning material as most of the preceding picks, and since that core album has long been easily available, it slides down to the second half. That's not at all a negative reflection on this exemplary package, which augments Procol Harum's classic debut LP (the UK version issued in January 1968) with both sides of the great "A White Shade of Pale" and "Homburg" hit singles, outtakes, BBC sessions, and stereo mixes. So the LP becomes a 37-song double CD, although some of the different mixes and extended stereo versions aren't all that essential. The packaging is superb, with a 24-page booklet of liner notes by Procol Harum biographer Henry Scott-Irvine that's jammed with rare photos and graphics, as well as a mini-poster of sorts reprinting a period ad on one side and lyrics to all the songs on the other. The superfluous nature of some of the extra tracks keeps this from ranking higher, but the best of this is excellent British psychedelic rock mixing soul, classical, blues, and poetry. It's a model of how to treat an essential record with a definitive reissue, and though I don't like their second album (Shine on Brightly) as much, Esoteric did a three-CD expanded edition of that LP that's equally impressive packaging-wise.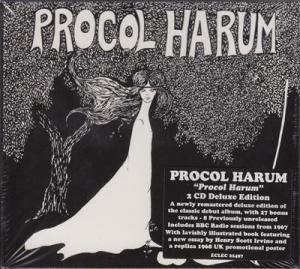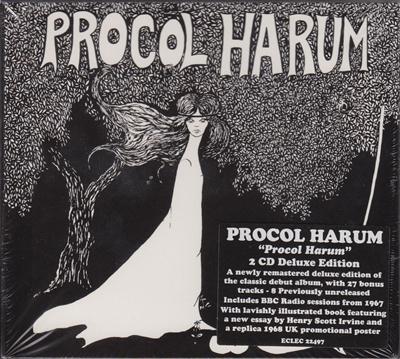 10. Various Artists, Don't Think I've Forgotten: Cambodia's Lost Rock and Roll (Dust-to-Digital). The soundtrack to the fine documentary of the same name (see review in my best-of-2015 music film listings) compiles twenty recordings of Cambodian music—most, though not all, rock or rock-influenced—spanning the mid-1960s to the mid-1960s. Cambodian rock of this period was an odd (at least to Western ears) hybrid of surf, British Invasion, and psychedelia with more indigenous Cambodian influences. The music is haunting, sometimes spooky, and exotic in its improbable combinations, regardless of whether you know much about its social context.
The tracks on this collection are diverse enough that one hesitates to make generalizations about the Cambodian rock style, especially as this spans more than a decade. However, based on what's here and on other comps, it certainly seems true that it often boasted high, trilling, at times tremulous female vocals; shaky, cheesy organs; twangy surf-ish guitars; and melancholy, winding melodies, along with some interjections of jazzy horns. The blend makes for a ghostly time-warp effect, evolving from primitive early-'60s naiveté to something a little heavier. Yet those cheesy organs, as well as other attributes redolent of a decade-old era, were still hanging in there on some mid-'70s sides shortly before the Khmer Rouge pulled the plug.
As unlikely as such a prospect might have seemed only two or three decades ago, vintage Cambodian rock is actually now fairly well represented by compilations such as the volumes in the Cambodia Rocks series. Whether you're familiar with those or not, this is still a good wide-ranging anthology, with better packaging and annotation than other Cambodian rock comps I've seen. Keep in mind, however, that even basic information about some of the tracks isn't always readily available, and though years and original label details are sometimes noted, some tracks don't include them at all. The 36-page booklet does have basic profiles of many of the performers, as well as a wealth of vintage photos and record sleeves.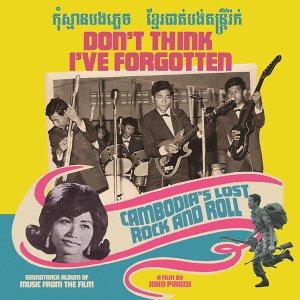 11. Ginger Johnson, African Party (Freestyle). Nigerian percussionist Ginger Johnson was based in London, and already in his early fifties, when he made this proto-Afrobeat album in 1967. He was (as the packaging for this CD reissue emphasizes) a mentor to Fela during that legend's time in London in the early 1960s. He and his troupe also backed the Rolling Stones on their performance of "Sympathy for the Devil" at their 1969 concert in Hyde Park. Of more importance, this is a fine fusion of African music, jazz, and Latin influences, the oft-instrumental format punctuated by merry, sometimes chanting vocals, sometimes in high-energy call-response tradeoffs. In many respects it's African highlife before that term was in wide circulation, but has more joyful spontaneity than many of the more formulaic recordings in the style from subsequent decades.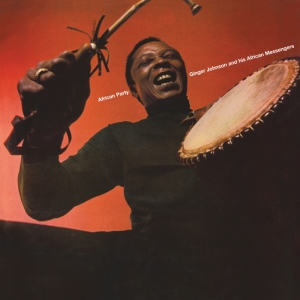 12. Various Artists, Dust on the Nettles: A Journey Through the British Underground Folk Scene 1967-72 (Grapefruit). Compiled and annotated by top British rock historian David Wells, this three-CD package includes 63 tracks, spanning top names who actually had hit albums to artists that even specialist collectors might not recognize. To start with the big names, Pentangle, Steeleye Span, early Tyrannosaurus Rex, the Incredible String Band, and Fairport Convention are all here, though even so, the ISB and Fairport are represented by demos (of "First Girl I Loved" and "Fotheringay," respectively) rather than the familiar album versions. (Donovan and Al Stewart are missing, but maybe it was felt they're just too big, or at least that no enticing rarities could be licensed from their vaults.) Going a bit down the ladder, also on board are Clive Palmer, C.O.B., Dando Shaft, Trees, Anne Briggs, Duncan Browne, Trader Horne, Mick Softley, Vashti Bunyan, and Bridget St. John. Lots of other names will be known to those who've kept up with more cultish rediscoveries and reissues, from Shelagh McDonald and Mark Fry to Agincourt and Comus. Some of the other cuts are so fiendishly rare that it's doubtful anyone has all 63 of the tracks in their collection, save perhaps Wells himself.
So you're likely to hear something new here even if you think you've heard it all. Of greater importance is that it's a well-sequenced set that will give you a good overview of the more interesting fringes of the British folk-rock (and sometimes just plain British folk) scene of the time, even if you own little of it. It's diverse enough that it's not easy to quickly summarize common threads. But some of them would include oh-so-mild psychedelic influences, whether via unusual instruments, a tinge of raga, or unexpected blasts of distorted guitar; a frequent mysticism, sometimes verging on hippy-dippy, sometimes rooted in a more medieval air; and an overall sense that, while generally rooted in folk, the performers were itching to write and record material that burst out of traditional folk's sometimes stifling strictures. Sometimes the idiosyncratic collision of folk, rock, and pop elements can make the artists sound like folkier Moody Blues, as Oberon do on "Minas Truth."
That doesn't mean everything here will appeal to all tastes, even if this wide umbrella of a style is a specialty of yours. British folk-rock was generally considerably more reserved and subdued, and less electric, than the American variety, and sometimes I got impatient to hear a some more grit, some more oomph. In this context, the selections that are a bit edgier, and even the ones that use more memorable pop-influenced melodies, stand out in relief. But in its mixture of artists of various degrees of fame and varying sub-styles within the British folk/British folk-rock genre, as well as its abundance of rarities, it's an excellent overview. If there was a best-of list for 2015 reissue liner notes, this would rank higher, as Wells's small-print 36-page track-by-track annotation (decorated with plenty of rare photos and picture sleeves) is a tour de force.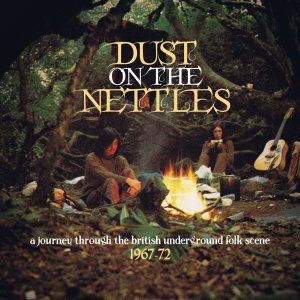 13. Various Artists, Truckers, Kickers, Cowboy Angels: The Blissed-Out Birth of Country Rock, Vol. 1-4 (Bear Family). Bearing an arguably too-long title, this series is basically an anthology of early country rock, covering 1966-1971. The first volume covers 1966-68, and the others are dedicated to a year each (1969, 1970, 1971); all are double CDs except the single-disc Vol. 2 (1969), adding up to seven CDs in all. The series will continue beyond 1971, but most people—most critics, anyway—will probably agree that 1966-1971 represents country-rock's peak creative period, though some of its greatest commercial successes would come in following years.
Nagging logistics out of the way, country-rock experts and novices will hear many of the artists who were most important to the style's birth and peak over the course of the four volumes, and get a good idea of the range of music that fell under the country-rock umbrella. The International Submarine Band, the Byrds, the Flying Burrito Brothers, Gene Clark, Mike Nesmith, Poco, Bob Dylan, Rick Nelson, the Beau Brummels, the Everly Brothers, Hearts & Flowers, and Linda Ronstadt are all here. So are artists who only eased into country-rock on occasion, like the Grateful Dead, Link Wray, Moby Grape, the Youngbloods, Little Feat, and the Lovin' Spoonful. More unusually, there are also singers primarily identified as country musicians, but who either admitted some rock into their music or appealed to lots of rock listeners, like Johnny Cash, Kris Kristofferson, and Buck Owens.
I wish there had been more rarities, but there are a few, such as a pair of tracks on the 1969 volume by the Corvettes, the short-lived Mike Nesmith-produced early country-rock supergroup of sorts with Chris Darrow, Jeff Hanna (Nitty Gritty Dirt Band), John London, and John Ware, the last two of whom would play with Nesmith in the First National Band. There are also selections by some minor acts who will be recognized by many specialists in sounds of the era, but have rarely or never been recognized by compilations such as these. The Gosdin Brothers, Nashville West (again with White and Parsons), Morning, Cowboy, Goose Creek Symphony, Country Funk, the Wildweeds, and Brave Belt (with just ex-Guess Who guitarist Randy Buchanan) all fall into that category. Not all of their selections are great, but they do a great deal to round out the picture of early country-rock's evolution, supplying edges that are lost by retrospectives that just focus on the usual suspects. Also in this semi-rarity category, for better or worse, is the original 1971 version of "Delta Dawn" by Alex Harvey (no relation to Scottish rock legend Alex Harvey), who's credited as co-writer of the song with rockabilly legend Larry Collins; it predates the hit country cover by Tanya Tucker and the huge 1973 pop cover by Helen Reddy.
Perhaps contentiously, there are tracks by artists who were more country-rock influenced than actual country rockers, like the Band. Doug Sahm, Elvis Presley, John Prine, Delaney & Bonnie, Hoyt Axton (with his version of "Never Been to Spain," covered for a hit by Three Dog Night), British band Cochise, Bobbie Gentry, the Monkees (who did actually go into semi-country-rock sometimes) are a few examples; there are even cuts by Jefferson Airplane and Janis Joplin, stars associated with the San Francisco psychedelic scene. As controversial as purists might find their presence, they improve the listenability of the compilations, and also illustrate how country-rock's reach extended beyond artists who specialized in the form, even if some of the choices might confuse listeners who aren't too familiar with the style.
More objectionable are occasional choices that fall closer to easy listening pop than country-rock, like Glen Campbell's "Galveston" and Kenny Rogers's "Ruby (Don't Take Your Love to Town"), which are neither rare nor very good. Additionally, it has to be noted that a few artists whose country-rock-oriented efforts should have been on these volumes aren't because of licensing hurdles, notably Crosby, Stills, Nash & Young (and Neil Young solo) and Creedence Clearwater Revival. But on the whole, it functions as a reasonable overview of country-rock's prime, and the in-depth liner notes also add up to a near-book on their own.
Note that technically speaking, the first two volumes are 2014 releases, not to mention that some might find a portion of an ongoing series something that should not get an entry of its own. But I thought it most sensible to group what are likely to be the best installments of the series into one entry, fully expecting to be held accountable for these transgressions by hardliners subscribing to the "one vote, one record, one year" motto. This might have ranked higher if I was more of a country-rock fan; such is the low-energy calmness, sometimes downright laidbackness, of this material that I was desperate for something raunchier and more exuberant after hearing all of these comps in a row.
14. Slim Harpo, Buzzin' the Blues: The Complete Slim Harpo (Bear Family). Louisiana bluesman Slim Harpo devised (with much help from producer Jay Miller) an intoxicating shuffling, riff-driven sound fusing blues with R&B, soul, and swampy rock'n'roll. If you don't know anything besides his two Top Forty pop hits (1961's "Rainin' in My Heart," covered by the Pretty Things, and 1966's "Baby Scratch My Back"), you probably know the covers of his songs by major British Invasion bands the Rolling Stones ("I'm a King Bee," "Shake Your Hips"), the Yardbirds ("Got Love If You Want It"), the Kinks (also "Got Love If You Want It"), the Who (who put new lyrics to "Got Love If You Want It" on their 1964 single "I'm the Face," credited to the High Numbers), and Them ("Don't Start Crying Now").
The originals are all on this five-CD, 142-track box. All of the aforementioned songs, however, are on the best Slim Harpo best-of, Rhino's predictably titled The Best of Slim Harpo. So do you need this? No, if you're the average fan. As good as his style was, a lot of his songs were formulaic, whether of his early shuffle style or the more soul-influenced, reverberant guitar-heavy "Baby Scratch My Back." A good deal of this set is taken up by outtakes and alternate versions, a few of which are good, but many of which are likewise similar to other and better tracks from his official catalog. And while the live material from two 1961 concerts that comprises disc five is historically interesting, the sound isn't that great.
But if you're heavily into the Slim Harpo sound and are up for a lot at once (or a lot spread over a reasonable span of time), this does set a consistently pleasing mood, such is the insistently swampy-to-the-point-of-humid buzz of most of his tracks. There are occasional highlights to the rarities, like the 1960 outtakes "Lover's Confession" (with its haunting minor-keyed melody and spooky guitar reverb) and "Wild About My Baby," with its raucous near-rock'n'roll feel. And Bear Family again comes up aces with the liner notes, which are actually an LP-sized 106-page hardbook book jammed with descriptive detail, session information, and pictures. And it's just a taster for a full Harpo biography—also by the author of these notes, Martin Hawkins—that will be published Louisiana State University Press in 2016.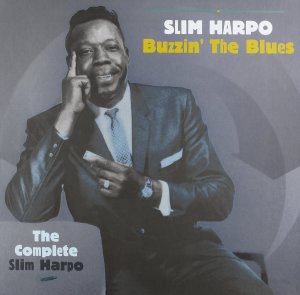 15. The Velvet Underground, Loaded (Re-Loaded 45th Anniversary Edition) (Rhino). If this six-disc expansion of Loaded had come out twenty years ago, it would rank higher on this list instead of bringing up the rear. It's another of those difficult deluxe boxes that's welcome for its completist/definitive (well, almost completist/definitive; more on that in a bit) expansion of a classic album, but one that's too expensive and recycles too much material already in completist fans' collections. Basically, this augments the Velvet Underground's 1970 album (their final studio LP with Lou Reed) with mono versions; 25 demos, outtakes, alternates, and alternate mixes; the Live at Max's Kansas City album (recorded in August 1970, issued in 1972), with some outtakes not on the original LP; a live show from May 9, 1970; and, least essentially, an audio-only DVD with hi-end remixes.
Loaded is my least favorite of the four studio albums the VU did with Reed (and the most conventional), but was still overall a major work with some of his best songs. Some of the alternate versions are important, whether it's the significantly longer one of "Sweet Jane" or an "Oh! Sweet Nuthin'" with Reed on lead vocals instead of Doug Yule. There are also some very good songs that didn't make it onto Loaded, though some would surface in different guises on Lou's early solo albums (like "Ocean," "Satellite of Love," and "Sad Song"). But – and it's an important but – most of these 25 extras were on Rhino's 1997 two-CD Fully Loaded Edition, which most people considering a six-disc Loaded box will already have. And for all its length, Re-Loaded misses an "alternate demo" of "Satellite of Love" that appeared on the 1995 Peel Slowly and See box, as well as one of the long versions of "New Age" from Fully Loaded Edition.
There are problems with other parts of the box too. Rhino's expanded edition of Max's had 17 songs; Re-Loaded is missing two of those. The May 9, 1970 show (long available on bootleg) is simply a disappointment, with lousy fidelity that no twenty-first-century tech cleanup can make too listenable. And while Lenny Kaye's essay is okay, the liner notes on Fully Loaded Edition and the expanded Max's offered much more information than this package does. For all its quantity, there's simply too much barrel-scraping and not-quite-100%-everything going on with this box to put it in the top ten, though it does just make the top fourteen. For a more detailed rundown of Re-Loaded, see my review in Record Collector News.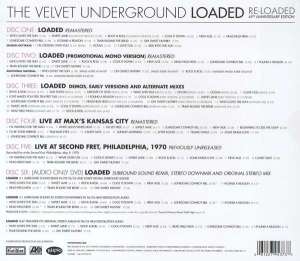 And an honorable mention to:
16. Françoise Hardy, Tous Les Garçons et Les Filles/Le Premier Bonhour du Jour/Mon Amie La Rose/L'Amitié/La Maison Ou J'Ai Grandi (Light in the Attic). These straight reissues of Hardy's first five French LPs (originally issued between 1963-66) don't have any bonus tracks. Even combined, they don't cover this prime period of the greatest French pop-rock artist nearly as well as the 83-track, 4-CD box The Complete Vogue Recordings 1962-1967 (from 1995, on Vogue/BMG). So why is it here? First, because these mark the first time these albums have been available on CD in the US, and any more exposure for Hardy in this country is welcome. Second, the comprehensive English-language liner notes include a good amount of information that's not easy (or possible) to come by elsewhere, including some first-hand interview quotes from the reclusive Hardy herself. Though it's missing some very good material from this era that didn't make it onto the original LPs, the 60 tracks on these CDs do show her growth from catchy early yé-yé—with heavy debts to American teen idols and girl groups—to spectacular mid-'60s orchestral pop-rock of almost Spectorian grandeur.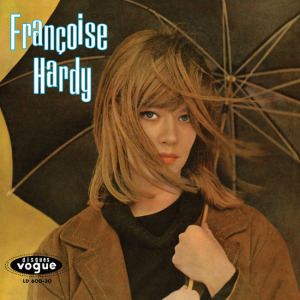 Some final thoughts:
If there's a trend in reissues, it's the appearance of material in bulk that no would have envisioned even a few years ago, both because of its expense and the real or rumored reluctance of the artists to approve such releases. Bob Dylan's unreleased work in particular is becoming available with such minute thoroughness that it seems like almost everything he did (especially prior to 1971) will soon be available. Van Morrison didn't record all that much with Them, but as previously noted, the sudden appearance of a three-CD set that tracks down everything—with liner notes credited to Van himself!—indicates he's had a change of heart in preserving his early legacy in a definitive package. The Velvet Underground now have four big deluxe boxes for each of their studio albums, and a four-CD set of live 1969 material, much of it unreleased until very recently.
Is this happening because the labels and the artists are getting more desperate to make money out of a sagging record business, or because the artists realize in their old age that it's now or never if they want input into getting this material out there and rounding out their legacy? It's probably both, I'd guess. It's unfortunate that some such packages come with material that the people most likely to buy them are likely to already own, sometimes more than once. It's also too bad that few of them can seem to manage the feat of being totally definitive and including everything possible. But at least we're seeing (and hearing) far more such rock history than most of us would have expected in our wildest dreams—a windfall that's likely, I predict, to continue in the coming years.