As kind of a follow-up to my recent post "David Bowie Byways," which covers some of the less discussed aspects of his career, here's a much shorter one that my viewing of the new documentary Moonage Daydream sparked. This isn't a review of the film; I'll have a multi-paragraph one in my year-end rock documentaries wrap-up. My basic assessment of how much I liked the movie, to quote from Rip Torn's response to the question from Bowie's character in The Man Who Fell to Earth as to whether Torn likes the album Bowie makes in that film: "Not much."
However, Moonage Daydream has some material here and there that perked up my interest. Here are a few such items:
Jeff Beck's guest appearance at Bowie's "retirement" concert in London on July 3, 1973. Most of this concert appears in D.A. Pennebaker's documentary of the event, Ziggy Stardust and the Spiders from Mars. Beck guested with Bowie on a medley of "The Jean Genie" and the Beatles' "Love Me Do," as well as a cover of Chuck Berry's "Around and Around" (a studio version of which was used as a Bowie B-side, though it didn't make it onto his LPs of the era). Some of the "Jean Genie/Love Me Do" bit appears in Moonage Daydream, though not much. Actually most of the musical performances in Moonage Daydream are pretty brief snippets.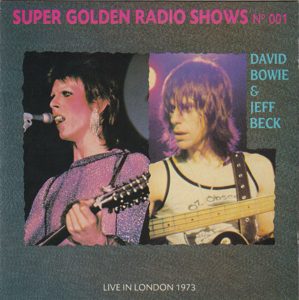 Several explanations have been given for why Beck didn't allow these performances to be included in the Ziggy Stardust documentary. These include dissatisfaction with his performances and his wardrobe, especially his shoes. He didn't know he was being filmed, either, which might have contributed to his reservations.
Inclusion of this footage in Moonage Daydream is welcome, but it's not as rare as many would think. Beck's appearance was included in a different version of Ziggy Stardust shown on ABC television in 1974 and, according to some online sources, an Italian print of the film. The sequence also made it onto Youtube, though the quality of what's seen in Moonage Daydream is better.
Something not discussed in the film is a story that a groupie tells in Dylan Jones's oral history David Bowie: A Life. She remembers Bowie telling her he would have rather had Beck in his band than Mick Ronson, himself a very Beck-influenced guitarist. Ronson's on stage with Beck and Bowie in this retirement concert footage. I wonder if Ronson ever knew the story of Bowie preferring Beck to him, if true?
A Diamond Dogs script. Some memorabilia in Moonage Daydream flashes by so quickly you barely have time for it to register. One such piece is a script for a Diamond Dogs movie. Diamond Dogs, of course, was a big 1974 hit album for Bowie, but no movie was or has been made based on it.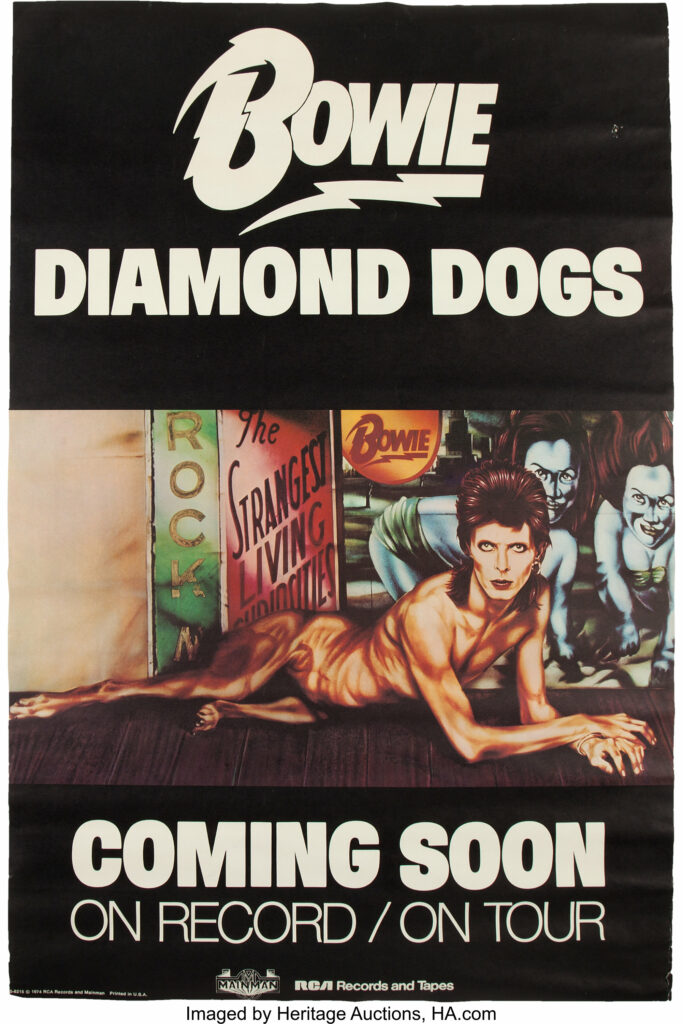 While details on a Diamond Dogs film aren't abundant, a post at https://www.davidbowienews.com/2021/03/david-bowie-diamond-dogs-an-unfinished-film/ has some. Diamond Dogs grew out of a stage adaptation Bowie hoped to make of 1984. George Orwell's widow didn't give him the rights, but songs that might have been involved (most obviously "1984") evolved, at least in part, into the Diamond Dogs album.
Bowie also wanted to have a television adaptation of 1984. When that wasn't possible, he worked on a film that would have been produced in conjunction with the Diamond Dogs album. According to davidbowienews.com:
"Combining the influences of Orwell's novel together with German expressionism and the silent movies The Cabinet of Dr Caligari, Metropolis, and Tod Browning's Freaks, Bowie had also planned a film to accompany the new album. The film was storyboarded in detail and character parts were written, to be played by Bowie himself, Iggy Pop, Lyndsey Kemp and Cyrinda Fox, among others.
In early 1974 and during his stay at New York's Pierre Hotel, Bowie together with supervision from cameraman John Dove began work on a short demo video for the Diamond Dogs film. The demo video was shot with a single RCA video camera, and included very basic opening titles, simple special effects and superimposed scenes and figures using cardboard cutouts. Unfortunately the film project was never finished."
Just a little more than a minute or so of demo footage can be seen on Youtube, some of it containing what looks like a credits sequence. It's highly abstract and Bowie isn't seen much. You can't get much of a sense of what the film as a whole might have been, and note that the electronic-flavored music isn't by Bowie. It's unknown whether the music (by Erkki Kurenniemi) was intended for the original movie, though my guess is it wasn't.
A bigger question is whether the Diamond Dogs script will ever be published for public reading. Even if it's not that good, it would at the least make for interesting additional Bowie history. As an example for comparison, the seldom seen 1970 movie starring and co-directed by Jim Morrison, HWY: An American Pastoral, isn't very good, but the shooting script (by Morrison) did make it into the recent book The Collected Works of Jim Morrison.
Diaries. Some other memorabilia briefly glimpsed in Moonage Daydream include a page, or pages, from a diary. This material shoots by so fast that it's hard to say for certain when it's from, let alone what it contains, at least until this is on home video and you might be able to decode such info from a freeze frame. My impression was that the shot or shots were from a diary around 1974.
Again, these would have valuable historical information if they're ever published or accessible to the public. I'm reminded of how Martin Scorsese's George Harrison documentary made fans aware that Harrison was keeping a diary in the late 1960s, though what entries have circulated are pretty mundane. Even for the day he (temporarily) quits the Beatles in January 10, 1969, he devotes three words to the incident: "Left the Beatles."
There were some diary entries of Bowie's from 1973-1975 that were actually published in a British teen music magazine, Mirabelle. These can be seen on the bowiewonderworld.com site. It turns out, though, that they're hardly useful items for Bowie biographers and researchers. In 1998, he admitted they were ghost-written by his American publicist, Cherry Vanilla. Presumably the diaries briefly seen in Moonage Daydream were legit.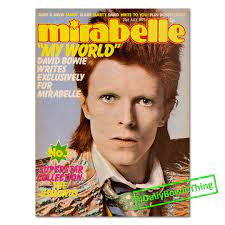 Cracked Actor. For a film that's never been on home video, this hour-long 1974 BBC documentary is pretty well known. It's not only for the concert footage from his US tour just after mid-1974, but also for quite a few backstage/offstage/interview sequences. There are some obvious similarities between how he acts and looks and his character in The Man Who Fell to Earth, made not long afterward.
I actually don't like it as much as many Bowie fans do. The concert performances and material are dimly lit and not-so-sensational. The offstage portions are often fragmentary and fairly unrevealing. Some parts of Cracked Actor do make it into Moonage Daydream for a wider and contemporary audience, however. While I can't be entirely uncertain, footage of a live performance of "Rock and Roll with Me," one of the better rare bits in Moonage Daydream, seems to come from the pool of footage shot for Cracked Actor, and has not circulated before to my knowledge.
Cracked Actor hasn't been all that hard to see. Unauthorized copies have circulated for a long time, and clips show up on Youtube. When I've seen the material in this form, however, it's had subpar sound and image quality. There's an obvious market for an official, cleaned-up edition of the documentary, with some bonus footage, on the reasonable assumption some exists. It's not clear why this hasn't happened, though at a guess there could well be rights issues and legal obstacles involved.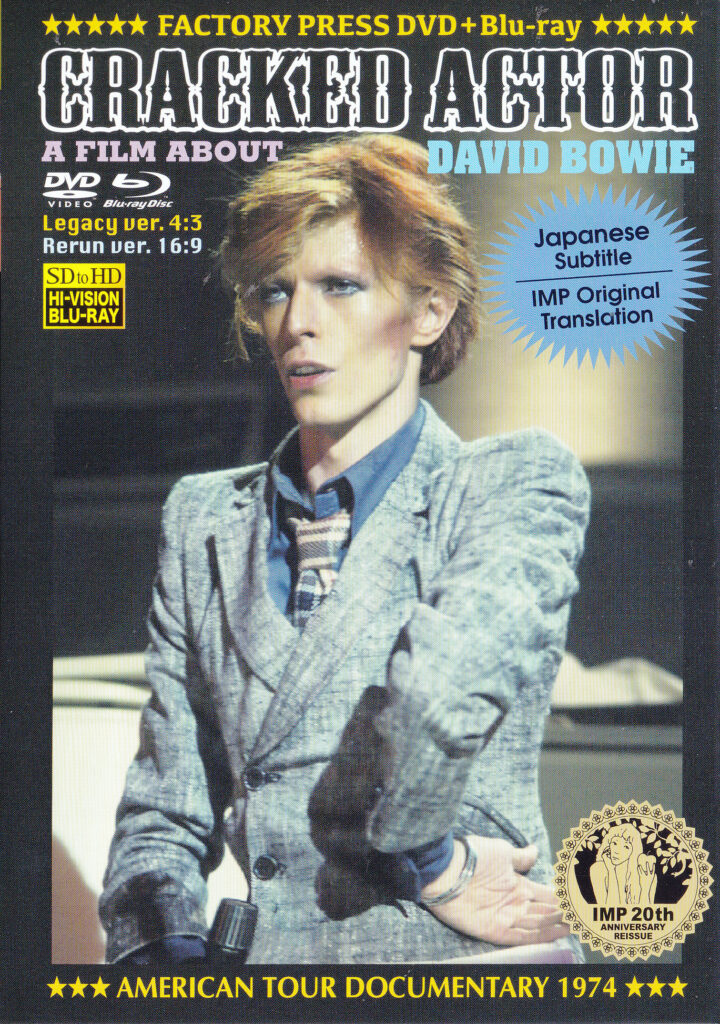 Hansa Studios. Speaking of documentaries that aren't as accessible as they could be, there's a 2018 one on the studios where Bowie worked in the late 1970s in Berlin. Titled Hansa Studios: By the Wall 1976-90, it was broadcast on the British Sky Arts television channel, and given a positive review in The Guardian. Although Hansa's most known for its Bowie association, other acts who made a mark recorded there, including Wire, the Birthday Party, and U2.
There are some still photos of Bowie working in Hansa in Moonage Daydream, but not much specific commentary on what he did there (and the film doesn't have that much specific commentary on what Bowie did in general throughout his career). This would make the Hansa Studios valuable viewing, but I only know a couple people in the US who've managed to see it. It doesn't seem available to stream or to buy as a DVD or Blu-ray, and it's been four years since its Sky Arts broadcast. Why isn't it accessible?