Just a few miles north of Berkeley, El Cerrito is not known as a destination point, even to San Francisco Bay Area residents. If it's known for anything, it's for being the hometown of Creedence Clearwater Revival, as well as the location of Down Home Music, for many years one of the primary retailers and distributors of "roots" music.
Much of El Cerrito is indeed flat, suburban, and unremarkable. But go up the steep hills to the east, and if you know where to walk, there's some good hiking and views, like this: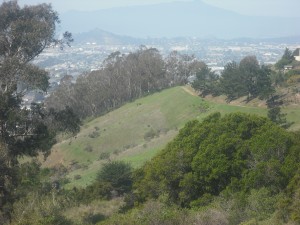 That's Motorcycle Hill, where riders would indeed try to ascend the peak back in the 1920s. Don't believe me? Here's a picture of Dudley Perkins winning the 1928 National Hill Climb there:
Nowadays it's a lot more peaceful, though on the other hand, back then, you didn't have as much noise from the nearby highway and public transit trains. You can still hear some of it on the modest hike I took today, but it's pretty peaceful for the most part. In part that's because the community's making a concerted effort to prevent development on this stretch of land, Madera Hillside Open Space: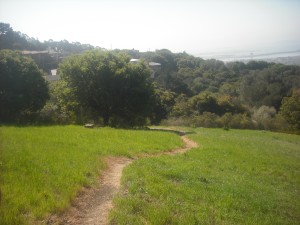 Should it remain undeveloped, there will be uninterrupted parkland from here to Motorcycle Hill, save for one main artery (Potrero Avenue) running between them.
The trail going through Madera Hillside Open Space is accessible by public stairway near Madera Circle. Other nice spots on the walk include spots like these: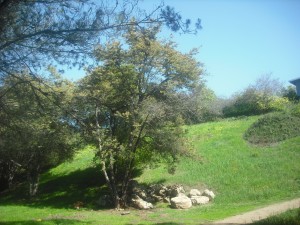 And this view of the bay. That's little-known, seldom visited Brooks Island, with larger Angel Island behind it, the Marin Headlands in the distance, and the Golden Gate Bridge at the left: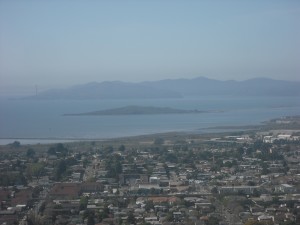 This being not-too-far-from Berkeley, it wasn't a total surprise to come across this public artwork near the end of the walk: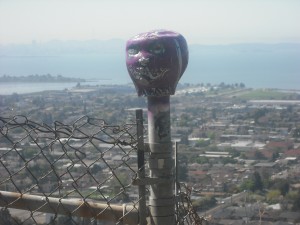 On your drive down (you can bike here, but it's almost as steep as it comes in the Bay Area, which is saying something), you might come across wildlife like this turkey, spotted on Portrero Avenue: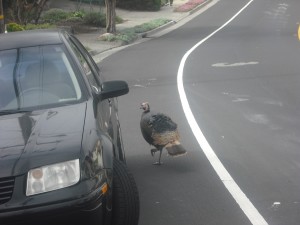 Cap off the day with lunch at fine eateries such as this, on El Cerrito's main drag, San Pablo Avenue: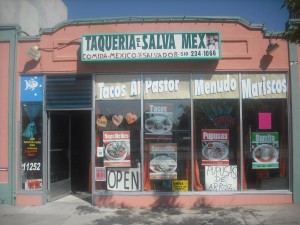 For more information about hikes in the El Cerrito hills, go to the El Cerrito Trail Trekkers site.