Although it's just a few miles north of Berkeley, Richmond doesn't get much notice or respect, let alone many visitors. If it makes the news or conversation, it's usually about its crime or environmentally poisonous oil refineries. It's not likely to make most visitors (or even Bay Area residents') must-see lists soon. But there are some scenic areas just outside its city limits that relatively few people know about unless they live in the immediate vicinity.
One is Point Pinole Regional Shoreline, a few miles northwest of central Richmond. Especially on a weekday, this is real quiet, even for a large park, with few visitors and several miles of paths for biking and walking. These are especially user-friendly for wheelchair users, as they're pretty level and little-traveled.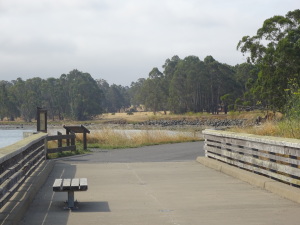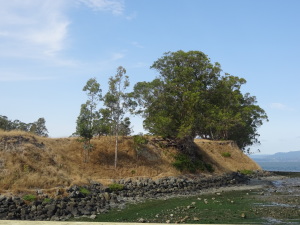 Even in such a nice setting, however, there are reminders of the industrial powers that did their part to put Richmond on the map, and these days are responsible for much of its notoriety. At one view of the bay near the main entrance, for instance, you can easily spot nearby working refineries: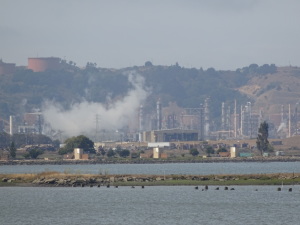 Railroad tracks also run right through the park near the main entrance: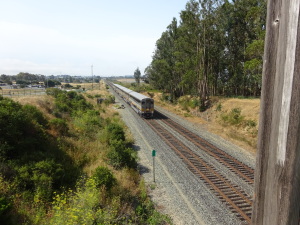 A few miles down the bayside is Miller/Knox Regional Shoreline, just south of Point Richmond, a small affluent enclave in what is one of the East Bay's poorer and more industrial regions. The better recreational paths are in the park's northern and central areas, but the most interesting cultural relics are at Ferry Point at the southern tip: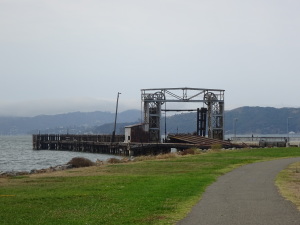 This Richmond Ferry Terminal, now disused, was actually used to transport passengers to Fisherman's Wharf and the San Francisco Giants ballpark until the late 2000s. There's a bit of a ghostly feel to the Ford Point area where the terminal sits, in part because of surrounding eerie old industrial buildings: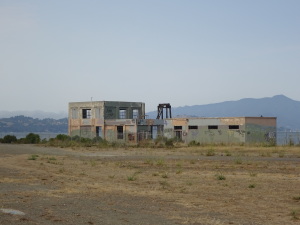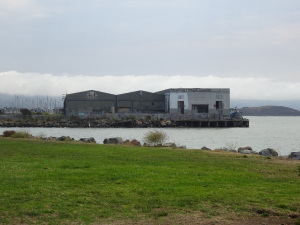 Bike just a bit south of the ferry, and you reach a shipyard, part of which has a similarly past-its-prime aura: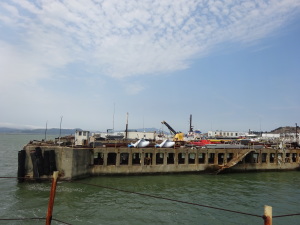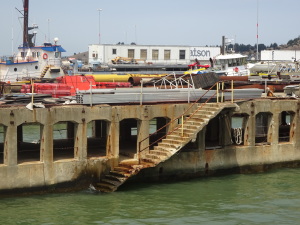 Although biking within these parks is fun and easy, biking to these parts, unfortunately, is anything but. Even starting from the relatively close Richmond BART station, you'll have to navigate miles of highways and truck-filled industrial roads to get where you're going, for which you'll need a pretty good regional map. Even some of the neighborhood streets are long overdue for maintenance, and one connector bike path almost petered out in a dried-out mud slide near its finish.
What of Richmond itself? I can't pretend to have seen too much of it, either on my bike trip a few days ago or in my thirty years as a Bay Area resident. It was heartening, however, to see a colorful mural-filled park in this inner-city neighborhood near the BART station. Even the website of this space, Pogo Park, acknowledges that it's "in one of the Bay Area's toughest inner-city neighborhoods, Richmond's Iron Triangle":