Just a few weeks ago, I posted about a hike through the El Cerrito Hills – the first such walk I've taken, despite living in the Bay Area for about thirty years. Such are the riches of this area that I returned yesterday to sample more of its delights. Well, I guess I wouldn't be coming back so soon had not friends recently moved to that neighborhood. But it's certainly a good excuse to set off in a different direction from their home to Wildcat Canyon Park, which I'm again embarrassed to admit I had not entered until yesterday:
Technically a part of Richmond, the park can be entered from the tippy-top of the El Cerrito Hills, near the end of Rifle Range Road. There's no trail-specific parking, but then again, not many people are using the trail, so you won't have a problem finding a space on the street within a block or so. We saw a couple walkers here and there, but usually the trail looked like this, even on a sunny spring Saturday afternoon: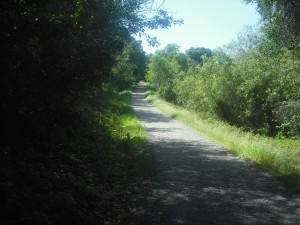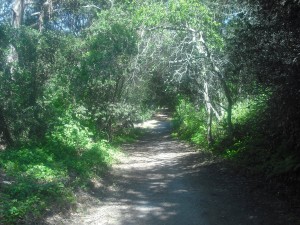 We didn't get too far into the hills of the park, which we're planning to walk through for a longer and more ambitious trek this summer: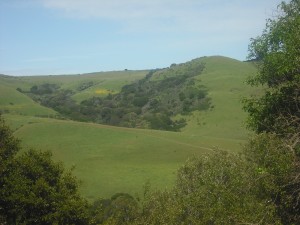 If you're walking to the trail entrance through the El Cerrito neighborhood near Arlington Avenue, you'll be bound to come across some sights worthy in their own right. My camera can't do justice to some of the panoramic views of the San Francisco Bay, but here's one sample, with the tried-and-true image of the Golden Gate Bridge in the distant background: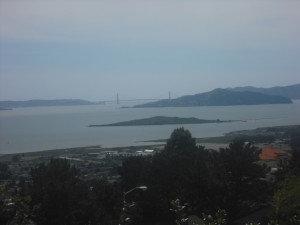 You can also take in some of the interesting architecture in the surrounding blocks, like this steep garden: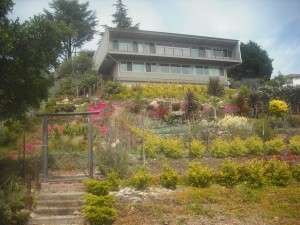 There's more info about the park on the Wildcat Canyon Park website, as well as the Wildcat Canyon Park page on the San Francisco Bay Area Hiker site.