Considering that 55-60 years have passed, it's amazing how many of the most important landmarks of the Beatles' stints in Hamburg survive. Just one major site—unfortunately, a very major one (details later)—is gone. Otherwise, the clubs they played, the places they stayed, and some other odds and ends (including the doorway of a very famous photograph) are pretty intact, if understandably usually altered. It took a long time for me to get here, but almost fifty years after I first read about their Hamburg visits (at the age of eight in Hunter Davies's Beatles biography, back in 1970), I finally made my pilgrimage in July 2018.
To be honest, if you're not a big Beatles fan and don't make the connections between these landmarks and their early history, they don't look like much. I was here on my own, but I imagine that if you're visiting with someone who's not a fan (or even if they're a casual fan), they might feel like I do when I tag along with fellow travelers eager to linger over vintage tapestry collections.
Hamburg, however, was the most crucial city to the Beatles' evolution, other than their Liverpool birthplace. It was here they mutated, in just a couple years or so, from a ragtag semi-pro outfit who couldn't find a permanent drummer to—without exaggeration—the best group in the world.
They certainly were by the time they played their last Hamburg show on New Year's Eve in 1962, even if you can't quite tell from the surviving lo-fi recordings of them in late December of that year at the Star Club. Playing for eight hours or so a night (with some breaks) for weeks or months on end not only accelerated their growth, but forced them to drastically expand their repertoire. Also important was their exposure to the St. Pauli district's seedy nightlife, which similarly accelerated their growth from teenagers to adults.
There are Beatles landmarks throughout the St. Pauli district, but the most vital are concentrated on the Grosse Freiheit, a small but vibrant street off the western edge of the area's main drag, the Reeperbahn. Three of the four clubs they played in Hamburg were here, within about a block of each other. The Reeperbahn entrance to Grosse Freiheit is marked by Beatles Platz, its circular shape meant to mimic a record.
Five spindly statues on Beatlesplatz represent the group as they were when they first played Hamburg between August 1960 and mid-1961. Four are grouped together; one, of original bassist Stuart Sutcliffe (who left in mid-1961 and died in spring 1962), is considerably off to the side. The idea behind these not-immediately-identifiable-images is for you to pose inside them as if you're actually one of the Beatles. Yet less immediately apparent are the song titles inscribed into the Platz, which name many of their biggest hits from throughout their career.
The first club the Beatles played in Hamburg was the Indra, though they didn't draw much due both to its small size and their relative inexperience. Remarkably, it's still there and still a music club, though a bit removed from the main action, about half a block north of where the other commercial establishments end.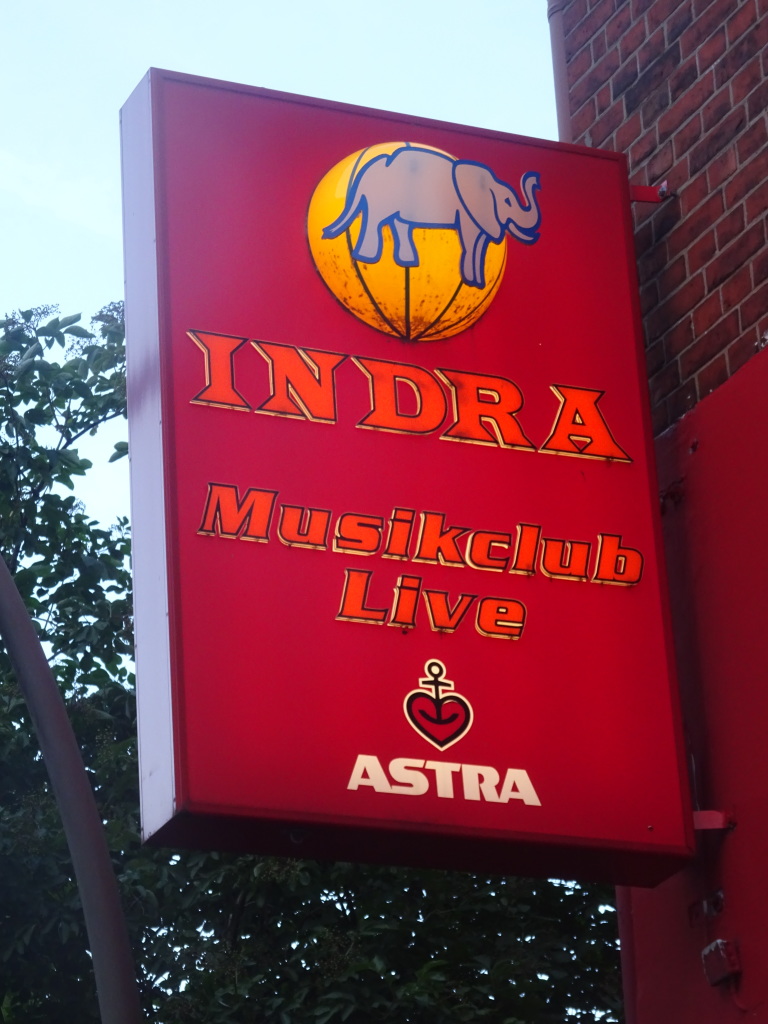 Often missed by passerby are some interesting photos and posters above the entrance, which you have to get very close to in order to make out. The Beatles poster is of their last show in Hamburg — not in the Indra or even St. Pauli, but in the Ernst-Merck-Halle, as by this June 1966 gig they were global superstars, not a struggling club band. Less common are the photos of Jimi Hendrix; though he didn't play the Indra, he did play the Star Club in March 1967.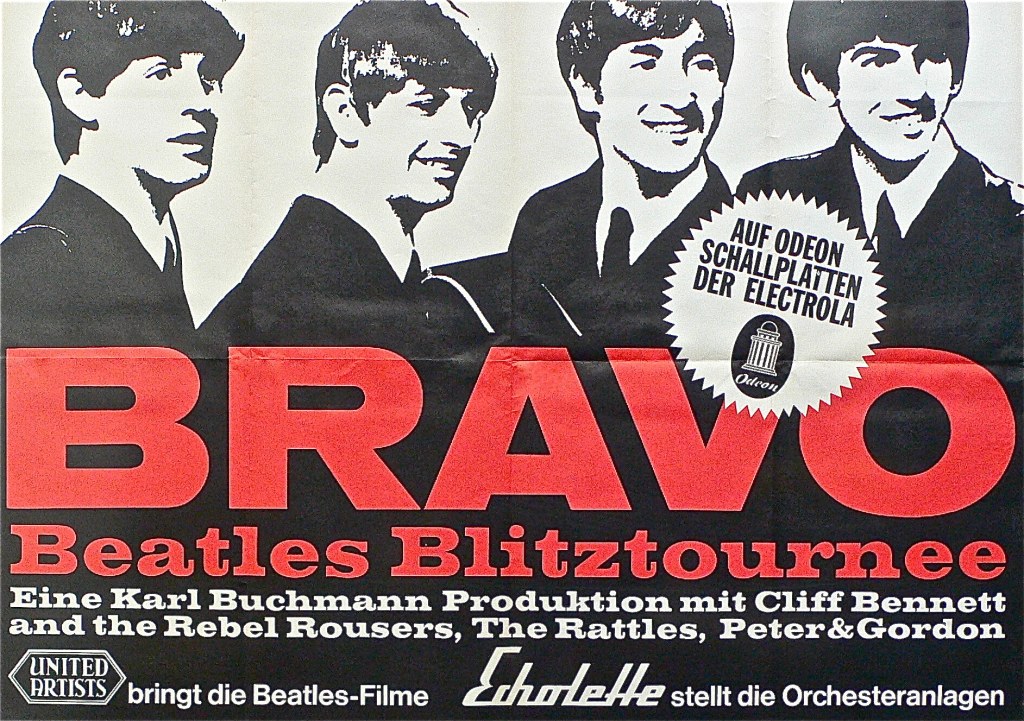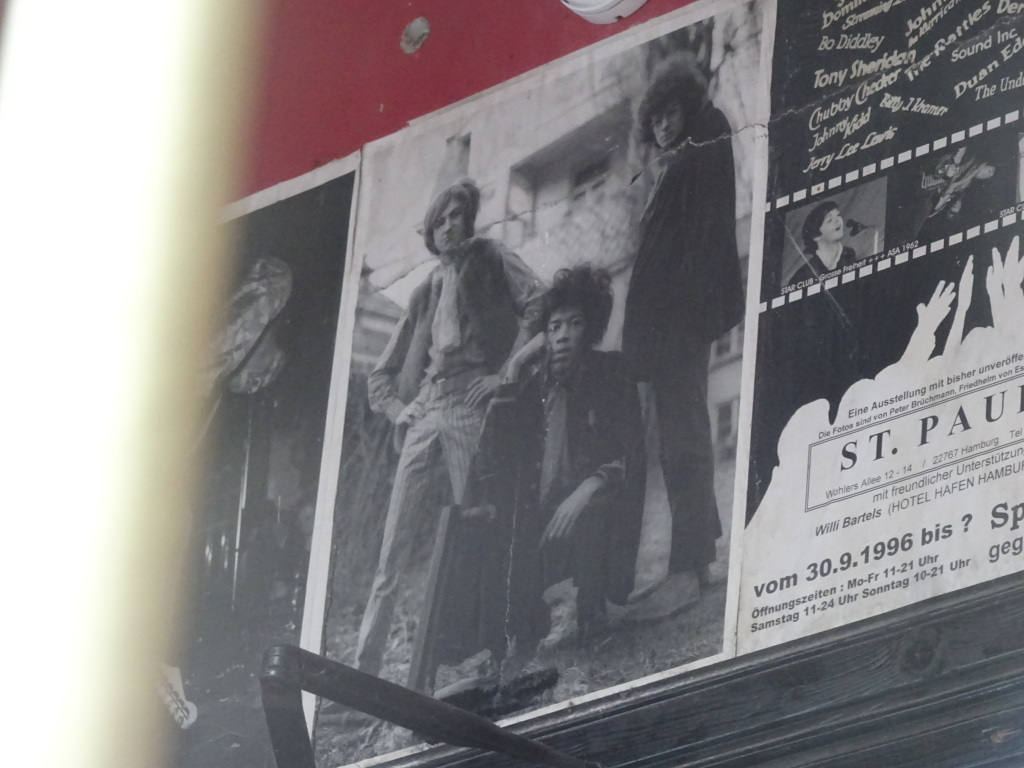 The Indra closed about six weeks into the Beatles' first visit, and they moved to the Kaiserkeller. Though less than a block away, it was much better situated to draw in the foot traffic from Grosse Freiheit, and a much bigger and better venue. It's still here and still a club, with a doorway poster for some of their shows. Note they're billed below, and in much smaller type than, fellow Liverpool group Rory Storm and the Hurricanes (misspelled "Hurican"), whose drummer was Ringo Starr.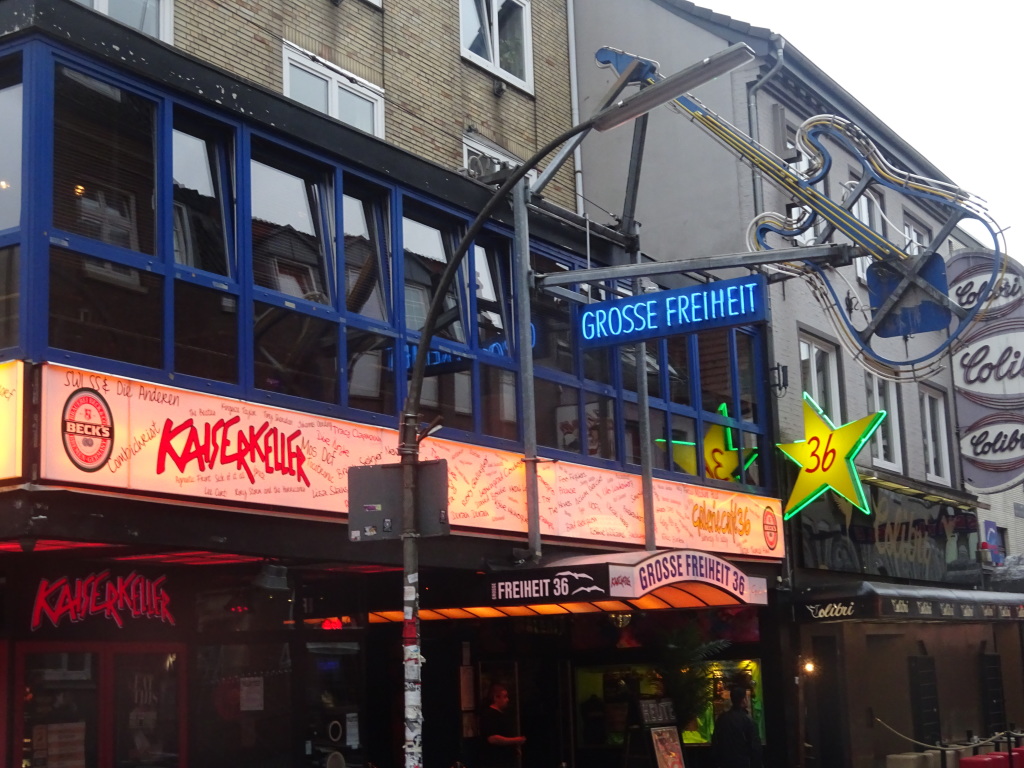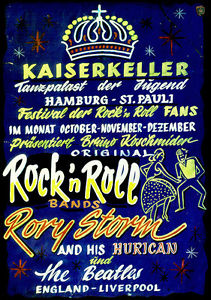 The Star Club, the final and biggest place the Beatles played in Hamburg for 1962 engagements, was just across the street and south of the Kaiserkeller. Unfortunately the building burned down in 1987, and the former entrance now looks a bit like a mini-mall:
But at least there's a marker in the large open space inside, commemorating some of the many legends who played the Star Club. Besides the Beatles, these included fellow Liverpool bands both famous (the Searchers) and relatively obscure (Ian & the Zodiacs). But quite a few are great acts from elsewhere (you'll have to blow up the picture to read them), including the Pretty Things, the Spencer Davis Group, Johnny Kidd & the Pirates, the Walker Brothers, and US rock'n'roll greats like Little Richard, Chuck Berry, Bo Diddley, Jerry Lee Lewis, the Everly Brothers, and Ray Charles — an amazing roster (and this is just a partial list, missing some notable names like Jimi Hendrix,  Cream, and Soft Machine).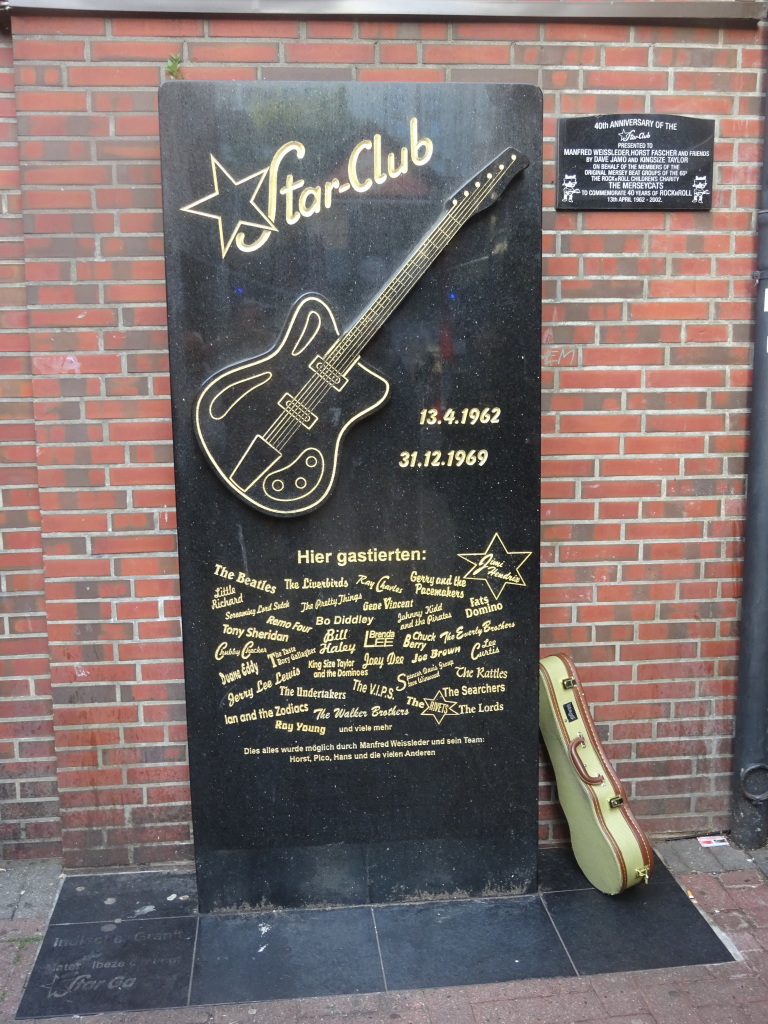 Grosse Freiheit itself is still teeming with gaudy nightlife, and many locals and tourists who likely aren't there to pay homage to the Beatles:
Around the corner from Grosse Freiheit, on the Reeperbahn itself, is the Top Ten club, where the Beatles played in late 1960 and spring 1961, between their Kaiserkeller and Star Club stints. There aren't many traces of its history from its current appearance. It's now a club featuring late-night DJ sets a few times a week, though the entrance looks more like one for an apartment building:
Also around the corner from Grosse Freiheit, at #33 on the far quieter Paul-Roosen Strasse, is the building that housed the Bambi Kino, the cinema over which the Beatles slept in legendarily filthy quarters on their first visit: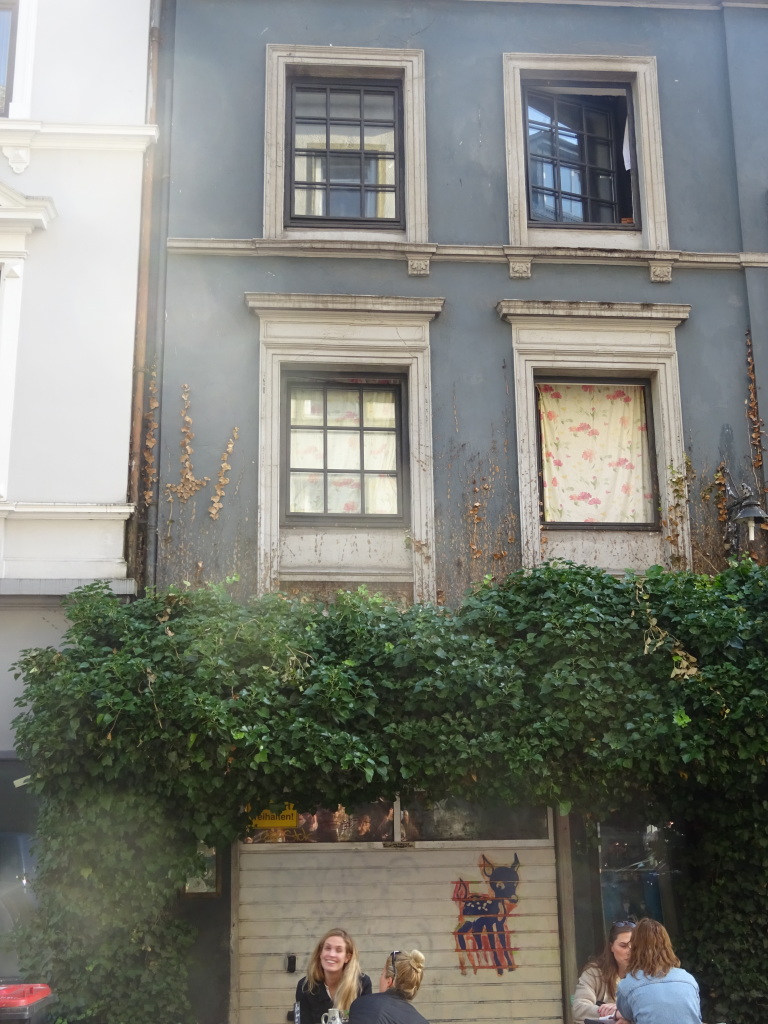 Yes, it's marked by an actual Bambi, though that space is now a garage, not a cinema (which actually only operated for a couple years or so). There are still apartments above it, and they don't look all that plush from the outside. The youngsters in this photo are at tables placed on the sidewalk by a cafe across the street. There's a plaque a few feet to the right of the Bambi marking the Beatles' residency, another landmark you might miss if you don't know to look out for it:
The Beatles didn't actually enter their rooms on this street, instead using a back entrance on Grosse Freiheit. As documented elsewhere, they probably didn't get much sleep, as the Bambi Kino started running films at loud volume at noon, after the Beatles had stayed up all night and then some playing music and winding down:
The Reeperbahn itself is still jammed with nightlife—much of it of the red-light variety—for about half a mile, sex clubs sitting side by side with falafel joints, bakeries, and tawdry bars. Not my kind of scene, but it gives you a taste of the wild side the still-teenaged Beatles were thrown into without preparation in summer 1960. 
The most notable landmark outside of the Grosse Freiheit area is the doorway in which John Lennon posed for a memorable picture by Jurgen Vollmer, later used on the cover of his 1975 Rock'n'Roll album. To find it, you need to go to the arch reading Jäger-Passage at Wohlwillstrasse 22, go into the passage, open the gate, and go into a small garden. The doorway is easily recognized on your right. In the picture I took on July 7, 2018 (Ringo's 78th birthday, as it happened), my guide held a copy of the Rock'n'Roll LP on the left edge: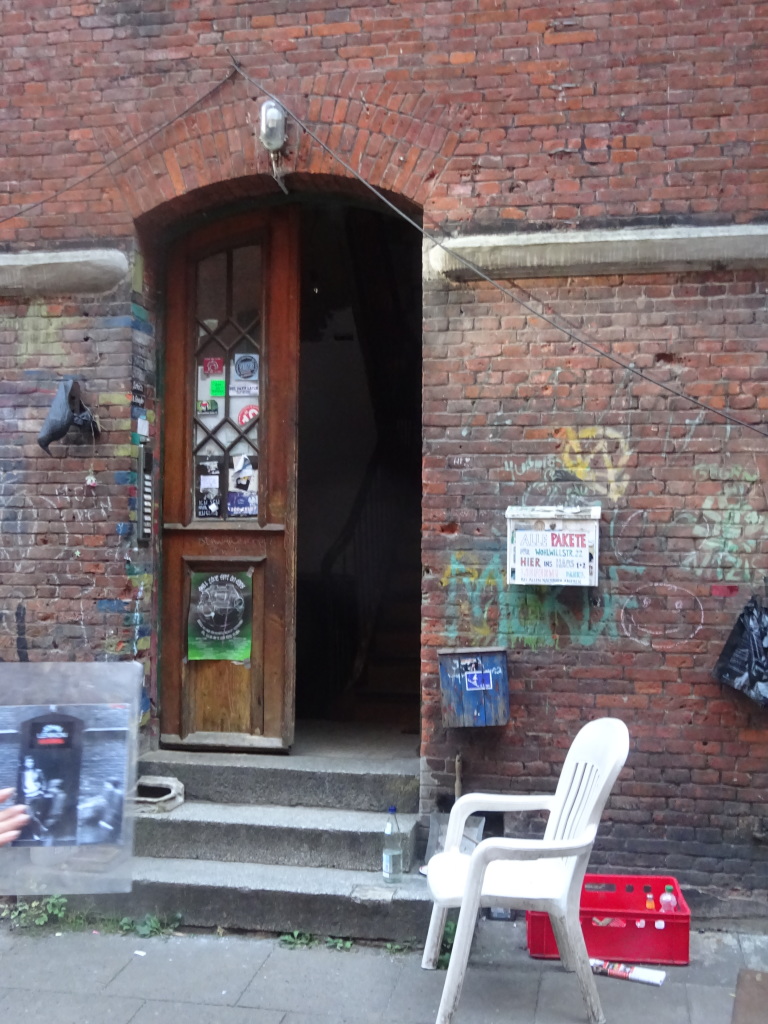 By chance, a shop named after the opening lyric to the Beatles' "Happiness Is a Warm Gun" opened a few doors to the right of Jäger-Passage. Not an authentic Beatles Hamburg landmark by any means, but it's an interesting coincidence: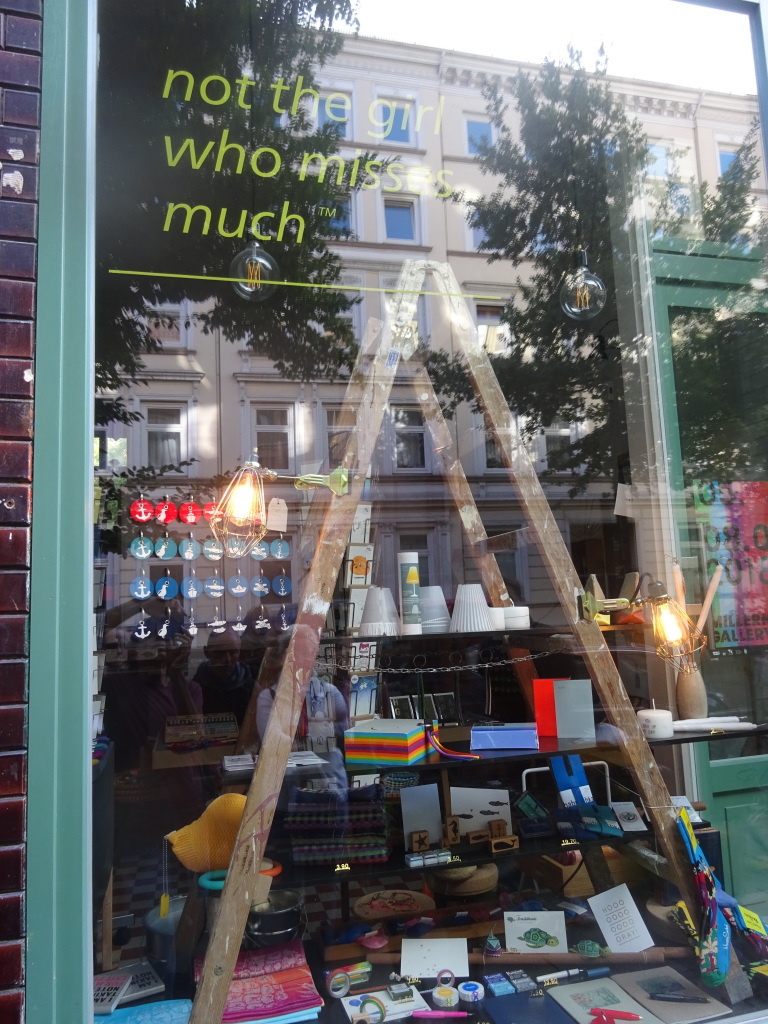 Farther away from the Reeperbahn, the Pacific Hotel—where the Beatles stayed for their final visit at the end of 1962, and a much nicer place than the Bambi Kino—is still in operation, only a block or so from Feldstrasse U-Bahn station. It still looks like a rather nice place to stay, in fact: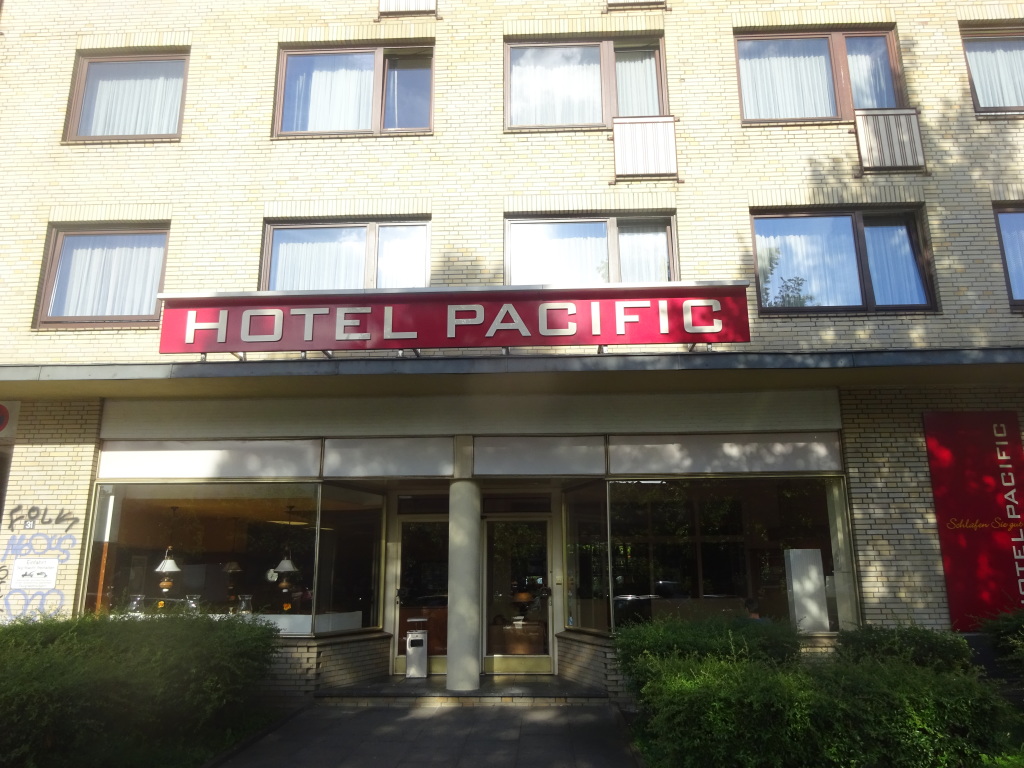 A couple blocks from there is the former shop where the Beatles got leather suits, though it's not in operation anymore: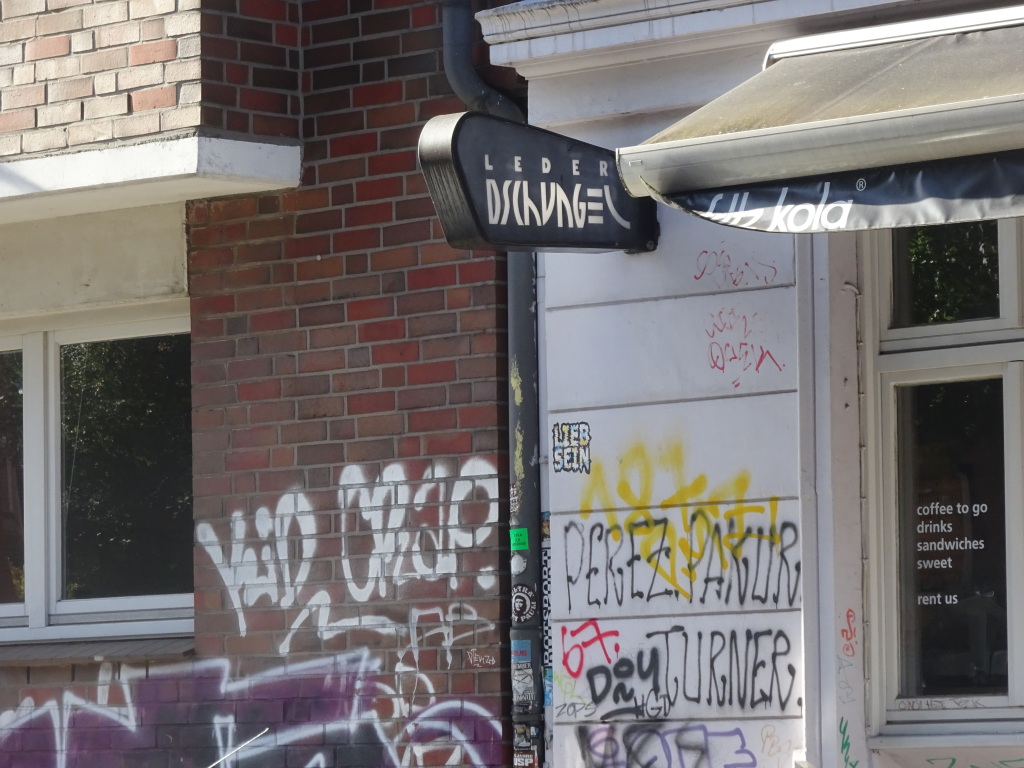 And near the Feldstrasse U-Bahn entrance are the fairgrounds where Astrid Kirchherr took the first great pictures of the Beatles in late 1960. It's still used as a fairgrounds a few times a year—but I was there a couple weeks before one of those occasions.
Maybe it's an indication of how rock history has yet to be taken as seriously as it should, but there isn't as much boosterism of the Beatles in Hamburg as you might expect—certainly little outside of Grosse Freiheit. Museums and souvenir stands had plenty of postcards of local landmark churches, lakes, buildings, and such, but none that I could find of the Beatles in Hamburg. Fortunately I did get one from the guide I used, Stefanie Hempel, who runs tours on Saturday evenings (info at http://www.hempels-musictour.de/en) that cover all of these sites in detail.
There are other things to do and see in Hamburg (a city of nearly two million), of course. Here are pictures of just some:
But really, for me, it was the Beatles landmarks that made me decide to finally visit. Besides Liverpool and London, Hamburg's the city with the most important of these.