For all its success – it was, after all, a #1 single on September 25, 1965 – Barry McGuire's "Eve of Destruction" isn't all that well respected by critics. Even at the time, Paul McCartney, John Lennon, Paul Simon Pete Seeger, Noel Stookey of Peter, Paul & Mary, and Manfred Mann lead singer Paul Jones all slagged the song in the press. At the time, however, it caused simply enormous controversy, getting discussed in forums ranging from Time magazine to a Pittsburgh rabbi's Yom Kippur sermon. It also generated at least two "answer" records that attempted to counteract "Eve of Destruction"'s pessimism, though the motives might have been more mercenary than political.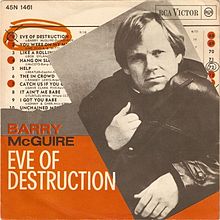 Of the two answer records, the better known by far is the Spokesmen's "The Dawn of Correction," which actually made #36 not longer after "Eve of Destruction" topped the charts. This combination of self-righteous counterrevolutionary attack and unfunny satire—replete with twanging Jew's harp and clanging bells—was actually the work of songwriters who had a hand in a classic early rock'n'roll hit. One of the three composers, Dave White, had been in Danny & Juniors and sung on their 1957 #1 single "At the Hop"; another, John Madara, was credited as a co-writer on "At the Hop." The third perpetrator of "The Dawn of Correction," Ray Gilmore, was a Philadelphia DJ.
Whether their sentiments were sincere or exploitative, there's no doubt "The Dawn of Correction" was helped by the very single it was rebutting. As music trade magazine Cashbox reported at the time, "according to the label, a great many stations are now playing the record back-to-back with the McGuire disk, asking their listeners to call or write in their comments." KCLV in Clovis, New Mexico (the small town most noted as home of the studio where Buddy Holly & the Crickets recorded much of their material), perhaps confused and trying to cover fallouts from every direction, banned both "Eve of Destruction" and "Dawn of Correction."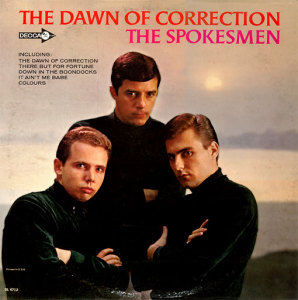 But there was yet another, far more obscure "answer" record refuting "Eve of Destruction" that I only became aware of very recently. Tony Mammarella's condescendingly moralizing "Eve of Tomorrow" didn't make the charts, however, and with good reason. Nobody was going to push a button to detonate a nuclear bomb, chanted Mammarella to a martial drumbeat as woman soul singers wailed in the background, as long as we Americans had a button to push as well. "If you're gonna say uncle, make it Uncle Sam!" he admonished in conclusion.
Producing and arranging this has-to-be-heard-to-believe-it monstrosity was Richard Barrett, who (as Richie Barrett) had co-written and recorded the original version of the first song the Beatles were filmed performing, the explosive soul-rock classic "Some Other Guy." In just three short years or so, Barrett had come a long way down from issuing the record that was one of John Lennon's all-time favorites. As John Lennon declared in Rolling Stone on September 17, 1968, "I'd like to make a record like 'Some Other Guy.' I haven't done one that satisfies me as much as that satisfied me." He probably never heard "Eve of Tomorrow"—but then, hardly anyone did.
I'm not aware of any reissue disc that includes "Eve of Tomorrow," though you can hear it in the usual places online. The most prominent of which, when I cued up "Eve of Tomorrow," also led me to another folk-rock exploitation disc that had somehow escaped my attention all these years. There's a Beatles connection here, too, as the "singer" was none other than the self-proclaimed fifth Beatle, New York radio DJ Murray the K.
The very week that "Eve of Destruction" made #1, a single by "Eve of Destruction" composer P.F. Sloan entered the Top Hundred. Titled "The Sins of a Family," it was, as he noted in his memoir What's Exactly the Matter with Me? (written with S.E. Feinberg), "a song about my very young first cousin Barbara who sometimes resorted to giving sexual favors to men to get money for her schoolbooks. She was both angry and pleased with me about it." It would be Sloan's only single to enter the national charts, though he wrote or co-wrote numerous mid-'60s hits for others.
For whatever reason, Murray the K took it upon himself to cover the song. His vastly inferior cover version, featuring Murray's artless vocals fighting it out with farting horns and woman backup singers, isn't so much bad—though it's not good—as pointless. Again according to Sloan's memoir, Murray "play[ed] it constantly on his show." That's a conflict of interest that couldn't happen nowadays, of course. Could it?