After unexpectedly high-volume reaction to my post about the most essential Peter Green recordings (mostly done with Fleetwood Mac), I'm spurred to do another post about an entirely different set of tracks he cut with the band. These are found on the recent bootleg The Complete Unreleased BBC Anthology 1967-1968. You can't get this in stores, the quality is a little hissy, and there's no annotation. But they're notable, commercially unavailable performances, sometimes of songs not found on any of their releases, studio or otherwise. They deserve extended comments, and in the absence of any that I've found, I'm taking on the job.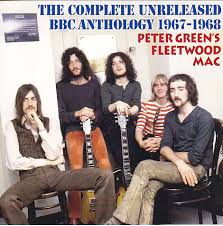 There are a lot of Fleetwood Mac records from the time Peter Green was in the group, from mid-1967 to spring 1970. Besides the three albums they issued during that time, there are several non-LP singles; tracks that only showed up on the US album English Rose; two albums of mostly improvised material with Chicago blues musicians in early 1969, issued under various titles; several live albums released long after Green left; and many, many outtakes and BBC performances that have shown up on archival compilations. For all the wealth of material already out there, there are quite a few BBC tracks that still haven't made their way into official circulation. That these are often of songs that can't be found elsewhere is a testament to the band's wide repertoire, not only of numerous covers, but also even of some original compositions that never found a place on their studio releases.
Even with nineteen tracks, The Complete Unreleased BBC Anthology 1967-1968 doesn't include anywhere near all the unissued tracks they cut for the BBC before 1969. (It also doesn't include anything from 1967, though I'll elaborate on that in a bit.) Still, it covers a fair bit of ground, and more than half of the songs aren't in their official catalogue. In the majority of these cases, those were covers of American blues and rock'n'roll songs, and I'll compare Fleetwood Mac's versions to the originals in these notes.
1. Sweet Little Angel (recorded January 16, 1968). "Sweet Little Angel" is one of B.B. King's most well known classics, making #6 in the R&B charts in 1956. Fleetwood Mac do the expected good job on this number, Green taking lead vocals. This is well up to par with most of the songs they covered on their early albums. Maybe they thought it was too well known to do on an official release. That's the only reason I can think of as to why they didn't elect to record this in the studio.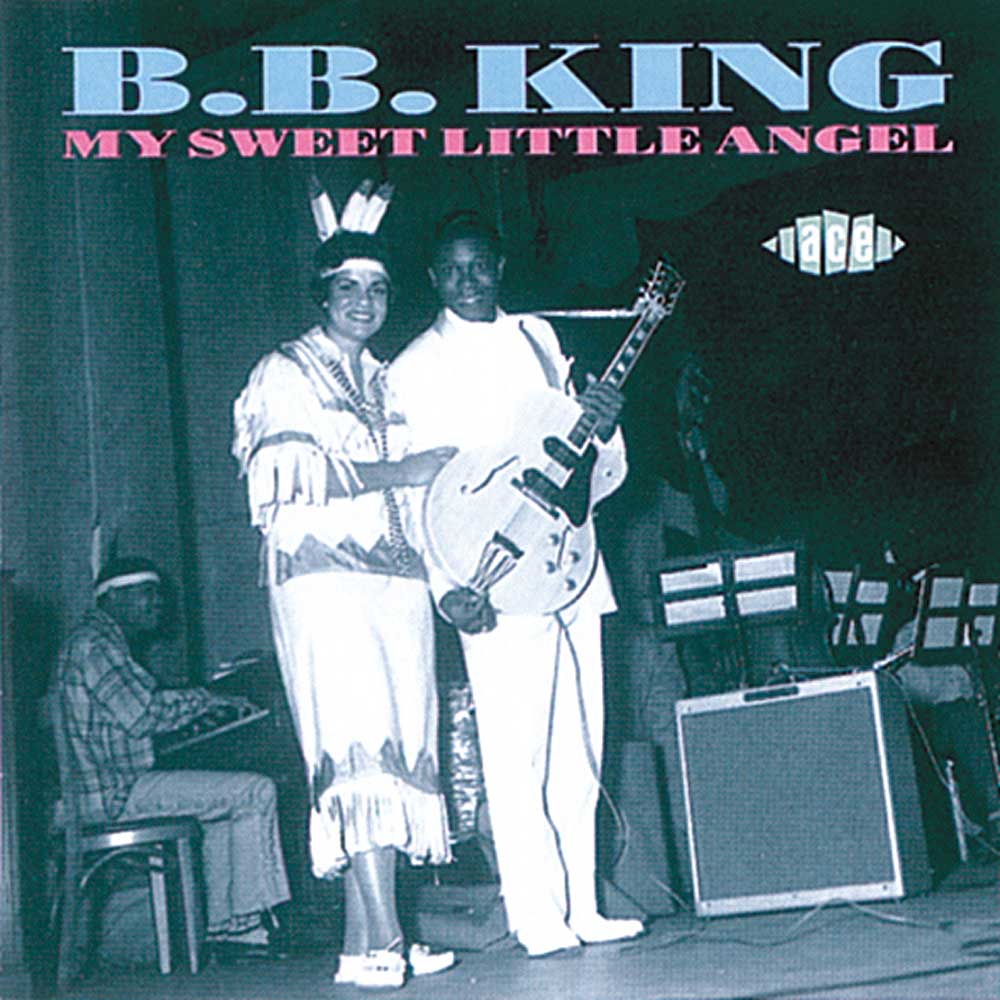 The question "can white men play the blues" sparked controversy at the time and up to the present, but for the record, B.B. King wouldn't have been one of the guys taking Fleetwood Mac to task for covering his material. Green, King told British rock journalists Roy Carr and Steve Clarke, was "the only living guitarist to make me sweat. He's got the sweetest tone I've ever heard."
Incidentally, although this bootleg is titled The Complete Unreleased BBC Anthology 1967-1968, as noted earlier, there are no tracks from 1967. All of them were cut between January 16 and August 27 of 1968. They did record six songs for a November 7, 1967 session, but none of them are here, though fortunately all appear on the legit double CD Live at the BBC.
2. Bee-I-Bicky-Bop Blue Jean Honey Babe Meets High School Hound Dog Hot Rod Man (recorded January 16, 1968). The title alone is fair enough warning that this is one of Jeremy Spencer's spoofs of early rock'n'roll, which he'd make staples of their live performances, even if they seldom made it onto their studio sessions with Green. As I've written elsewhere, I'm less of a fan of these satires than some other early Fleetwood Mac devotees. As the long title announces, he throws in lots of elements of early rock. The "Bee-I-Bicky-Bop Blue Jean" in the title, by the way, is inspired by rockabilly great Gene Vincent, one of whose 1956 classics was "Bi-Bickey-Bi, Bo-Bo-Go"; "Bluejean Bop" was another of his early songs.
3. Where You Belong (backing Eddie Boyd, recorded January 16, 1968). The only song on this collection that's not really a Fleetwood Mac track, as here they back American bluesman Eddie Boyd. Boyd first did this in 1959 as an obscure 45 on the Key Hole label, taking in a little rock'n'roll to his blues with a shuffle beat and saxophone solo. Fleetwood Mac's arrangement isn't quite as good, but does have a neat rockabilly-tinged guitar break. This number, by the way, is not on the 1968 LP Boyd did using Fleetwood Mac as backing musicians, 7936 South Rhodes.
4. Mean Old World (recorded February 26, 1968). A highlight of this batch, "Mean Old World" is a tight, dynamic shuffle with fine Green vocals and economic stings of his guitar. T-Bone Walker recorded the first version of "Mean Old World" in 1942 (though it wasn't released until 1945), and blues harmonica great Little Walter's 1952 version became a#6 R&B hit. Fleetwood Mac's version, however, is probably based on the one done by B.B. King (who retitled it "It's a Mean World"); recorded in 1961, it became a small R&B hit shortly after it was issued as a single in 1966. Dare I say Fleetwood Mac's is better, speeding up the tempo and allowing Green space to shine on lengthy solos. This is another song not found elsewhere in the band's catalog, though it's better than quite a few of the blues covers they put on their first pair of LPs.
5. Please Find My Baby (recorded April 9, 1968). Fleetwood Mac put quite a few Elmore James songs, or Jeremy Spencer songs heavily based on the Elmore James sound, on their early albums. "Please Find My Baby," first issued by James on a 1953 single, was not one of them. Like many a James tune, it's based around the riff most famously deployed in "Dust My Broom." The James original is better than this Spencer-sung cover, but Jeremy doesn't do a bad job of it, though it offers nothing you can't hear on the James covers or James knockoffs he helmed in the studio. Here's guessing the piano on this version is by Christine McVie, then still known as Christine Perfect and two years away from joining the band after Green's departure.
6. Black Magic Woman (recorded April 9, 1968). One of Fleetwood Mac's classics, obviously, and the most famous song Peter Green wrote, in large part due to the cover by Santana, whose Carlos Santana counts Green as one of his biggest influences. There's not much to say about this version, as it's very close to the one they put out as a 1968 single. It's strange that it wasn't included on Live at the BBC, as the fidelity is up to acceptable release standard, and the performance strong.
7. Peggy Sue Got Married (recorded April 9, 1968). "Peggy Sue" was one of Buddy Holly's biggest hits. Its sequel, "Peggy Sue Got Married," was both musically similar and not as good. It was a #13 single in the UK in 1959 (after Holly's death), however, and so would have been quite a bit more familiar there than in the US. Jeremy Spencer, of course, takes the lead on this acceptable but non-thrilling cover. "Peggy Sue Got Married" was reworked with different lyrics as "Buddy's Song" (on which Holly's mother was given the songwriting credit) on the first LP Fleetwood Mac recorded without Green, 1970's Kiln House.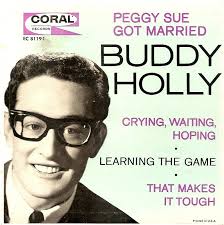 8. That Ain't It (recorded May 27, 1968). A basic blues shuffle, sung by Peter Green, that doesn't appear on any of their other releases. Green's also responsible for the harmonica, which he occasionally played during his time in Fleetwood Mac. I haven't been able to find a previous version of this, so I'm guessing it's an unreleased Green original. Whatever the case, it's rather routine blues, and it's not a great loss they declined to do it in the studio.
9. Psychedelic Send Up Number (recorded May 27, 1968). Although it's called "Psychedelic Send Up Number" on this bootleg, Christopher Hjort's chronology Strange Brew: The British Blues Boom 1965-1970 gives the title as "Intergalactic Musicians Walking on Velvet." As both titles signify, it's a psychedelic rock satire, and, unexpectedly given my uncharitable view of Jeremy Spencer parodies, quite funny and successful. As hard rock/distorted guitar chaotically whirls around a swirling rhythm section, Spencer intones dead-on silly psychedelic non sequiturs like "I am here and you are there and we are all going nowhere." His vocal sounds like it's fighting to keep from drowning in a sea of overindulgent noise, which is entirely appropriate to the genre it's lampooning.
This spoof might have not have worked too well for repeated listening in the midst of their early blues LPs. But as an oddity in their early oeuvre, it's quite funny and entertaining, down to the drawn-out climax that Spencer concludes by blowing a raspberry. Jeremy would take on hippie rock again, and also to good humorous effect, on "Take a Look Around Mrs. Brown," one of the tracks on his obscure 1970 self-titled solo album.
10. Dead Shrimp Blues (recorded May 27, 1968). From the same session, but in a far more serious mood, is this cover of one of the handful of songs Robert Johnson managed to cut before his death, recorded 1936 and released in 1937. Green sings and plays this solo, with no backing other than his acoustic guitar. While not remarkable, it's a respectful and respectable interpretation, done when Johnson was just starting to get recognition among white rock musicians and listeners.
11. Sheila (recorded May 27, 1968). Not a Buddy Holly cover, but as close to one as you could get, since this Tommy Roe song (a #1 hit in 1962) was so obviously based on Holly's "Peggy Sue." This Jeremy Spencer-sung cover isn't a satire, but a straightforward version that's faithful to the original, and competent if unexciting.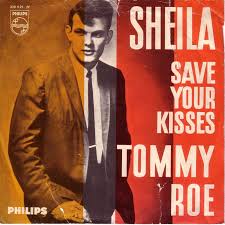 12. Evenin' Boogie (recorded August 26, 1968). This Spencer-penned instrumental was on Fleetwood Mac's second album, Mr. Wonderful, which had just been issued in the UK when this was taped for the BBC. It's a decent, fast-paced number with good Elmore James-inspired guitar from Jeremy, who might have been kind of a one-trick pony with his guitar leads, but could do James-like slide with panache. This arrangement lacks the saxophone heard on the studio version, and the brief burst of enthusiastic crowd noise at the end indicates it might have been done before a live audience.
13. You Need Love (recorded August 27, 1968). The unquestioned highlight of this CD, from both musical and historical viewpoints. "You Need Love" was a fairly obscure, if very good, 1962 single by blues great Muddy Waters, penned by fellow blues great Willie Dixon. It's more famous, or infamous, for providing the basis of much of Led Zeppelin's hit "Whole Lotta Love." It wasn't until the mid-1980s that Dixon was awarded part of the songwriting credit for the Zeppelin track, also getting a settlement after a lawsuit on his behalf.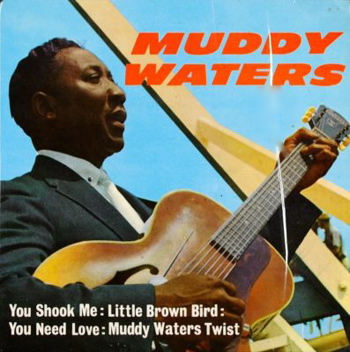 It's little known that about nine months before Led Zeppelin recorded "Whole Lotta Love," Fleetwood Mac performed "You Need Love" on the BBC. It's a terrific version, with dual guitar riffing, a jittery propulsive beat, and one of Peter Green's best vocals, alternately commanding and playful. Running over four minutes, this absolutely should have gone on Mr. Wonderful in place of one of the one-too-many Elmore James covers and/or knockoffs that LP featured instead.
It's interesting to speculate what might have happened if Fleetwood Mac had put it on one of their studio releases before Led Zeppelin's version came out. Although Fleetwood Mac were far bigger in the UK than the US, their records were, in the late 1960s, much more well known than early-'60s Muddy Waters singles. Had Fleetwood Mac issued an official version, the similarities between Dixon's "You Need Love" and "Whole Lotta Love" would have been picked up on and widely publicized far earlier than they were.
Another major 1960s group, incidentally, adapted "You Need Love" before either Fleetwood Mac's BBC rendition or "Whole Lotta Love." On their self-titled 1966 debut LP, the Small Faces used it as the basis for "You Need Loving," a storming mod raveup. The composition was credited not to Dixon, however, but to Small Faces singer Steve Marriott and the group's bassist, Ronnie Lane. One would guess that if Fleetwood Mac put "You Need Love" on one of their official discs, they would have credited Willie Dixon as the writer.
14. May I Have A Talk With You (recorded August 27, 1968). Fleetwood Mac's August 27, 1968 recordings for the BBC marked their first with new guitarist Danny Kirwan, who made the band a quintet after he joined just a week prior to the session. He takes lead vocal on his composition "Talk with You," titled "May I Have a Talk with You" on this bootleg, though it was just "Talk with You" when it was recorded for the band's Blues Jam at Chess in early 1969. It's a basic but pleasing grinding midtempo blues tune, and I prefer this earlier BBC performance to the studio one, as it has a far looser, more relaxed groove.
15. Bo Diddley (recorded August 27, 1968). It's no surprise that Jeremy Spencer takes the lead vocal on this faithful rendition of Bo Diddley's 1955 self-titled hit, which remains one of Diddley's most famous songs, and was the one that did the most to establish his trademark rhythm. You're not going to beat Bo at his own game on this, but this is a respectable, respectful interpretation that plays it straight, with no hint of a parody on Spencer's part.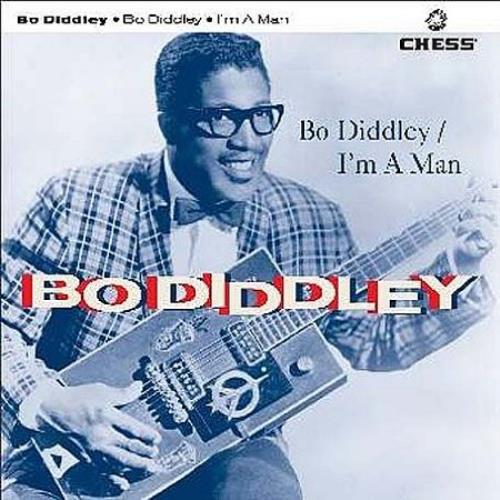 16. Wine Whiskey and Women (recorded August 27, 1968). About as down and dirty a blues as Fleetwood Mac ever managed, "Wine Whiskey and Women" was originally released by Papa Lightfoot as "Wine, Women, Whiskey" in 1954. It's a testament to the band's diligent record collecting that they even found this obscure track, though I'm guessing they might have come across it on some various-artists compilation that was easier to obtain than the original 45. Spencer does well with the raw'n'ready vocal, and there's good harmonica (presumably played by Green). But Papa Lightfoot's original—which is about as raw and earthy as mid-1950s electric blues got—gets the decisive edge over this interpretation. Unfortunately there's a blast of static at one point that, though brief, makes this perhaps the least likely track to gain official release if there aren't any other tapes of the performance.
17. Crutch and Cane (recorded August 27, 1968). Although it's titled "Crutch and Cane" here, this is the familiar blues standard "Look on Yonder's Wall." It was first recorded by James "Beale Street" Clark in 1945, but Fleetwood Mac almost certainly learned it from Elmore James's 1961 version, lead singer Jeremy Spencer being such a James fanatic. Fleetwood Mac take it slower than James did, and since there's harmonica (probably by Green) and it's almost certainly Spencer on the James-style guitar, maybe that's Christine McVie guesting on the rollicking piano. This wasn't one of James's better recordings, and it's not one of Fleetwood Mac's best James covers. But it's okay, even if yet another James song is hardly the kind of discovery to get the most excitement out of hardcore early Fleetwood Mac fans.
18. If You Be My Baby (recorded August 27, 1968). Not a terribly obscure tune, this slow blues appeared on the Mr. Wonderful LP, where Green and manager Clifford Adams were credited as the co-writers. It's actually quite a bit different from the studio version, which has brass and a generally peppier uptown soul-tinged feel. I prefer the BBC arrangement, which puts the accent on doleful harmonica instead of the B.B. King-styled guitar licks spread throughout the studio track. It's not that great a song in any case, but at least the BBC performance is notably different from the studio counterpart.
19. Crazy For My Baby (recorded August 27, 1968). Titled "Crazy For My Baby" on this CD, this is actually Danny Kirwan's "Without You," a fine haunting slow blues whose moodiness verged on despondency. This BBC version predates the studio version, which would first appear on the US-only English Rose LP (and later on the UK edition of Then Play On), by about six weeks. It's not much different from the English Rose arrangement, but it's a fine performance, and does, notably, have graceful piano—Christine McVie, if I can guess for the last time?—not used on the studio counterpart. There's also a keening harmonica solo in the instrumental break, instead of the smooth guitar one featured on the English Rose take. Kirwan wasn't much of a lyricist, and like many of his songs, has words that are basic to the point of banality. That doesn't matter, however, when they're wed to music with this somber power, ending this collection on a high note.
Why hasn't this material been issued? It's kind of hissy and thin (though occasionally approaching release-quality), as I say. But it's not so bad that some sonic cleanup could probably make most or all of the tracks releasable. There's also the possibility that better-quality tapes of the same performances exist somewhere. As there's not much duplication with songs on their studio discs, that makes it all the more desirable for fans, and not just hardcore completists.
It is intriguing, incidentally, that there are a few other songs Fleetwood Mac played on their 1968 BBC sessions that are not on this bootleg or official releases. These include some nifty-sounding items like B.B. King's "Worried Dream" and "How Blue Can You Get," Slim Harpo's "Buzz Me Baby," Otis Rush's "I Have to Laugh," Elvis Presley's "Hard Headed Woman," and Buddy Holly's "You're the One." I don't know whether they're not on this CD because the tapes were too lo-fi, or there aren't any existing tapes. Assuming some tapes of those missing performances do exist in quality comparable to the ones included on this hour-long bootleg, there would be enough material to do an official nearly 80-minute CD of previously unreleased 1968 sessions. And there are yet more BBC performances from the Peter Green era in 1969 and 1970 that have yet to find official release, perhaps providing the basis for a sequel of sorts to this bootleg in the future.