Lots of cultural institutions and events charge a high fee these days, and not many such things are free. It's a pleasure to report, then, that the Patti Smith exhibit that just started at the Mills College Art Museum in Oakland (and runs until December 11) is free to the public. The parking's even free and easy, though it does help to have a car to get there. More important than the free admission, however, is the quality of this collection of Smith memorabilia, which is high.
The exhibit has lots of photos, press releases, concert posters, vintage clippings, flyers, and such from the mid-1960s to the present. There's also a video room showing short films of the Patti Smith Group doing "Gloria" on Saturday Night Live back in the 1970s and more recent items, like a clip for "People Have the Power" and one that follows Smith's visit to Jean Genet's grave. There's a table with about a dozen of her poetry and photography books if you have a lot of time to browse. There are also rare 1970s recordings taken from four sources (more details below).
The exhibit, though assembled with as much care as those at major museums, seems to have been underpublicized in the San Francisco Bay Area. I only found out about it from an online post by a friend near San Diego. I went on the fourth day of the exhibit, and had the space to myself for the first forty minutes or so, though four or five people came in toward the end of my hour-and-a-half visit. Yes, it was a sunny Saturday, but almost no one I've mentioned this to had yet heard about it. One of the staff said 150 people were at the opening, but I think there are many more than 150 people in the region who'd want to see this.
As an indication that this is a lower-key setting than your usual museum trip, photography is permitted. Here are a few snapshots of some of the items of most interest to me, most of them from before 1980.
Some of the early photos are from the years when she was primarily known as a poet, and had yet to properly begin her musical career. (One shows her with playwright Sam Shepard in 1969.) Here's a flyer for a poetry reading on December 4, 1972 at Hamline University in St. Paul, Minnesota. Note the "rated X" lettering underneath her image: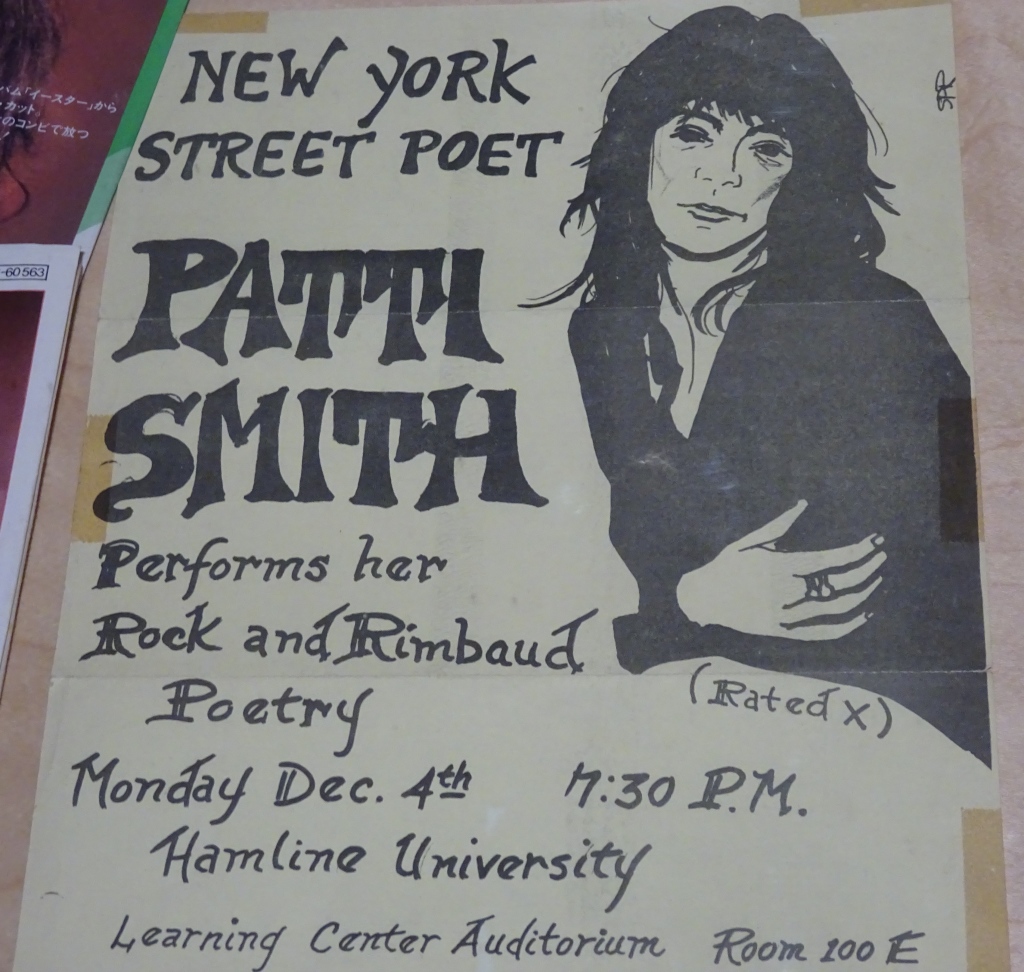 Another flyer for shows Patti Smith did, with Television also on the bill, at Max's Kansas City in August and September 1974, before either act had done an album: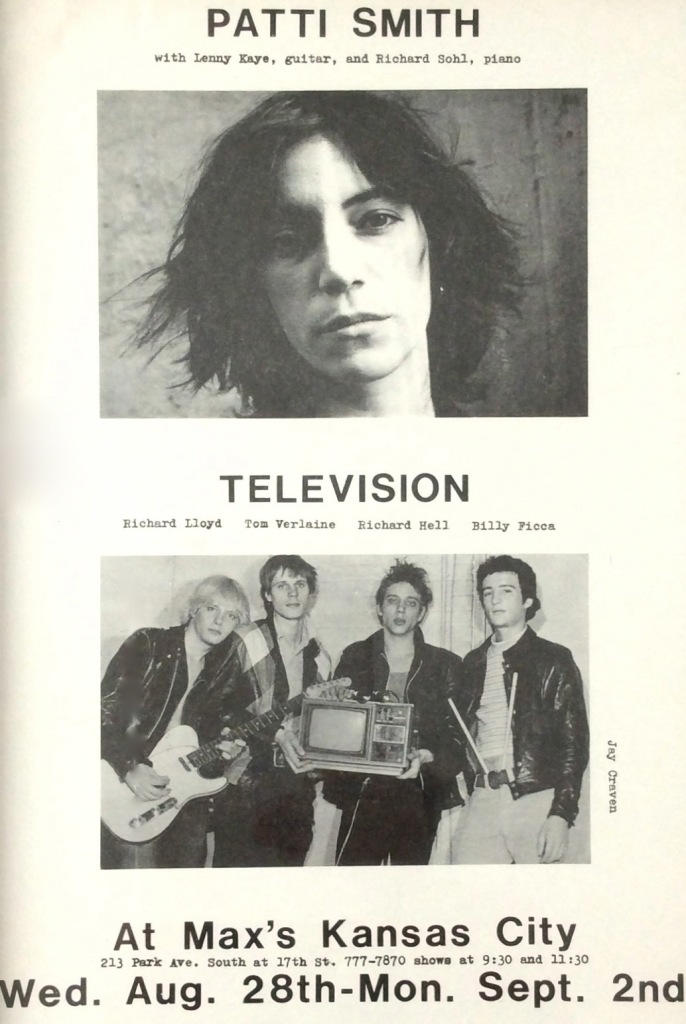 Songbooks, usually only bought by musicians and hardcore fans, sometimes have text—often by the artists—that's not printed elsewhere. Here's a songbook page for "Birdland," with comments by Smith:
Some of the press releases, articles, and Patti Smith fan club notes have bits of interest for aficionados. One fan club article describes how she and Ivan Kral were hassled for double-parking in California, Kral getting hauled off to jail before getting bailed out, much to the consternation of Patti, who feared he might be deported. A press release for
Easter
states that Kral had the idea "that the next big thing after the Stones would be a girl," Smith commenting, "That's why he's with me. [He] told me, 'You're going to be the first real girl rock and roll star.' I said, 'OK, it's a deal.'"
Most rock stars would prefer to pretend bootlegs didn't exist, or worse, chastise fans for buying them, and critics for writing about them. As a refreshing contrast, this exhibit virtually celebrates them, with many bootleg LP covers on display on a wall of her records (also including some rare official releases).
Among those was one that rang a special bell for me: Teenage Perversity and Ships in the Night, a used copy of which I bought for $7 back in 1983 at Rasputin's in Berkeley, less than ten miles from this exhibit. Taken from a tape of a January 30, 1976 performance at the Roxy in Los Angeles, this is in my view the best live rock concert that has yet to be officially released. Gotta say that my version—a subsequently issued variation with no title, though the musical contents are identical—is a darn sight prettier than the original (both covers are on display):
By the way, one of the non-bootlegs was a radio sampler LP for Todd Rundgren's 1978 album Back to the Bars that, unusually, has "a conversation with Todd Rundgren and Patti Smith" on side two. I'd never heard of that before.
Smith retired from music for almost a decade at the beginning of the 1980s, so I was interested to find this poster for poetry readings she did on October 9-10, 1981 in Ann Arbor. Also on the bill were Sonic's Rendezvous Band, with her husband Fred Smith: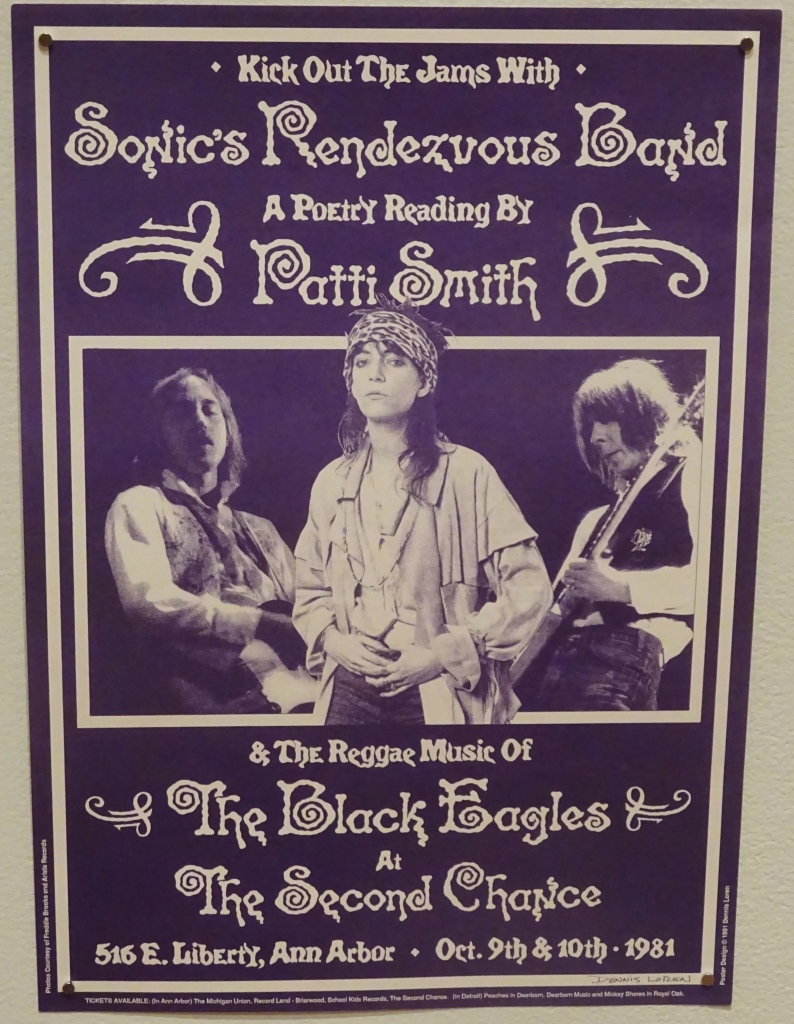 The rare recordings, which you can listen to on headphones, include a December 25, 1971 poetry reading at St. Marks in New York; a few poetry readings from an unknown venue in 1973 on which Smith's voice is backed by sparse instrumentation; a 1974 show at Max's Kansas City in which she's started to make the transition to rock, with guitar by Lenny Kaye and piano by Richard Sohl; and an October 20, 1977 poetry performance in Köln, Germany. You'd have to hang out for at least a couple hours to hear all of it, though if the attendance is as sparse as it was on my visit, it shouldn't be a problem to do so if you're really dedicated.
I just sampled a bit of the '71 poetry reading and the 1973 poetry tracks (of which there are only three). "Brian Jones," one of the 1973 recordings, backs Smith's ode to the dead Rolling Stone with creepy avant-garde guitar and saxophone. I heard most of the 1974 recordings, which are really primordial Patti Smith Group ones lacking bass and drums, though unfortunately the performances are lo-fi. Among the more unusual items from that tape is a cover of the Marvelettes' "The Hunter Gets Captured By the Game"; "Piss Factory," which was Smith's pre-debut LP single; the obscure original "Harbor Song"; and a version of  Bessie Smith's "I'm Wild About That Thing," given the sardonic introduction "This is from our last album [though Smith had yet to release an LP], Patti Smith Sings the Blues."
Note that these rare recordings are accessed by using a couple iPods. I guess it's betraying my age to admit I don't own iPods, but I got a crash self-taught course in how to use them. It's a little unfortunate that the other exhibit in this hall has some multimedia components whose sound occasionally drowns out what's coming through the headphones. It's a minor inconvenience for an exhibition well worth the trip—and far more affordable than the $40 ticket I'll be paying later this year to see the big exhibit the Rolling Stones have mounted to themselves in New York later this year. Bet Smith's performance of "Brian Jones" isn't part of that.
The exhibit Root Connection: 20 Years of the Patti Smith Collection is at the Mills College Art Museum until December 11. The museum is at 5000 MacArthur Boulevard in Oakland. Hours are Tuesday-Sunday 11am-4pm (11am-7:30pm Wednesday). Admission is free.