Most of my posts about hikes and bike outings are for relatively untouristed spots in the Bay Area. So what's a piece about Père Lachaise  Cemetery doing here? It's the biggest cemetery in one of the most heavily touristed places in the world, Paris, drawing more than 3.5 million annual visitors. That makes it the most visited cemetery in the world, let alone Paris.
Well, I was there in July, and while I've been there a few times before, I didn't have a camera with me then. And there is a music connection to some of the numerous celebrities buried here, most famously Jim Morrison, the only one with a strong (and it's extremely strong) connection to rock history. So why not a post with photos from Père Lachaise, emphasizing some of the lesser known and less celebrity-oriented corners of this massive space?
That noted, I'm starting with a picture of Morrison's grave, the most popular attraction within one of the most popular attractions in Paris:
As even many Doors fans who haven't been here know, the grave has frequently had to been cleaned, as it's been overrun by graffiti and countless mementoes left here — not all of which are the pretty innocuous ones you see in my picture. I've never seen hard drugs left here, but I've heard they have, in addition to the marijuana joints you might well spot depending on when you come. I've also heard that unruly partiers disturb the peace here, especially at night, when you have to make unauthorized climbs to get in the grounds. 
I must say that on each of my visits dating back to the early 1990s, the crowds gathered at the grave — and there are usually a dozen to two dozen or so — have been quite respectful. Even when there was a tape machine playing Doors music, fans were just smiling and bopping along to songs like "The Soft Parade," and not in any way creating disturbance. There's still controversy about whether Morrison should remain here, and the site has to be guarded, even in the broad daylight of late afternoon, which is when I took this photo. And yes, the grave isn't all that easy to find (get a map inside the gates for the specifics), though if you follow the paths that more people seem to be taking than any others, you can likely get there without one.
Beyond the celebrities, however, Père Lachaise is simply an amazing place to visit, even if it didn't hold any famous names. It's kind of a mini-city in itself, with streets of sorts both leafy and haunting: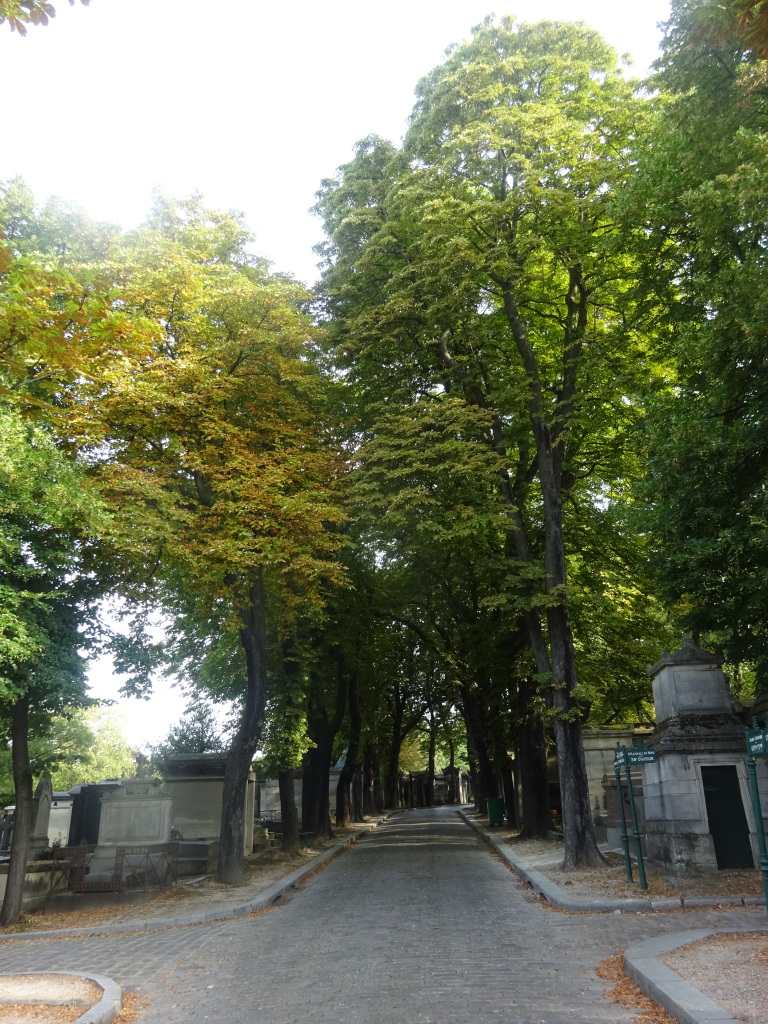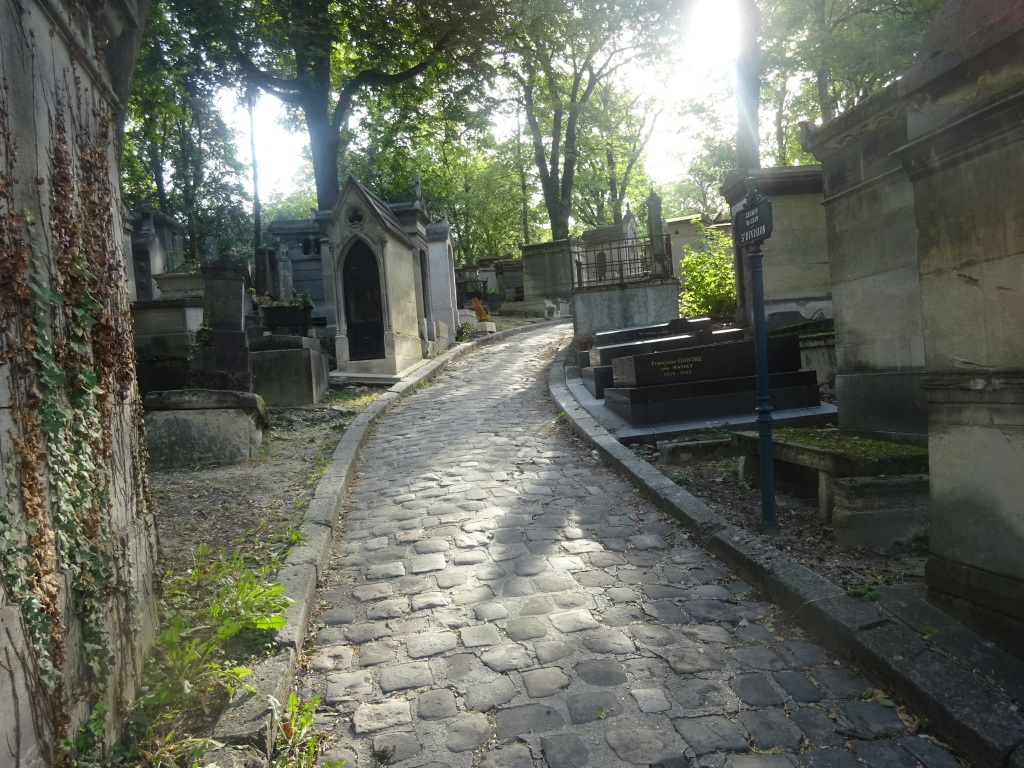 I especially like the many picturesque graves of people who aren't at all famous, often embellished with tasteful and moving keepsakes. Here's one of a woman who died in her early thirties in 2014: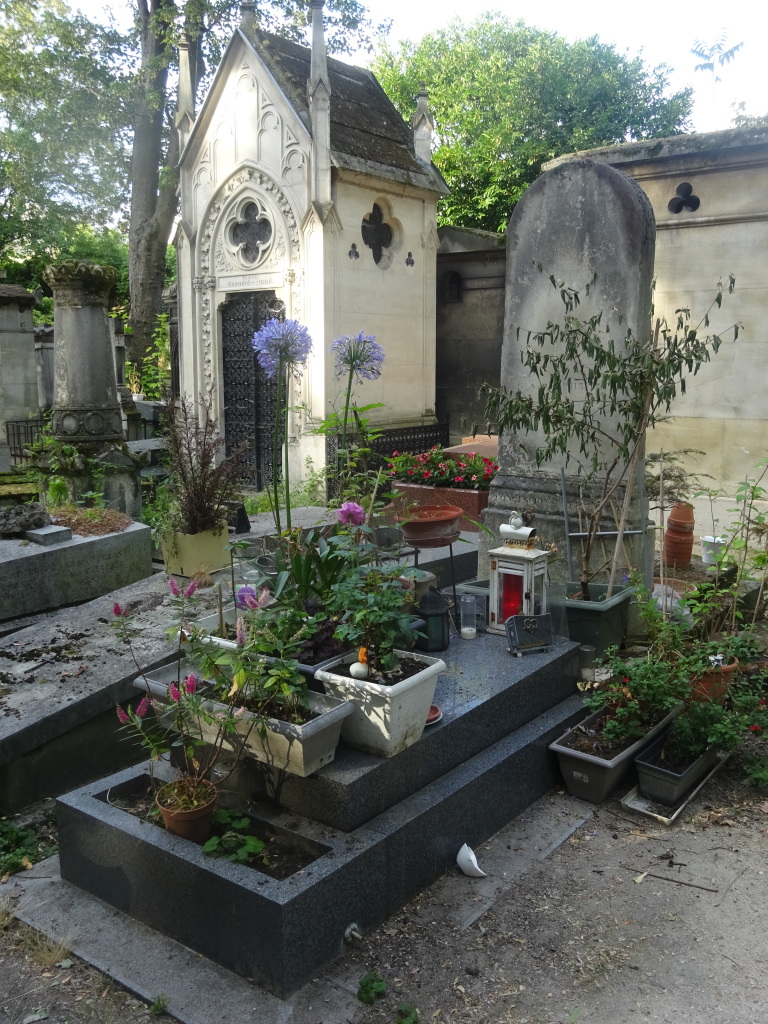 Some of the more ancient ones are shells of their former selves: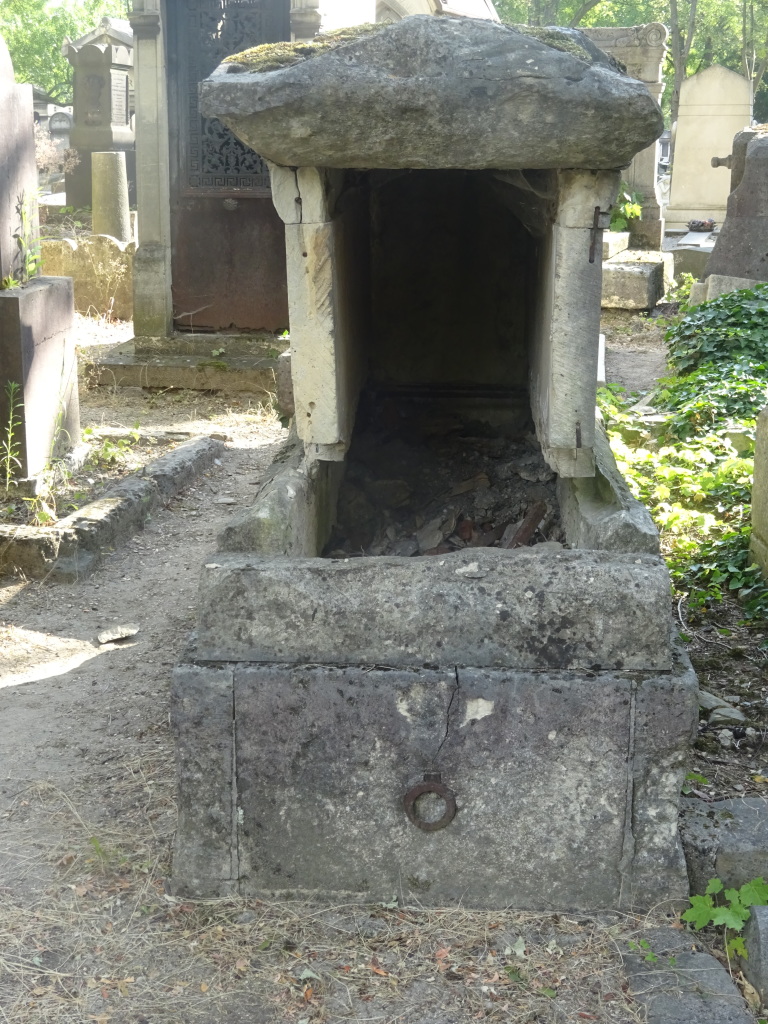 Some of the structures surrounding the graves are as or more elaborate than the gravestones: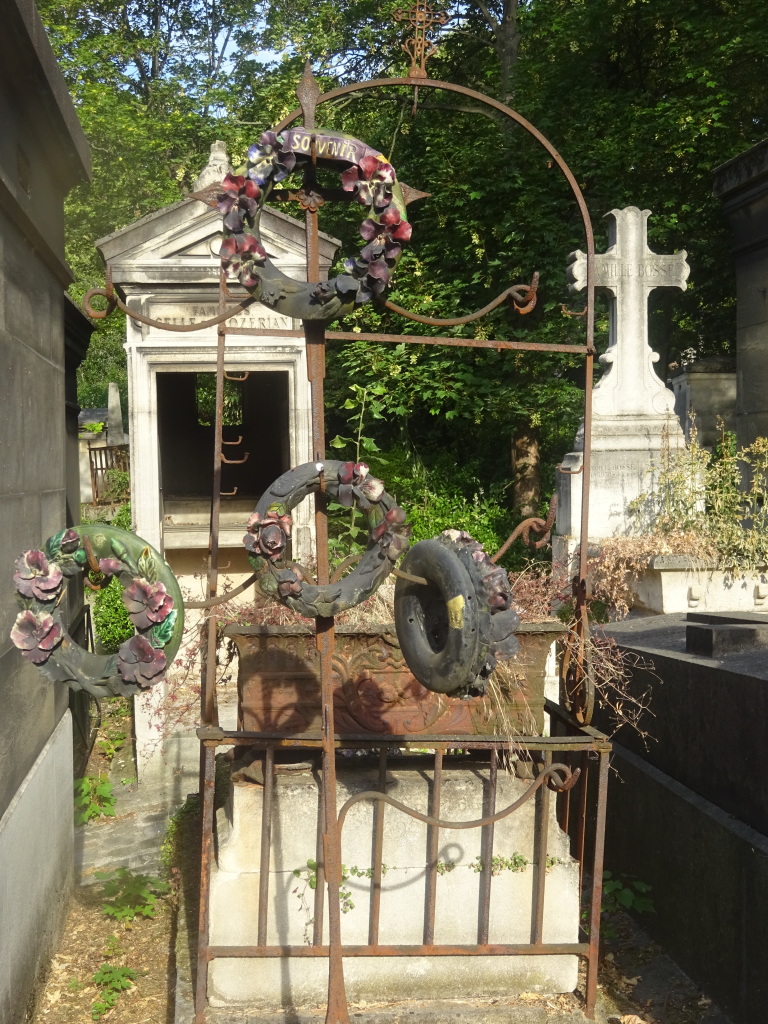 And the varied landscapes make for some haunting hillsides of sorts: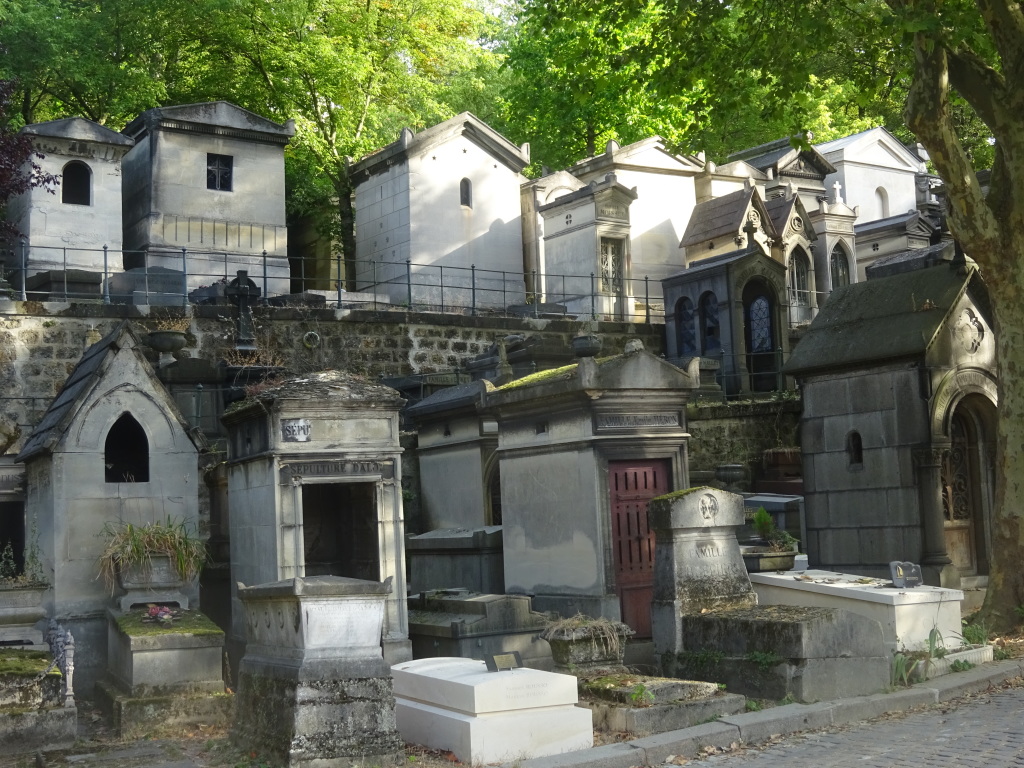 Some of the most affecting parts of the cemetery, however, commemorate incidents in French history that are among the nation's most troubling from the past 150 years. Most famously, the Communards' Wall marks where more than a hundred communists were shot in May 1871: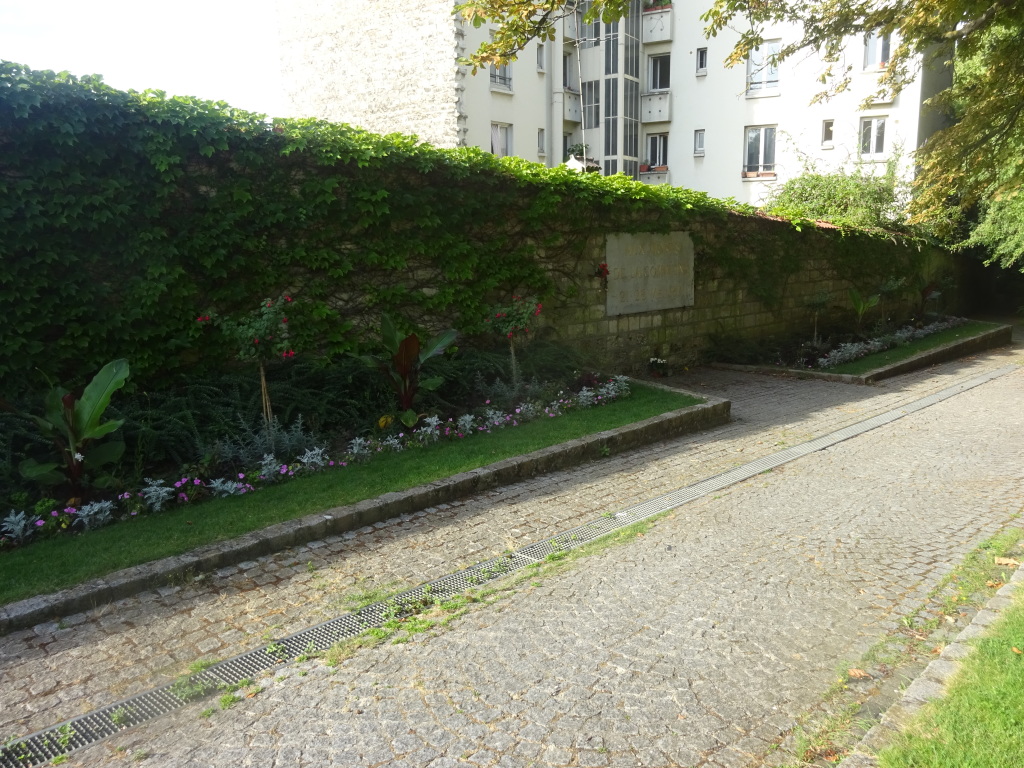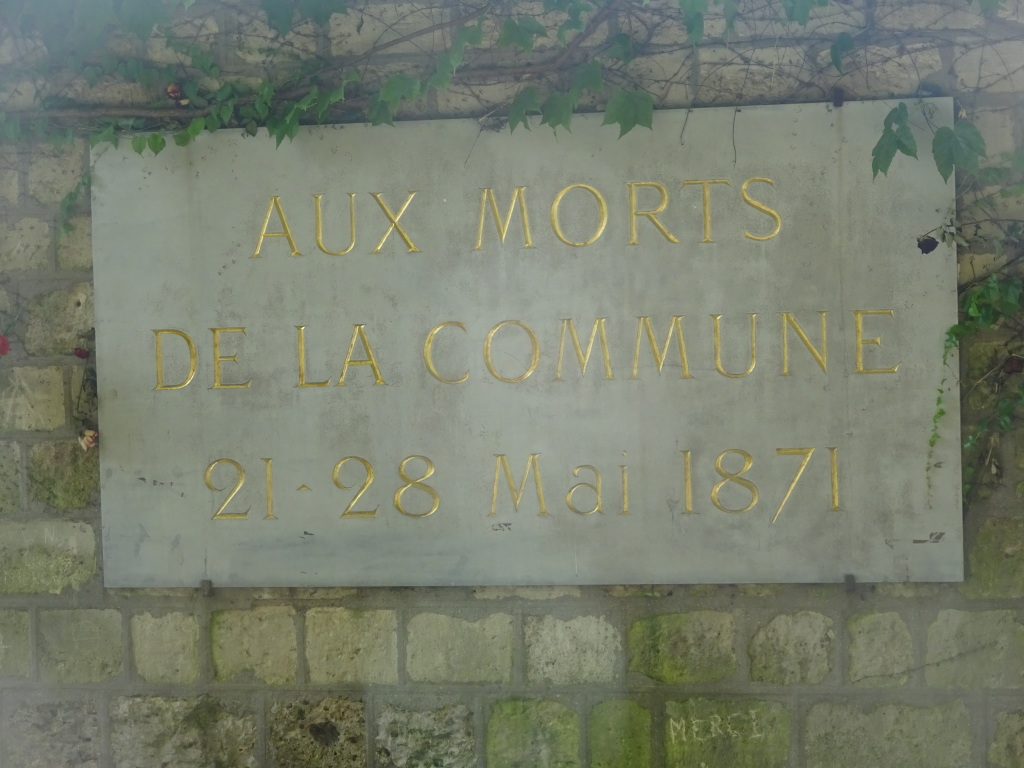 Just as soberly, several monuments mark the deportation and deaths of French Jews in World War II: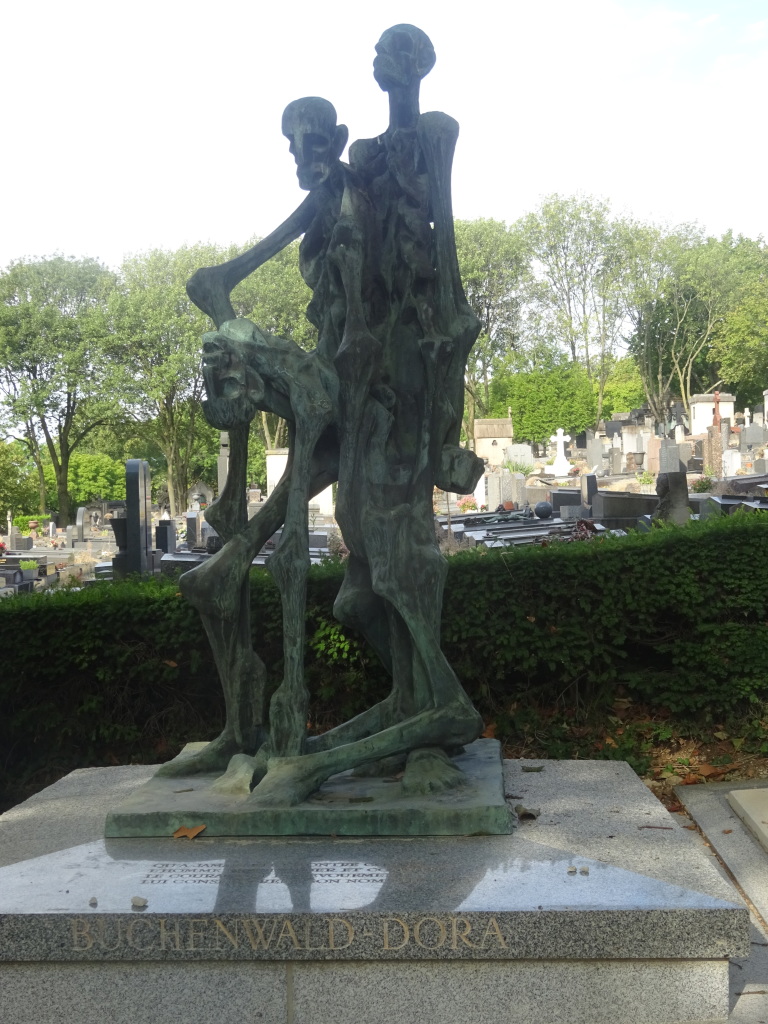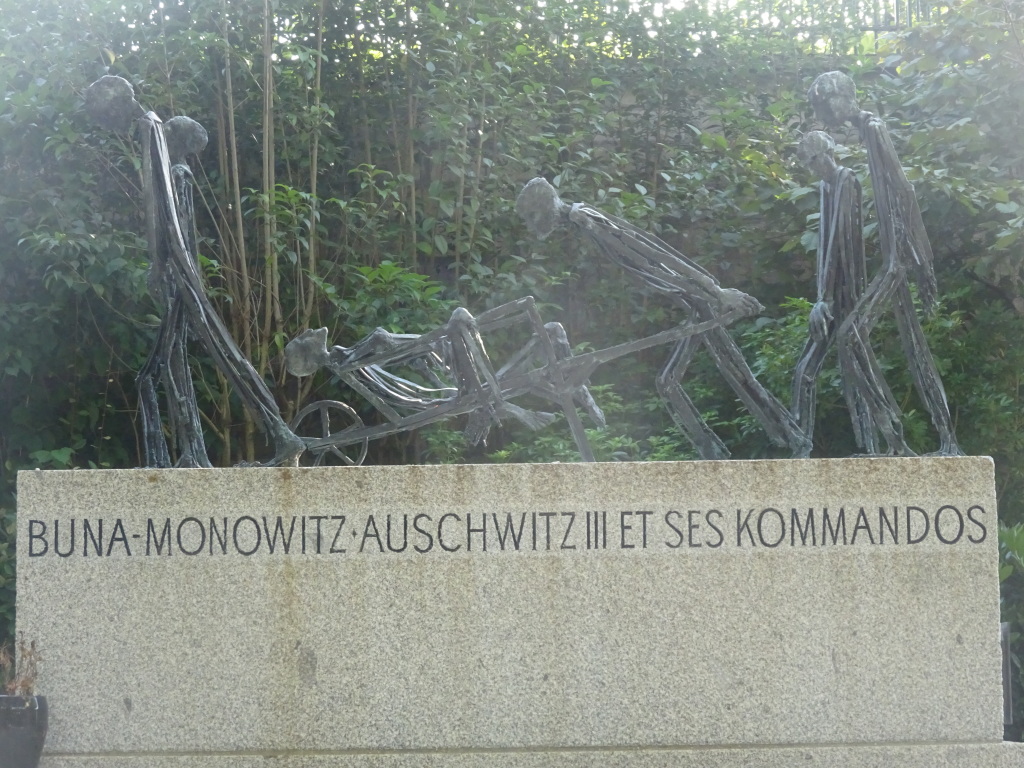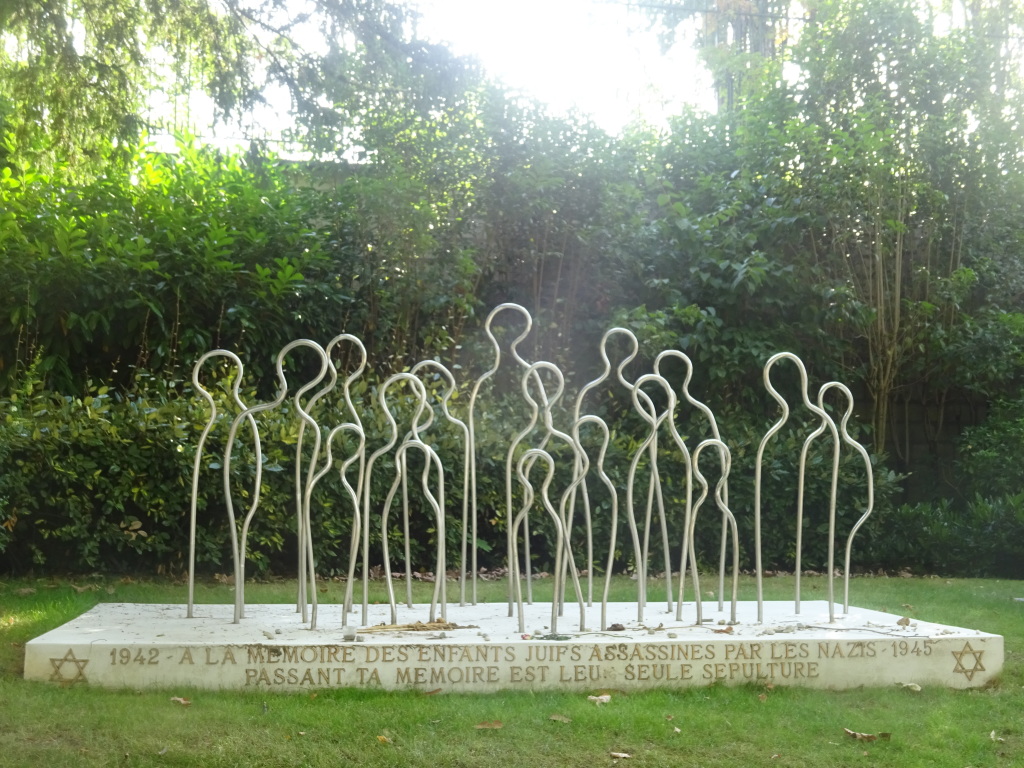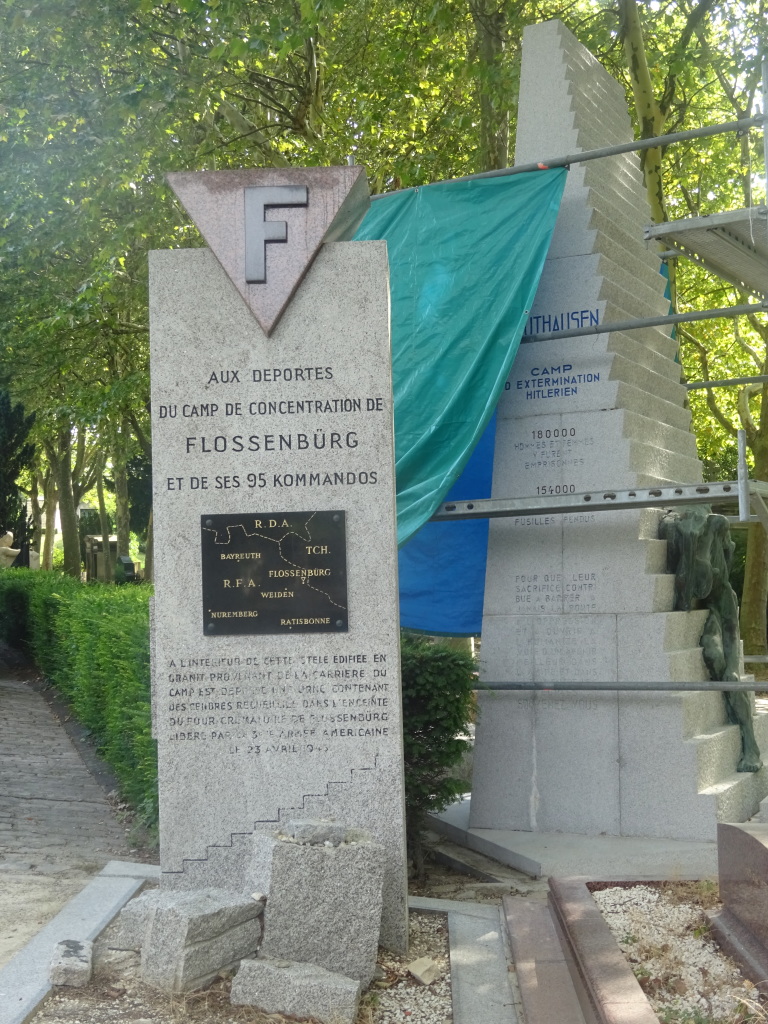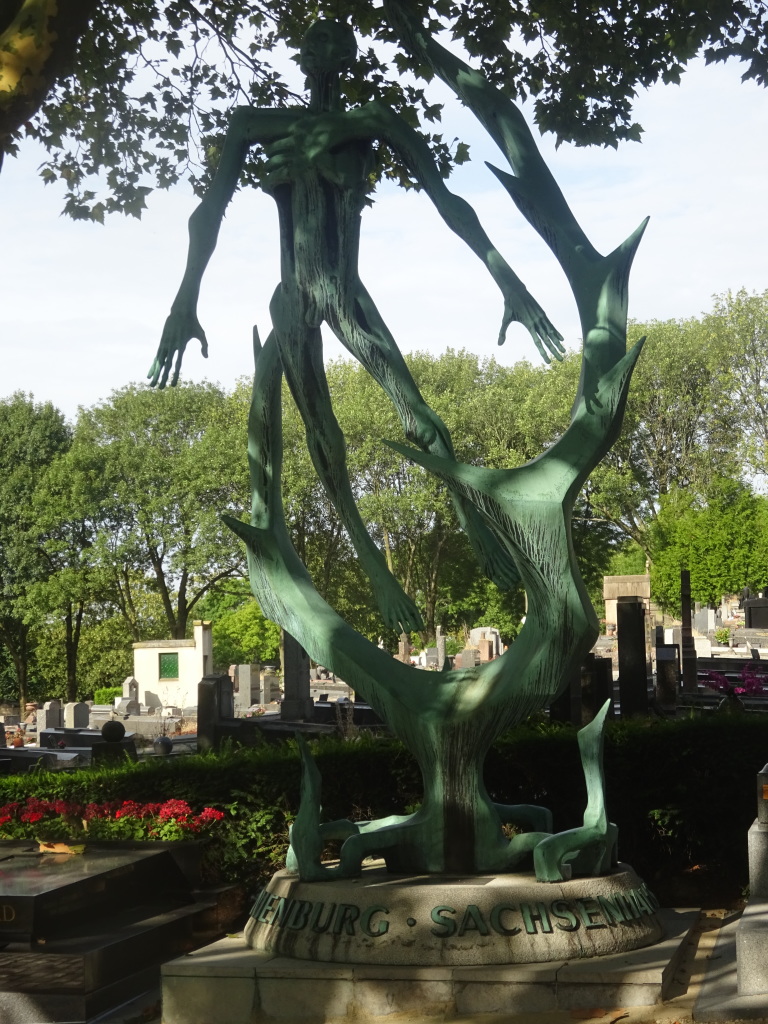 Getting back to the famous people buried here, Jim Morrison's grave hasn't been the only one defaced. Here's Oscar Wilde's grave, and below that, the sign that's posted nearby: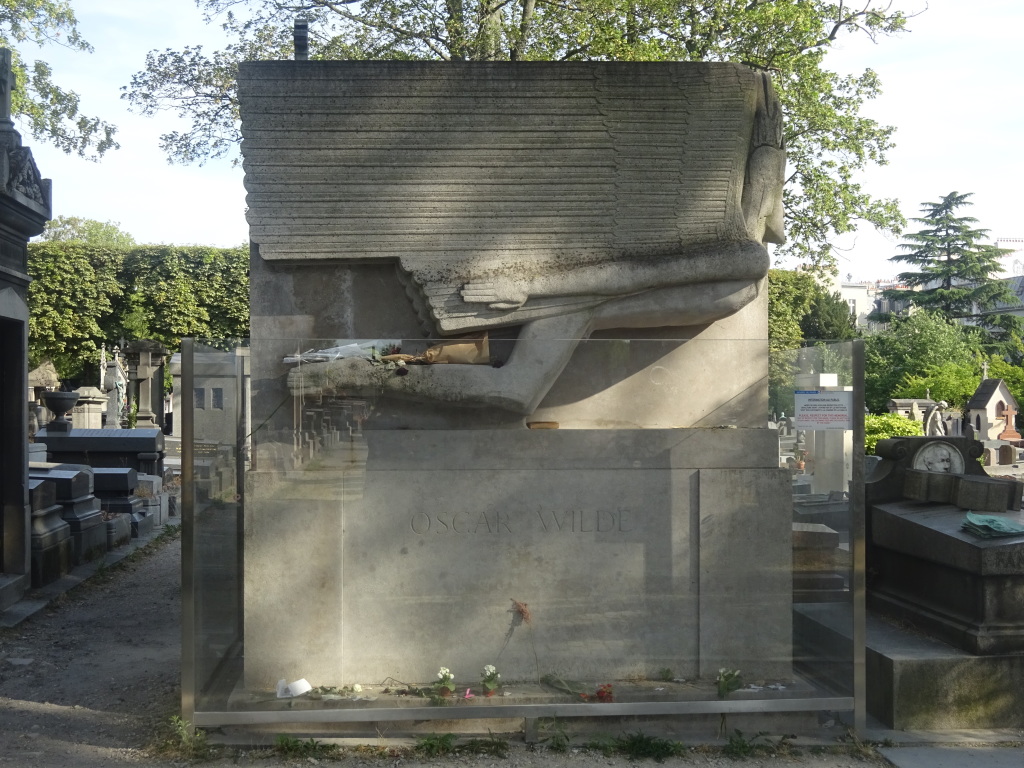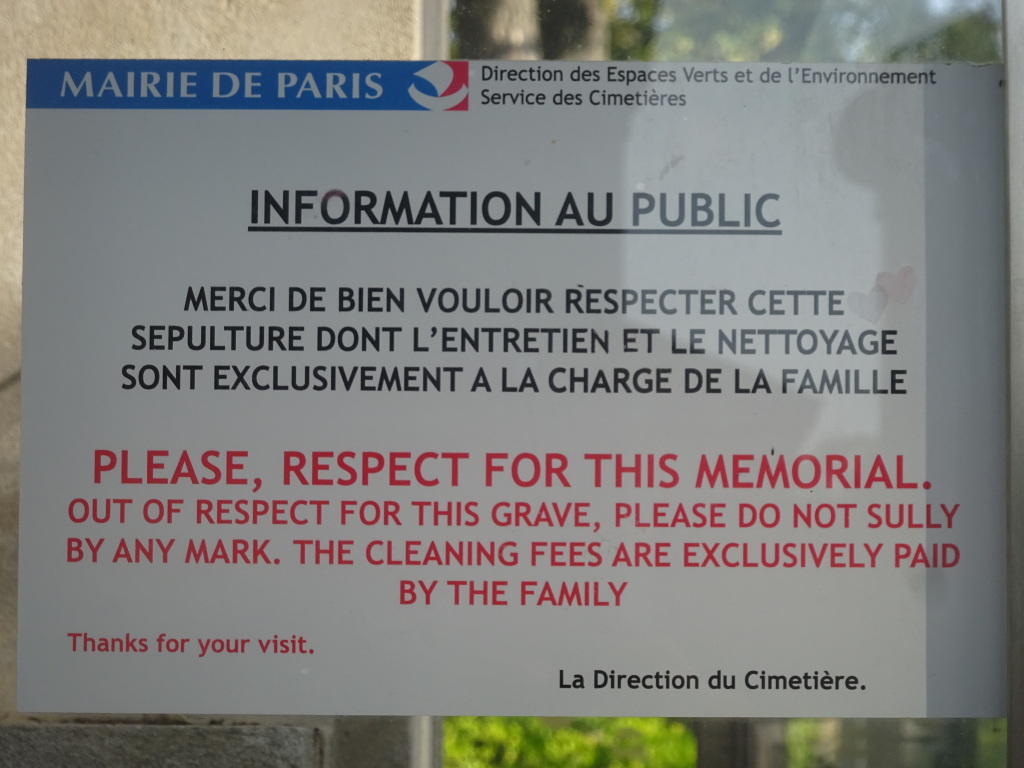 Of the non-rock recording artists, the most internationally famous is Edith Piaf: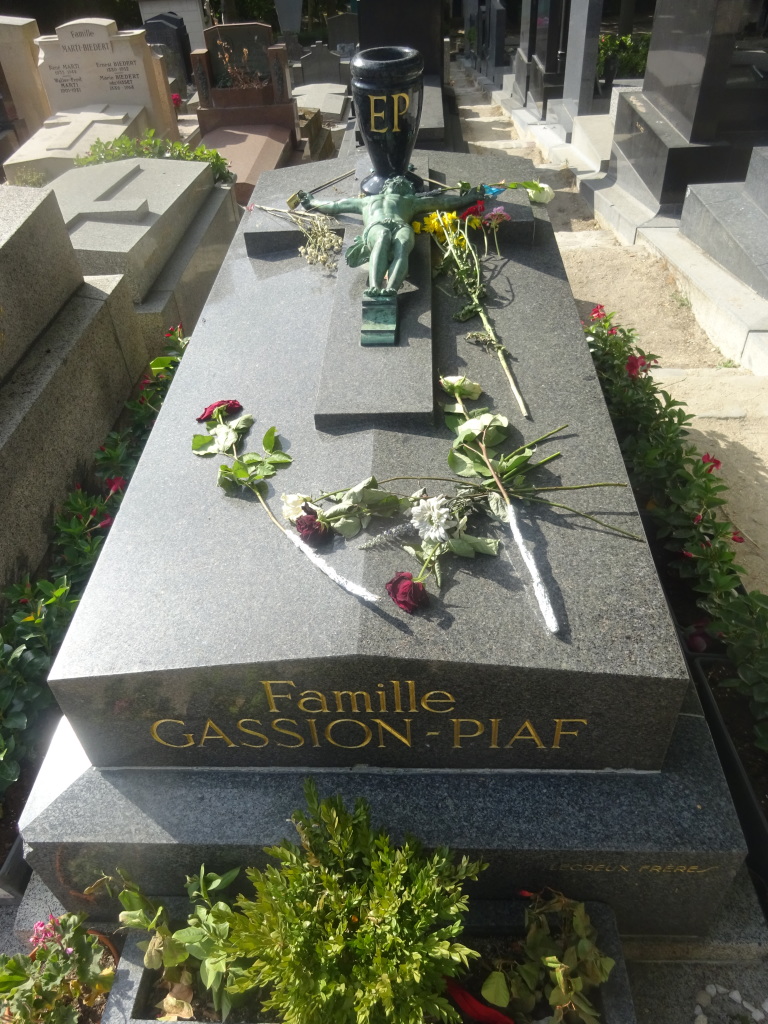 Sometimes missed is the nearby grave for her daughter Marcelle Dupont, who died at the age of two: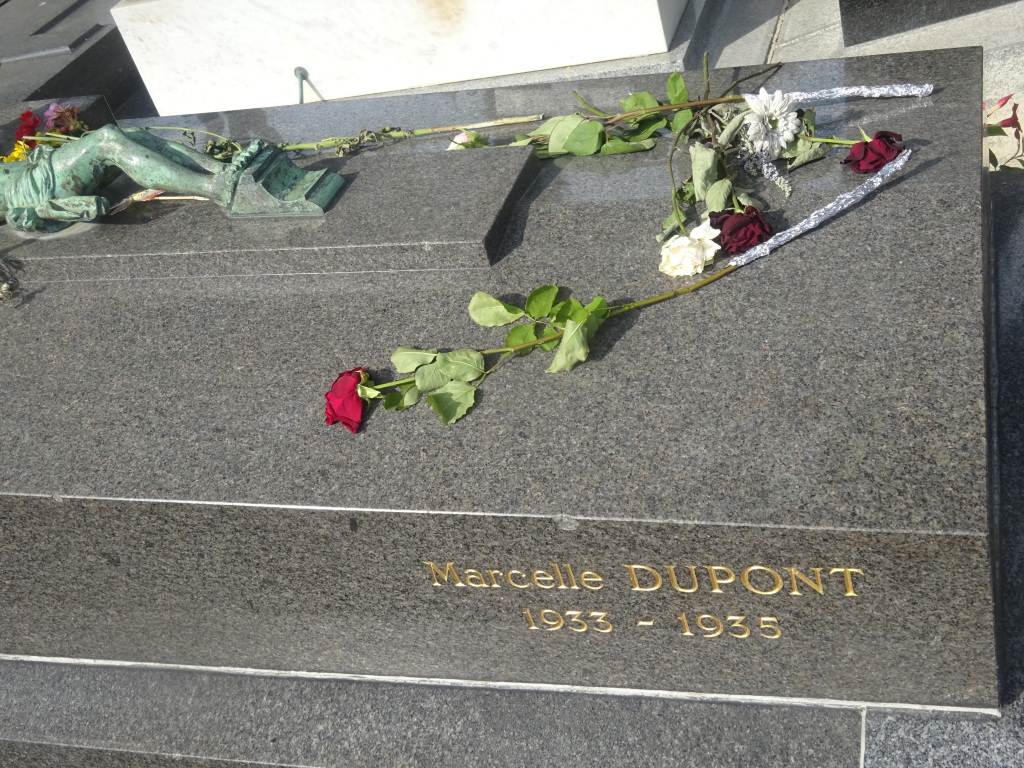 Piaf is famous throughout the world, but French cemeteries carry reminders that many of the country's stars are primarily known in France. Such as Gilbert Bécaud, whose grave is quite ornate: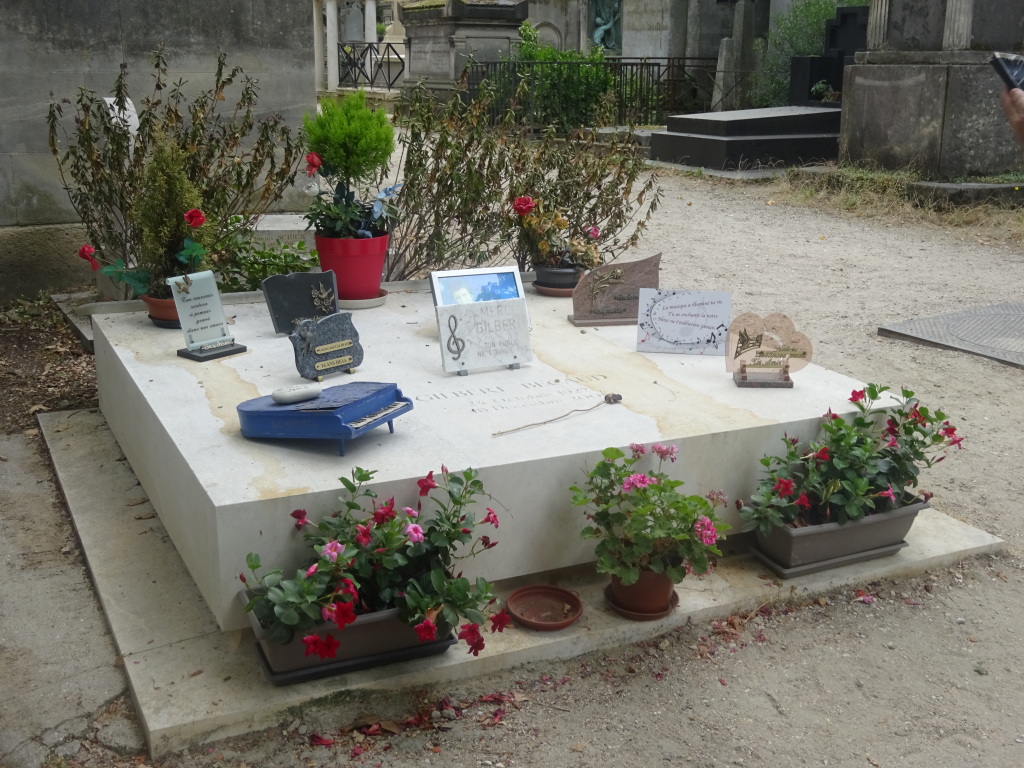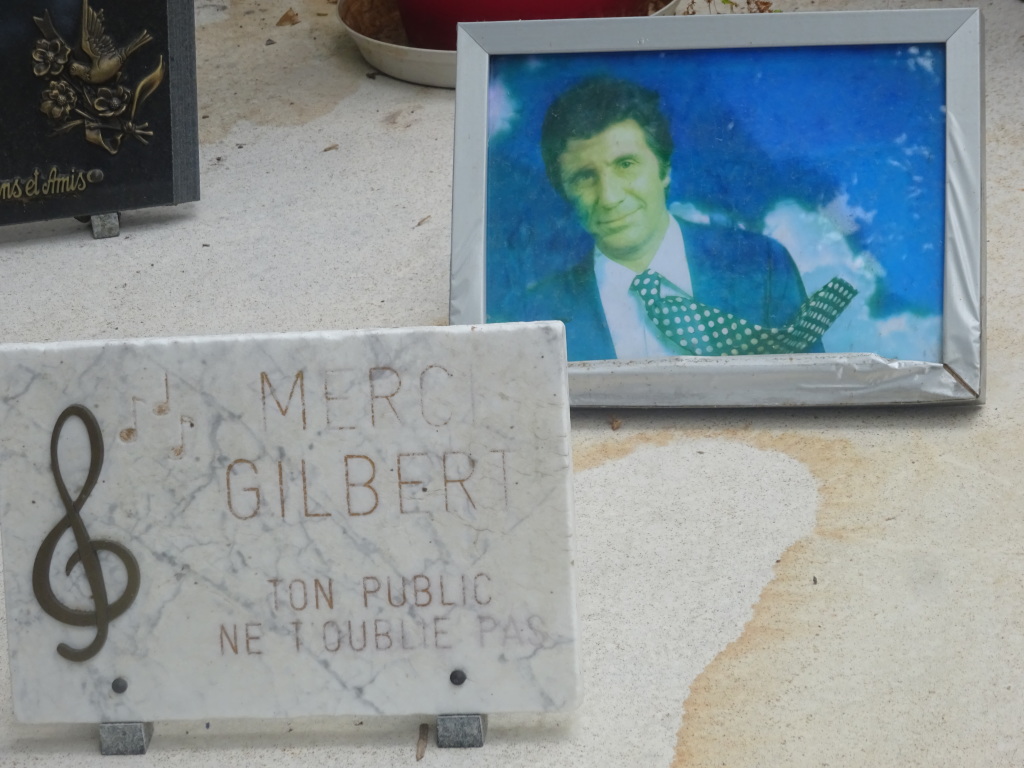 "Thanks," reads the inscription in the above picture. "Your public won't forget you." Which you could also say, many times over, for the memorials to Morrison, Wilde, Piaf, and the victims of government atrocities elsewhere in Père Lachaise.