Like many Beatles fans — and, indeed, many visitors to New York — I've been to Strawberry Fields in Central Park, most recently on my trip to the city last month. Memorializing John Lennon near the building where he was shot in 1980, it's a pretty peaceful spot, though there are usually a few musicians there busking Beatles/Lennon songs.
That's in spite of the sign below: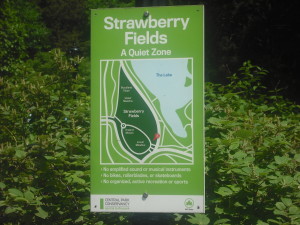 "No amplified music or musical instruments; no bikes, rollerblades or skateboards; no organized, active recreation or sports," it reads. I haven't heard any amplified live music on my visits, but there have certainly been plenty of guitars a-strummin', played by musicians of widely varying abilities. Perhaps in acknowledgement that you can't keep cell phones out of anyplace these days, there's also this sign: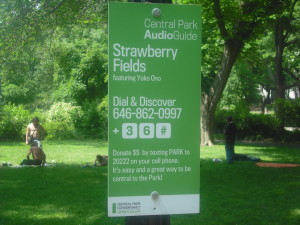 I seldom carry cell phones except when I travel. But here I was with a cell phone in my backpack, and minutes to use up before my next $20 payment. So why not dial the number to hear Yoko Ono's commentary, even on my cheap Virgin Mobile that's hard to hear in public places?
Ono's nearly three-minute message is a straightforwardly factual description of the space and its purpose; the text is printed almost verbatim here. New to me is this explanation of one of "Strawberry Fields Forever"'s key lyrics: "His aunt, who raised him, disapproved [of the young John Lennon going to Strawbrery Field], but he insisted it was, 'nothing to get hung about.' Hence, the song's famous lyric." More than 120 countries, she states near the conclusion, have endorsed Strawberry Fields as a Garden of Peace, as listed on a bronze plaque near the memorial's black-and-white mosaic.
The Dakota, where John lived for the last few years of his life (and was shot in front of), is nearby at 72nd and Central Park West. And not exactly easy to capture without a wide-angle lens, though this is what you'll see as you exit the park: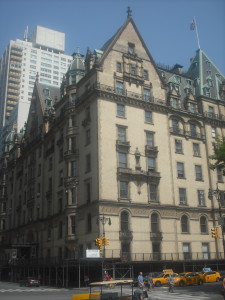 I passed by Strawberry Fields on my way to the Lincoln Center, on the Upper West Side less than half an hour walk away. To my surprise, there was a visit on the ground floor of the Library for the Performing Arts commemorating the 50th anniversary of the Beatles' appearance on the Ed Sullivan Show in early 1964. To my greater surprise, it displayed some items that were illegal to manufacture and distribute:
I never thought I'd see the days when Beatles bootlegs were exhibited in one of the world's most prestigious venues for the arts. The disc in the case labeled "Kum Back" in the picture below,  by the way, is one of the first Beatles bootlegs, issued around late 1969/early 1970, featuring some then-unreleased outtakes from their January 1969 recording sessions (which eventually spawned the bulk of the Let It Be LP, as well as the Let It Be film).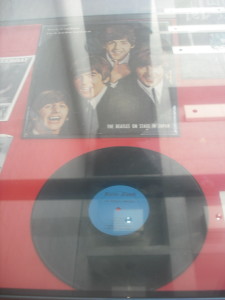 I'm very familiar with Kum Back. It was the second album I ever owned (at the age of eight, believe it or not). The LP in this exhibit wasn't the actual record I had, of course. But the inner label of the one I bought back in 1970 (which I still own), complete with my handwritten name, is reproduced in my book The Unreleased Beatles: Music and Film. While you're in the area, check out some of the other beautiful spots nearby, especially if you're lucky enough to get the beautiful early June weather I had: