Like most residents of great metropolitan areas, there are lots of things I've always wanted to do in the region, but have never gotten around to checking out. One is bicycling the Alameda Creek trail, which runs twelve miles from the East Bay suburb of Fremont to the east side of the San Francisco Bay. It's a relatively long way from the city of San Francisco, where I'm spoiled for choice on nearby hikes and bike routes with spectacular views.
The Alameda Creek trail isn't that long a trip, actually. It's about an hour from San Francisco by public transportation. But its pleasures are relatively modest compared to other, more celebrated jaunts. Still, with yet another summer-like day on this distressingly record-breakingly warm Bay Area winter, I headed out there a couple days ago on a 70-degree Friday to experience it for myself.
One advantage of biking the trail, especially for hill-disliking cyclists, is that it's pretty flat the whole way. It's also pretty uncrowded, at least on a weekday: seems like I only saw a few dozen bikers in a few hours, with only a few hikers, runners, and dogwalkers here and there. Disadvantages: some bumpiness (especially on the eastern part), traffic noise from nearby roads (again especially on the eastern portion), and a relative lack of the kind of stunning scenery you'll get by going across the Golden Gate Bridge, to name just one more flamboyant alternative.
Come to the end of the twelve-mile trail, and you'll find this:
No, it isn't much, when you stack it up against more renowned views of the bay. But it's peaceful, and when you're surrounded by as much noise as you usually are in the Bay Area, it's frankly a great relief to get to a place where you can't hear any cars or hardly anything else, if only briefly.
The real attraction out here, and worth the extra three-to-five miles even though some (for the most part quite manageable) hills are involved, is the add-on Bayview Trail near the main trail's western end. (Don't worry, it's hard to miss the signposted turn-off.) This takes you into Coyote Hills Regional Park, where you get views like this: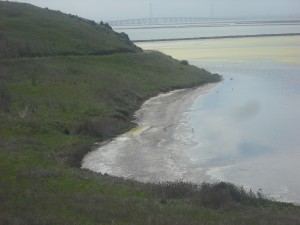 That's the Dumbarton Bridge in the background. The southernmost of the five bridges in the San Francisco Bay, it's kind of an ugly duckling in that company, but looks pretty cool when viewed from here. I also like the yellow algae or whatever it is (marine biologists feel free to submit corrections) covering some of the water, which you can see in richer colors at other vantage points: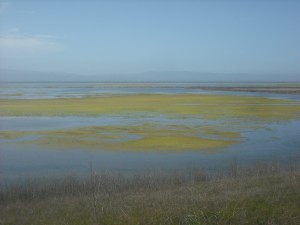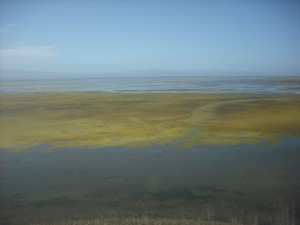 Since the principal part of this ride is named the Alameda Creek trail, you'd expect most of it to be along an actual creek, looking something like this: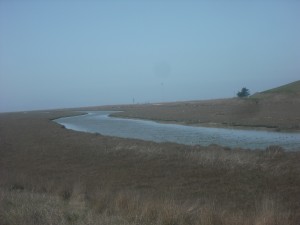 It's drought time in California, though, and actually much of it looks like this: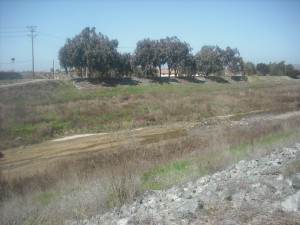 I don't know how normal or abnormal that is for this time of year (mid-March), but much of the creek's more field than creek. Sometimes it's all field. It does look prettier on the return to Fremont, especially when you get near the hills at the end of the eastern part: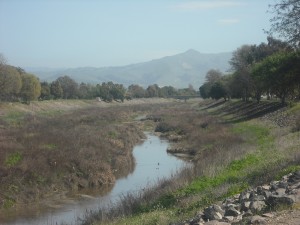 In sum, if you don't live in the area, this might be a bike ride worth making a special trip for if you want to get some good mileage in without much strain, or if (like me) you feel the urge to check one more Bay Area vista off your list. It's not too high on the superlist of Bay Area trails, but that's not such a bad thing. You can't have a game of chess without the relatively undistinguished pawns as well as the kings and queens, and if the Alameda Creek Trail is filler when judged against the best outings in our metropolis, it's still a worthy piece of the puzzle. Kind of like what Paul McCartney once said about a good-but-not great Beatles song ("Tell Me What You See"): "Not one of the better songs but they did a job, they were very handy for albums or B-sides. You need those kind of sides." Or something like that.
The eastern trailhead of the Alameda Creek Trail isn't much more than a mile from the Fremont BART station, though unfortunately the station-to-trail roads have a lot of traffic and aren't the most low-key ways to start and end the endeavor. For maps and info, go to the Alameda Creek Trail page  and the Coyote Hills Park page of the East Bay Regional Park District site.