I play a rock music trivia game with other music-nut friends in the Bay Area. It's not one of those board games with question cards, though it started out that way. Instead, we make up our own questions, ranging from 1 (easiest) to 6 (hardest) depending on how we throw dice. Maybe I'll post some used questions from time to time on this blog, though some of them lose something in the translation when you can't declaim them in a grand tone of voice.
So to start, here are a couple of visual clues that might be harder than you think. Question #1: who's the guy on the left in this picture?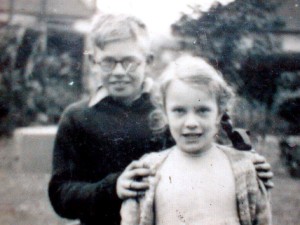 Some of the incorrect guesses included Peter Noone (Herman of Herman & the Hermits), Elton John, Thomas Dolby, and Peter Asher (of Peter Asher). But it's none of them. It's Brian Jones of the Rolling Stones. The girl is his younger sister, Barbara.
Prior to this (admittedly blurry) showing up recently, I'd never seen a photo of him dating from before 1962, with the exception of one baby picture. What really throws contestants (only one player got the correct answer) is that Jones doesn't wear glasses in any of the pictures I've seen of him as an adult.
Many Stones fans don't know, by the way, that Jones had two younger sisters, not just one. The older of those two sisters (born shortly after Brian), Pamela, died of leukemia just after her second birthday.
Here's another visual clue. Who's the guy on right, holding a banjo? He too would become very famous (and he's not Brian Jones).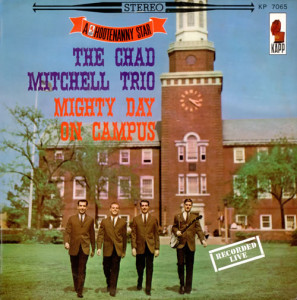 That's Roger (then Jim) McGuinn, about three years before he'd co-found the Byrds with Gene Clark and David Crosby. Back in 1961, he was just a sideman to the whitebread folk revival group the Chad Mitchell Trio. By 1965 he'd be sounding and looking a lot different (and much for the better) as lead guitarist, and frequent lead singer, of the Byrds. That's McGuinn with shades on the right: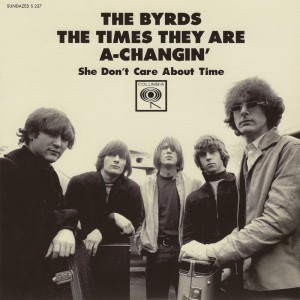 McGuinn appears on another Chad Mitchell LP, this one from 1962. That's him in the back on the left, if you can make him out. Seems like they were trying to hide him: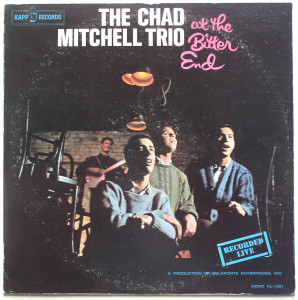 After McGuinn became a star with the Byrds, the Chad Mitchell Trio – now billing themselves as the Mitchell Trio, with another pre-star, John Denver, in their lineup – recorded a sort of protest against protest folk-rock, "The Sound of Protest (Has Begun to Pay)," with an obviously Byrds-like arrangement. Far from being a jibe at his having sold out, one feels the Chad Mitchell Trio might have been jealous of both his commercial success and his groundbreaking innovations as a vanguard folk-rocker. The Byrds are still revered as one of the greatest bands of all time. The Chad Mitchell Trio (or Mitchell Trio, as they were known after the departure of their leader), one of the tamer of the many wholesome folk groups to emerge in the wake of the Kingston Trio, are on the verge of being forgotten.